2011.03.26 Trinidad "Baas Sports Curacao vs Trinidad & Tobago".  Baas Sports won convincingly. Joost Mulder won Keron Bourne by TKO-2, Jamal el Otmani won Anthony Deonarine by TKO-2, Raul Franciska won Martin Joseph by TKO-3. Only the experienced Devon Ramkallawan won Justin Gogulski.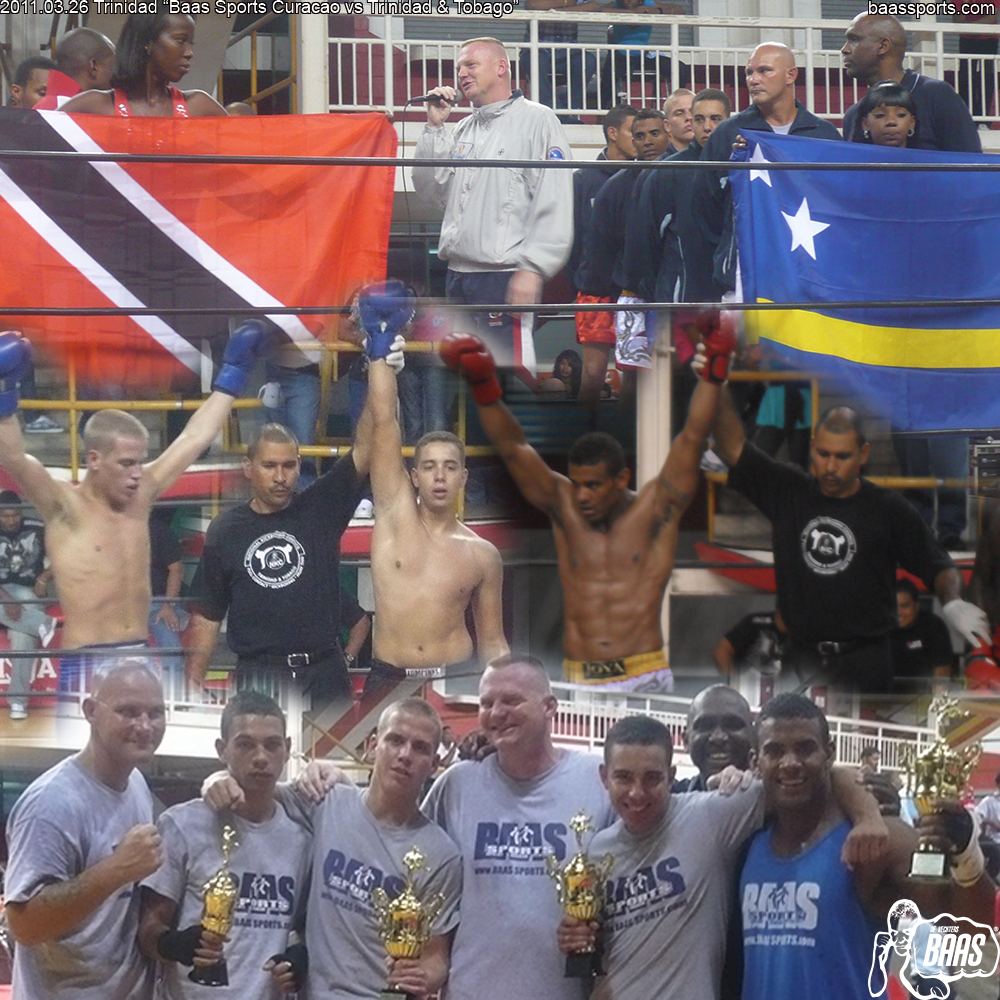 2011.04.30 Aruba "Baas Sports Curacao vs AruBox". Baas boxers won 3 out of 4. Argenio Pieters won Shaedemir Jansen, Jamal el Otmani won Adriaan Albertz, Nezar Regales won Kevin Lee. Justin lost against Efi Jimmy Croes.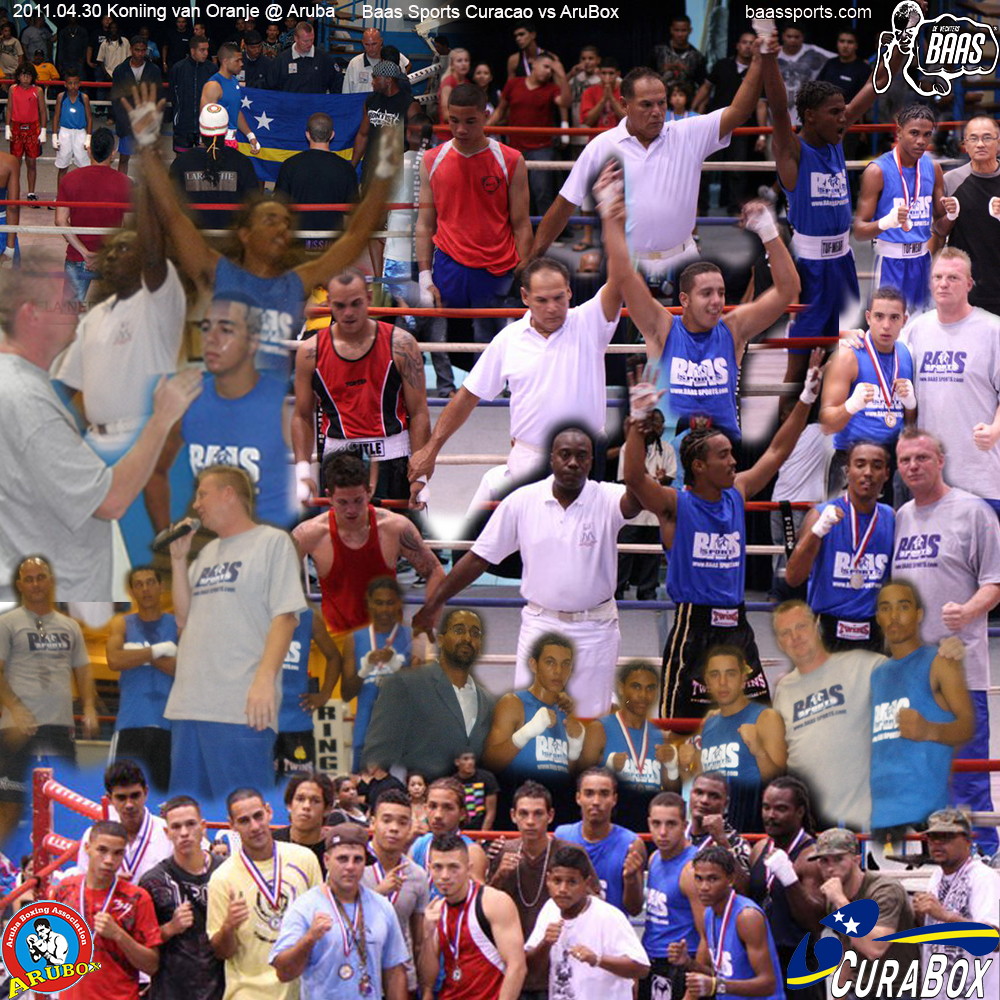 2011.05.30 Baas boxers 4 victories. Crispulo won Janzen (Bonaire), Justin Gogulski won Sarabia (C), Argenio Pieters won Ogilvy Sietajen (Suriname) and Nezar Regales won Cedric Manhoef (Suriname) and the 'Papa' Godett trophy.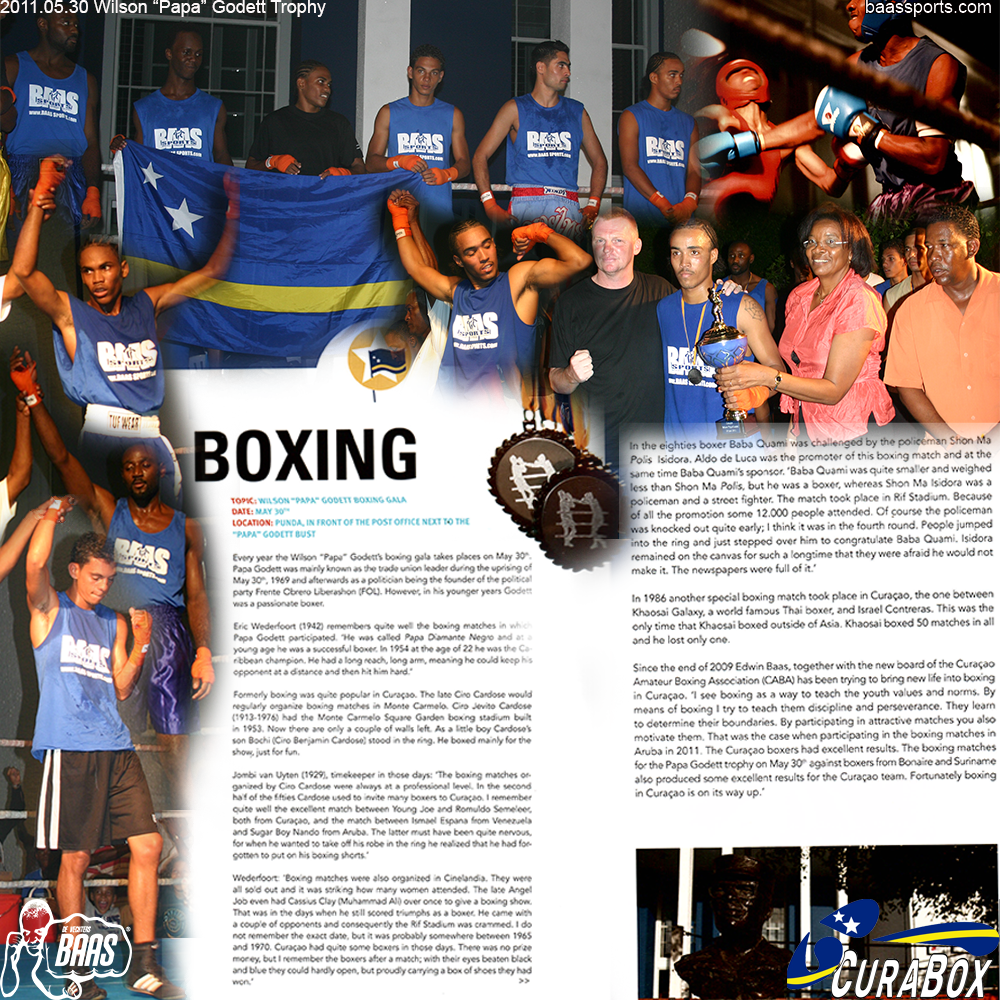 2011.08.27 Baas Sports with 6 victories in Boxing and 1 in MMA @ Curacao Rumble. Ziani Fluonia won the ladies bout, Jemuel Cleofa won Mercera (Bonaire) by RSC-3, Raul Franciska won Janzen (Bonaire) by RSC-1, Mohamed Hussein won Gonzalez (The Netherlands), Sarabia won Koolman (Aruba), Justin Gogulski won Pardo by RSC-2 Pardo and Argenio Pieters won Efi-Jimmy Croes (Aruba).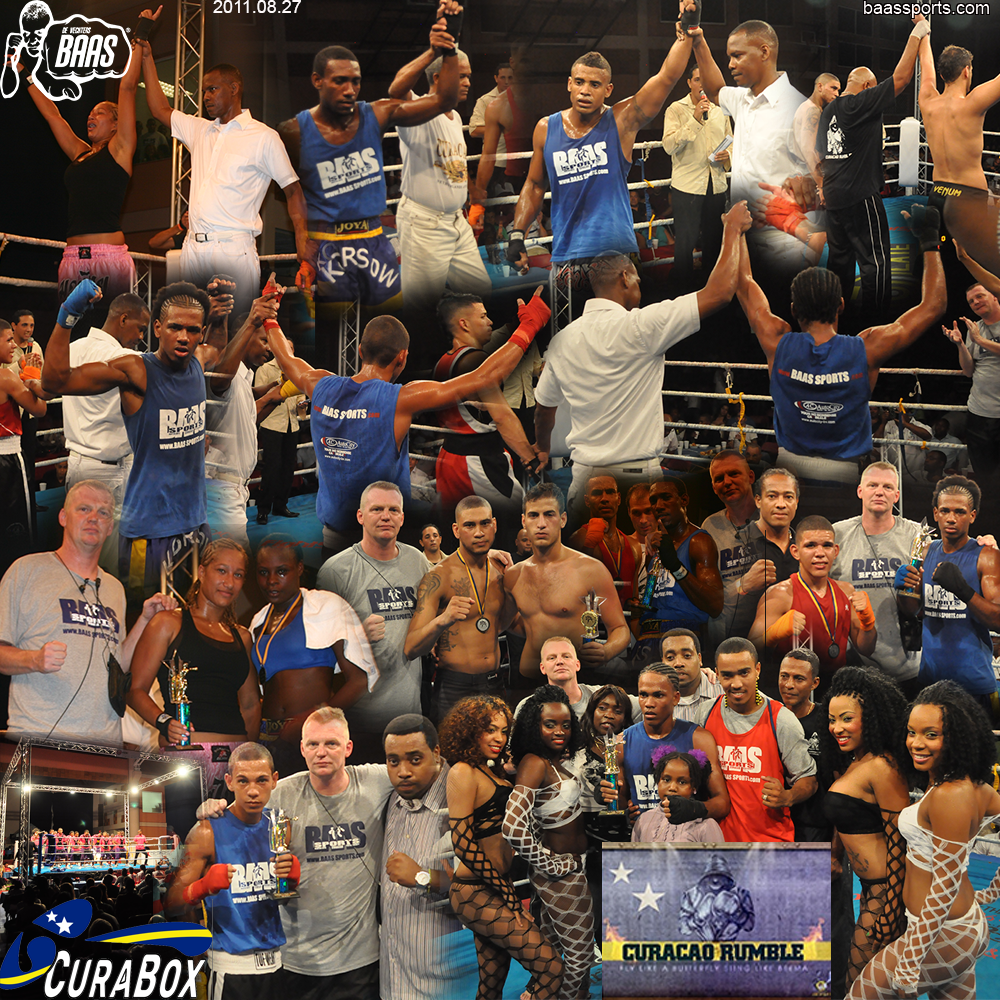 2011.04.01 Argenio Pieters won 1st place 4-men tournament after 2 victories. Andre Alias also won.
2011.06.18 CUMAFE MMA championships Mohamed Hussein (Middleweight) and Rob Gogulski (Heavyweight), both from Baas Sports, won the 1st prizes, while Andre Alias (bantamweight) won the 2nd place after a victory on Paul Vilanueva Carbagal (Bonaire).
2011.07.02 Baas Sports Joost Mulder and Nezar Regales @ Le Choc Des Titans IV in Martinique.
2011.10.15 "Honor and Respect" victories for Jean-Louis Ignatius, Justin Gogulski and Argenio Pieters.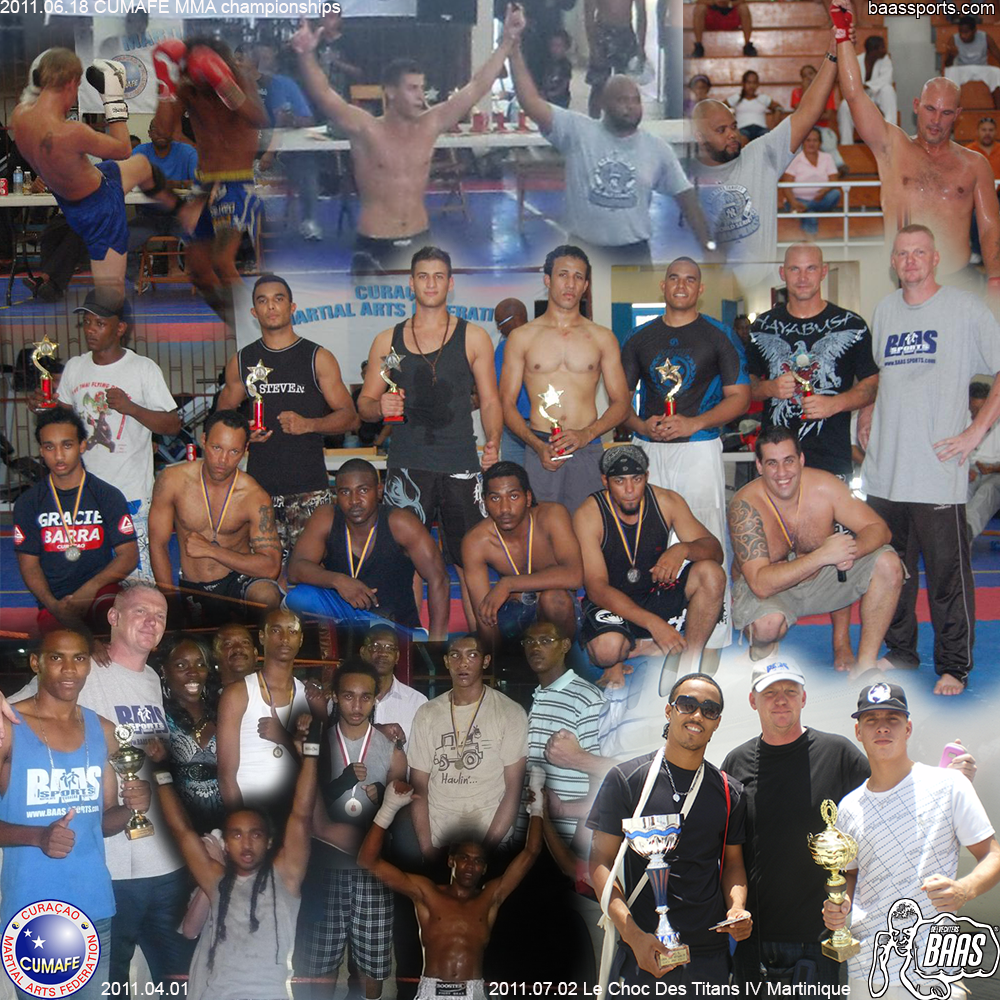 2011.11.12@ Fierce and Furious SXM. Argenio Pieters and Jean-Louis Ignatius from Baas Sports. Jemyma Betrian, also representing Curacao, won Geugjes (Mike's NL). Sergio Pique won Ware (USA), Rodney Glunder won Osiptsov (England), Evan Nedd (Aruba) won Fagiano (USA) in MMA. Also Sint Maarten, Martinique and Suriname.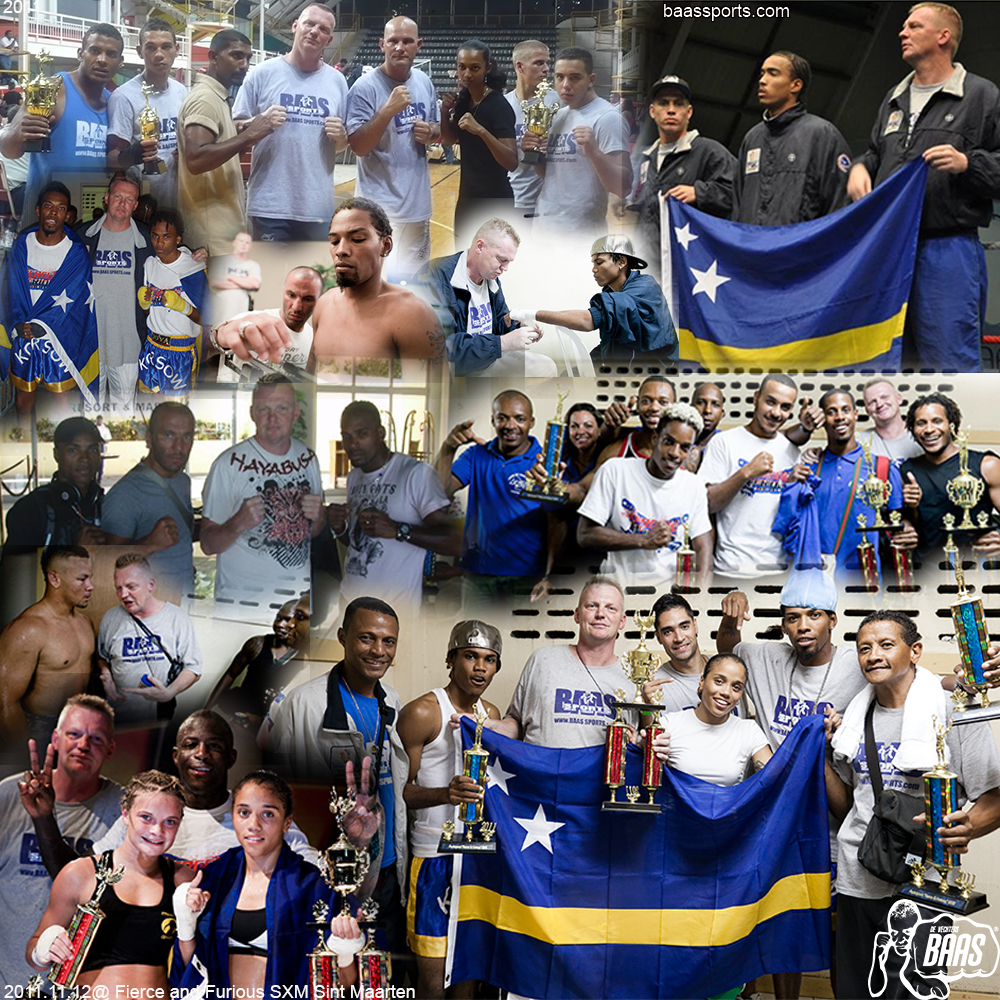 2011.09.25 Baas Sports @ Hockey Balboa VRO tournament CVV Willemstad. Edwin Baas opened with a warming-up for all hockey players. Boxing by Justin Gogulski and Argenio Pieters. MMA by Rob Gogulski and Mohamed Hussein. Thaiboxing by Palmira Baas and Thalisa Everon.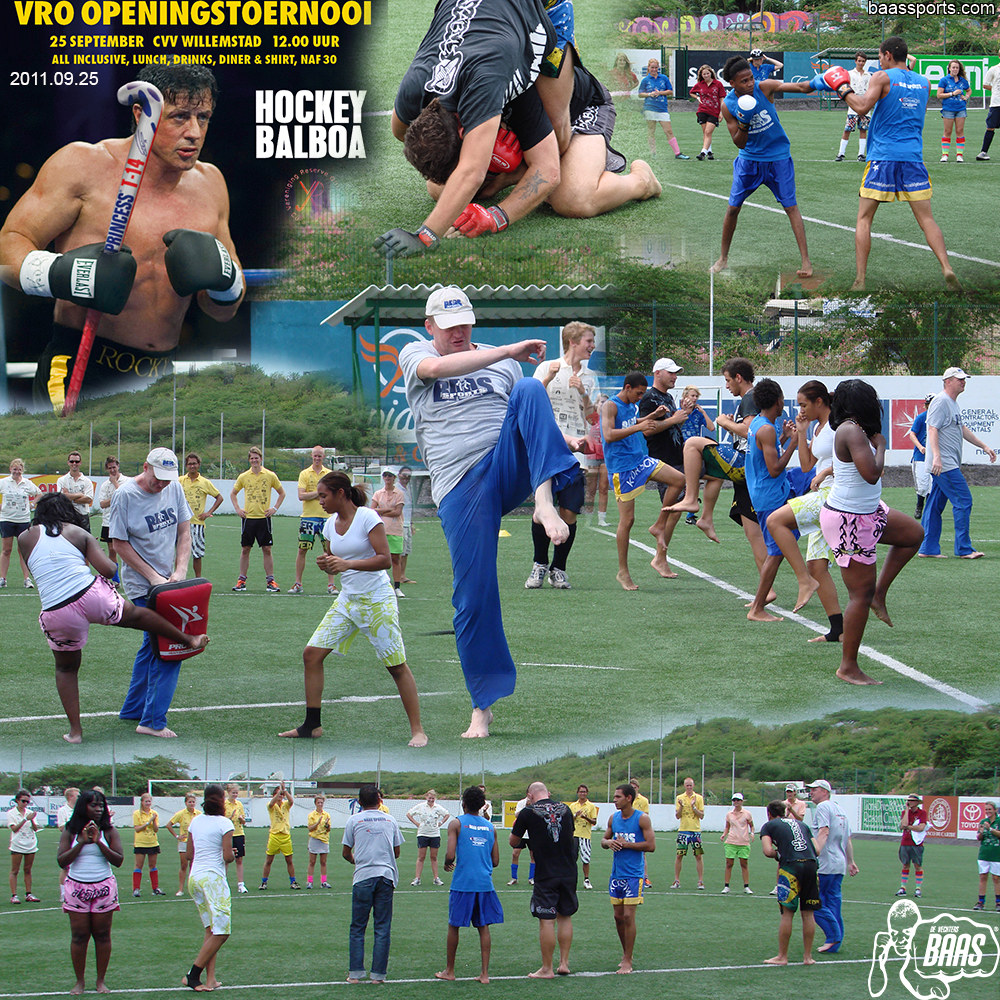 2011.12.17 Baas Sports success @ MMA Madness. Boxing Grego Scharbaai (63) won Clinton Esprit (70), exhibition Muay-Thai Jean Louis Ingnatius vs Joost Mulder, MMA Justin Gogulski (61) won in Ruvinsky Lopez (65,5) by TKO-2, Mohammed Hussein (81) won Cesar Geerman (83,3) AUA by SUB.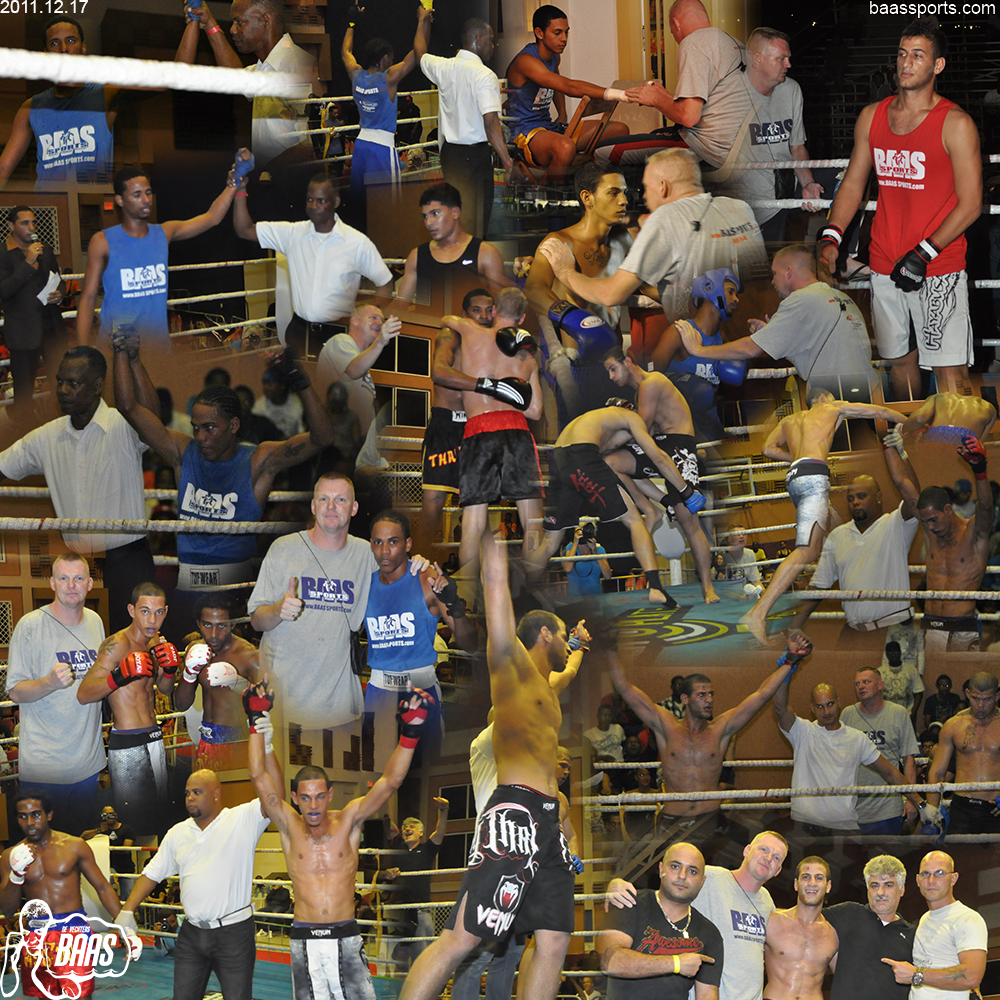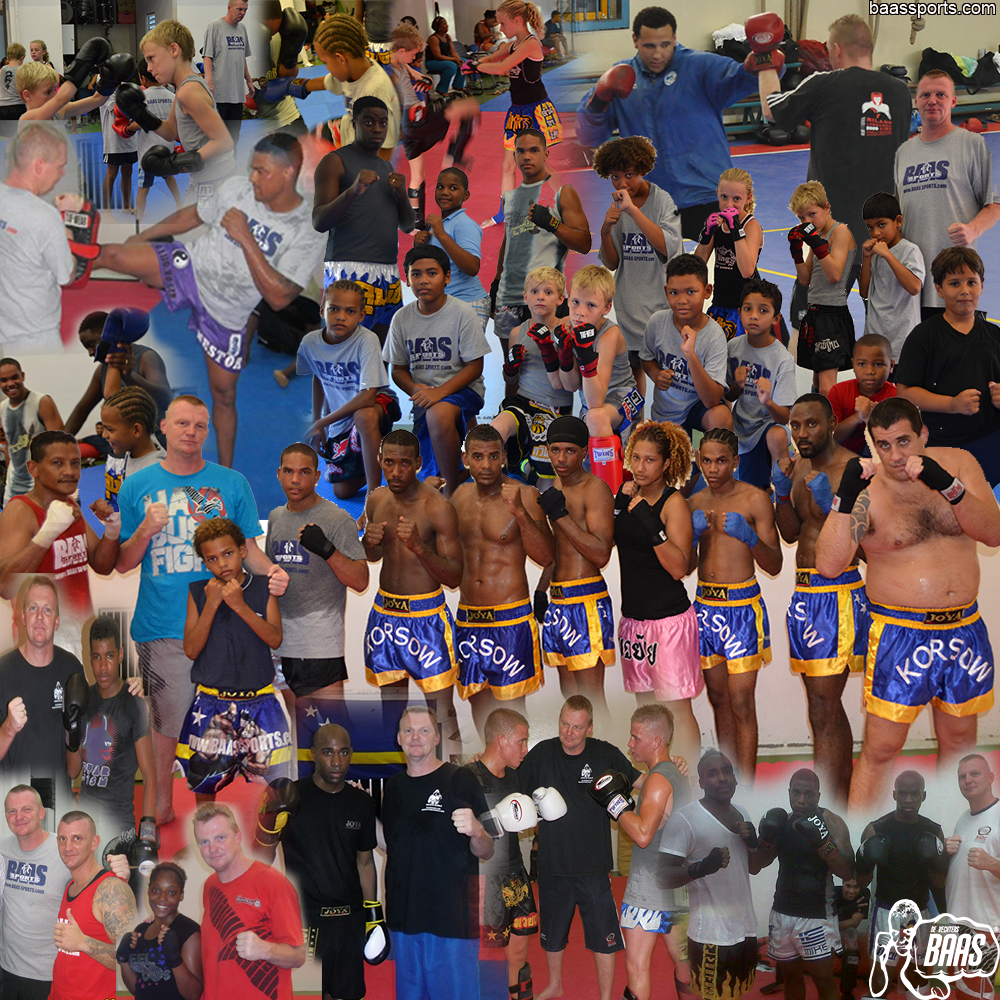 2012.03.07 MMA Extreme Fighting Championships Aruba Mohamed Hussein (Baas Sports) won Cesar Geerman (AUA) by SUB-1.
"Win by submission"  Franklin Cox 3rd -67 kg, Jermaine Gogulski 3rd 68-73 kg, Mohamed Hussein 1st -93 kg (in -84 kg there was no opponent) and Rob Goguslki shared the 1st place +93 kg.
2012.05.01 KB 1. Leroy Breeschoten 2. Justin do Rego. MMA: 1. Franklin Cox 2. Jowi Adriana 3. Jonathan Martins Pereira/ Welton Angelica.
2012.07.21 Franklin Cox won by TKO-3, Kelvin Drop won by TKO-2, Tico Grotestam won by TKO-1 and the fastest KO trophy.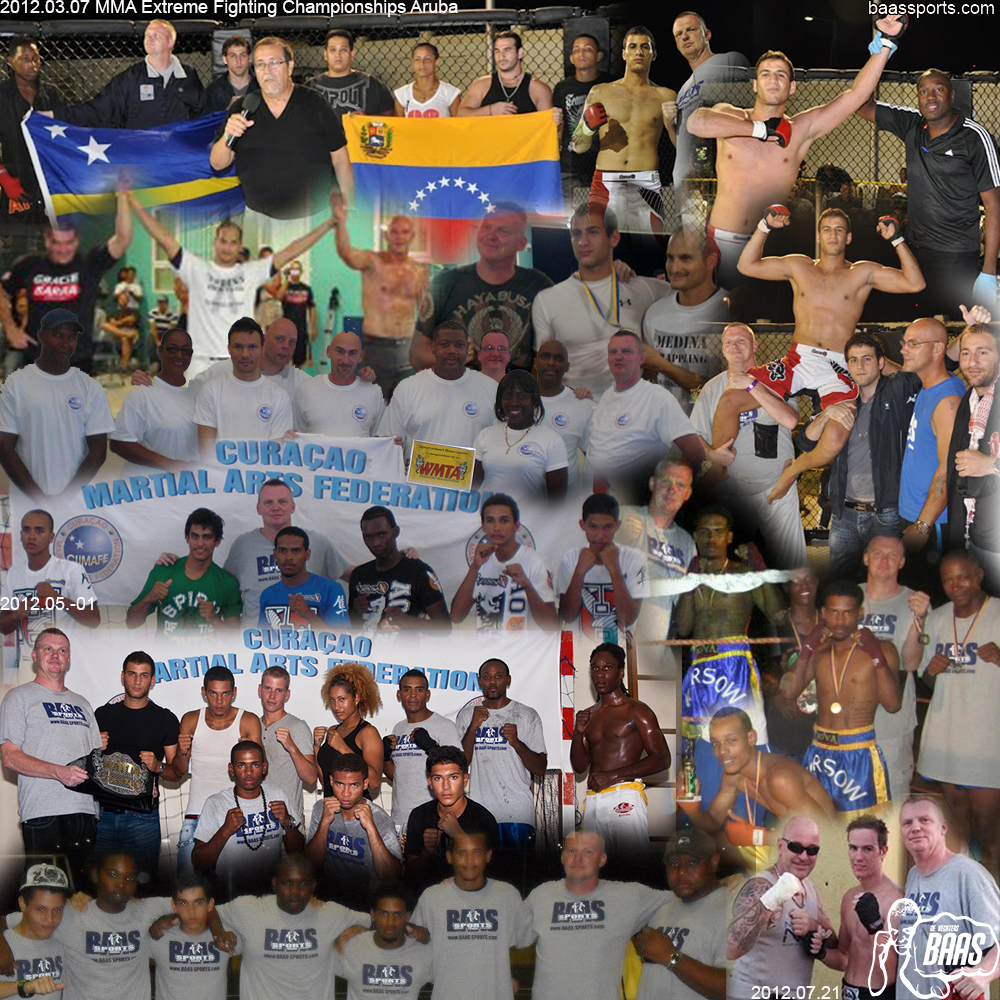 2012.05.05 Fighters of the Caribbean 4 victories for Baas Sports Curacao; Zianni Fluonia won SU, Joost Mulder won AUA by KO, in MMA Mohamed Hussein won SXM by KO-1, Milangelo Eugenio won the A-class title fight for the Caribbean WMTA belt.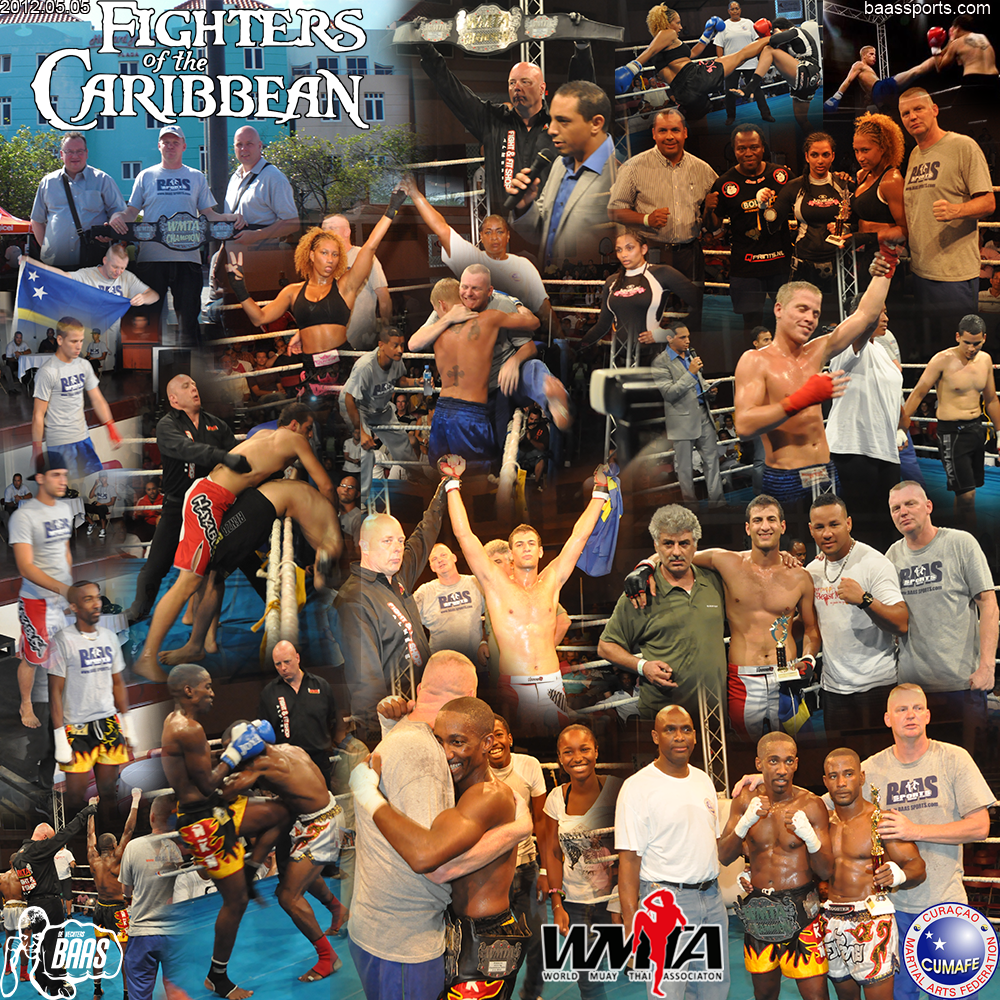 2012.05.30 5 victories for Baas boxers; Jason Gogulski, Leroy Breeschoten, Justin Do Rego, Franklin Cox and Justin Gogulski who also won the 'Papa' Godett trophy. Danny van der Veen vs Joost Mulder Muay Thai exhibition.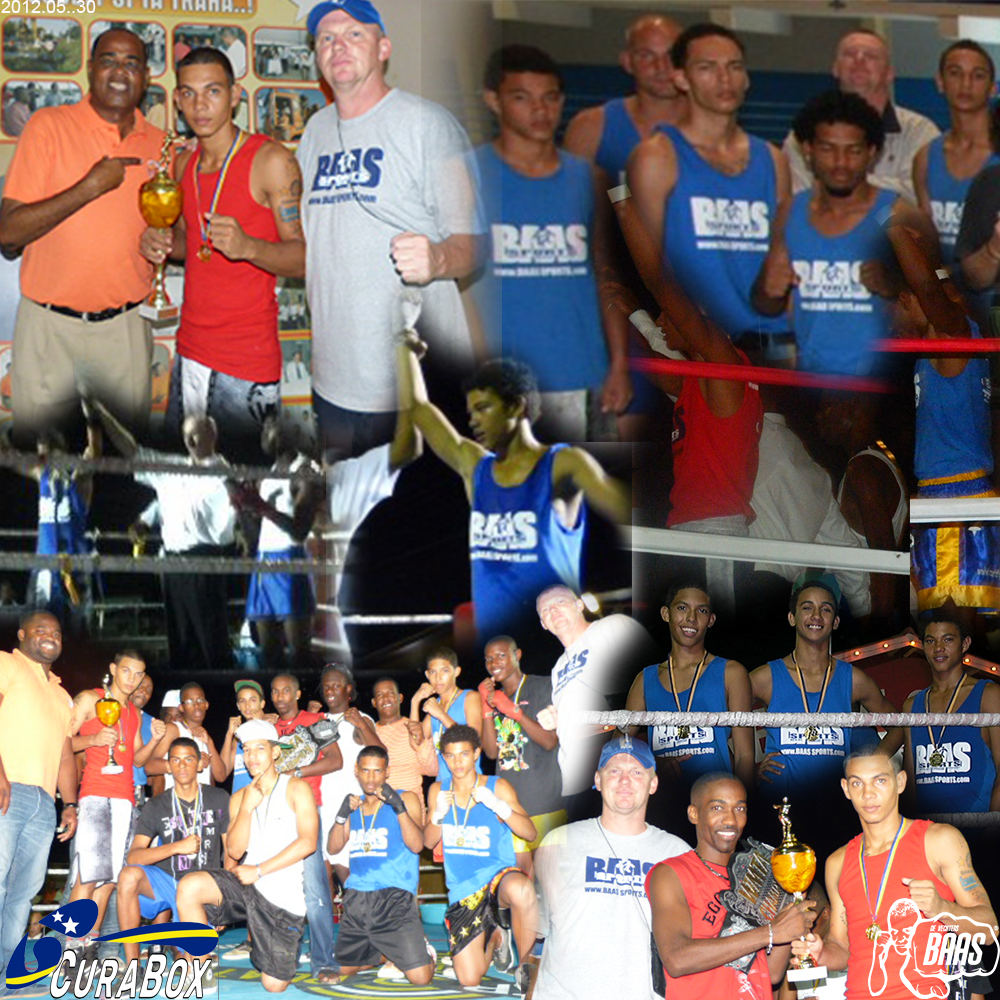 2012.09.22 Curacao Rumble Baas Sports successes. Milangelo Eugenio and Grego Scharbaai Full Contact exhibition, Chandruth Gosepa won KB, Joost Mulder KB "no contest" (cut in the 1st round caused by accidental headbutt), Justin do Rego won by WO box, in MMA there were victories for Franklin Cox, Rob Gogulski and Mohamed Hussein, who won Juan Villanueva (Venezuela) by submission and also the "King of Rumble" trophy.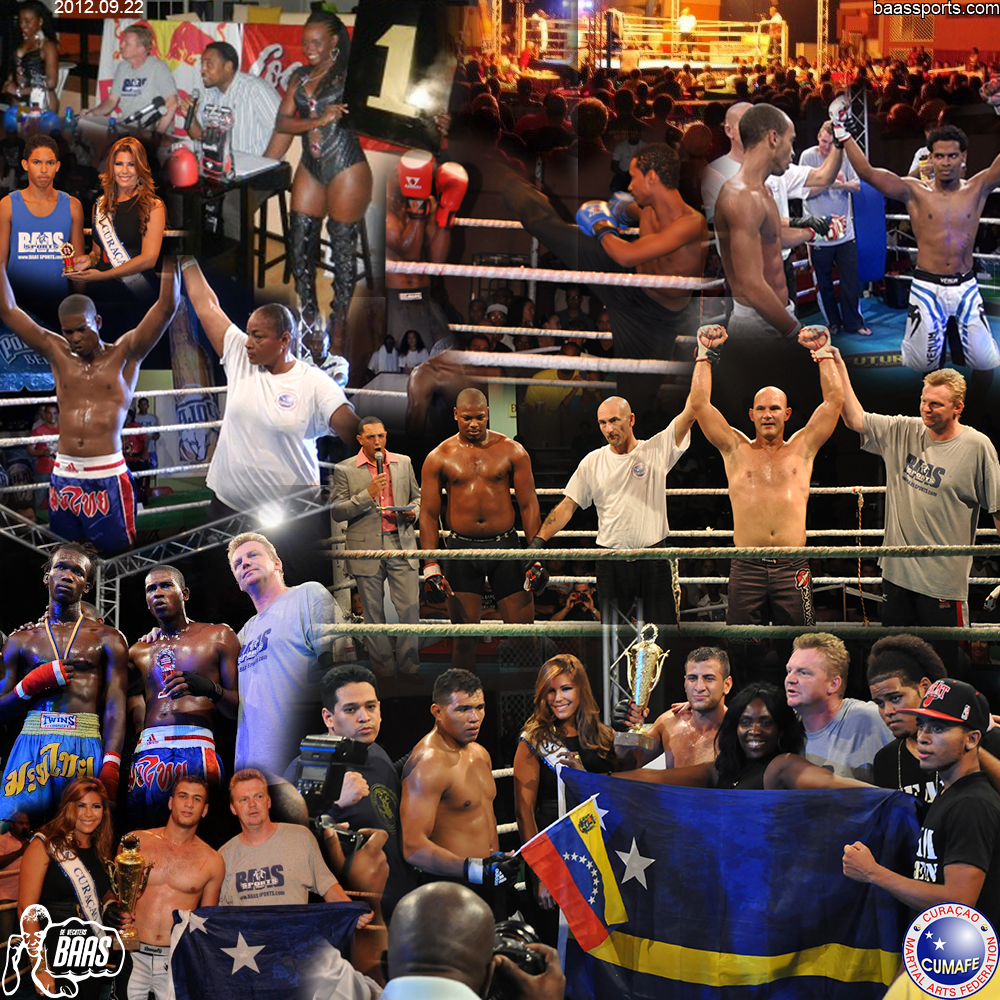 2012.10.27 Saba Leroy Breeschoten won Donald Hassell (Saba) by RSC-2. 2012.11.10 Fierce & Furious SXM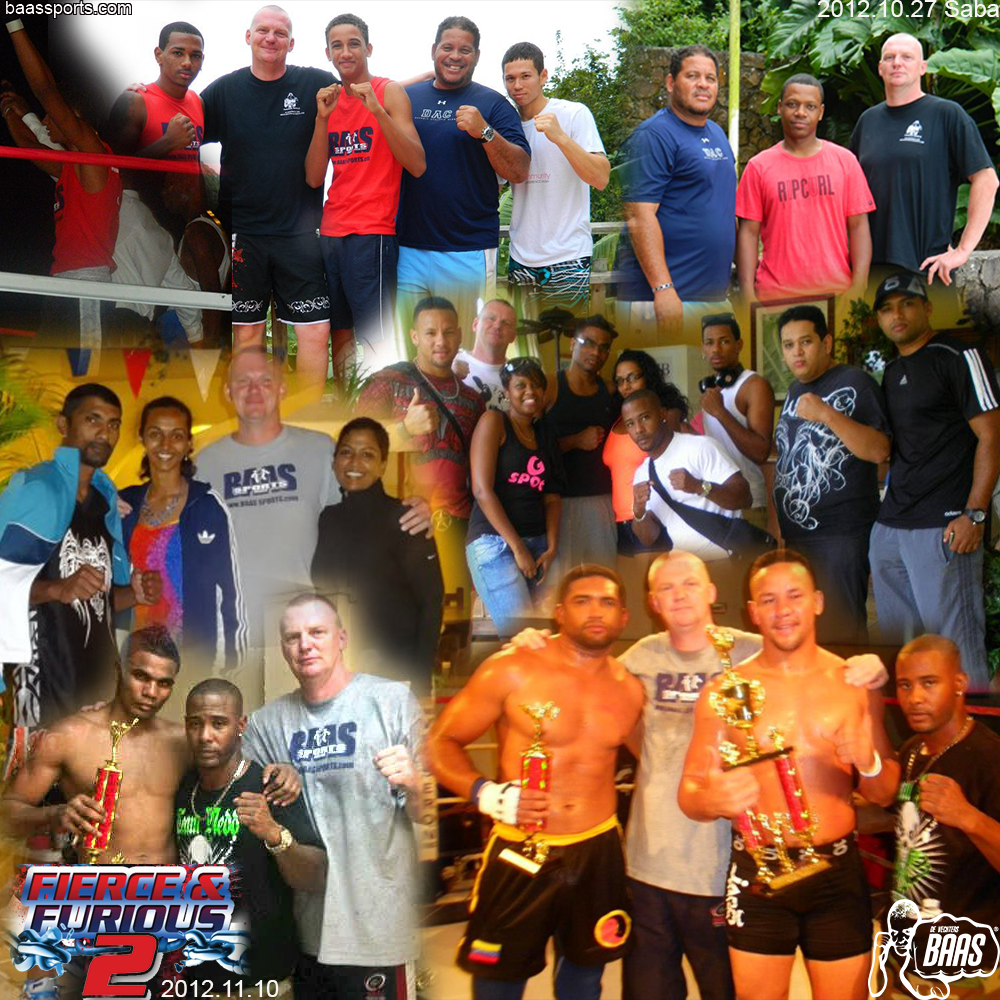 2012.12.15 CABA ISC all 6 boxers from Baas Sports that participated won. Justin do Rego won by RSC-2. Jowi Adriana won UD. Leroy Breeschoten won by RSC-1. Javier Janzen won SD. Jason Gogulski won UD. Franklin Cox won by RSC-3. Justin Gogulski vs Joost Mulder TB exhibition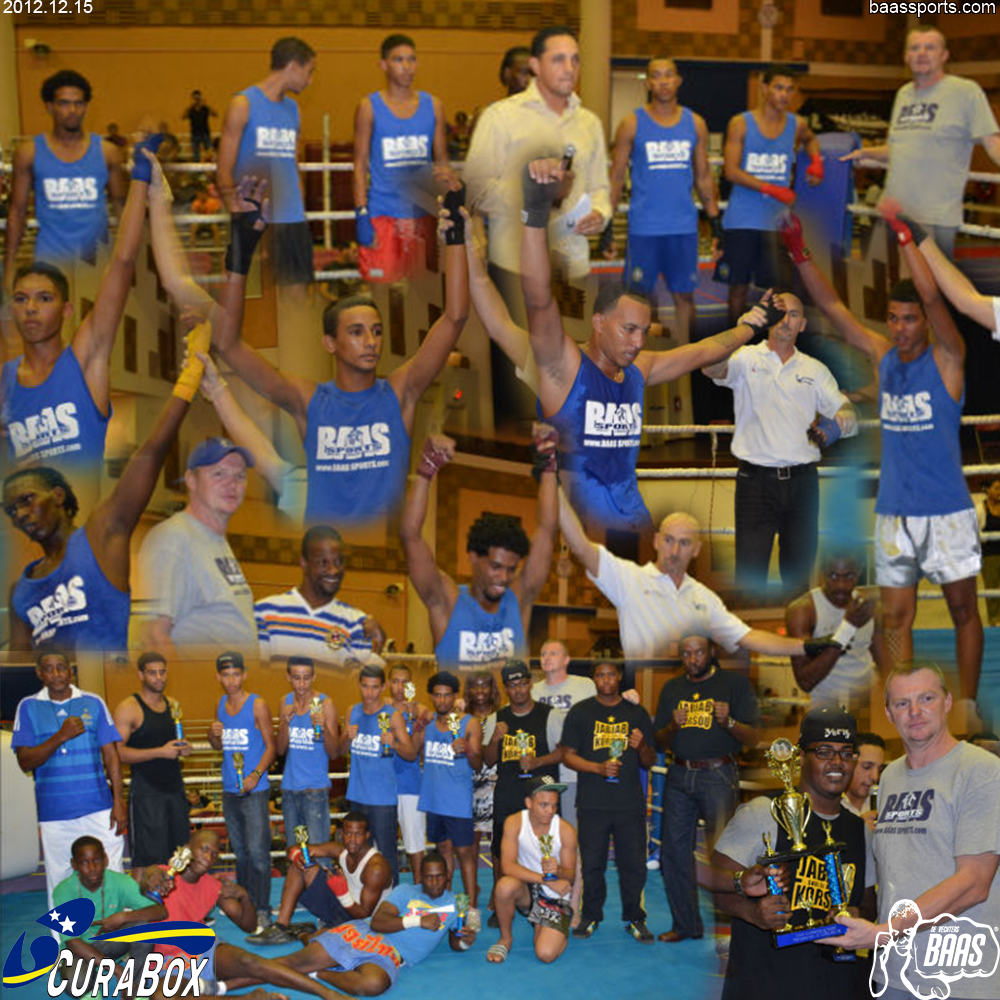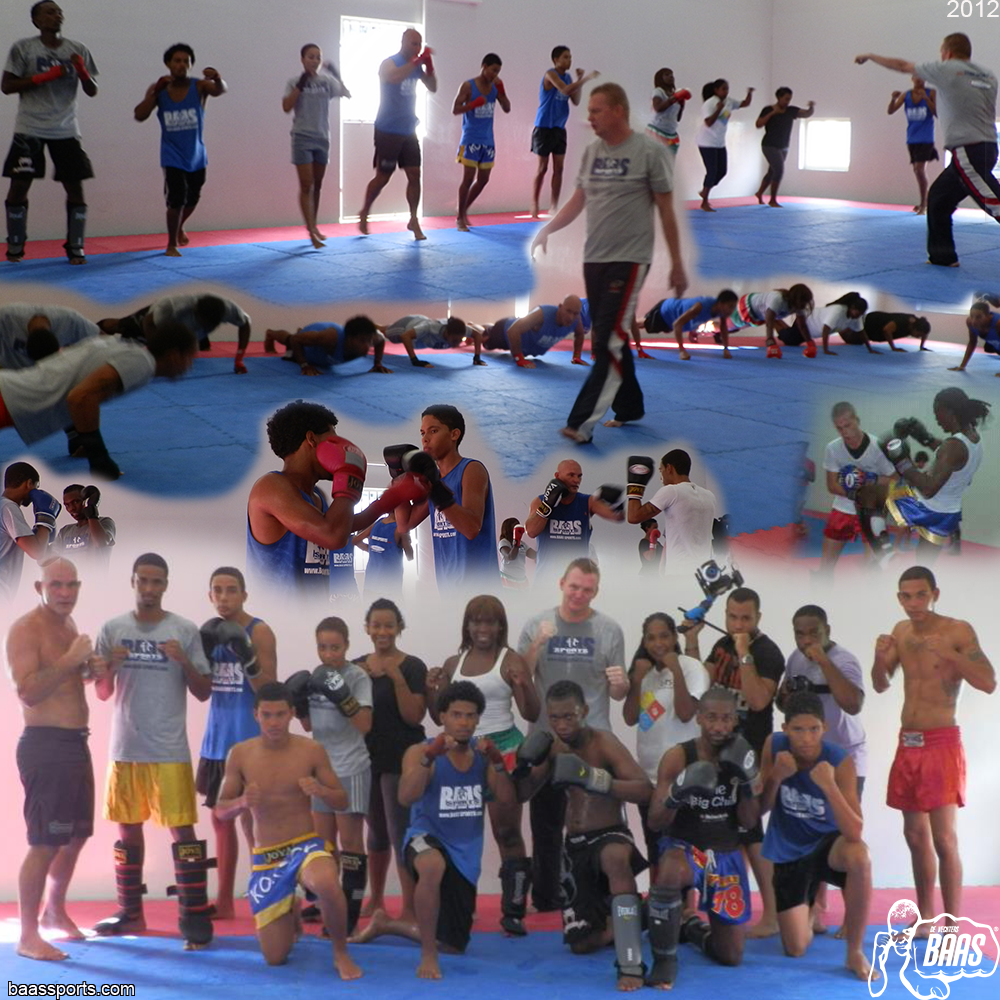 2013.02.23 Dominance Main event 5×5 min. Light heavyweight 185-205 lbs (-93 kg) title MMA Mohamed "The Pain" Hussein (Baas Sports Curacao) vs undefeated Caribbean MMA champ Tija "The Nuclear MooSe" Stanley (St. Kitts). Tija Stanley 2012 Caribbean heavyweight champion MMA won Joel "The Beast" Ramphal (Trinidad & Tobago Bajan Kirk Goddard (Barbados), Martin Lay within 36 seconds (in London England) and also in London @ Ultimate Cage Contenders in 40 seconds, Elvis (Hervick) "Caradura" Martinez (@ Octagon Venezuela). 4 victories for Baas Sports Curacao. Jason Gogulski and Grego Scharbaai won in kickboxing K-1 rules and Franklin Cox and Mohamed Hussein in MMA.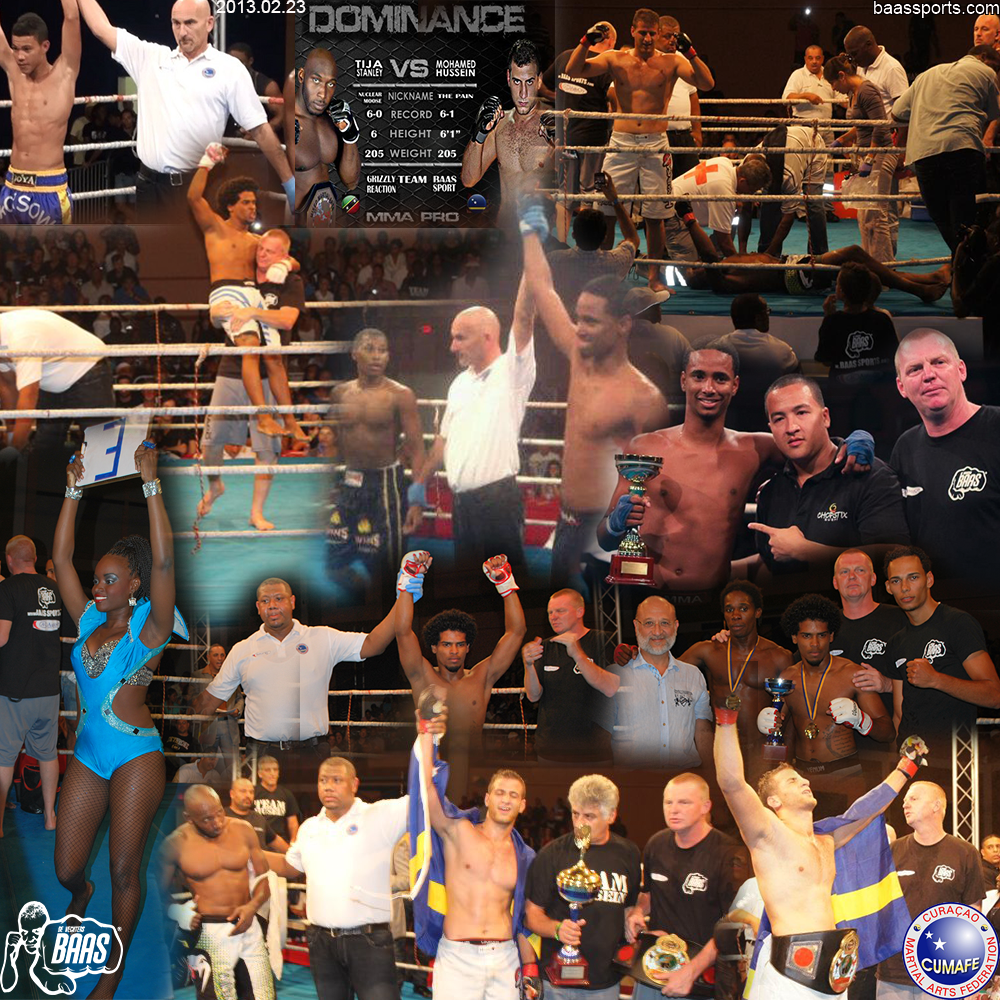 2013.04.27 Lutciano Zimmerman (Baas Sports Curacao) in Thaiboxing main event in Suriname. A week later he also fought Surinam in Aruba in a MMA fight.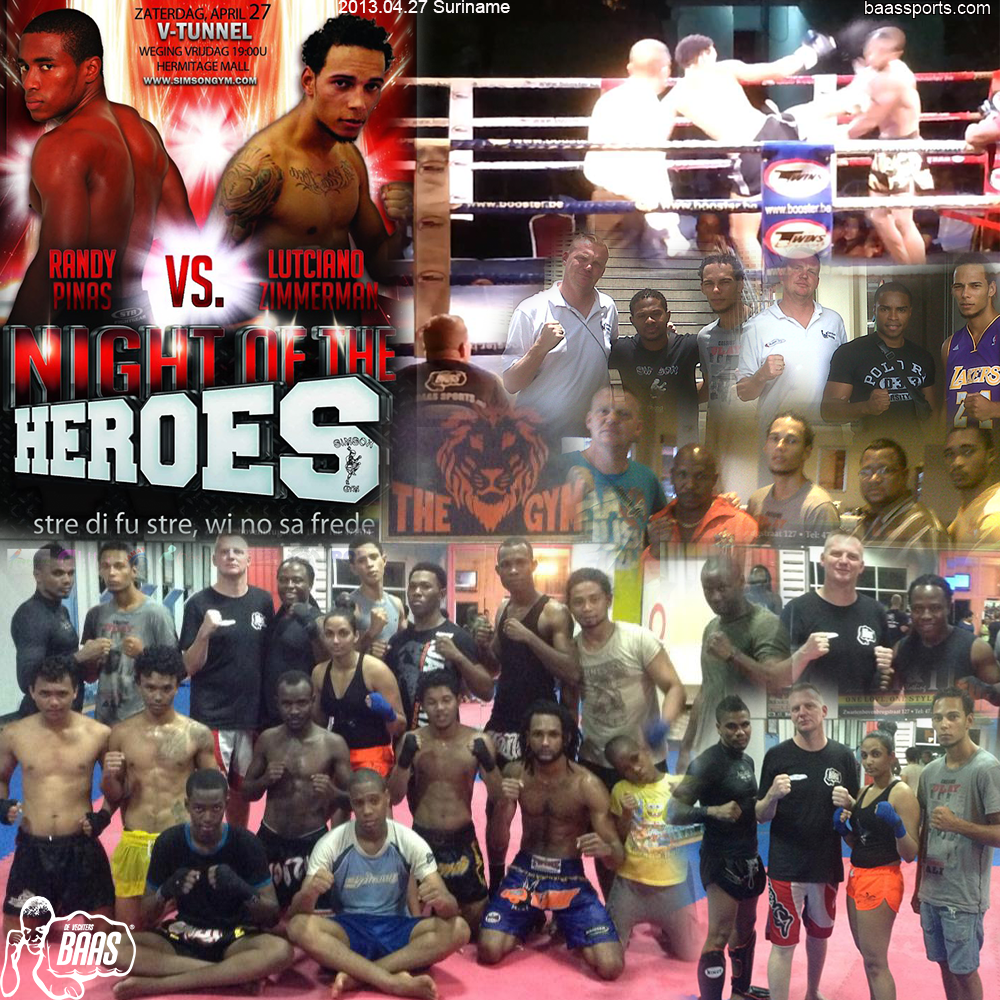 2013.05.04@ AFC (Aruba Fighting Championships), Lutciano Zimmerman (Baas Sports CW) won his MMA debut.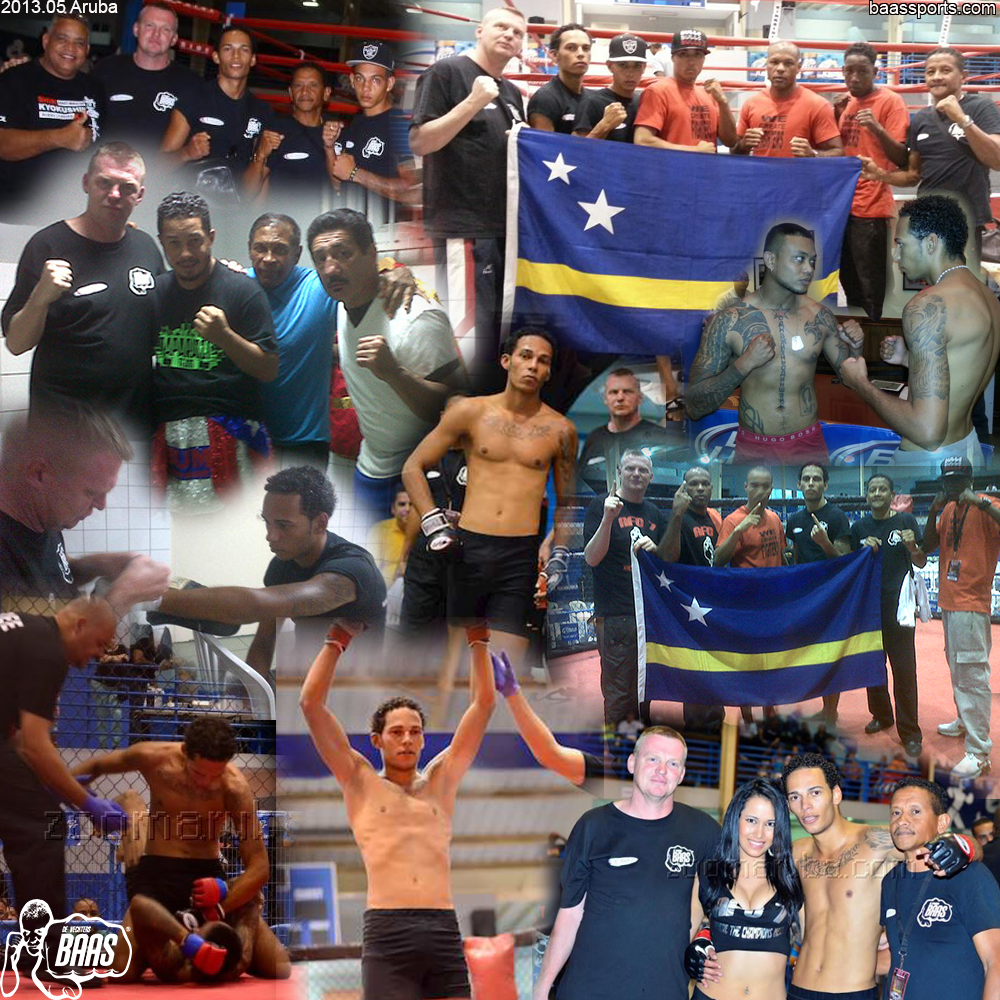 2013.05.30 there were victories for the following boxers from Baas Sports Curacao; Justin Do Rego, Leroy Breeschoten, Jowi Adriana, Jason Gogulski and Argenio Pieters. Argenio won also the Wilson Papa Godett Trophy.
2013.06.01 Edwin Baas received a "recognition and appreciation for devotion and commitment" from the hands of living legend Royce Gracie and Jemyma Betrian who gave seminars at the WTC organized by INM.
@ night "Curacao Here comes the Boom" with Celebrity boxing (DJ R01 vs DJ Carlito, Amos Balentin vs Ephrem J, Gianni Francisca vs Monifa Jansen, Maarten Schakel vs Tony Castro) and 8 Thai-kickboxing and 2 MMA fights with participation of Venezuela, The Netherlands, Bonaire, 3 teams from Aruba (Team Nedd, Dojo Boye and StayThai Fit) and 7 teams from Curacao (Baas Sports, Thai Flying Dragon, Franciska Fighting Club, Kibra Hacha, Extreme Limits Gym, Team Steenrijk, Raul Martial Arts). Baas Sports had 4 fighters that participated.
Nick van Heugten (11) won his first fight, Leroy Breeschoten (15) won his first kickboxing fight, and Denzel Maria (17) won his first MMA Fight. Milangelo Eugenio lost but this was not a shame, because he faced the young but experienced Jernildo Kersout (The Netherlands) in the A-class. Grego Scharbaai was ready but because the airline DAE cancelled all flights from Suriname on May 31 and June 1st, his opponent could not come.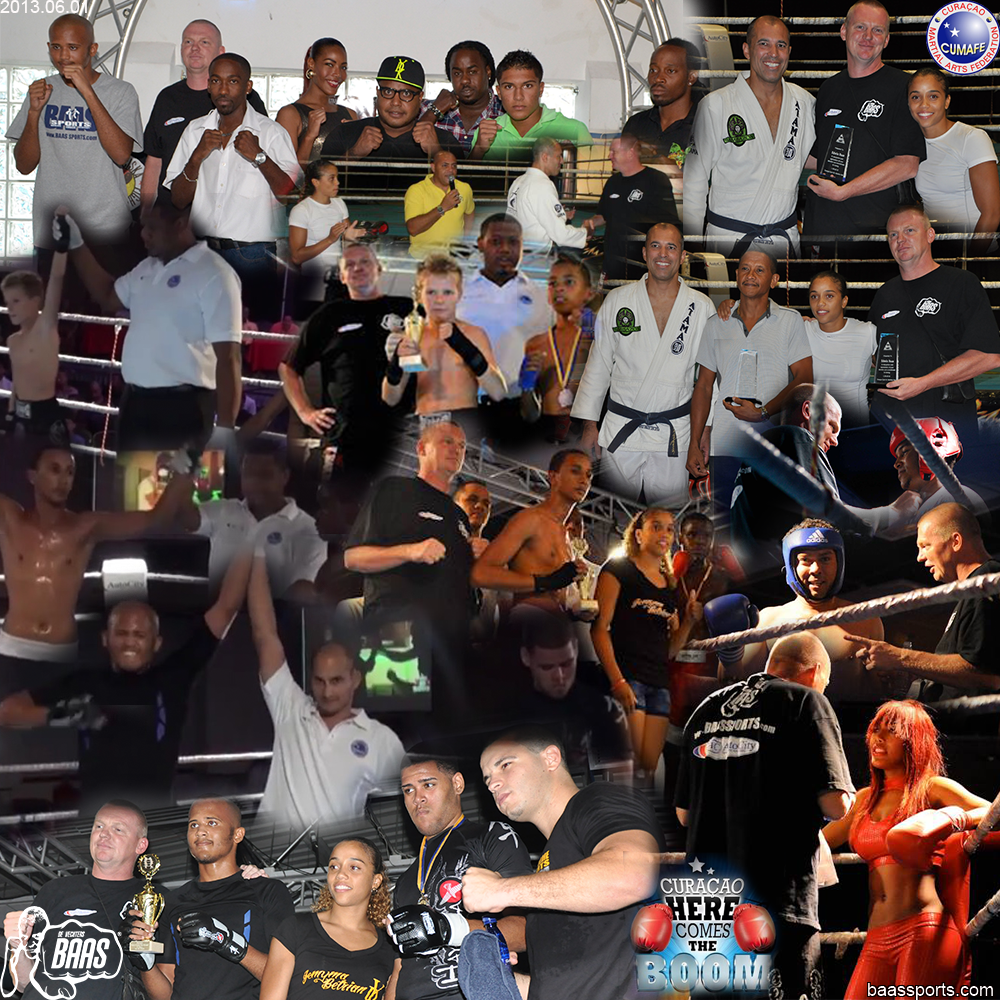 2013.06.22 Dominance "Curacao vs The World", 4 victories for Baas Sports. Jason Gogulski and Rion Rijker (Baas/KB Groningen) won on K-1 rules and Mitch Hunner (USA/Baas) and Mohamed Hussein (Baas/ Team Hussein) won in MMA. Hussein knocked out Robert McCarthy (Jamaica) in the 1ts round of the main event and received the winnerstrophy from Mr. Apy Echteld, who was sent to Curacao for this event by the WMMAA (World Mixed Martial Arts Association). In the photo also represntatives from Jamaica, Aruba, Trinidad & Tobago, Venezuela, Suriname, Bonaire and Curacao.
Baas @ The Netherlands. 2013.06.29 YDK Kevin Heyer (Days) won Andy John in Almere by TKO-2. 2013.02.02 Kevin returned to the ring after more than a year. In the youth class he could not find opponents, so he had to leave the youth class. With 16 years young he returned to the adult's class. He won YDK Rudsel Zinhagel. 2013.04.07 Kevin won Terence Rijsenbrij, who had a record 21 fights and former Dutch champion. September 7 @ Dangerzone Kevin won the 1st place of a tournament with 3 victories in 1 night.
2013.07.07 Kickbox @ Golden Glory Helmond NL/Team Holzken. Nick Van Heugten (Baas Sports Curacao) 12 yr 32 kg won Leroy Lourensen (Golden Glory Helmond) 12 yr 32 kg. Roy van Heugten (Baas Sports Curacao) 10 year 29 kg won Mike van Loosbeek (Errol Parris) 10 year 29 kg.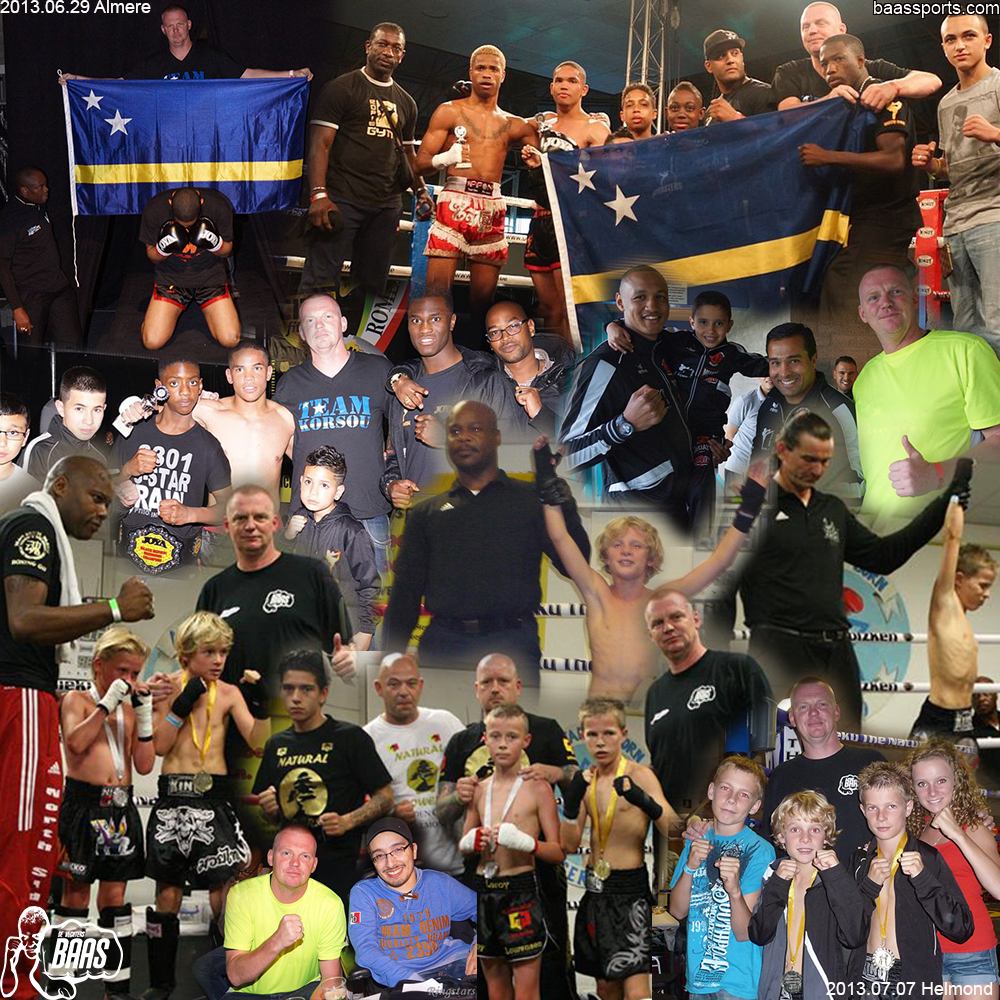 2013.07.08 Reunion training @ MT Gym Haarlem with ex-students and friends of Baas. Present were Apy Echteld (Halfweg), Hamid el Kandousi, Faouzi Elkandousi, Samantha Baas, Naoufal El-Hamchaoui, Jim Rijkschroeff (Den Haag), Chellina Chirino, Shaffairo Bart (Almere), Koos Broekhof, Marcel Takken, Peter Reffeltrath, Arno Hermans, Ad van der Hijden (Alkmaar), Jafar Hoseyni, Khalid Elaater, Anouare Farhat, Mohamed El Aater, John Bawits, Stijn Braams, Ruud Hardjokoesoemo, Junior, Khalid Redouani, Virgil Bawits, Stephen Liu, Giovanni Liu (Rotterdam), Joost Mulder, Shanice Josefina, Jamal el Otmani (Amsterdam), Giwanni Schaap (Breda), Michel Renirie, Alperen Cilgin, Jop Schwalbach, Jesse Schwalbach (Zaandam).
Also in the pic Dennis Rock, Robin Dissel, Luigi Kwas, Alex Cheng, Boubkar Belkasmi, Ruud Hillenaar, Mike Welch, Roland Sandvliet, Clayton Henriquez, Angelo Meola, Peter Teysse, Cedric Manhoef, Danny van der Wijck, Abdel Hamid El Meddioui, Reno Mooyweer, Ibrahim El Bouni, Riduan El Assrouti, Noureddine Belhaj, Kevin Heyer, Clyde Brunswijk, Ropie Adriaans, Dayon Mungroe, Sjef Weber, Errol Parris, Fam. van Heugten.
2013.07.28 Clayton Henriquez (Angelo Meola Enschede) won Pierdomenico Nico (Italy) by SUB (Triangle Choke) in Torri del Benaco Italy. Clayton also won; Dimitri Angelini by KO in MMA, Ramon Niamat in kickbox 10.12, Germany 11.24.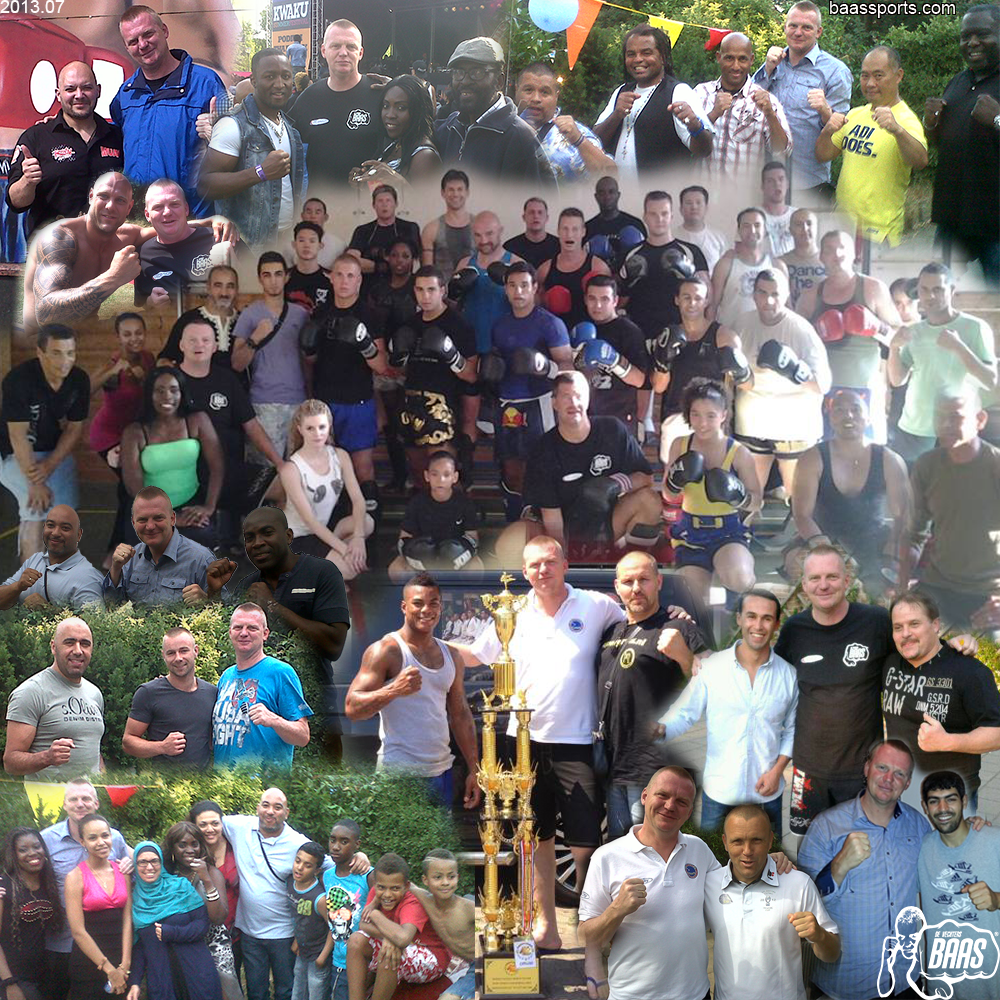 2013.08.30@ "The Battle of the islands" Sint Maarten. Leroy Breeschoten, Jason Gogulski and Argenio Pieters from Baas Sports Curacao. 2013.01.25 AruBox "Dia di Betico Croes with Franklin Cox, Jason, Lutciano Zimmerman and Leroy from Baas Sports Curacao.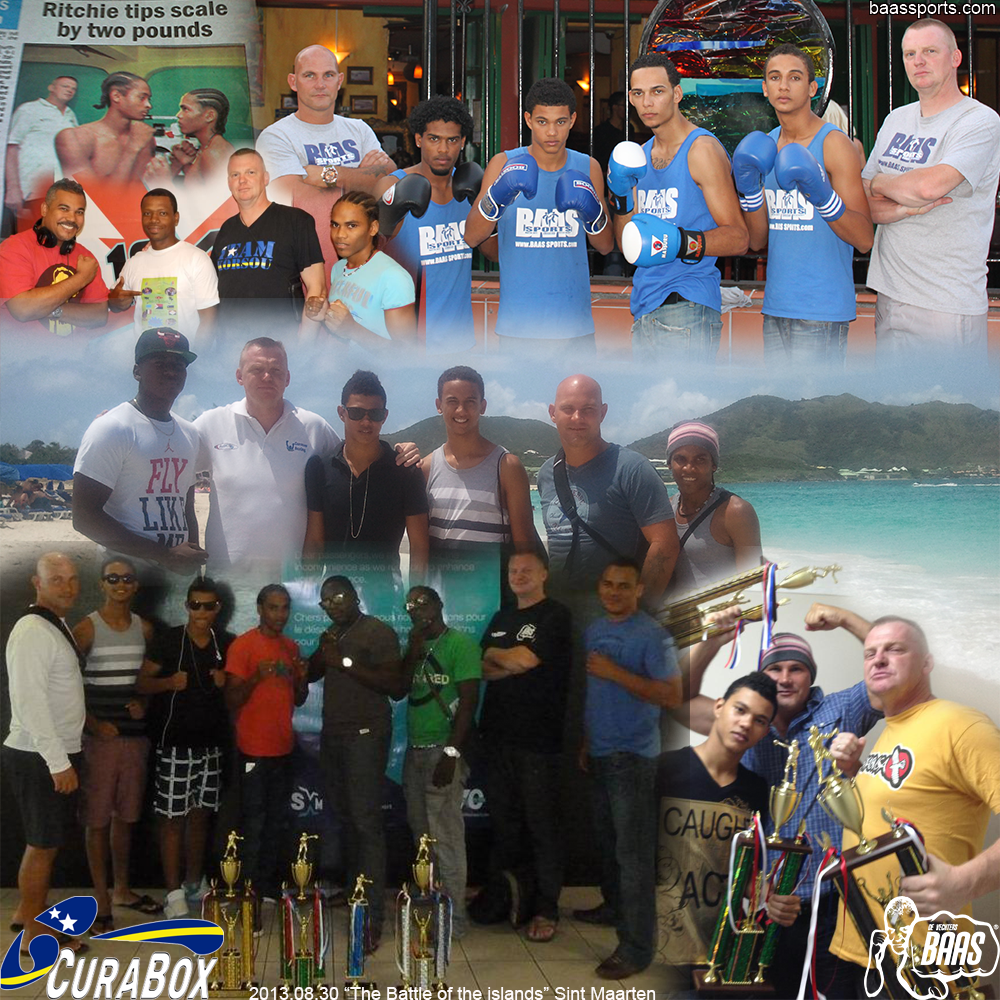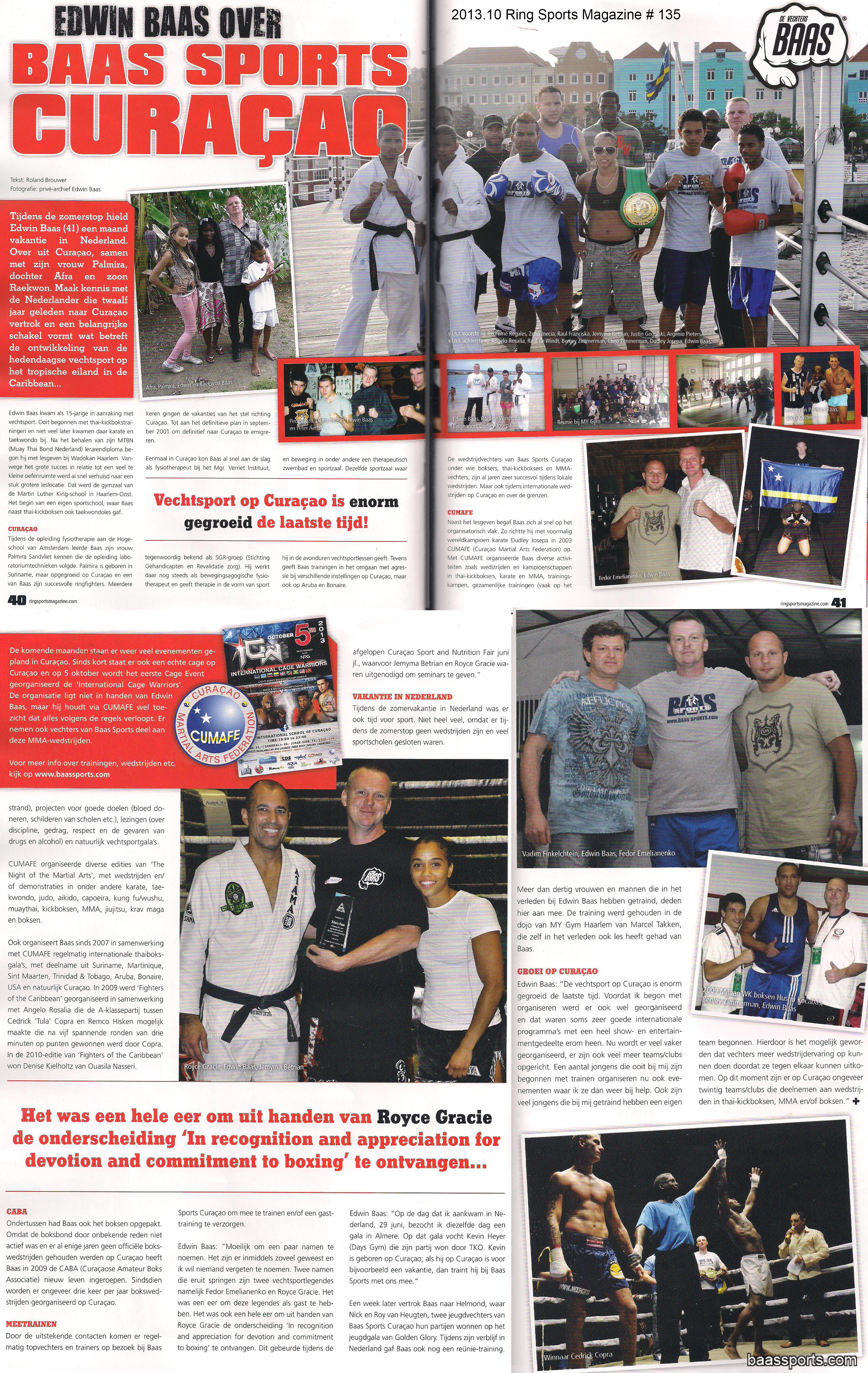 2013.10.05 Mohamed "The Pain" Hussein (Baas Sports) won his 9th victory by SUB-1 @ ICW (International Cage Warriors with Trinidad & Tobago, Aruba, Jamaica, St.Kitts, Dominican Republic and Curacao).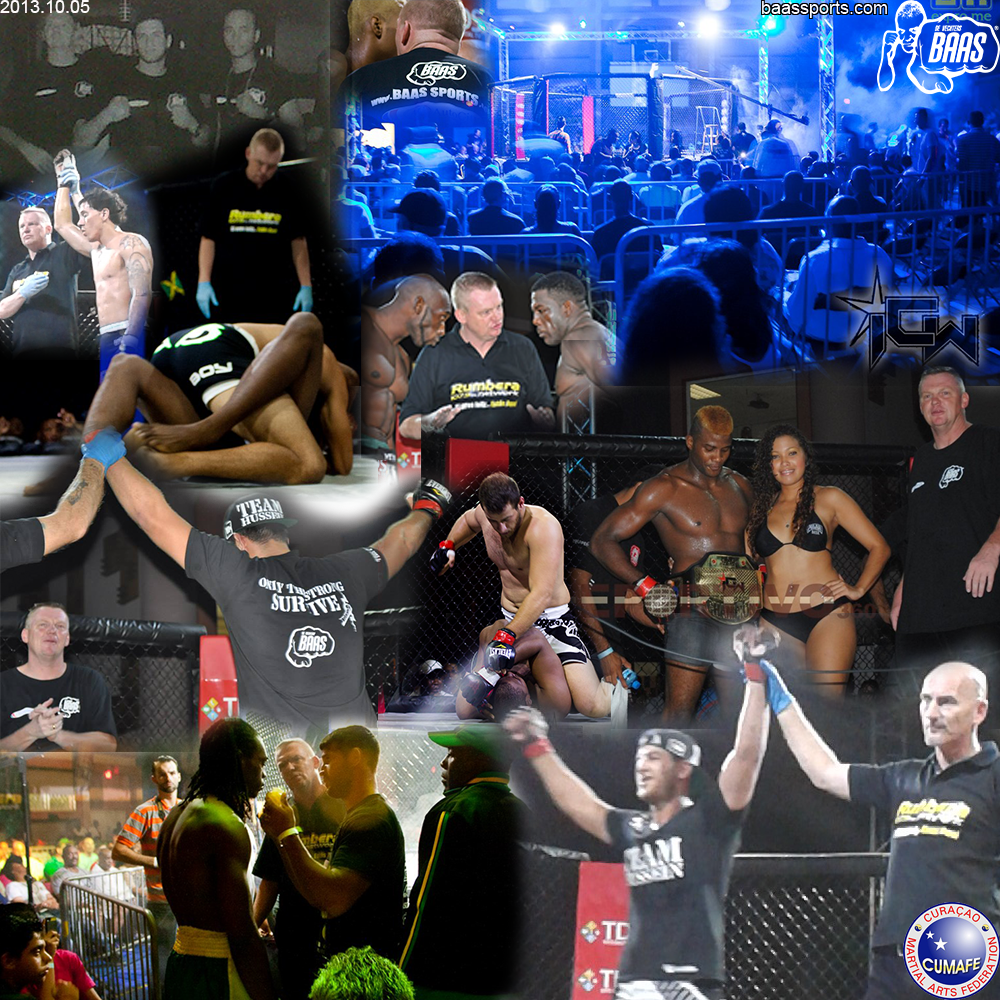 2013.11.09 CABA. Baas Sports participated with 11 boxers and won nine 1st prices; Jason Gogulski, Justin Do Rego, Grego Scharbaai, Argenio Pieters, Denzel Maria, Tico Grote Stam, Leroy Breeschoten, Janice Breeschoten and Nataly Ogenio.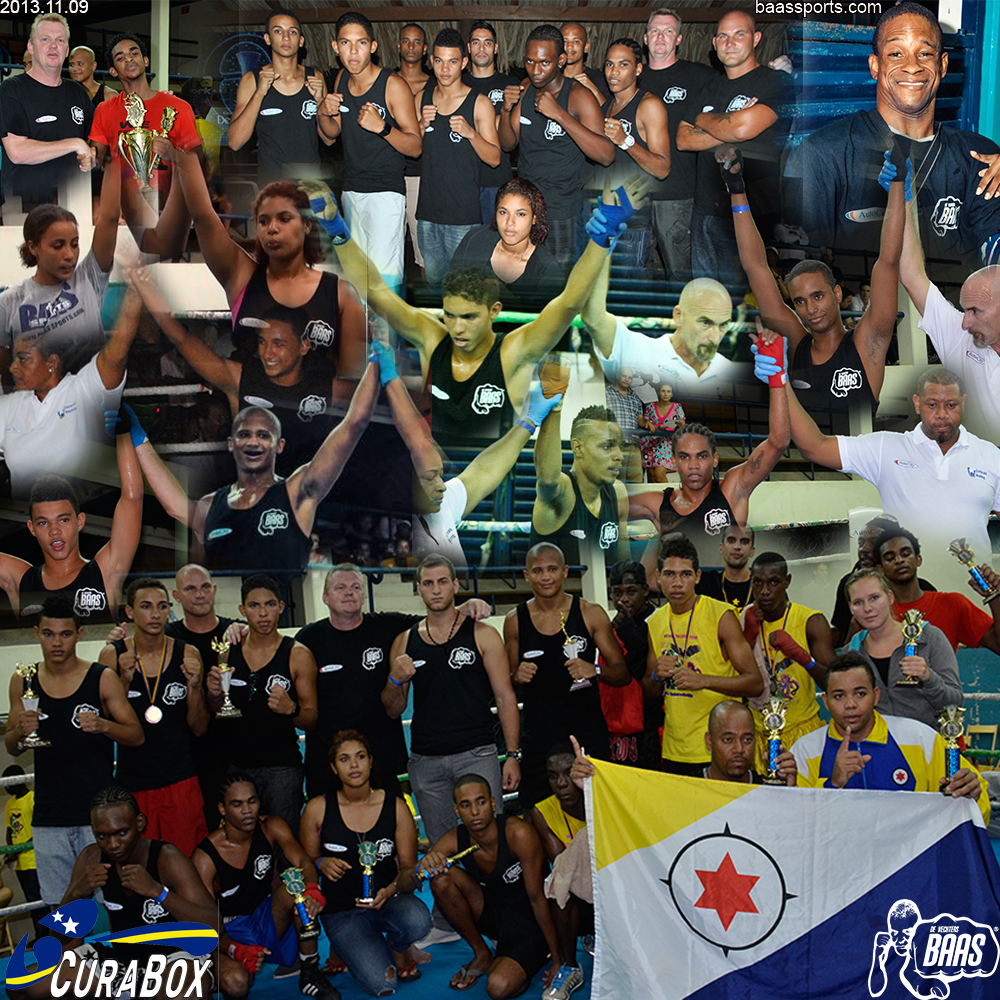 2013.11.30 Baas Sports victories @ Dominance 3 'Go Hard Or Go Home' for Jason Gogulski in kickboxing and Denzel Maria in MMA.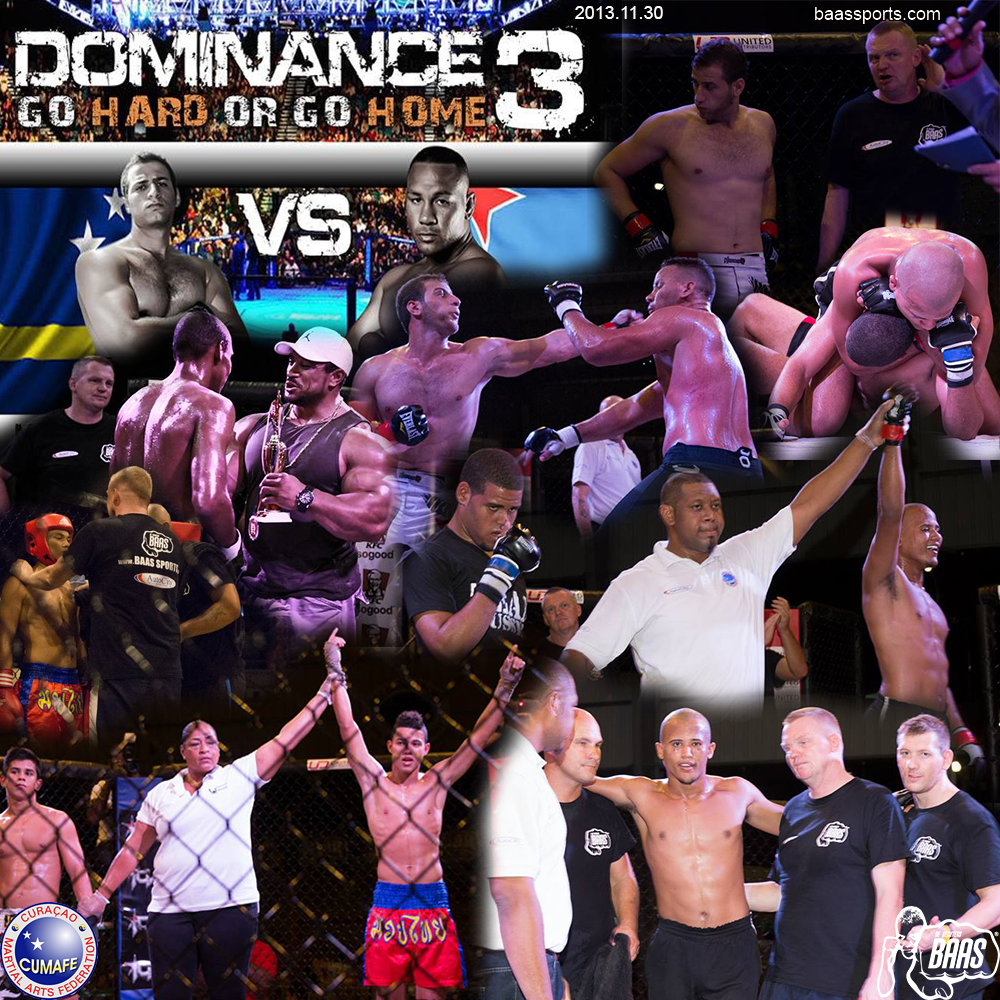 2013 guests @ Baas Sports Curacao. Edwin Baas with Ivo Nijenhuis, Ibrahim Sellak, Leon van Wely, Dennis Rock, Patrick vd Krats, Willem Gerlach, Mitch Huner, Chofie Balijn, Judah Willems, Kader Benali, Harmen Bakker, Joost Mulder, Sem Klein, Nestor Zimmerman, Naoufal el Hamchaoui, Sandro Martis, Apy Echteld, Royce Gracie, Jemyma Betrain, Milles Prens.