Curaçao was very successful again in 2014 at AruBox events in Aruba. From Baas Sports; Nataly Ogenio, Maurits Hennen, Tyrique Brown, Kevin Codon and Grego Scharbaai
2014.02.22 in Birobichan Russia Mohamed Hussein from Baas Sports Curaçao won the main event MMA.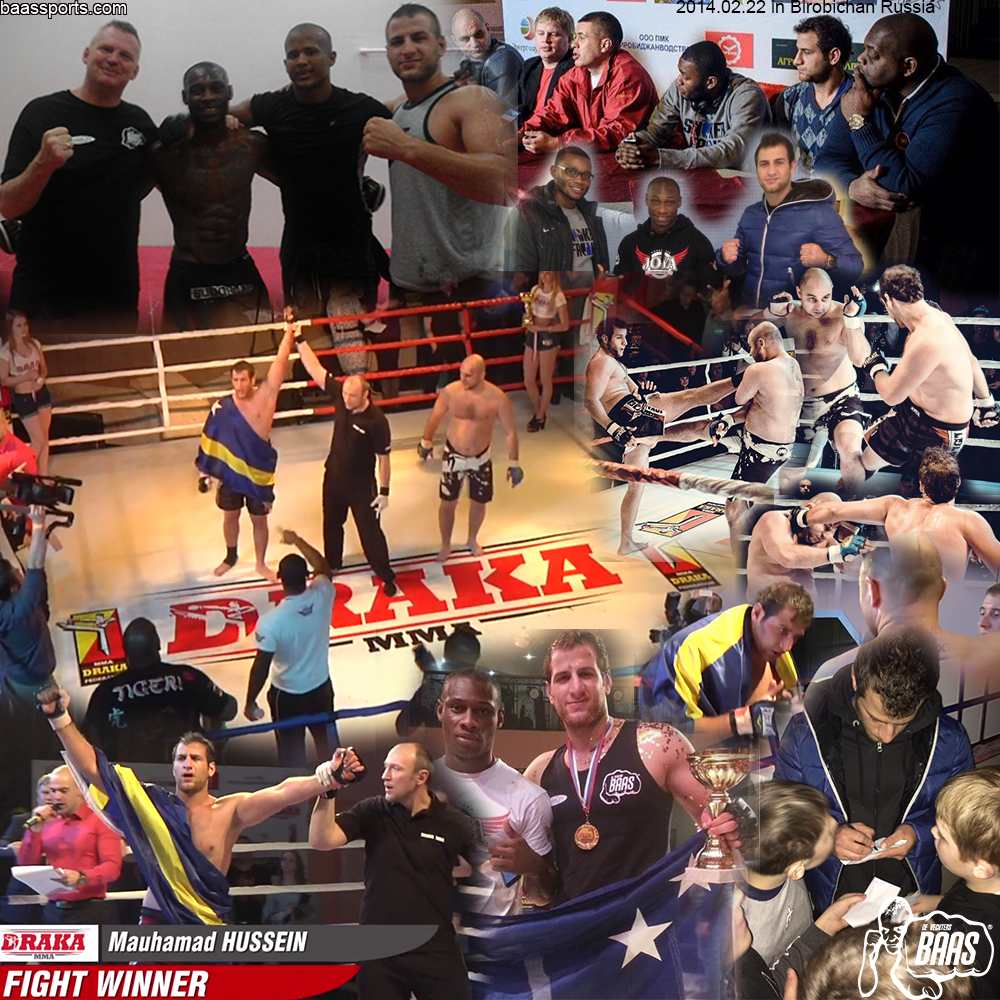 2014.05.10 Edwin Baas organized a great Fighters of the Caribbean with 6 boxing, 6 Muay Thai and 5 MMA fights and fighters from Bonaire, Suriname, Sint Maarten, Aruba, Trinidad & Tobago, Jamaica and Curacao. Baas boxers Leon van Geest and Maurits Hennen won both. Hennen won by 1st round KO. Baas Sports also had 1 Thaiboxer and 2 MMA Fighters on the fight card. Grego Scharbaai won his opponent from Trinidad & Tobago in a Muay Thai. In MMA both Denzel Maria and Mohamed Hussein won. Hussein won the main event by submission in the 1st round.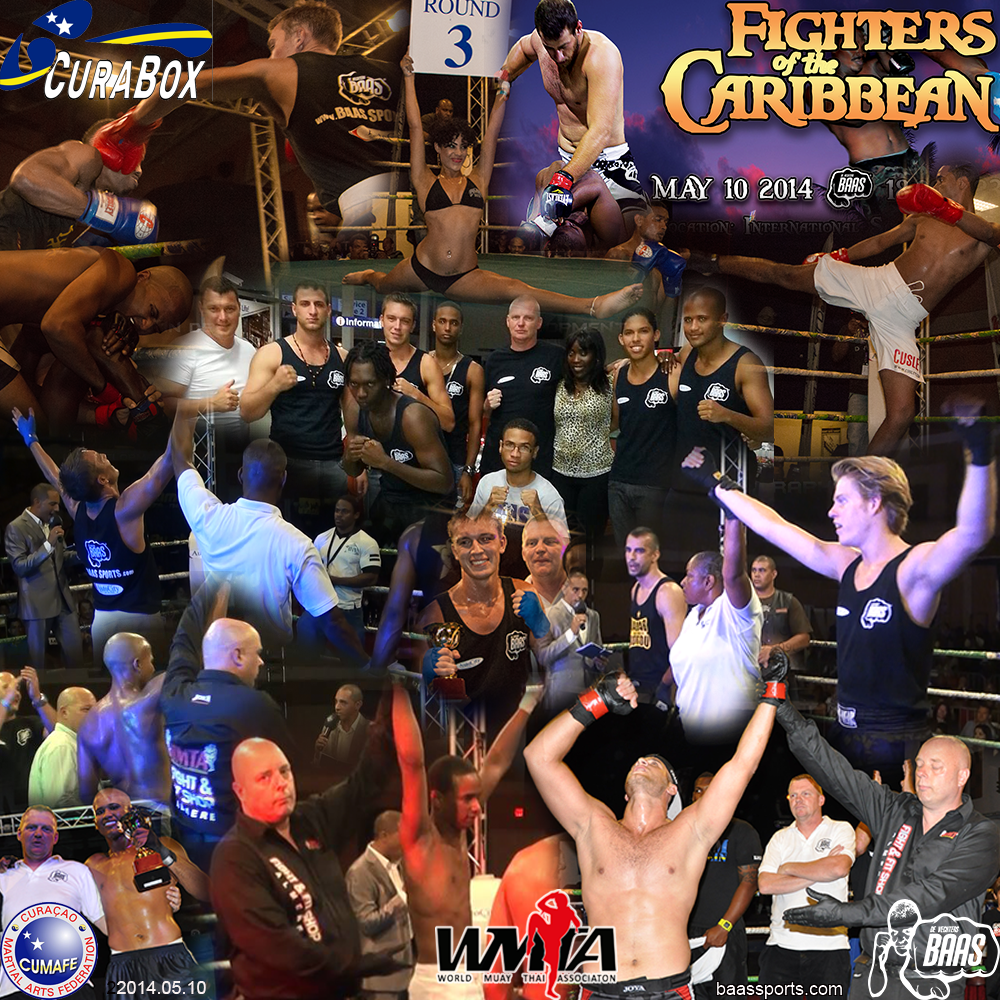 Besides the great results at events; Fighters of the Caribbean, Dominance 4 and the 4 AruBox events, there were more great results for Baas Sports at various other events in 2014; in boxing for Jowi Adriana & Tyrique Brown, grappling for Jhonny Camargo, Marlon Pacheco & David Curiel, kickboxing for Irving Fancisca & Grego Scharbaai (all champions WKA Aruba).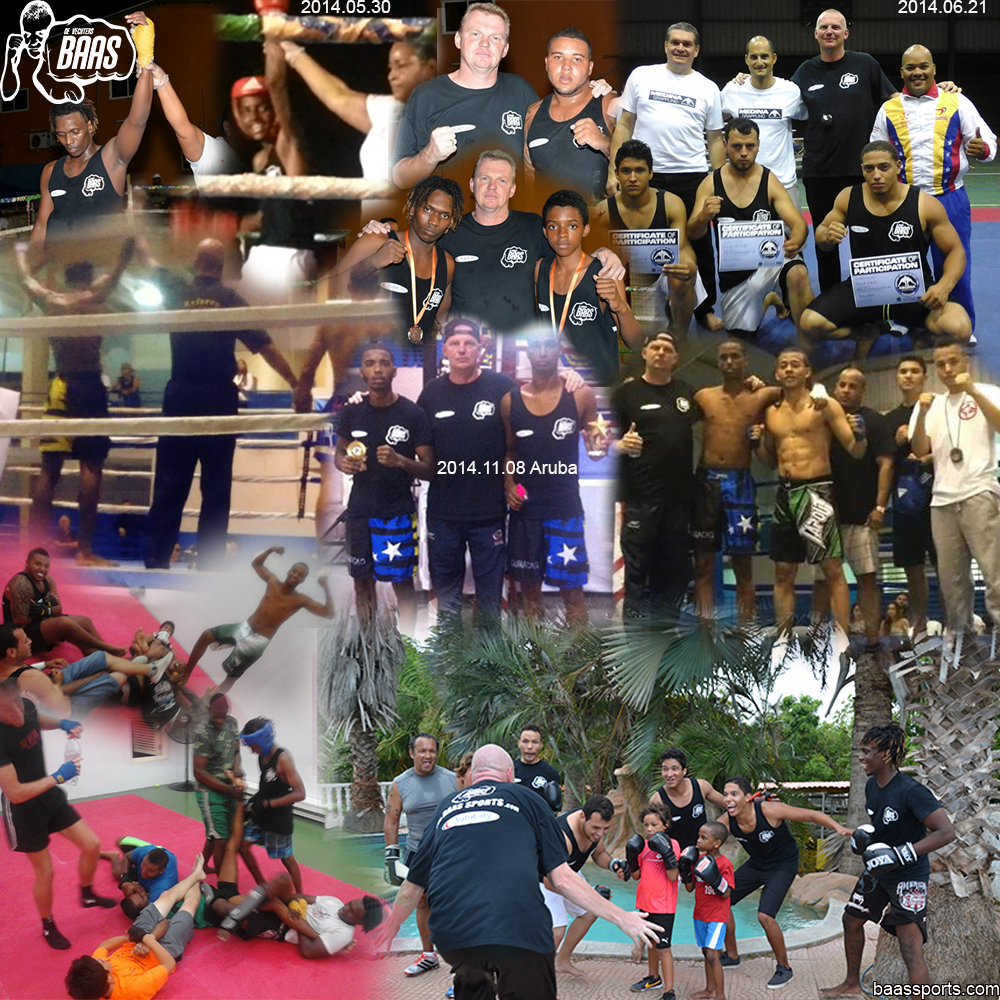 2014.11.19 Dominance 4 Victories in MMA for Argenio Pieters and Mohamed "The Pain" Hussein.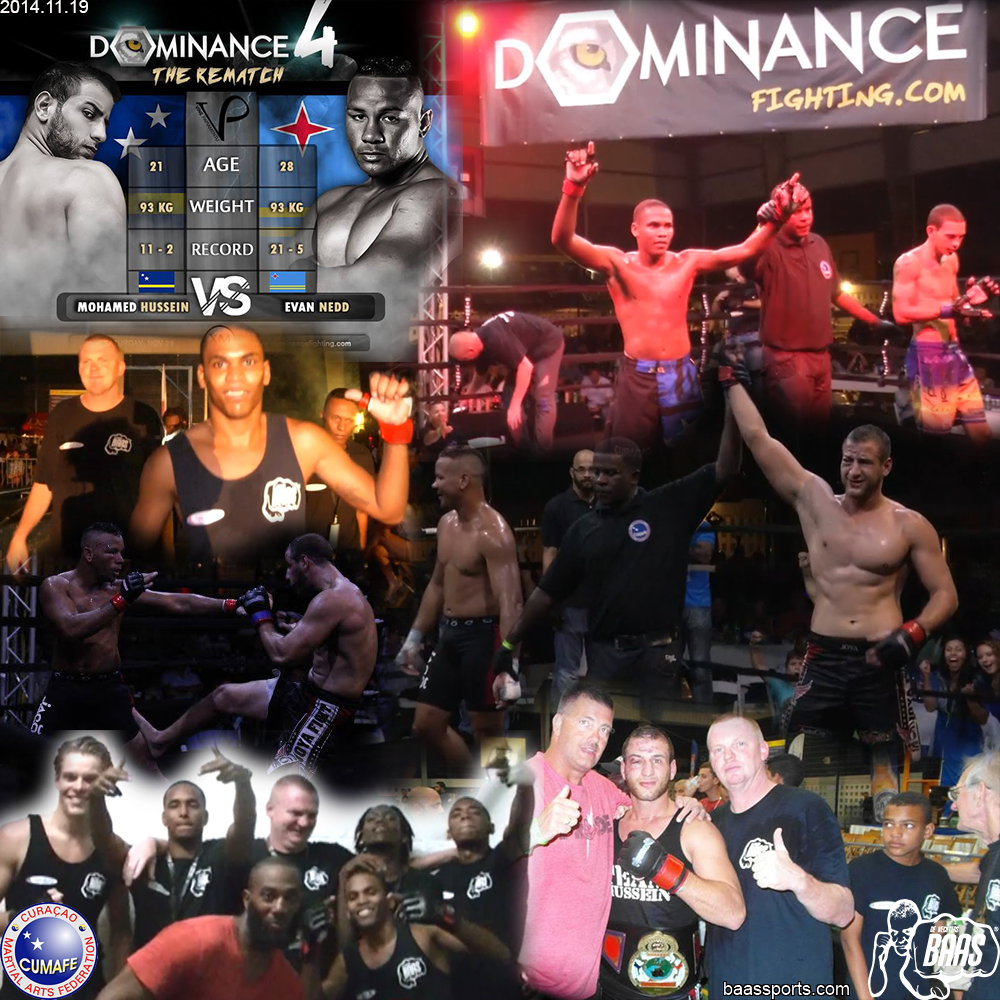 Some of the guests in 2014; Glen & Ronan Huisman, Randy Heyer, Sandro Martis, August Stomp, Michell Adelina, Benjey Zimmerman, Zeno Silent Dragon, Lirou Pinedo, Cedric Bacuna, Wesley Koning, Earl Blijd, Harmen Bakker, Chellina Chirino, Rudsel 'Cobra' Copra, Jemyma Betrian, John Stephen Granville, Richel Hersisia, Jay Overmeer, Emmanuel Maduro, Clarence Thompson, Daniel v.d. Wilt, Luigi Kwas.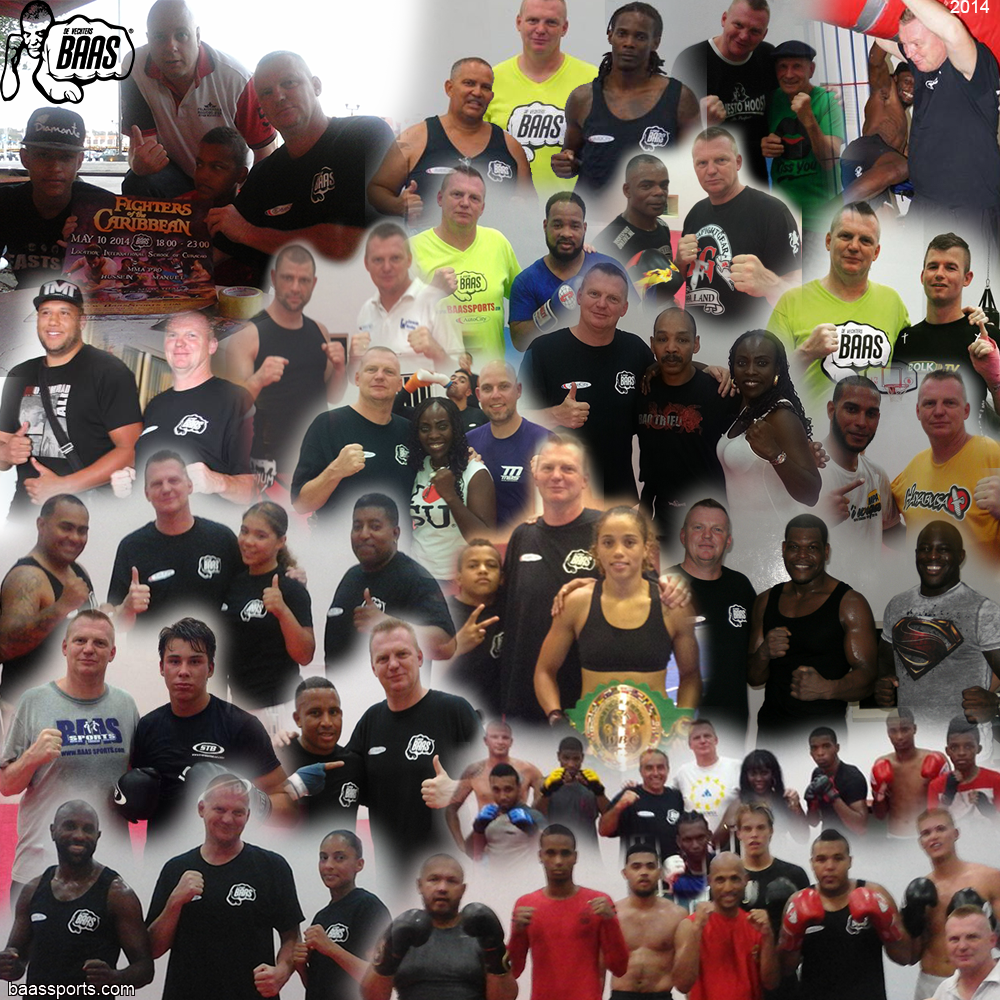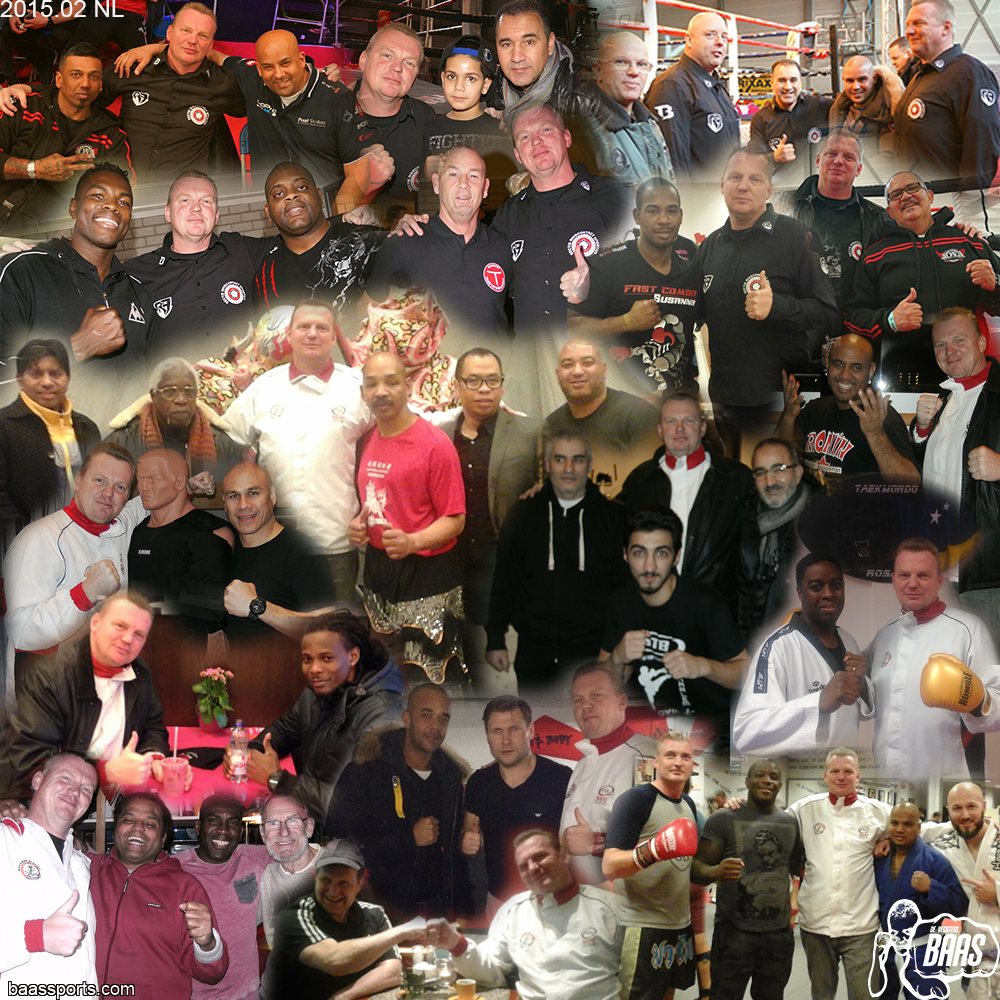 Baas @ NL. 2015.02.06 reunion training at MT Gym in Haarlem.
2015.02.07 "Raw Diamonds" Almere, organized by Remy Bonjasky and under WMTA supervsion. Milton Felter, Tom v.d. Berg, Randy Heyer, Glen Huisman, Mufadel, Dirco Wit, Rachid Belhadji, Joaquim.
2015.02.08 "Brothers vs The rest" Nieuwerkerk a/d IJssel, organized by Bap Tetteroo. Kenneth Susanna. Taekyon Haarlem, In de toelast, Gym Haarlem, MT gym, Eagle gym Haarlem, etc. Friends and old training mates marcel Takken, Boubkar Belkasmi, Murat Ilgen, Mustafa Mamnouh, etc. Manhoef Hoofddorp with Stijn Braams, Rodney Glunder, Lorenzo Anches and Arda Guncicek. Dennis Rock (Rock Gym Zaandam). Denis Sharoykin and Sander Nortan Top sport Alkmaar, Danny Aikibudo Amsterdam, Boksschool Houwaart The Hague. Naarden-Bussum with Sven and Adrie de Herdt from Van Stavast, Taekwondo school Angelo Rosalia Utecht. Groningen Baou Trieu with Earl Blijd, Carl Blijd, James Bergtop, Jonathan Paulina, Sandro Martis, Hillie, Mike and Justin Welch, etc.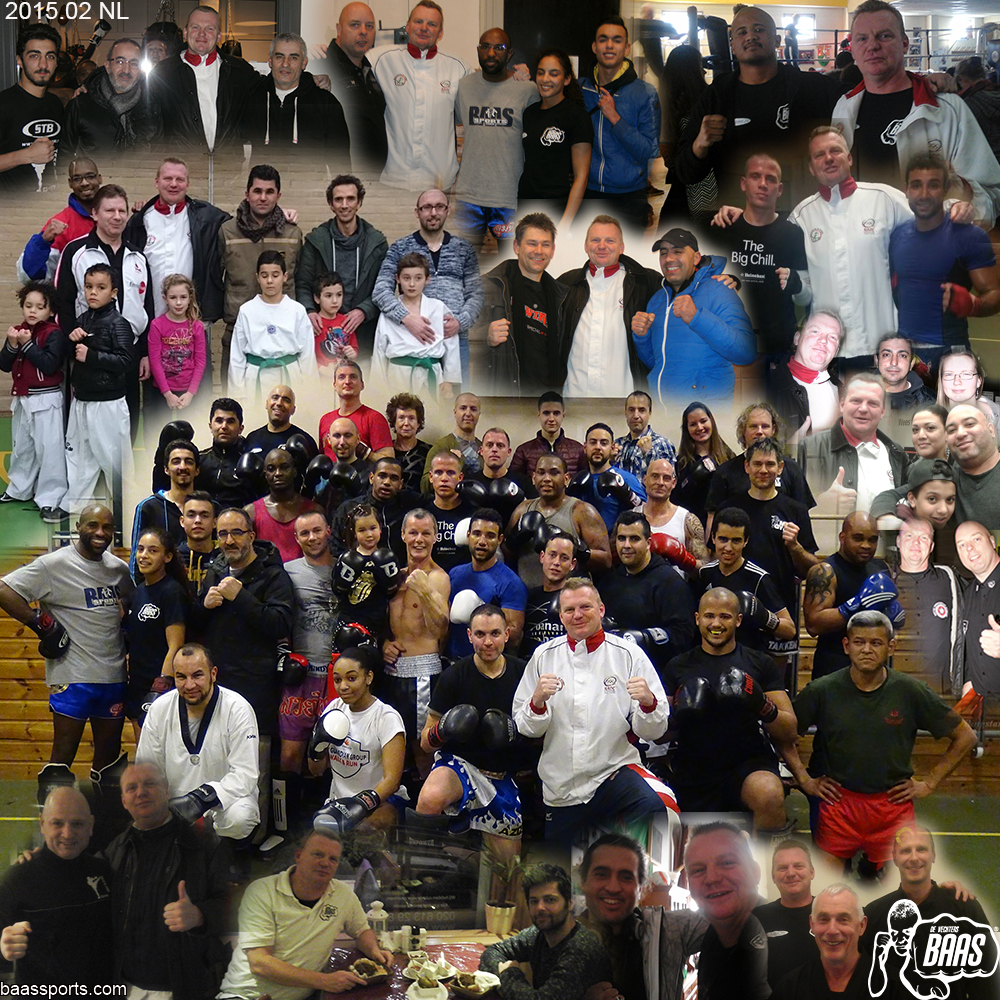 2015.05.09 Edwin Baas organized agreat Fighters of the Caribbean again. Baas Sports was very successful and didn't lose a fight. Kevin Scharbaai won Shardimar Ignatia (Attaf Fighting Factory) by TKO-1 in Thaibox. Grego Scharbaai was prepared for Thaiboxing vs Jurman Liesdek (Suriname), but a day before the fight was noticed that Liesdek did not came to Curacao. Switching to a different game, boxing, was for Grego no problem. Maurits Hennen won Thuersten Winklaar (Bonaire) in a boxing rematch.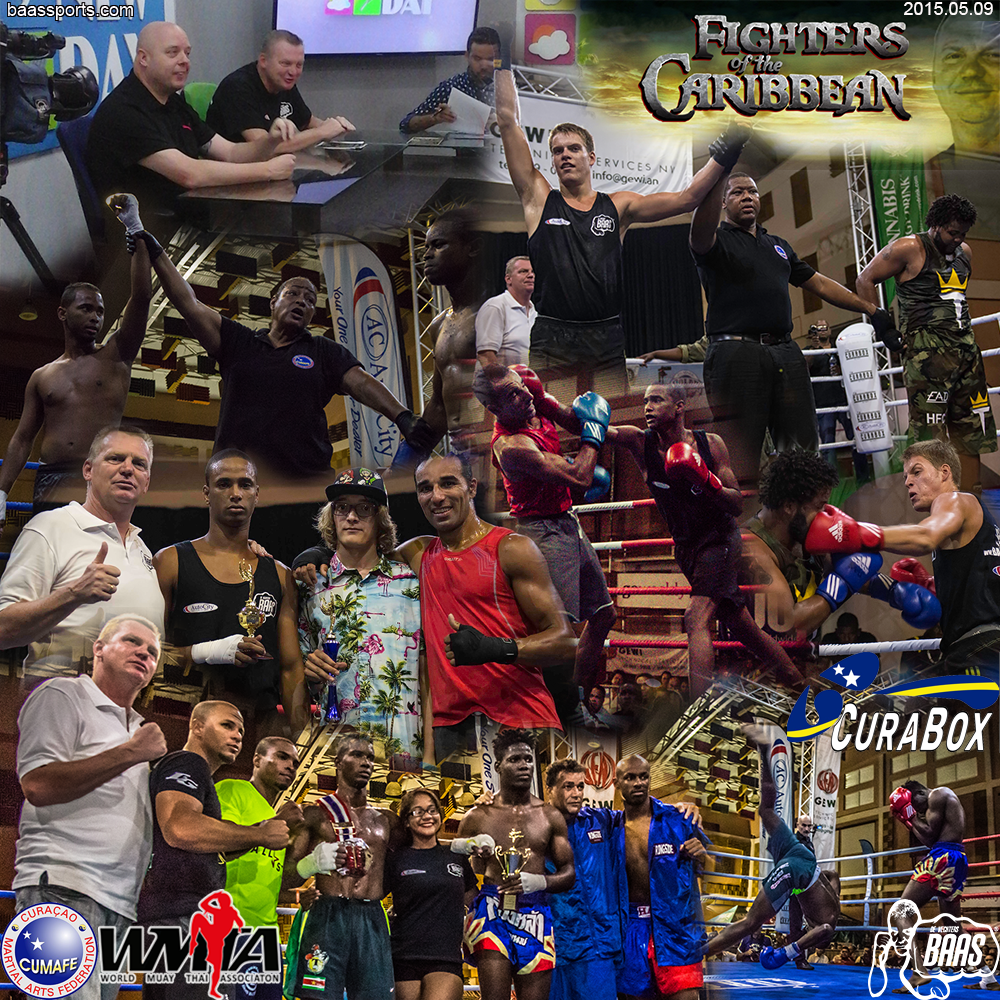 2015.05.30 Box Kevin Scharbaai (Baas Sports) won David Hawker (Attaf Fighting Factory) and Redferne Regales (Baas Sports) won Richard Koffie (Jab Jab Korsou). Red also the big trophy for "best boxer". The trophy of the KO of the night was won by The Late Ruviendell Ong-a-kwie (CSMFT).
2015.10.03 King's land MMA Kevin Scharbaai (Baas Sports) won Danny Matos Puello.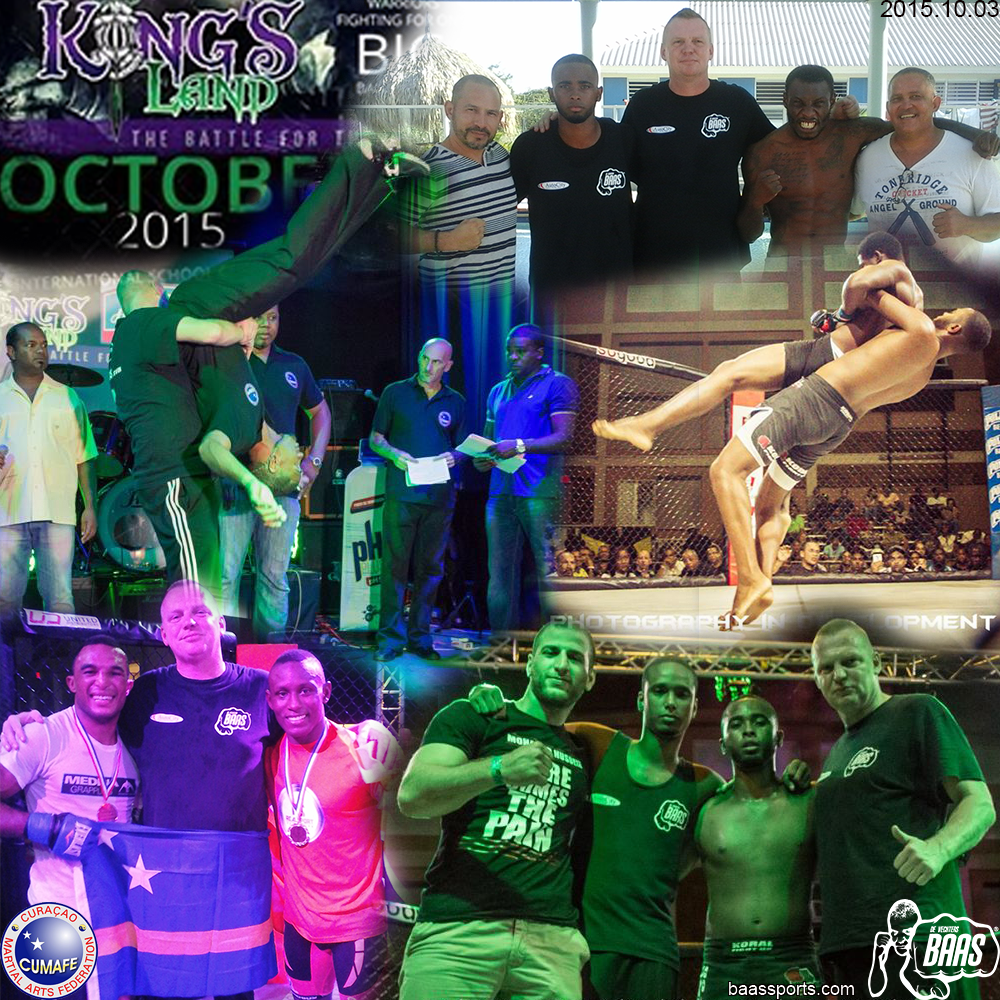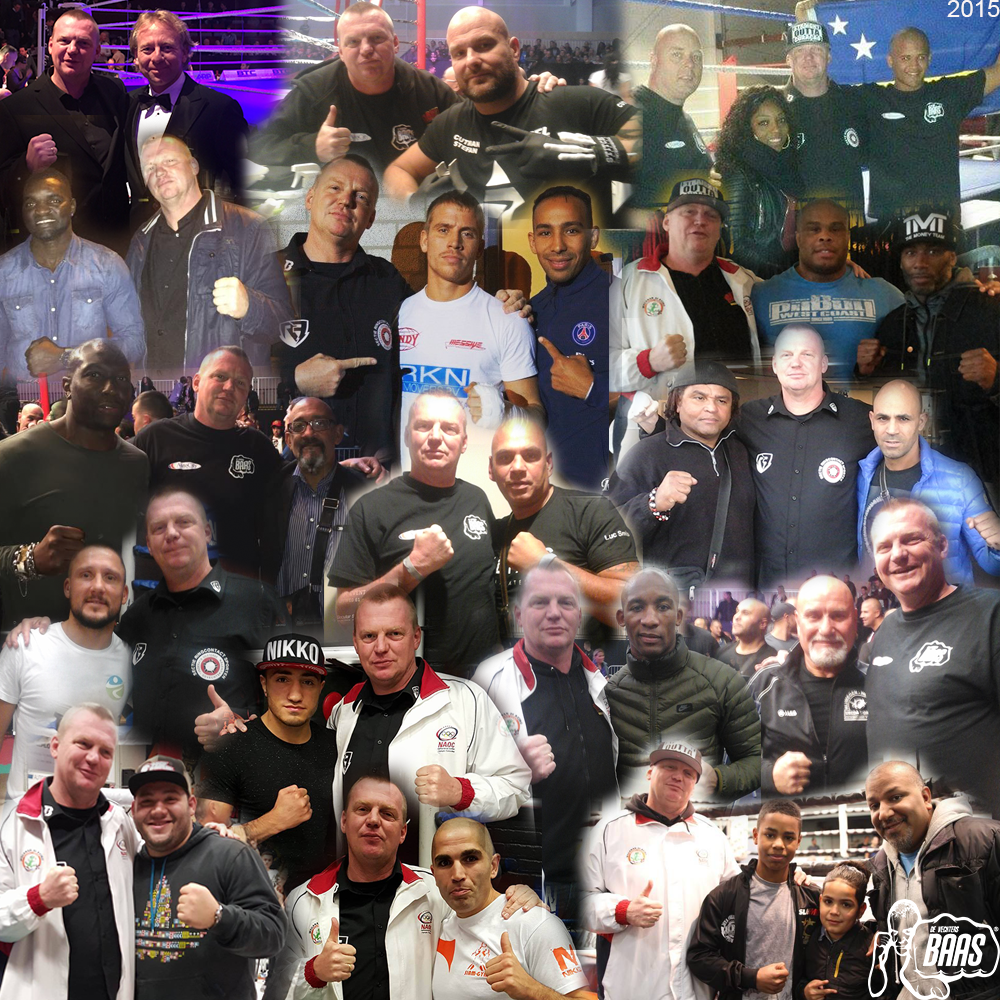 2015.10.10 Mejiro gym Wormer (organized by Collin Mansur) Denzel Maria won by TKO-1. Also in the pic WMTA RJ team under super vision of Glen Huisman, Shanice Josefine (who won in Hoogeveen 2015.10.17 after 5 rounds), Dennis Rock and Boualem Belaini.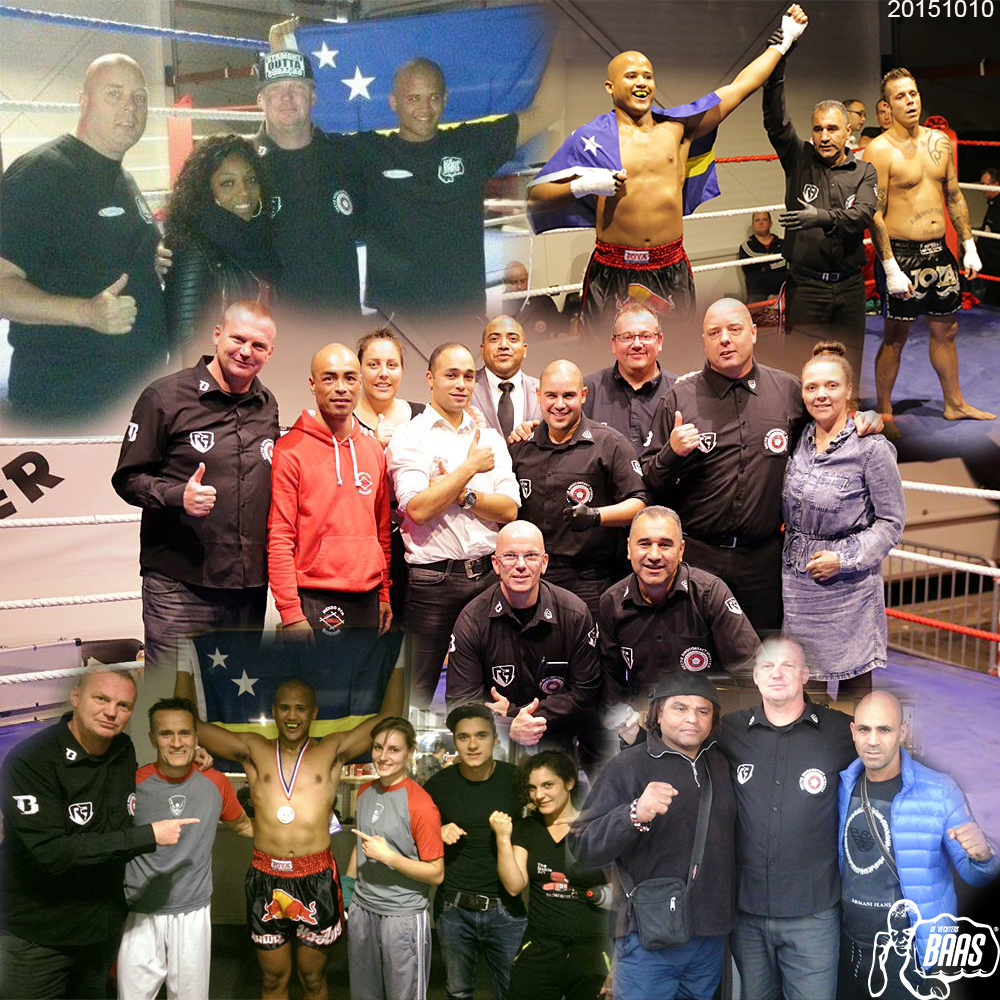 2015.10.11 Ben Bril Memorial @ Amsterdam Carre. YdK Josemir Poulino won the Dutch title. Rafik Rafael Harutjunjan remained WBF welterweight Champion. Koert-Jan Smit, Hüsnü Kocabaş, Andaman Daku.
2015.10.18 Melvin Manhoef with his team, like the sisters Cher and Nance Verbond, organized another great edition of WFL (World Fighting Leugue) in Hoofddorp, cutman Stefan Lems, Andre Tete, Ino Alberga, Joop Ubeda, Leroy Carolina, Joost Mulder, Boualem Belaini, Junny Bonofasio, Atje Smit, Red Cairo.
2015.10.25 Siam gym Valkenswaard, the gym of Mekki Benazouz, with Tayfun Ozcan, Aziz Ameziane, Ismael Lazaar, Andy Souwer.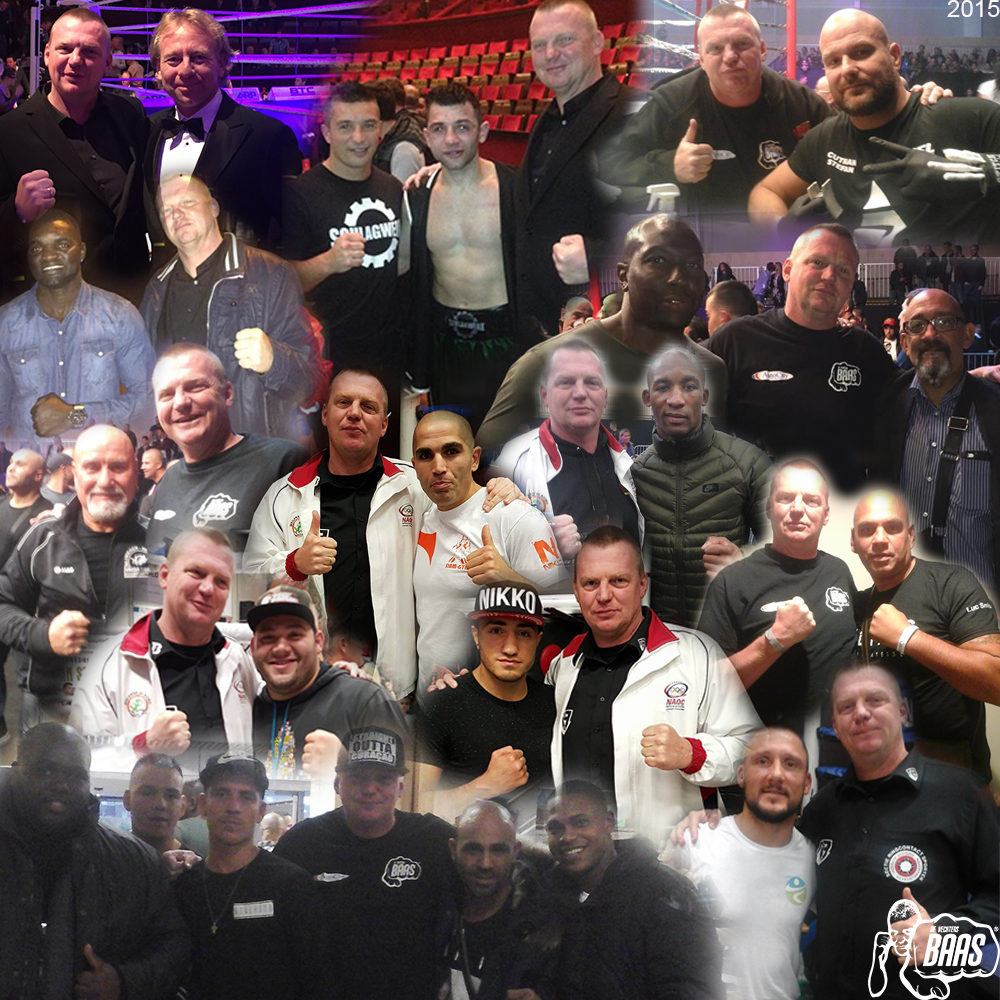 2015.10.17 Raw Diamonds. Joost Mulder (Sport academy Ibrahim Sellak), a former student of Baas Curacao, won the main event. Joost earned the main event because he won the first price of an eight men tournament at an earlier edition of Raw Diamonds.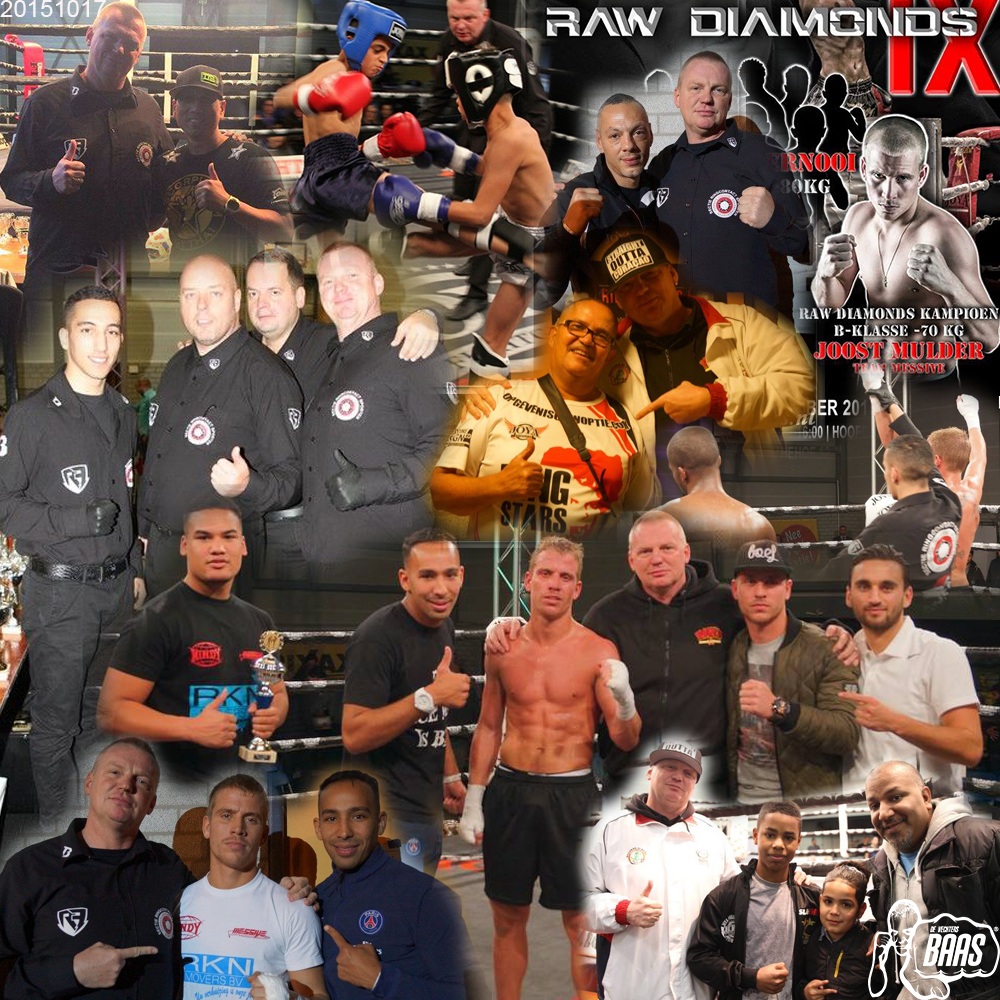 Baas gave a guest training @ MAS (Martial Arts Society) of Clarence Thompson. A great team in a great atmosphere.
Other Amsterdam gyms in the pic. The Big Lab/Team Slamm; Astrando Arduin, Milton Felter, D'Angelo Marshall, Felisiano Sambre. ABC Raymond Joval, Josemir Poulino, Astrando Arduin, Giovanni Rijkaard, Nick. Vos gym Ivan Hippolyte, Francois Lubbers, Kenneth Susanna, Michell Adelina and Chellina Chirino, Jamel Craig. Mike's gym Gilbert Yvel.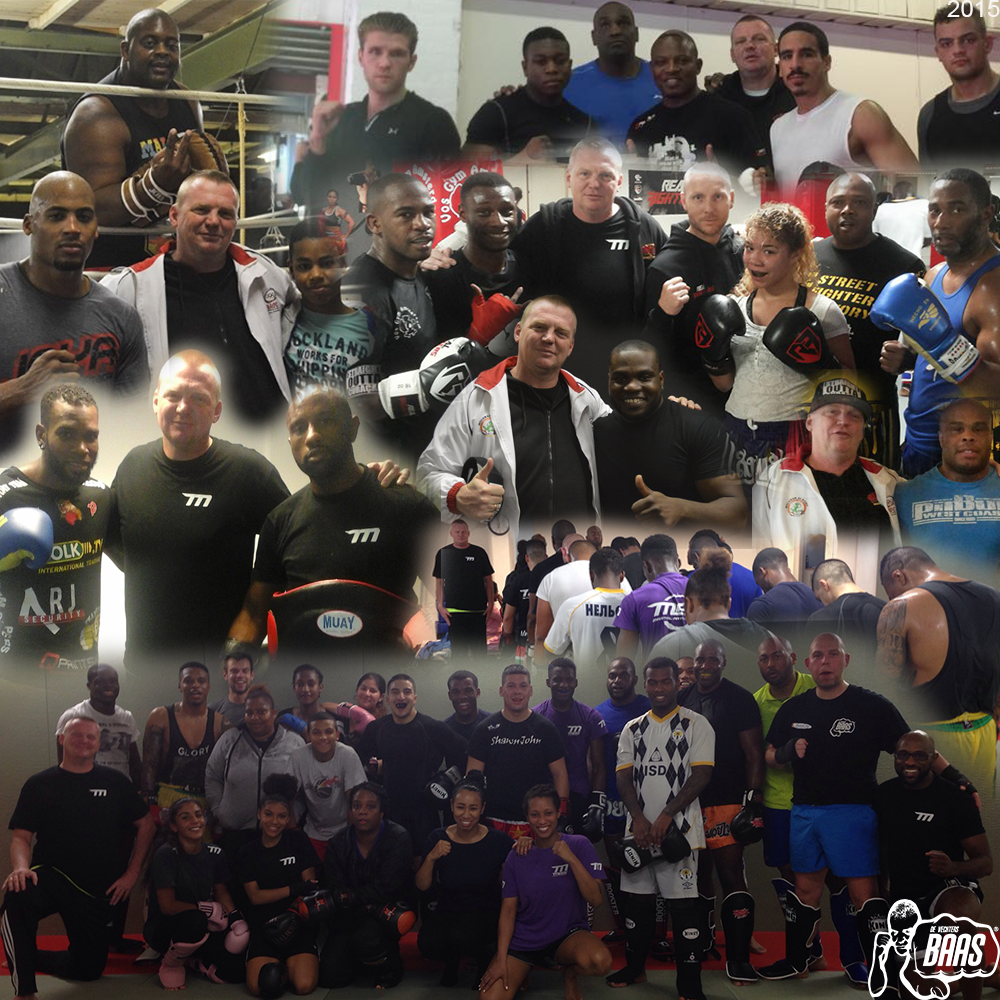 Sports Academy Sellak (owner/trainer is MMA champ Ibrahim Sellak). Eagle gym Haarlem (where Angelique trains) Dew Jagernath. Gym Haarlem Riduan El Assrouti, Ibrahim el Bouni, Jamel Craig. John Bawits. Jeroen van Diemen. Audy Cijntje, Dennis Rock.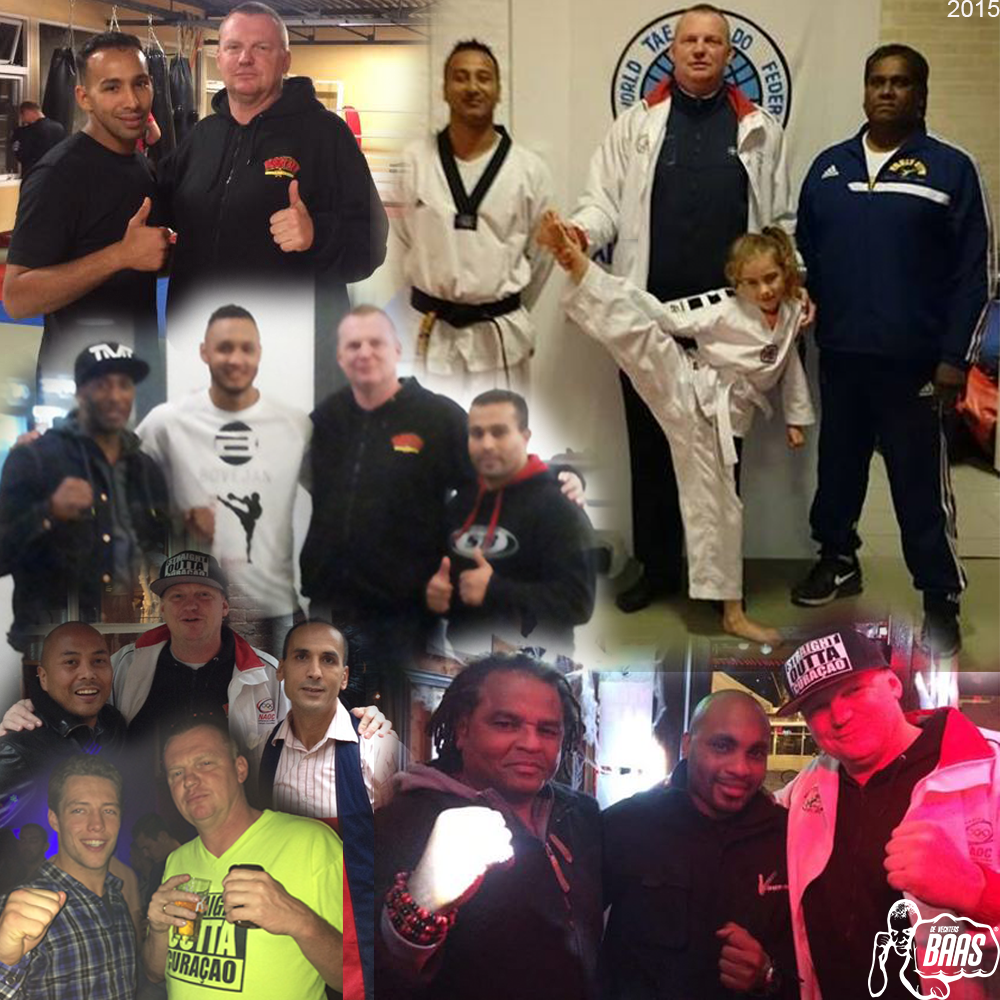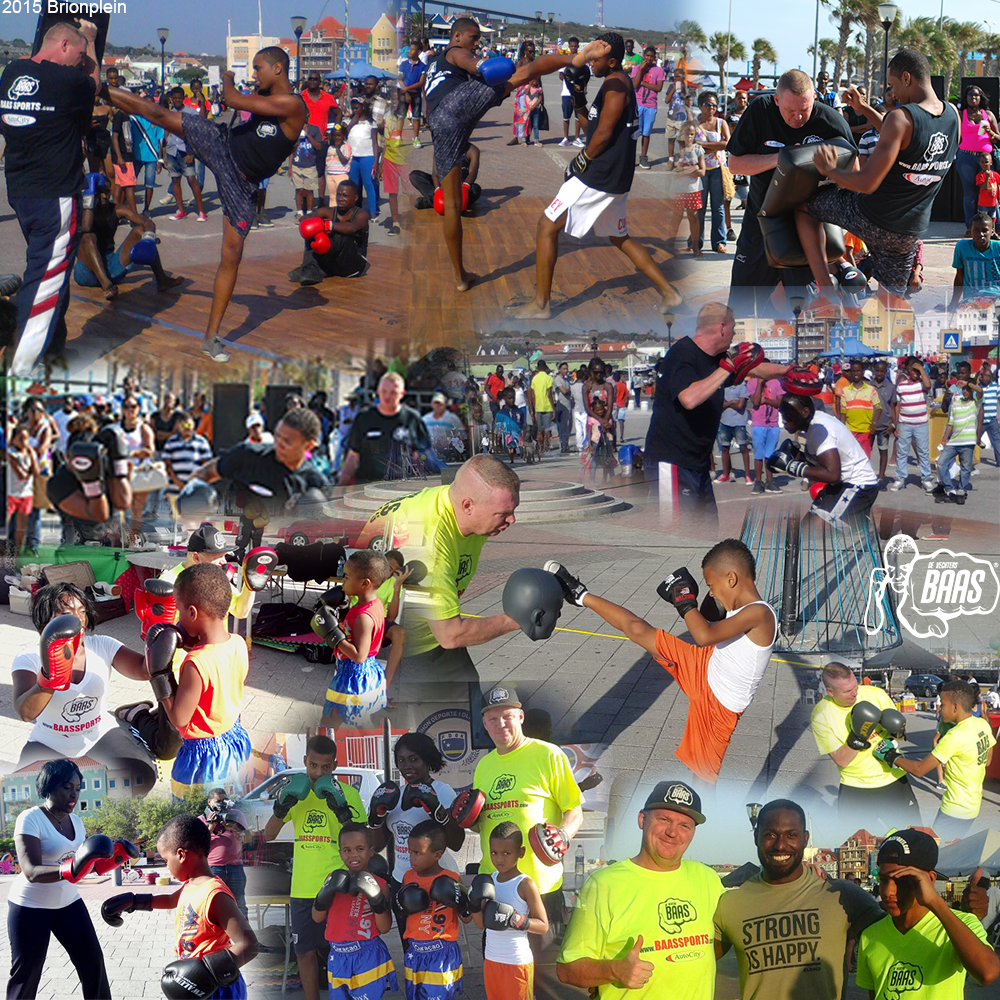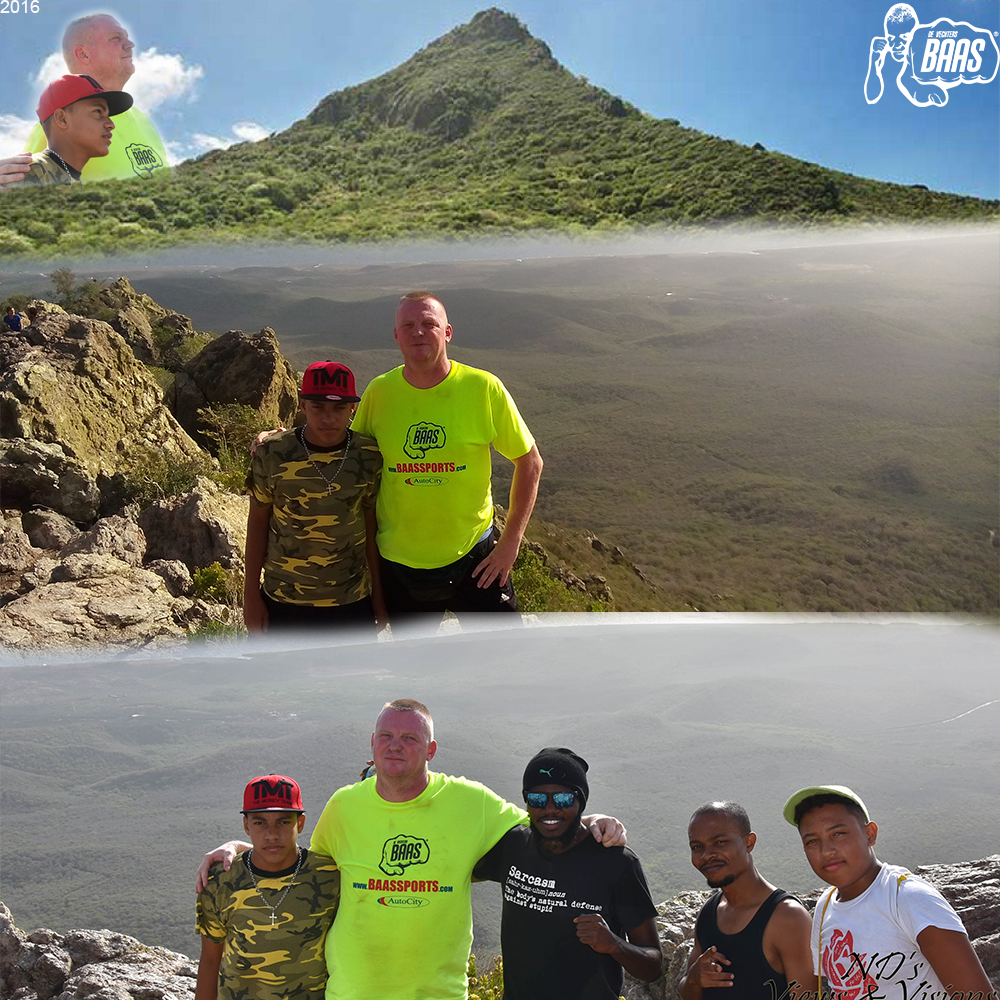 2016.05 & 2016.10 S.T.E.A.L.L. (Smile, Train, Elevate and Love, Life), Jermaine & Guillermo Seymonson @ Baas Sports, Parasasa beach, Saint Tropez and Punda.
2016.06.18 11 years long there had not been a pro-boxing in Curacao, but this changed on June 18 2016. This day CuraBox (Curacao Boxing Association) organized "A Tribute to Muhammad Ali". Next to a lot of amateur boxing bouts there was a professional boxing bout. From Baas Sports Daniel Boya and Jerichson Vlijtig made their successful ring debut. Vlijtig won by RSC-2. Tyrique Brown from Baas Sports won after an unamious decision also the trophy for "most outstanding boxer".
2016.07 Hannes Schneider (New Sport Challenge/Gym Haarlem) and family @ Baas Sports & Parasasa beach.
2016.11.12 The noble art of Boxing with victories for Baas Sports boxers; Tyrique Brown, Humbertico Grotestam, Grego Scharbaai and Kevin Scharbaai. Eva van Baalen fought an exhibition in Thaiboxing vs Redferne Regales. The trophy for the best boxer went just like in June this year at "Tribute to Muhammad Ali" to the only 16 years young Tyrique Brown.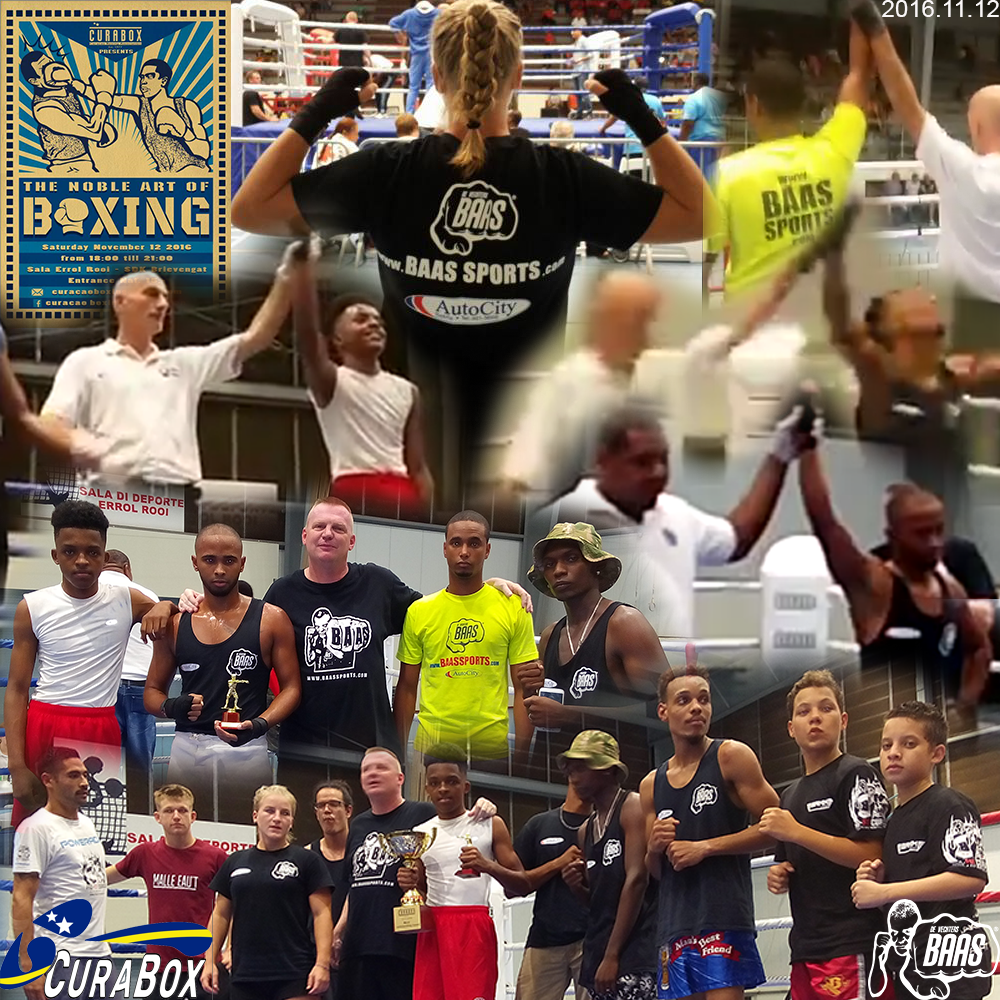 2016.10.27 Baas Sports @ Punda Thursday Vibes FDDK. The audience was great with the clients of De SGR-Groep Fundashon Verriet and our Olympian Mr. Positive Churandy Martina.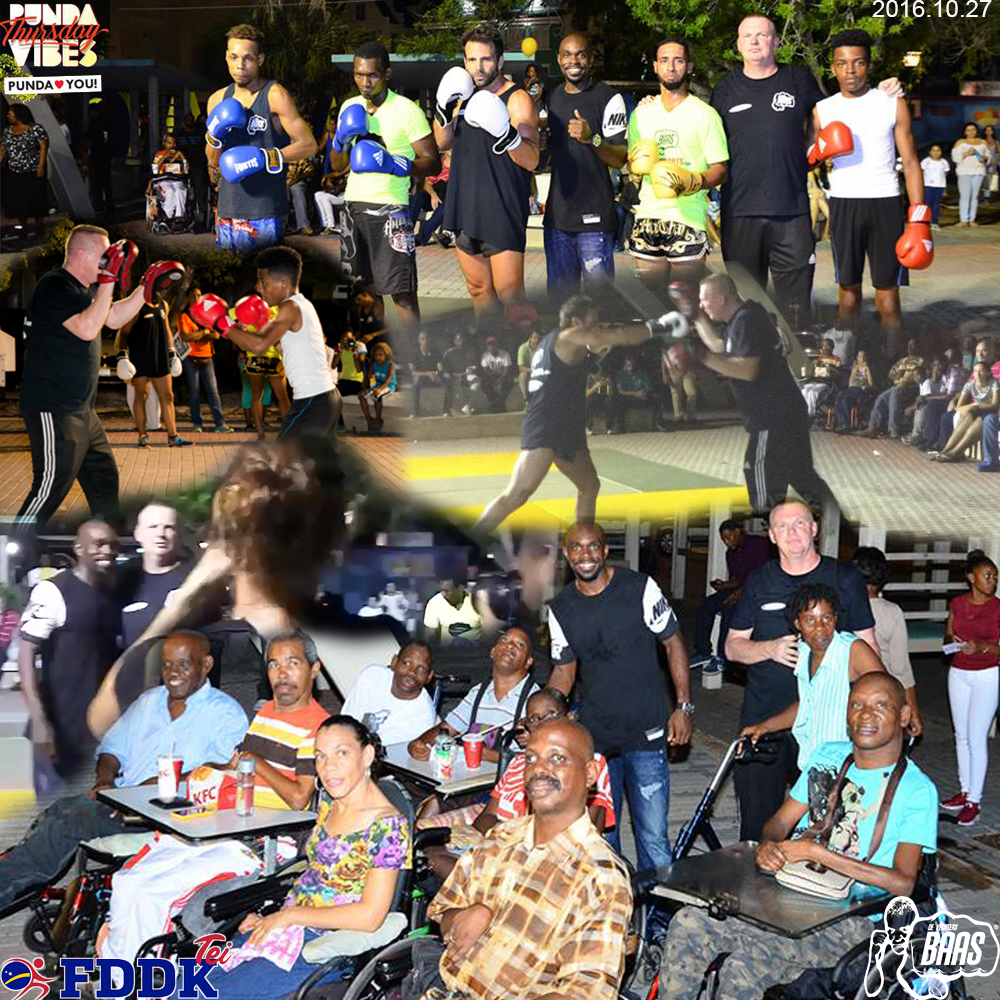 2016 Guests @ Baas Soorts Curacao; Aiven Sprang (Atlas gym), Kader Benali (Ben Ali gym), Rachid Belhadji, Jermaine Seymonson, Hubert Lourens, Guillermo Seymonson (S.T.E.A.L.L.), Joost Mulder (Sellak/Champ), Jamal el Otmani (El Otmani gym), Teppo Laine (Lappeenrannan Finland), Rachid Victoria (Ruthless), Melvyn Tombokan (Thaikibo), Patrick vd Kraats, Utley Meriana (Vos), Brandon Fos (Days), Clayton Henriquez (Angelo gym), Steve Reezigt (Saban), Elizah & Zacky Halfhide (1st class boxers Suriname), Eyevan Danenberg (Petres) Hüsnü Koçabas (300 boxing bouts 12 times/years Dutch champion 5 times German champion, champion of Turkey and many international awards, including gold at the Kings Cup in Bangkok Thailand 2006 and gold at the World Military Championships 2005), Marcel Dieters & Gert Flik (KB Groningen), Luigi Kwas, Howard Komproe, Gisele Werth, Hercules Stroop (Scorpio), Thuersten Winklaar (Bonaire), Millis Prens (Ecuador), Godfried Chofie Balyn, Kane & Hanne Schneider, Randy Heyer& Layno Heyer, Sherman Bonofacio, Enrioc La Cruz (Boxing @ Olympics of Rio and Tokyo), Churandy Martina (Olympics Athens, Beijing, London, Rio, Tokyo), and more (apologies for those not mentioned).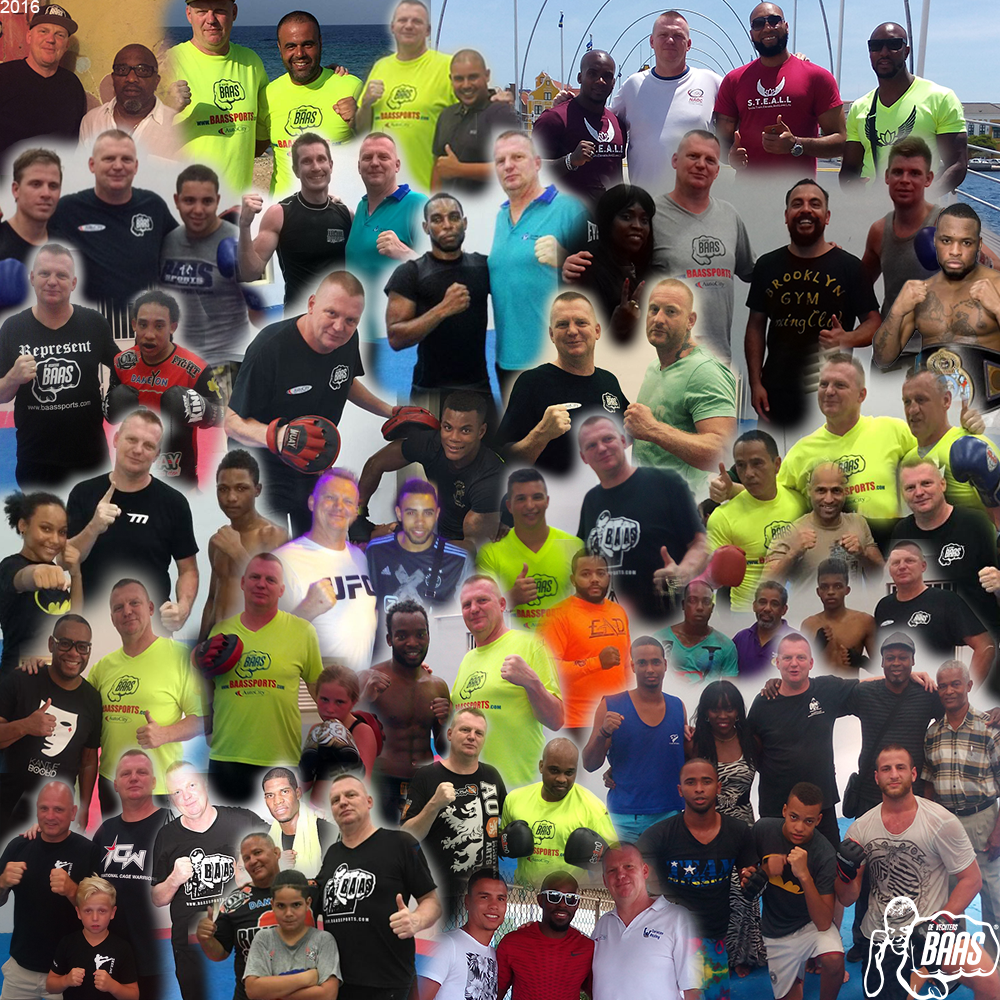 2017.02 Jemyma "The Golden Girl" Betrian @ Baas Sports Curacao.
2017.05.27 Baas Sports Curacao 100% win @ HONOR Fight League. Eli van Nierop won his MMA fight by SUB-2. In Thai-boxing Ginuwine Mercelina won AUA RSC-1. Grego Scharbaai won The Netherlands UD. Grego's opponent was undefeated till this moment.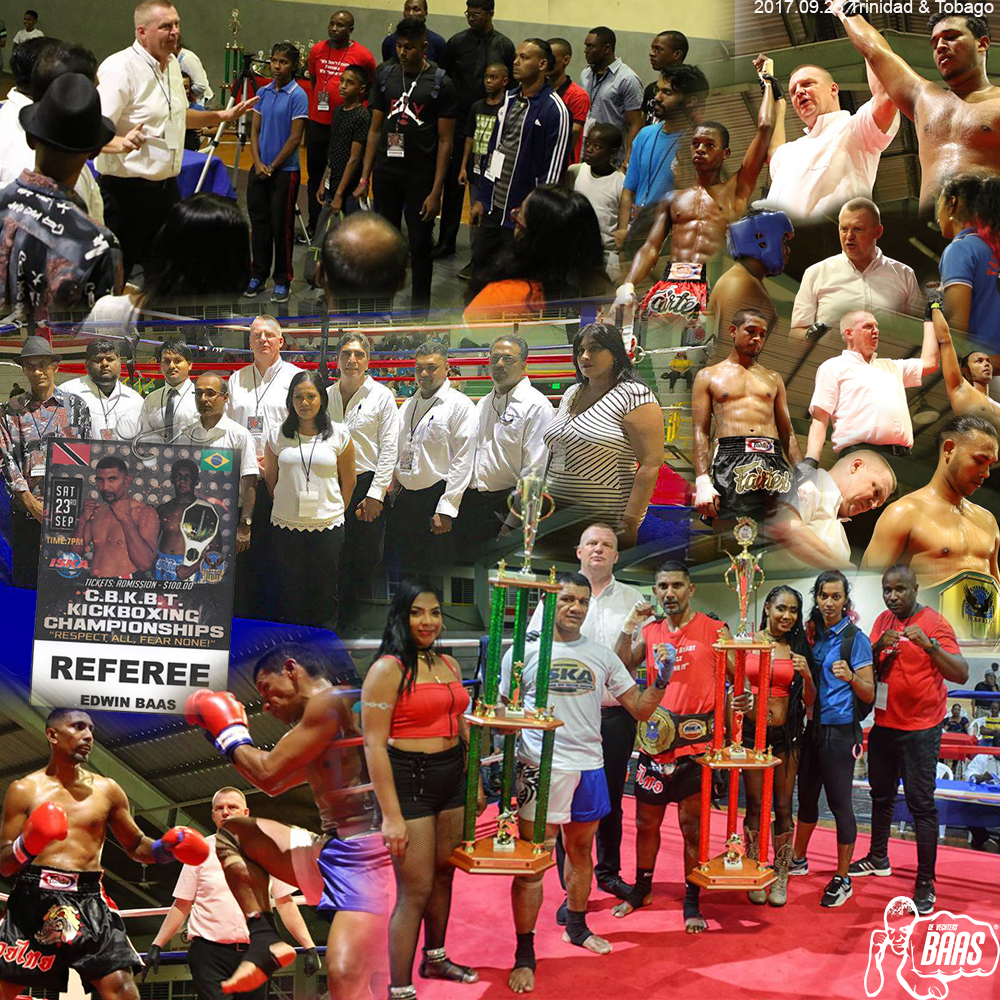 2017.09.30 A Tribute to Ibi Zimmerman @ with participation of boxers from 9 different teams. Baas Sports was the most successful with 5 boxers and 5 victories. Ginuwine Kwidama, Jonah Kleiboer, Novien Bartholomeus, Jerry Alberto and Tyrique Brown were all victorious.
2017.10.21 "Fighters of the Caribbean" Cedric Bacuna (40) won Jonasky Sojo La Maquina (Venezuela) in his farewell fight on his own island, su dushi Korsou. Cedric fought worldwide more than 80 Muay Thai and kickboxing fights and won many great fighters, like Wanlop Sitpholek (Thailand), L'houcine "Aussie" Ouzgni and the WMTA belt in the A-class Middleweight (-72,5 kg.).
2017 Edwin Baas with guests; Khalid Redouani, Jordy & Dennis Rock, Sharon Mannaart, Rachel Adamus, Roel Mannaart, Jamal, Mousid Akamrane, Youssef Akhnikh, Luigi Kwas, Aksel Cijntje,  Jemyma Betrian, Steffen Chocolaad, Howard Komproe, Randy Heyer, Kader Benali.