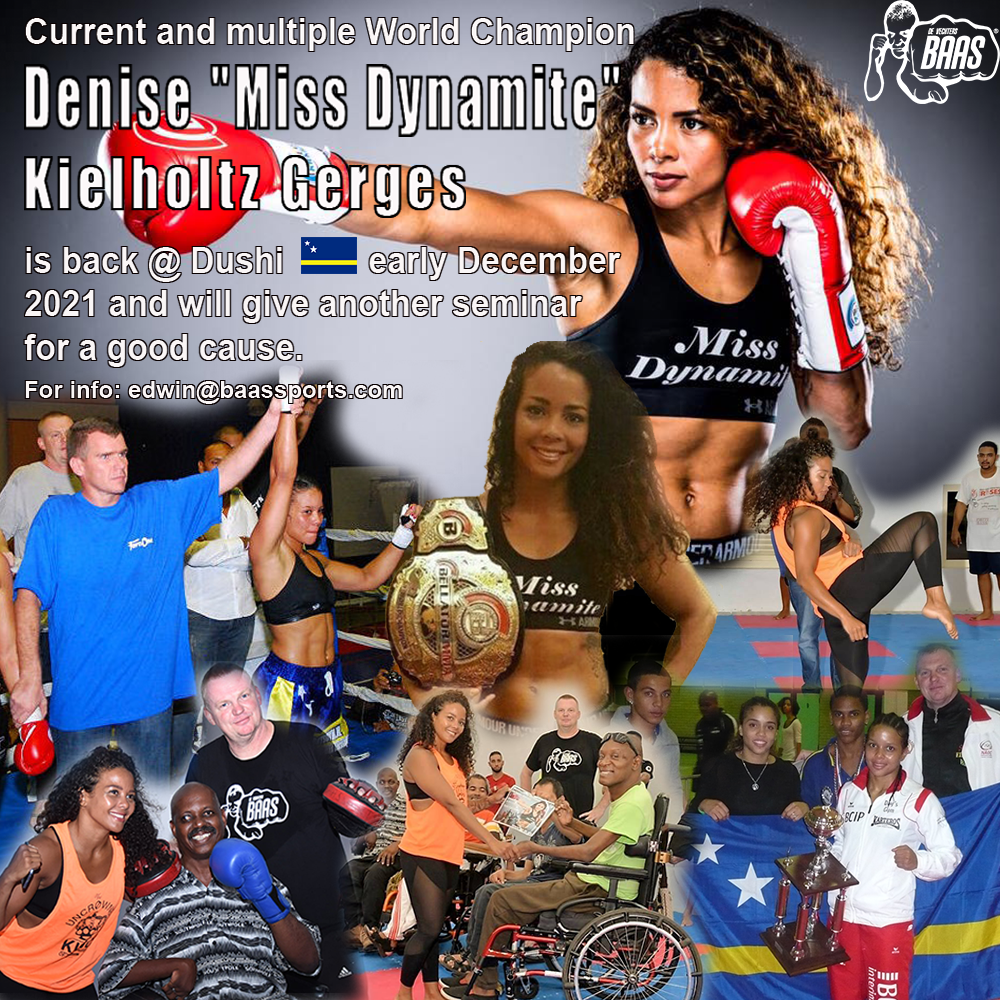 Denise "Miss Dynamite" Kielholtz wil come to Curaçao again and will give another seminar for a good cause. This will be an empowerment training for vulnerable girls with a mild intellectual disability (LVB) .
Denise, born in 1989, has a Dutch father, Bert Kielholtz, a mother from Curaçao, Mayra Pieternella, and is married with the famous world kickboxing champion Hesdy Gerges, known for his fights against Badr Hari and Rico Verhoeven.
Denise who lives in The Netherlands is known all over the world and also in Curaçao, where she fought the main event of Fighters of the Caribbean in 2010 and the seminar in 2018. Edwin Baas: "With this seminar Denise showed that she is not only a champion in the ring and cage, but also outside it, because she donated the proceeds from the seminar to Team FigtAble for Training equipment for the participants with disabilities."
Denise Kielholtz Gerges is multiple World Champion Thai- and Kickboxing and the current Bellator world champion under 57 kg. Other titles she won since 2011 are from organizations like WMTA (World Muay Thai Association), WFCA (World Full Contact Association), Slamm and Enfusion. Her Thai-kickboxing record is 50 victories and only 3 losses. During rematches of these losses, Denise won and took revenge.
Because Denise was also multiple Dutch champion in Judo, the step to MMA (Mixed Martial Arts) was a logical step. Denise made her Bellator MMA debut at Bellator 188, November 16 2017, and won Jessica Middleton (USA) in the first round by arm-bar. In the co-main event of Bellator 196 in Budapest, Hungary on April 6, 2018, Denise won Petra Částková. Kielholtz by unanimous decision. Other victories were against; Bryony Tyrell at Bellator 223 on June 22, 2019 by TKO in the 3rd round, Sabriye Şengül at Bellator London 2 on November 23, 2019, by an Americana submission in the 1st round, Kristina Williams at Bellator 239 on February 21, 2020 by a rear-naked choke submission in the first round and Kate Jackson at Bellator 247 on October 1, 2020 via knockout just 43 seconds into the first round.