August 2001 Edwin Baas came to Curaçao. After a few days, 2001.08.31, Baas already acted as referee of all fights (Curacao vs Thailand with Thai were employed at the Oil Refinery), except the last one. In the main event, Curacao vs Holland, Baas fought a 5 rounds exhibition vs multiple champion Ronald "The Man of Steel" Sluis. Sluis was the Caribbean and intercontinental WKN champion and he also won the World IKBF Champion.
Baas started to train a small group outdoor and in a few months the late Ron "The Dutch Lion" van Leeuwe represented the team of Baas in competitions with success. Ron, a youth friend and former classmate (Grafische School Haarlem) of Edwin, made 2001.09.29 a victorious ring debut and after this one he won several Thai-Kickboxing fights in Curacao and Aruba. 2001.12.01 Ron won with a kick to the head in the 1st second of the 1st round. 2017.09 Ron passed away in The Netherlands. Rest In Power Dutch Lion.
Baas supported John Lobato (Chi Sportschool) with training/coaching of Ralph Maduro, Sharlimar Zimmerman and Marlon Albertoe. 2001.11.03 Zimmerman 5 rounds vs Anthony Ignacio (Aruba), Albertoe won Devon Hodge (Aruba) by 1st round TKO and the opponent of Maduro did not show up.
2003.05 Sherman Bonofacio (Bullet team), left Curacao and handed over his kickboxing group at Radulphus College, with fighters like Roderick Meijsing and Reno Mooyweer, to Baas. From this moment team Baas started to rule. In Trinidad Serwin Concincion became Pan-American Champion WKN and Leyron Marcos, Ariel Concepcion, Narswin Betrian, Reno Mooyweer Thurston Joseph, Danny van der Veen, Roderick Meijsing, Rines Martina (Rojer), Raylison Aitatus and Milangelo Eugenio all won one or more fight.
2003.07.04 Baas Sports made a very strong impression and was very successful @ an International Thaiboxing event with participation of Dominican Republic, Aruba, St. Maarten, Trinidad & Tobago, Netherlands and Curacao. Baas Sports had 7 fighters competing that night and had 6 victories. In the A-class Lucien Carbin's fighters were successful with victories for Tyrone Spong, Ilonka Elmont and Jerry Morris.
2003.08.16 Baas Sports was again very successful and did not even lost one fight.
2003.12.19, In Suriname Baas Sports represented Curacao with Karel Jamanika, Caribbean Champion WKN.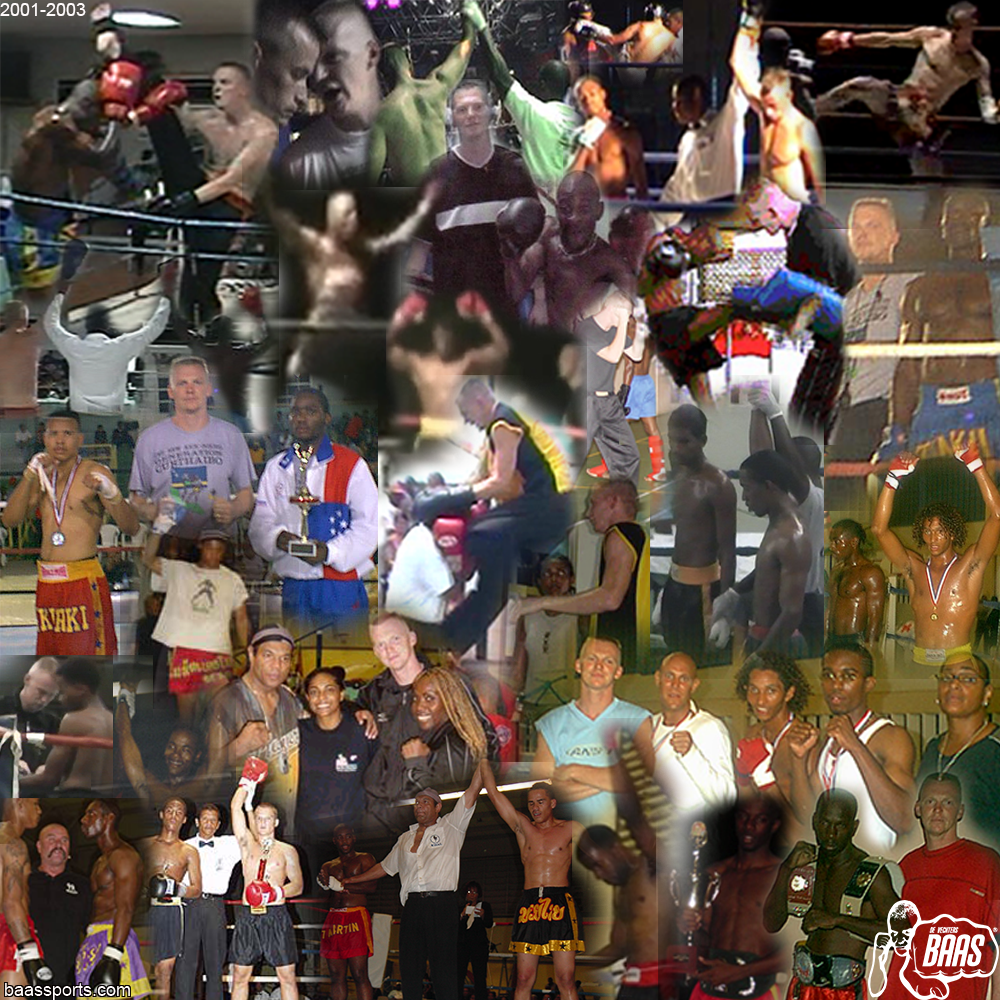 In 2003 the non-profit organization Curacao Martial Arts Federation (CUMAFE) was founded under the chairmanship of Dudley Josepa, former world champion karate. Edwin Baas is also board member since day one and with CUMAFE Baas organized many and various activities and events with the aim to regulate, facilitate and practice martial arts, including Muay Thai, Kickboxing, MMA, Karate, etc. Also social projects (lectures on discipline, behavior, respect, honor, drugs and alcohol, etc.) and worked on charities (donating blood, painting schools, etc.).
During these CUMAFE events competitions and exhibitions took place in Karate, Taekwondo, Judo, Aikido, Capoeira, Jiu Jitsu, Krav Maga / KAPAP, Kung Fu / Wu Shu, Muay Thai, kickboxing, MMA (Mixed Martial Arts), BJJ (Brazilian Jiu Jitsu), Grappling, Lucha Libre (Wrestling), etc.
But also various gatherings like in the picture of the newspaper @ Marinekazerne Parera. The host Ruud Hardjokosoemo, karate sensei of the naval base, trained kickboxing at Baas in Haarlem.
In 2004 Baas Sports fighters Ariel Concepcion, Danny van der Veen, Trevor Bomas, Kevin Abraham, Achraf Kayouf, Roderik Meijsing, Ramiro Sabina, Jemuel Cleofa, Dennis Arentsen, Thurston Joseph, Harley Pimienta and Milangelo Eugenio were victorious in many Thai-kickboxing fights.
2004.10.30 all 4 fighters from Baas Sports won their fight at "Curacao Caribbean Classics". Harley won the experienced fighter and kickboxing instructor of The Pyramid. Thurston Joseph and Roderik Meijsing both won WKN title belts by defeating opponents from St. Maarten. Milangelo Eugenio won the Caribbean WKN belt by defeating Johan Croes, Aruba and Caribbean Muay-Thai champion. All fighters from Baas Sports received their belts from WKN-president Stephane Cabrera (France).
2004.12.04 CUMAFE "Nochi di Arte Marsial" with exhebitions in various martial arts, like; Karate, Taekwondo, Judo, Aikido and Capoeira. Kung Fu was by Harley Pimienta from Colombia, who in Curacao trains Thai Boxing @ Baas Sports. Muay Thai kickboxing was by the following members of Baas Sports; Stephen Liu, Louraine Girigori and Ariel Concepcion. MMA (Mixed Martial Arts) was by Edwin Baas and Gregory Costina. What also was very impressive was the exhibition by Raymon Juliana, aka "Mayron" or "Lonchi". Mayron trains at Baas and showed in exhibition with Baas that despite physical disabilities you are able to practice martial arts. Mayron defended himself against both armed and unarmed attacks and showed that he can fight back.
Edwin Baas organized several seminars to promote MMA with special guest trainers. In 2002 and 2004 with Apy Echteld and in 2005 with Joop van Kasteel. Joop became that same year RINGS World champion by KO over Dan Severn (USA).
2005.05.01 Stephen Liu victorious debut. 2005.06.11 Baas Sports won all 4 Thaibox divisions @ CUMAFE championships with Louraine Girigori, Vincent Schuttel, Roderik Meijsing and Stephen Liu. In karate Julius-Ann Johanns (46 kg) became 3rd @ open class kumite.
2005.11.13 Free Fight (MMA) Championship organized by Edwin Baas and Chris Tjon. Johnny Brazao, Tim Hulsman and Jelmer Wijnja, became 2nd after victories.
2005.12.10 @ CUMAFE's "Night of the Martial Arts" Kristy Ooms won in Thai Boxing, Tim Hulsman in MMA a Canadian and Mayron Juliana showed again that with a physical disability you also can practice martial arts.
In The Netherlands Danny "Warwaru" van der Veen won 8 Thaiboxing fights; 2005.03.20 Weert, 2005.04.17@ K-1 fight Night Valkenswaard KO-2, 2005.06.26@ Valkenswaard TKO-1, 2005.10.02@ Gentlemen Fight Night Tilburg, 2005.10.09@ "Shogun 2005" Den Bosch TKO-3, 2005.10.29@ "Showtime" Den Bosch TKO-3, 2005.11.11@ Spijkenisse, 2006.02.09@ Deventer KO-1.
Edwin Baas ended the year 2005 with winning the QZ Award.
Baas Sports won 4 of the 5 divisions in MMA and Thai-Kickboxing of the 2006 CUMAFE championships. Francesco Solaro won the 1st place in MMA after victories over Jean Ten Broeke (Medina Grappling) and Patrick Ladeur (X-treme Judo Fighting Team). In Thai Boxing all 3 fighters of Baas Sports, won. Stephen Liu, Milangelo Eugenio and Reno Mooyweer knocked out Wijnman (TFD) in the 2nd round.
2006.08 Seminars by Thai master Ajarn Berglerk Burklerk PinsinChai @ Buhsido The Hague.
2006.09.16 Fight4life Zonnehuis Amsterdam "Queen of the Ring". Kristy Ooms won by KO (kick to the head). Also in the pic Kenneth Macnack trainer of KB Brummen and topfighters like Linda Ooms and Faldir Chabari. 2006.09.17 "Ultimate Glory" Amersfoort (Martijn de Jong Shooto Holland) with ring announcer Joop Kasteel. Karatejutsu Dick Smolders & Albert Bouma.
In 2006 and 2007 Franklyn Hartkamp came from The Netherlands to give Krav Maga training. Edwin Baas invited teachers with different martial arts background, including; judo, jiu jitsu, aikido, taekwondo, Thai-kickboxing, boxing, MMA, karate, wrestling, krav maga, etc. Top row; Patrick Ladeur, Chalton Donker, Briand Victorina, Oswin Cijntje, Maurits Filiet, Cedric Meulens, Franklin Hartkamp, Oscar Semerel, Gregory Costina, Alexander Yanez, Anthony Chong, Edwin Baas, Le Roy Tujeehut. Below; Bas Jussen, Huibertico Balentien, Darrell Prins, Glenda Poeder, Willem-Jan Paardekooper, Reno Best, Jacob-Jan Duyst. Ramiro Sabina, Palmira Baas, Dennis Rock.
2006 Krav Maga @ Harold van der Rijst in Apeldoorn with Ad v.d. Hijden.
2007.02.19-26@ Kapap instructors course by Avi Nardia, Albert Timen and Willem-Jan Paardekooper
2006 @ Parasasa beach, Military Marine basis Parera (stand-up striking by Edwin Baas and ground by Jacob-Jan Duijst) and SDK.
2007 Baas Sports was very successful with Milangelo Eugenio, Stephen Liu, Ivo van den Berg, Terence Martis, Paul Piper, Joel Adriana, Elvis Molina, Toon Vollebregt, Crispulo, Jemuel Cleofa, Rigcheilo Rosalia, Johnny Brazao, Juan Esteban Montoya and Michel Renirie.
2007 @ the beach, Navy Marine-basis Parera (stand-up striking by Edwin Baas and ground by Jacob-Jan Duijst) and SDK.
2008.05.03 Everything promised on the poster of "Born 2 Fight" took place. All fighters on the poster, Capoeira, DJ Tico and 9 fights, 5 local and 4 international "Curaçao vs Suriname" with fighters from The Ultimate Paramaribo.
Baas Sports was very successful. Mike Taatgen and Dudley Thokaai, both youth, fought an exhibition. Joel Adriana kneed his opponent in the belly, who went down and could not continue. Elvis Molina won his fight very convincingly. Toon Vollebregt won by TKO-2. Michel Renirie came very close (29-29, 29-30, 29-30). Ivo van den Berg won by TKO-1. Danny "Warwaru" van der Veen won on points.
2008 Aruba; Elvis Molina, Michel Renirie, Tanva Ketkavee @ Muay Thai Showdown and Francesco Solaro with victory @ Last Man Standing Fighting Championship.
2008 Baas in Suriname @ The Gym (Vincent Dap), The Ultimate (Rodney Belfor), Kyokushinkai Karate Instituut (Wilfred Burgos, Randy Badal, Padji Darius and Sirano Zalman), Simson gym (Michael Watson and Angelo Simson), Lie's International Taekwondo Tournament (where Curaçao performed very well with 1st places for Gino Centello Meulens, Shernon Apostel and the most outstanding fighter of the event Audy Muller). Ronny Jackson 1st place -78 kg and Rodney Wijnaldum 1st -72 kg
2008 CUMAFE championships with prize winners from Baas Sports;  Rob Gogulski  Paul Piper, Kwame Nzeako, Crispulo, Deon Best and Justin Gogulski.
2008 CUMAFE Fight Night with Suriname, Saint Martin, Martinique, Trinidad & Tobago and Curacao. Baas Sports did great, like Donovan Lang who won  the main event by TKO-4.
2009 "The Battle of Local Heroes" Baas Sports did not lose one fight. Victories for  Baas Warriors; Justin Gogulski, Mike Taatgen, Kwame Nzeako, Collin Knarren, Danny van der Veen, Coregelino Djaoen, An Lie Huang and Crispulo. Baas also successful at the 2009 CUMAFE championships, with 1st place  Grappling Fransesco Solaro, 1st place MMA Paul Piper and 1st place kickboxing Joel Adriana.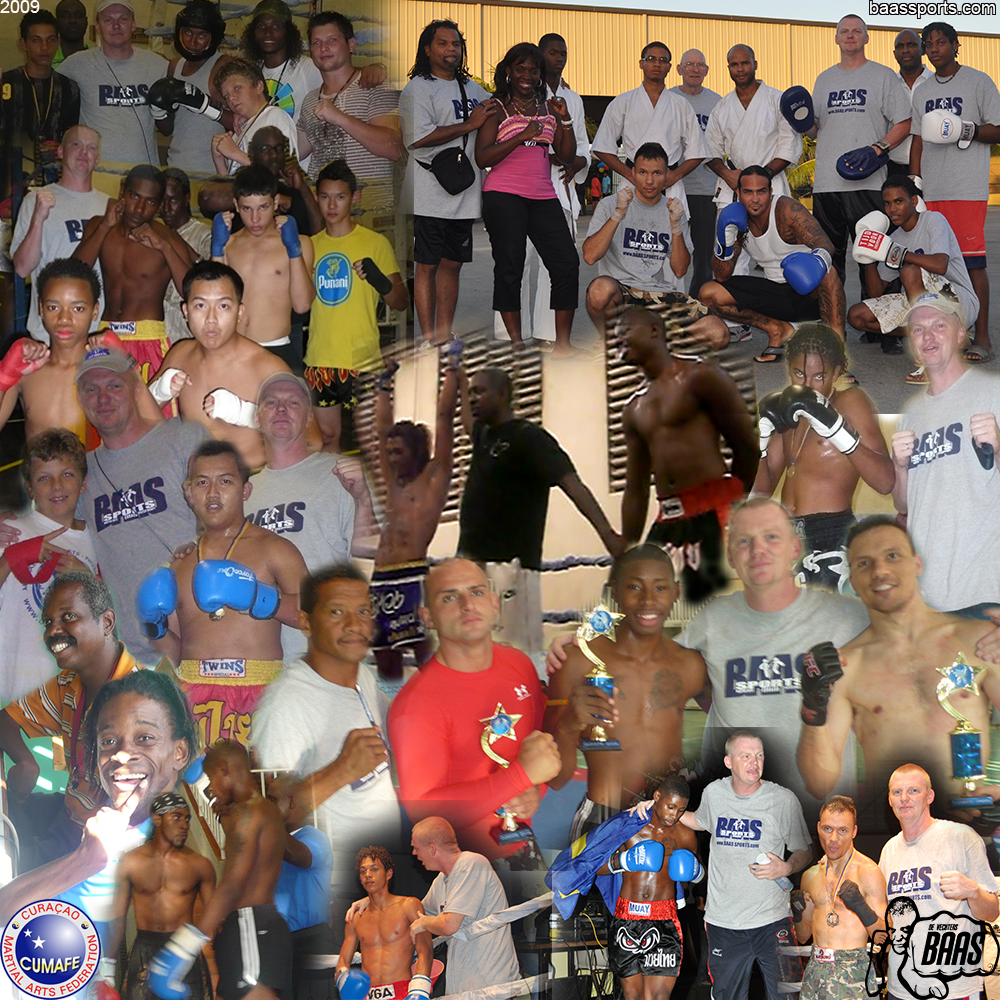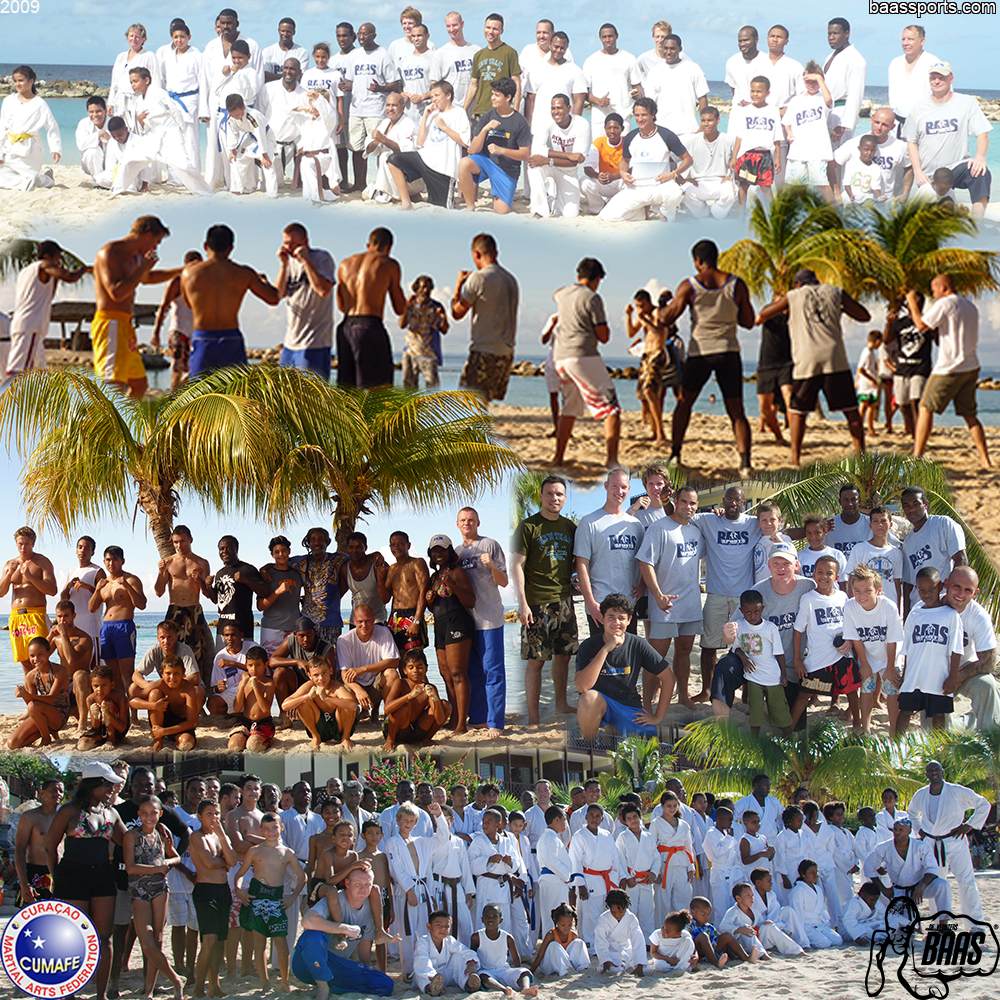 2009.09.1-13 World Championship Boxing AIBA Milan Italia. 554 boxers from 144 countries. The international boxing world didn't know The Netherlands Antilles, but Benjey Zimmerman changed that. In the Super Heavyweight division (+91 kg) he won Ali Khaleel Salman (red) from Iraq with 11-4. Prior to this World Championships, Benjey boxed a test bout with the current world champion and super heavyweight gold medal winner of the Olympic Games of Beijing 2008 Roberto Cammarelle from Italy. This went so well that Camarelle asked Benjey to be his sparring partner. In the photo compilation; Roberto Camarelle, Domenico Valentino (won just like Camarelle gold for Italy during this World Cup), Husnu Kocabas & Orhan Ozturk form Team NL and team members of Macedonia, Slovenia, Grenada, Jamaica, US Virgin Islands, Panama, Bahamas, Japan, Thailand, Samoa, USA, etc. Malta, Scotland, Congo, Switzerland, Gambia, Sweden, etc.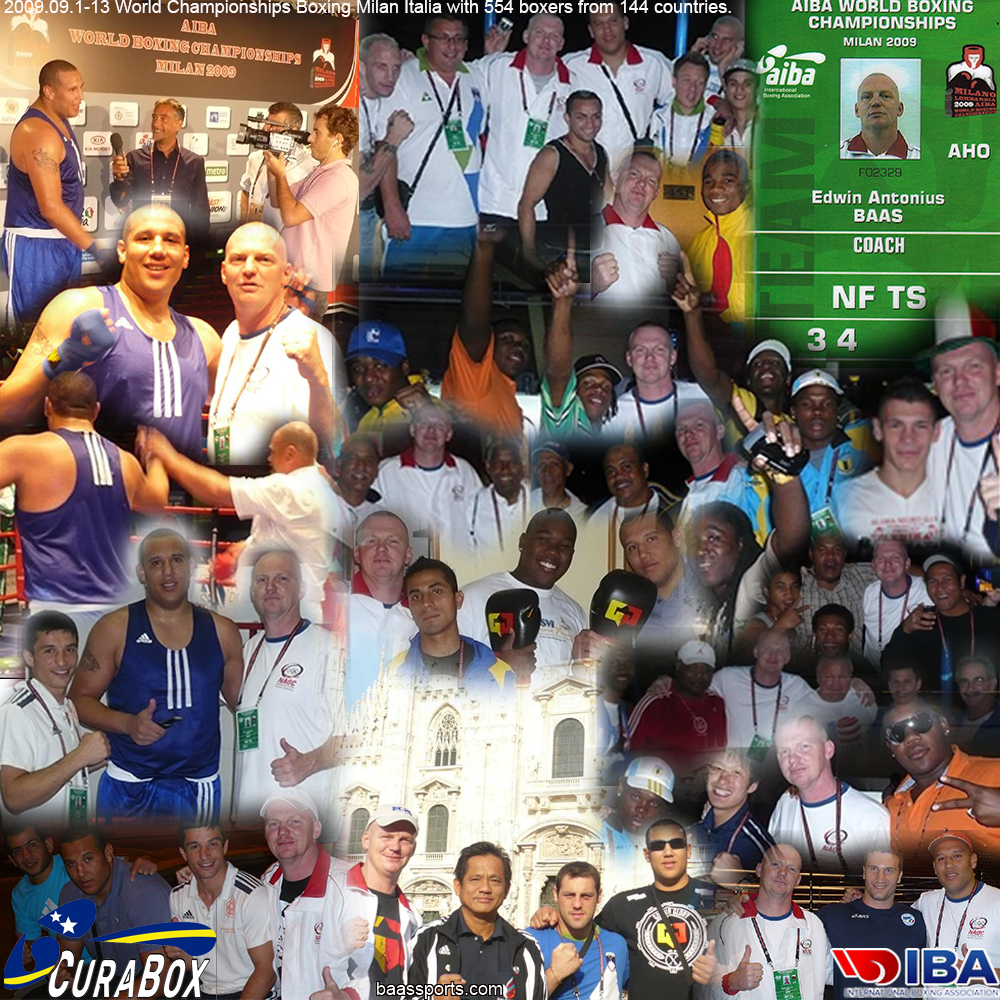 2009.09 Edwin Baas who traveled from Milan to Curacao via The Netherlands stayed a couple of days in The Netherlands and gave a guest training at MT Gym (in the goup also old students; Peter Reffenrath, Boubkar Belkasmi, Marcel Takken and Ed Oosterbaan). In the pic some great moments of these few days with; Angelo Rosalia, Dennos Rock, Vincent Vyent, Cedrick Copra, Rudsel Cobra, Remco Hisken, Mike Polanen, Apy Echteld, Ino Alberga, Joost Raimond, Fedor, Patrick de Witte, Harry van Doorn, Marc Van Keulen, Ridouan El Asrouti, Arno Hermans, Dew Jagernath and legendary champion Gilbert Ballentine.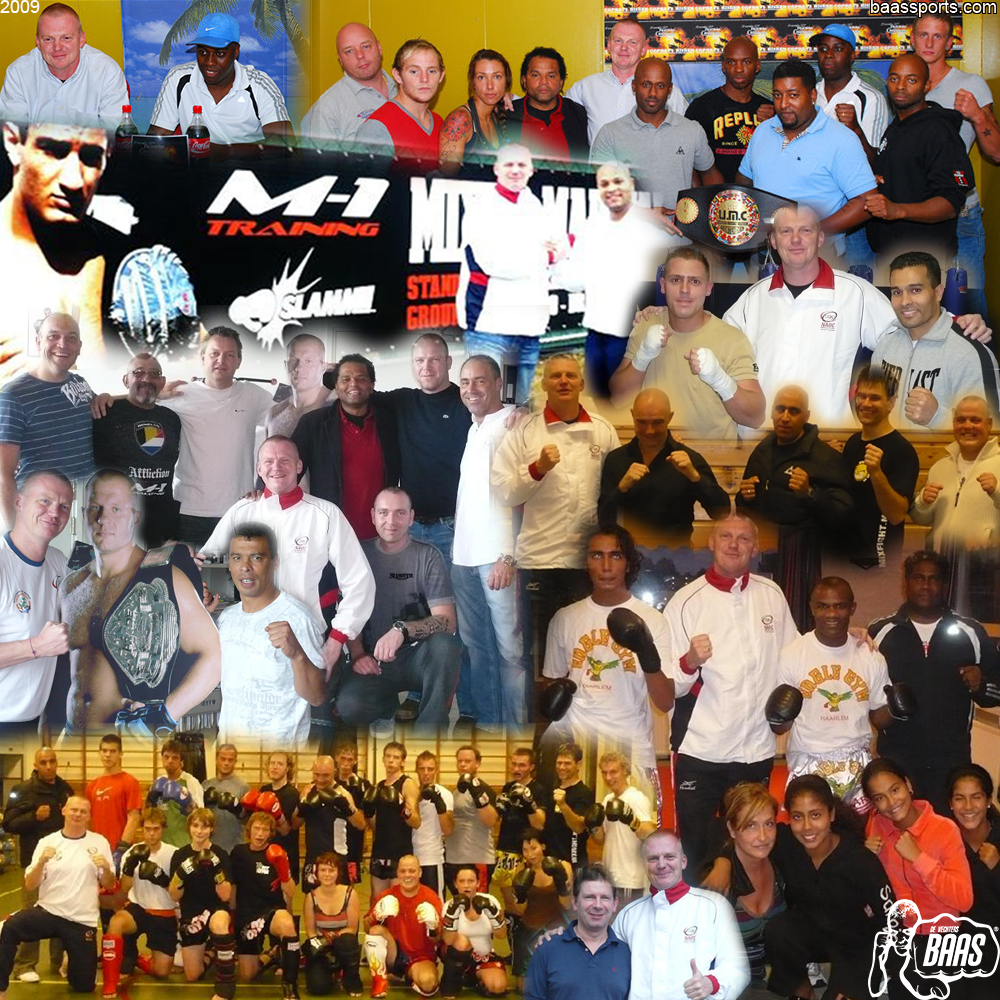 2009.11.28 Fighters of the Caribbean. Edwin Baas with CUMAFE joined forces with Angelo Rosalia (Next Generation Warriors) who made an international A-class fight possible. Cedrick "Tula" Copra (Fightclub Lloyd van Dams NL, representing Curacao) won after 5 rounds of 3 minutes Remco Hisken from The Netherlands.
The teams from Martinique and St. Maarten made a good impression by winning their fights. Danny  van der Veen (Baas Sports Curacao) won his opponent from Sint Maarten in the co-main-event.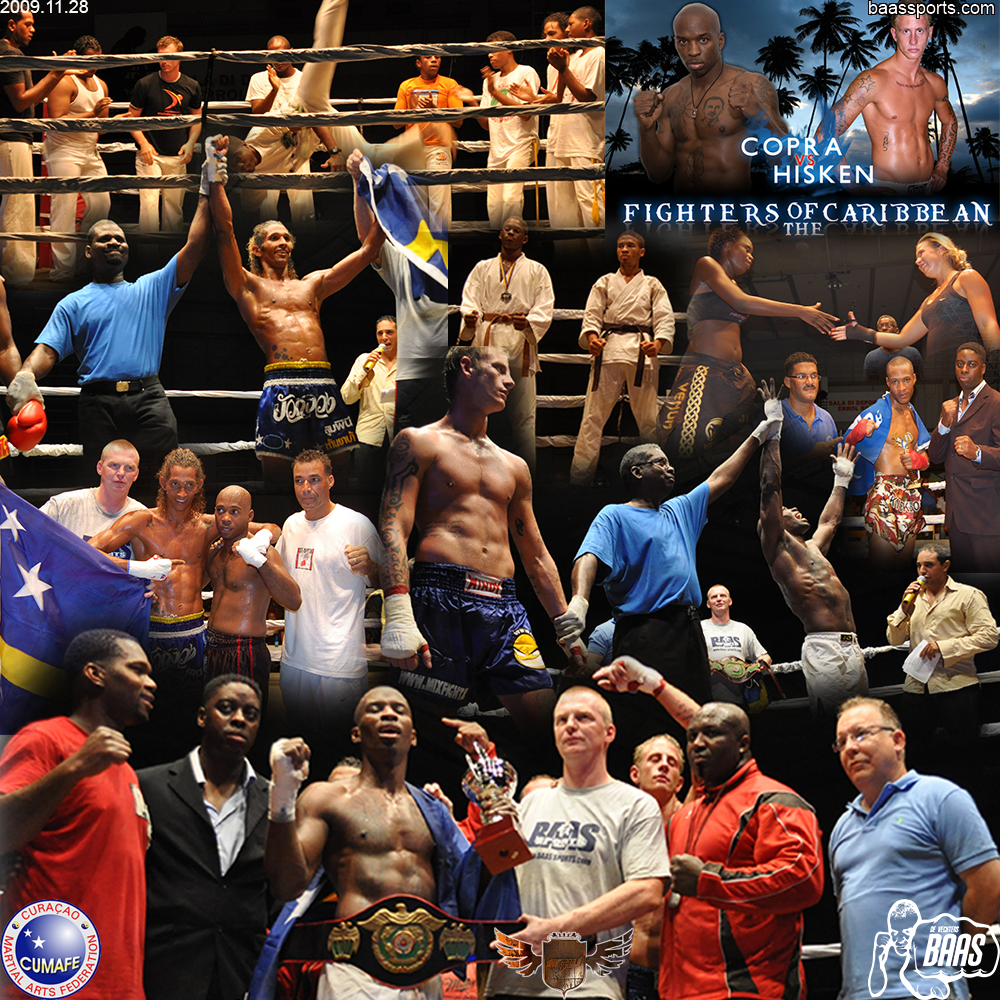 MMA legend Fedor Emelianenko, born in Ukraine, is considered as the G.O.A.T. (Greatest of all times). The heavyweight champion with the nickname "The Last Emperor" is not only the best in his sport, but also a role-model, a good example for a sportsman and martial artist. He is calm and controlled, naturally trained not inflated with steroids or other doping, do not trash talk and shows at all times respect for the opponent and is therefore respected. Edwin Baas knows the team of Fedor very well and Curacao had the honor to receive a visit of Fedor 2009.12.05. Apy Echteld of M-1 Global arranged that Fedor started to train and prepare in The Netherlands with Peter Teijsse and Ernesto Hoost. Baas and Fedor look-a-like Berry Wouters organized a fundraising activity with Fedor. While Fedor was in Curacao, he was in his home country named Russia's Best athlete.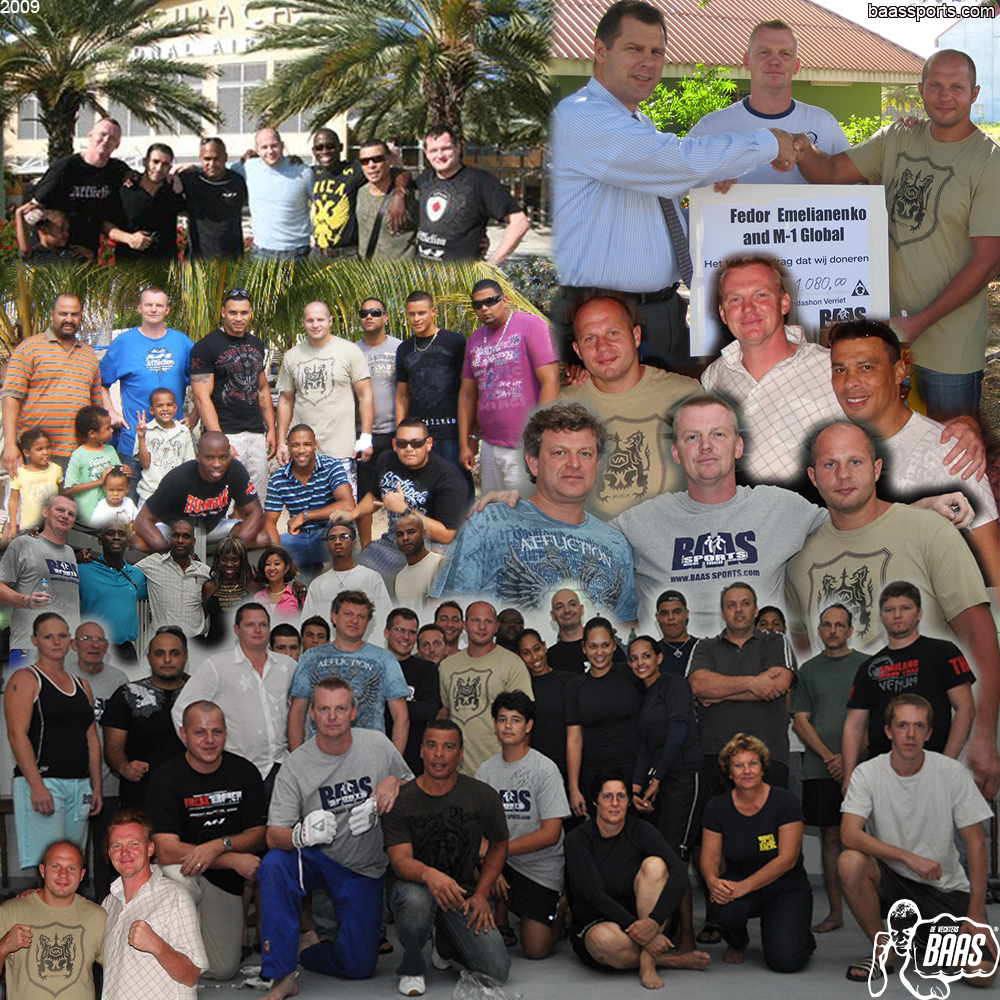 Besides Fedor Emelianenko and his team (Apy Echteld & Vadim Finkelchtein) we had more guests @ Baas Sports Curacao like; Luigi Kwas. Harley Pimienta (Colombia), Allejandro Guillen (Venuezuela), Robertico Martis, Roderick de Haseth, Jemyma Betrian, Barry Robinson Jr. (USA), Glenn & Rion Rijker, Franklin Kambel, Aiven Sprang, Noel Twight, Elvis Todd, Clarence Thompson, Rivo Slory, Rodney Ernst, Juve Martha, Kader Ben ali, Dennis Rock, Naoufal El Hamchaoui, Mounir (Belgium), Ruben La Cruz, Faissal Belghanou, Vincent Dap (Suriname), Angelo Meola, Remco Hisken, Cedrick Copra, Darren Simon, Angelo Rosalia, Dwight Culbard, Ali Esadik, Lloyd van Dams, Wilfred Burgos (Surinam), Frank Barca (Australia).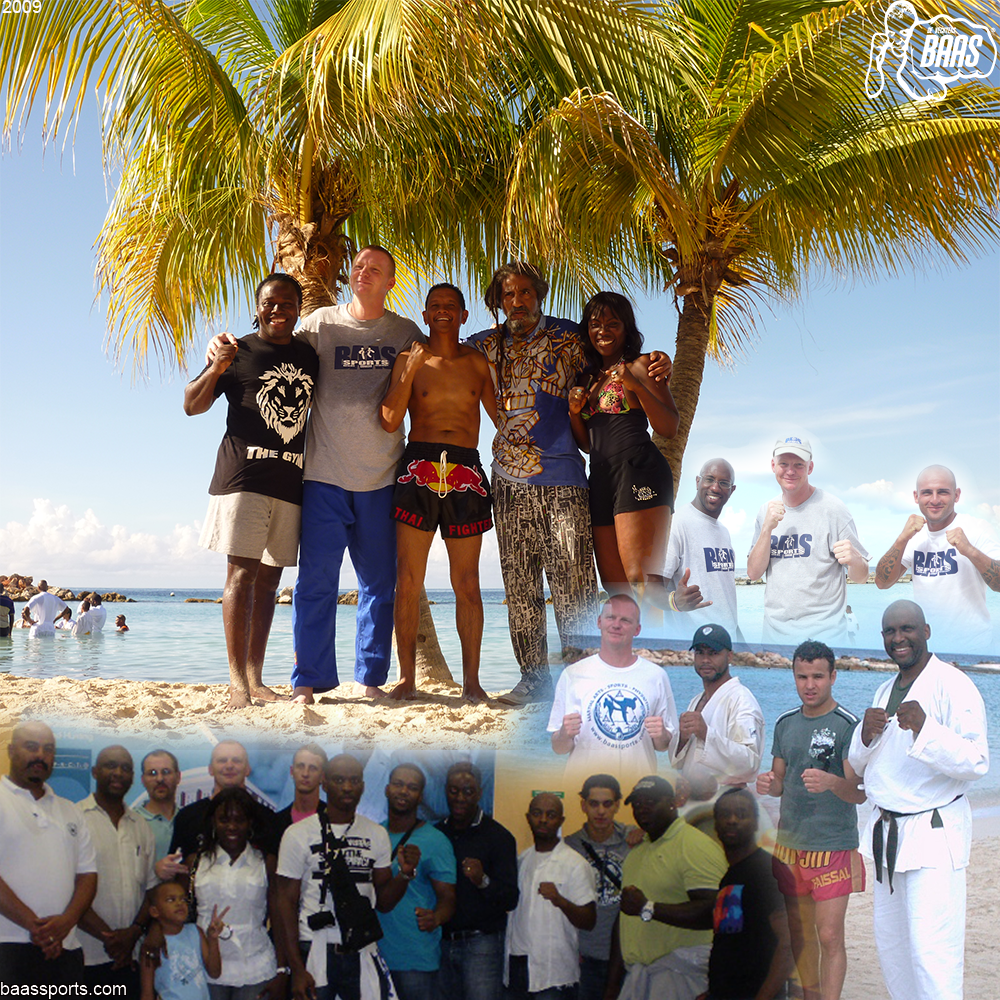 2010.04.10 Le Choc des Titans @ Martinique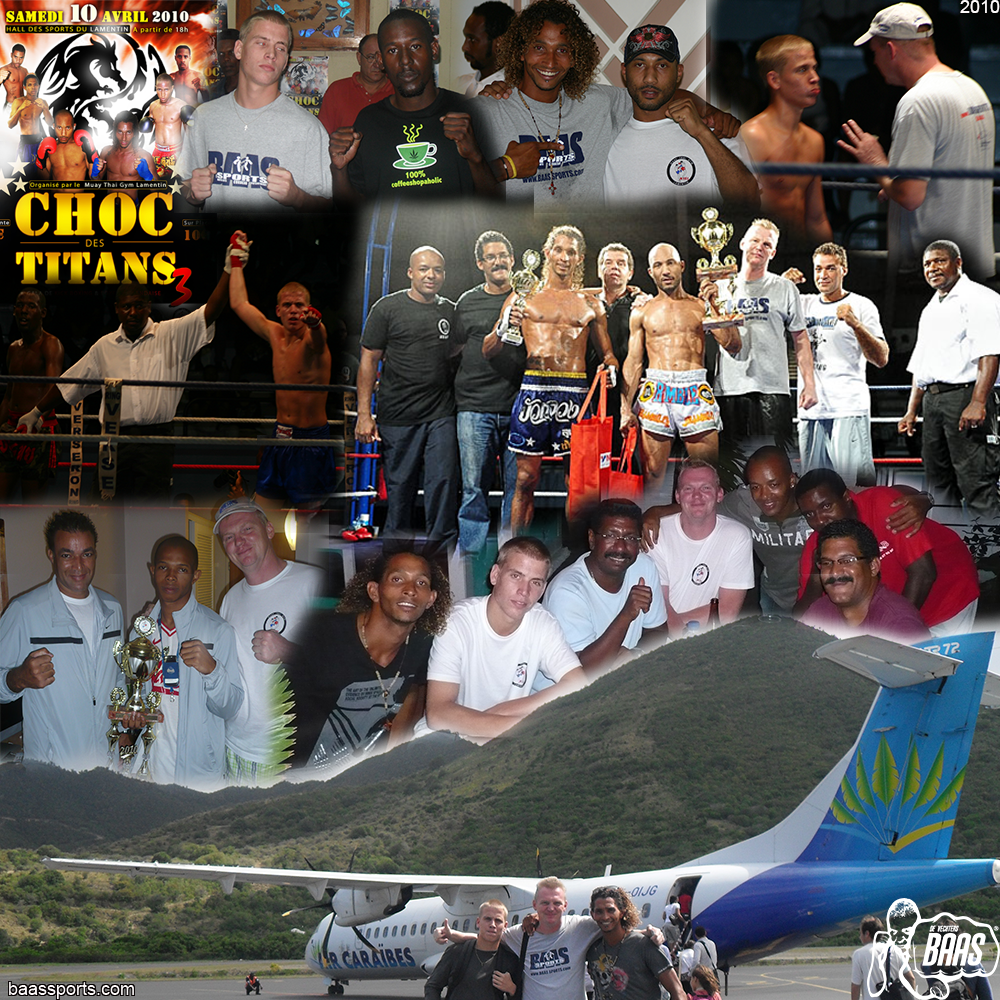 2010.02 AMBC Continental Boxing Championships AIBA in Santiago, Dominican Republic. 2010.05.30 Victories 4 Baas boxers; Argenio Pieters, Dudley Thokaai, Giwanni Schaap, Crispulo, Justin Gogulski, Jonathan Paulina.
2010.07.23-30 CAC-games (Central American and Caribbean games) in Mayagüez Puerto Rico. Benjey Zimmerman won silver after victories over Clayton Laurent (Virgins Islands), Tariq Hagg (Trinidad & Tobago) and final vs Gerardo Bisbal (Puerto Rico).
Benjey also won Aleksandar Novovic, Frank Muñoz and Bas van de Muijsenberg in kickboxing.
2010.11 Benjey moved to Milan to take part of the Milano Thunder team in the World Series of Boxing (WSB). 2010.12.11 he won in Moskow the Russian Arbi Madaev (silver @ European Championship). Benjey had the last match and Milano Thunder vs Kremlin Bears was on that moment 2-2. Because of Benjey's victory Milano won with 3-2.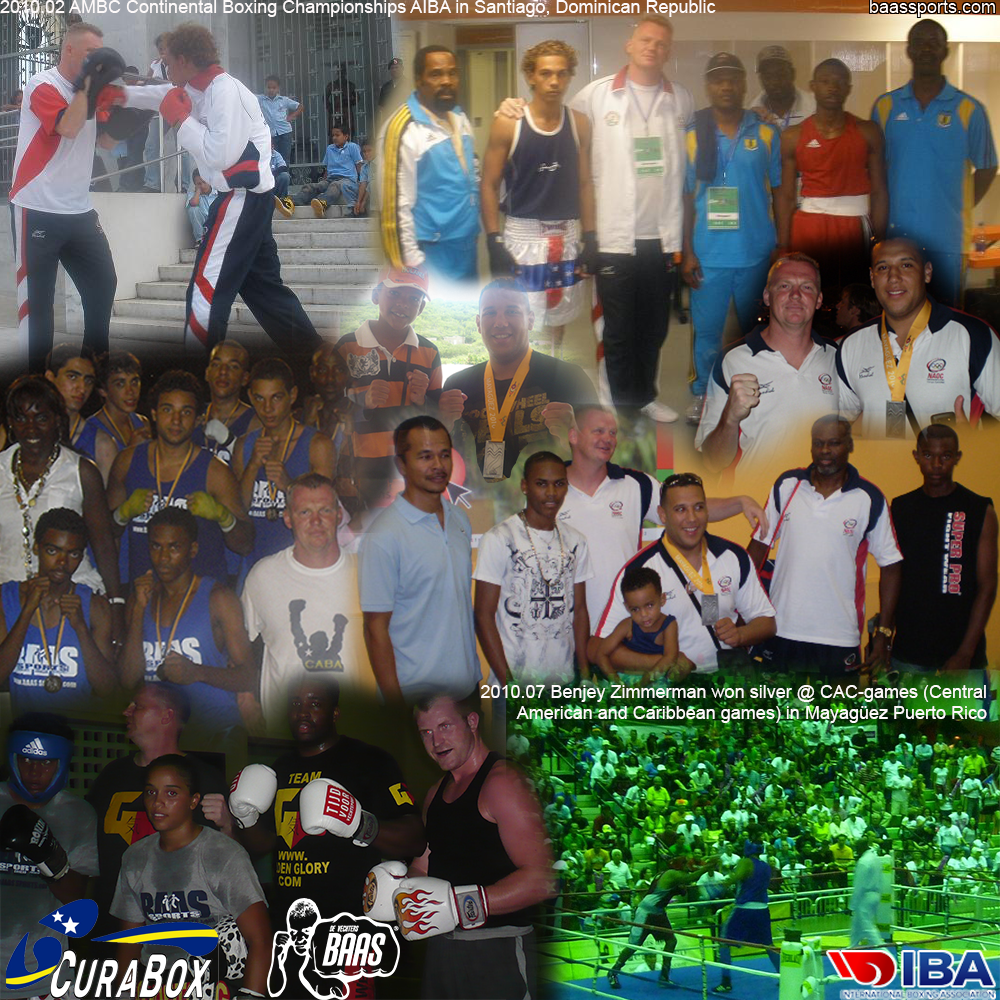 2010.09 Edwin Baas, Justin Gogulski &  Argenio Pieters in NL @ Fightclub Lloyd van Dams Utrecht, Vos Gym Amsterdam, Bao Trieu Groningen, Rock Gym Zaandam @ "Warriors of the North" Drachten, Kops Gym Amsterdam, Ladies Fightmasters Almere,  De Haagse Directe, Dutch Championships NBB (Nederlandse Boks Bond) Nieuwegein with Edwin Baas, Cedrick "Tula" Copra, Lloyd van Dams, Darren Simon, Robert, Khalid Bourdif, Zurreyl Simon, Jamal van Dams, Miles Simson, Orinta van der Zee, Cedric Bacuna, Michael Babb, Carl Blijd, Earl Blijd, Roderick de Haseth, Dennis Rock, Donovan Lang, Bert Kops, Errol Koning, Jemyma Betrian, Denise Kielholtz (won the ladies tournament,3 victories in 1 night), Kevin Heyer, Josephat "Papi" de Palm, Godfried "Chofie" Balijn, Lirou Pinedo, Innocent Anyanwu, Ilona van Lenten, Daniel Ghita, Richel Hersisia, Kristy Ooms, Romeo Kensmill, Josemir Poulino, Raymond Winklaar. NK 2010.09.18/19/25/26 , Argenio Pieters bantamweight 52-56 kg and Justin Gogulski lightweight 56-60 kg, both made it to the finals. YdK Lirou Pinedo (Kops) became Dutch Champion heavyweight (81-91 kg) after 4 victories.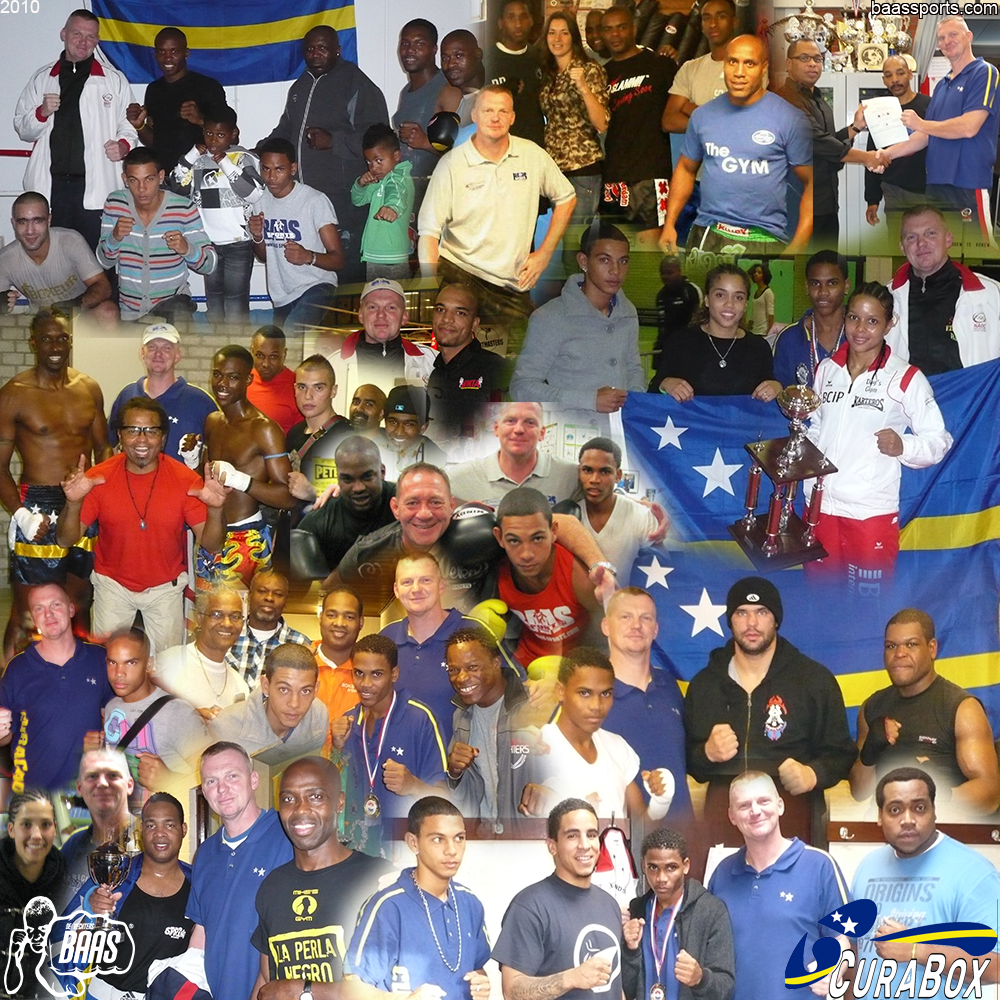 2010 CUMAFE victories for Argenio Pieters and Giwanni Schaap in Kickbox.
2010 "Honor and Respect"; Gionny Koeyers, Dudley Thokaai, Argenio Pieters, Crispulo, Justin Gogulski, Gideon Jonker and Paul Piper.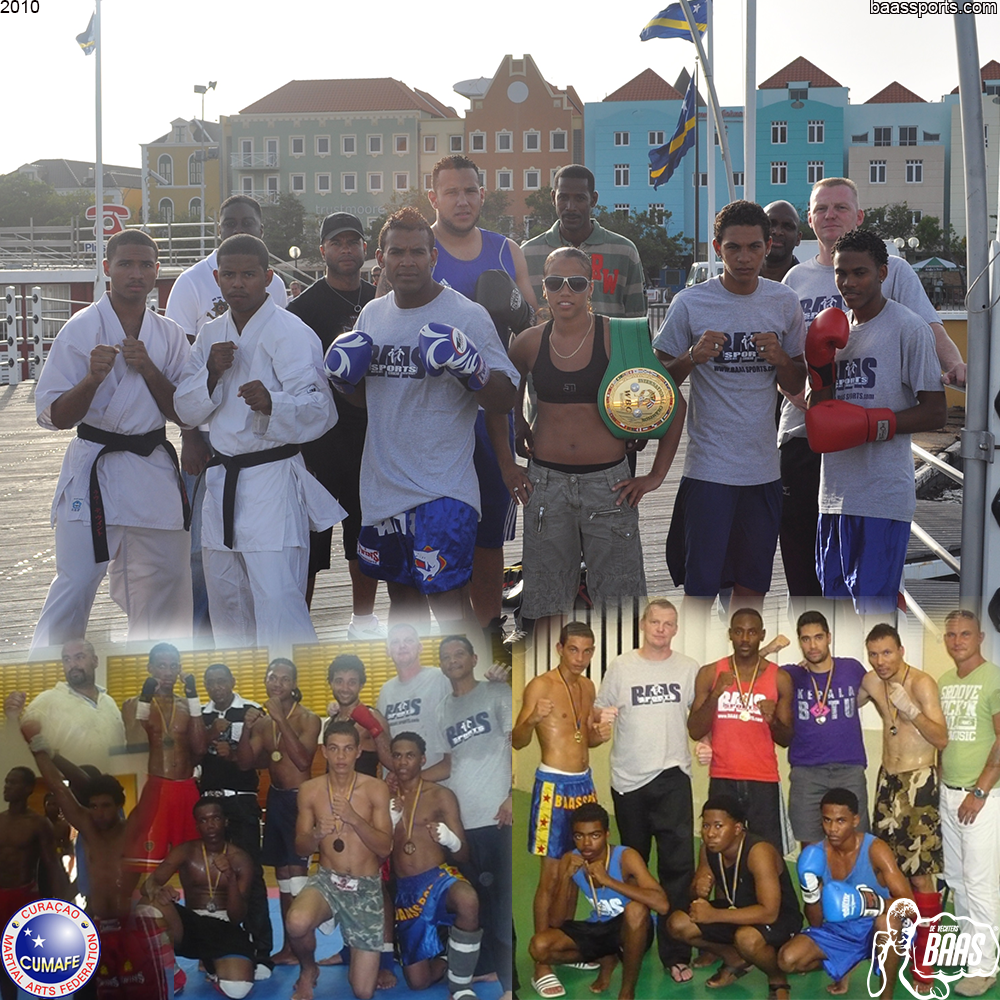 2010.11.06 CUMAFE 2nd edition Fighters of the Caribbean with Bonaire, Suriname, Martinique, Sint Maarten, USA, Morocco, The Netherlands and Curacao. Baas Sports had 8 fighters in international fights with 6 victories and only 2 losses. Crispulo, Ruben Schot, Argenio Pieters, Justin Gogulski, Joost Mulder, Raul Franciska all won. Denise Kielholtz (Days) won the main event.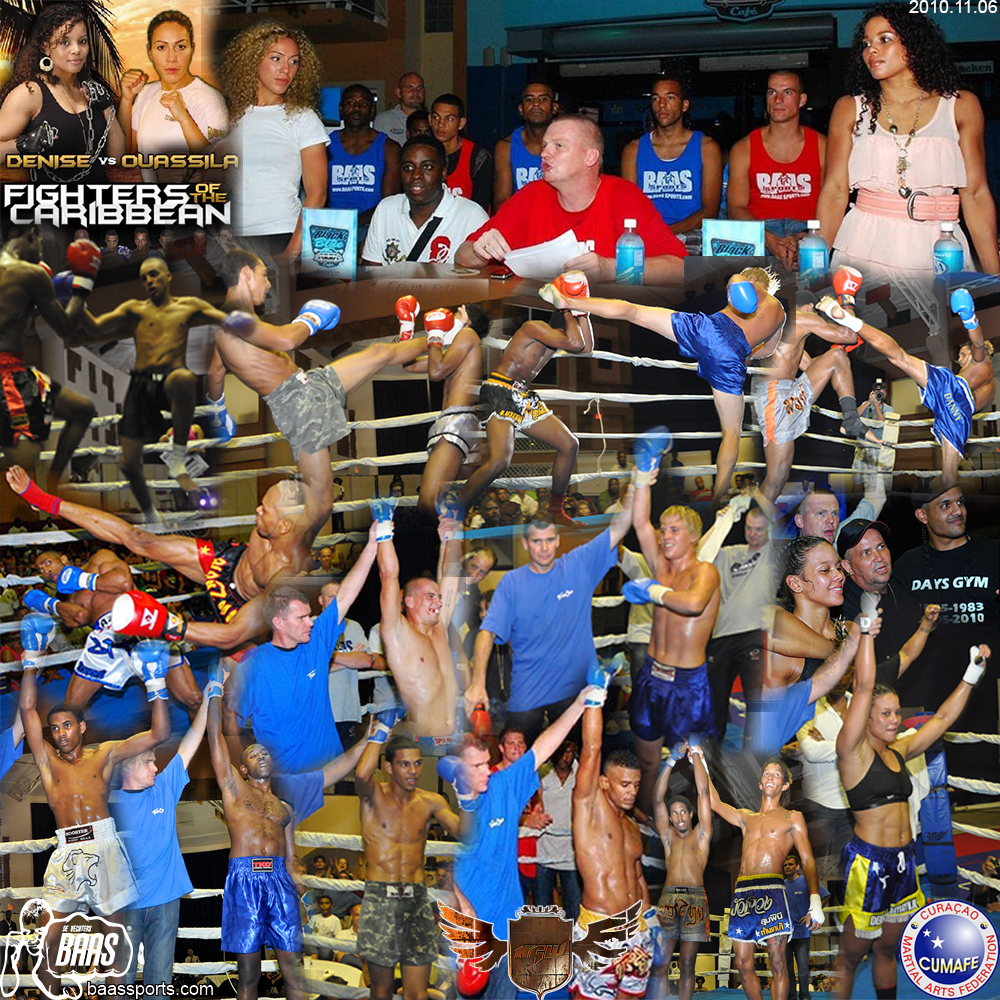 2011.03.26 Baas Sports won convincingly "Curacao vs Trinidad & Tobago" in Trinidad. Joost Mulder won Keron Bourne by TKO-2, Jamal el Otmani won Anthony Deonarine by TKO-2, Raul Franciska won Martin Joseph by TKO-3. Only the experienced Devon Ramkallawan won Justin Gogulski.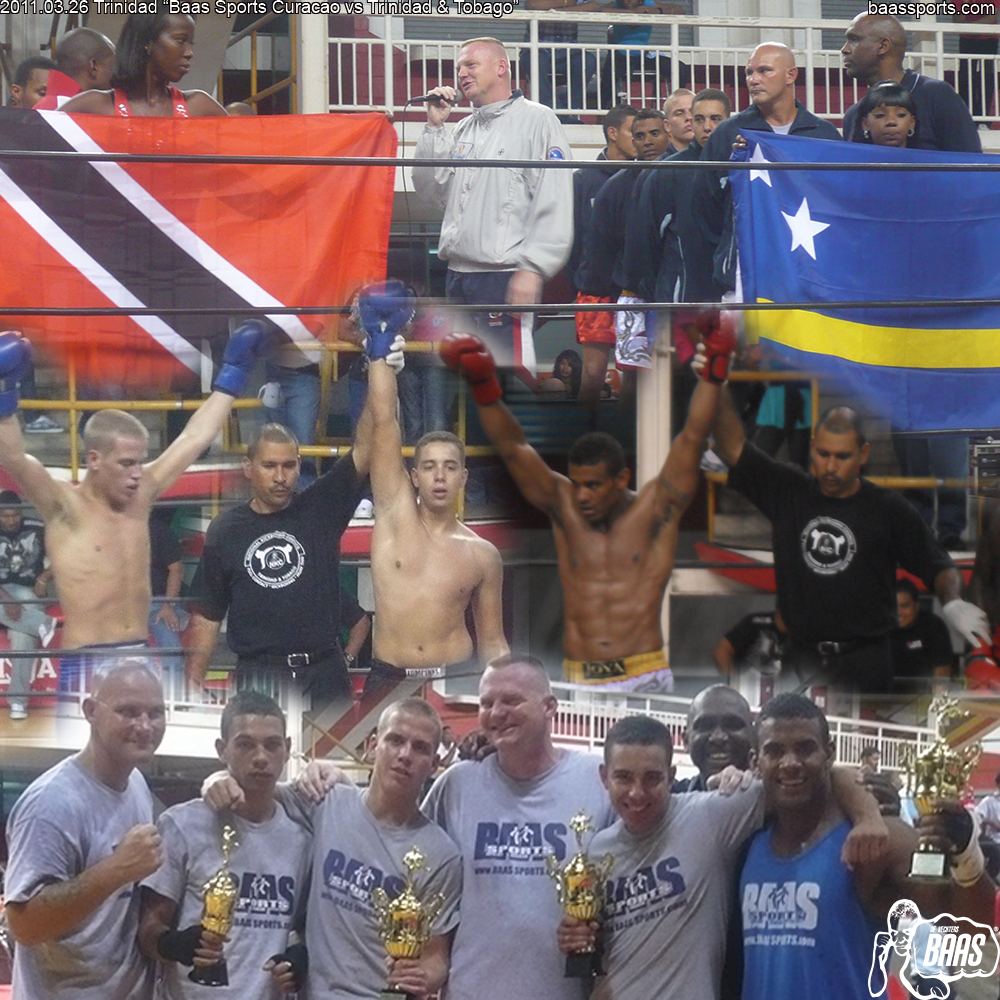 2011.04.30 Baas Sports boxers won 3 out of 4 @ "Curacao vs AruBox" in Aruba. Argenio Pieters won Shaedemir Jansen, Jamal el Otmani won Adriaan Albertz, Nezar Regales won Kevin Lee. Justin lost against Efi Jimmy Croes.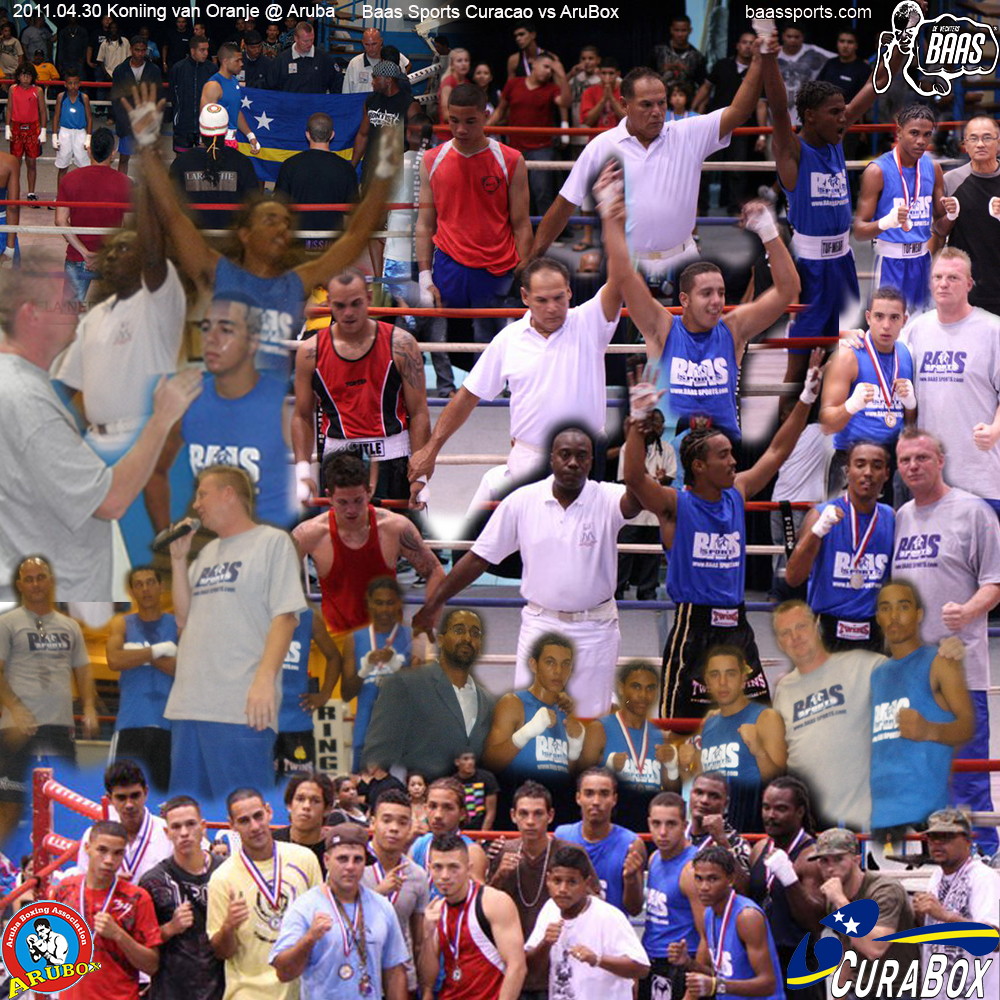 2011.05.30 Baas boxers 4 victories. Crispulo won Janzen (Bonaire), Justin Gogulski won Sarabia (C), Argenio Pieters won Ogilvy Sietajen (Suriname) and Nezar Regales won Cedric Manhoef (Suriname) and the 'Papa' Godett trophy.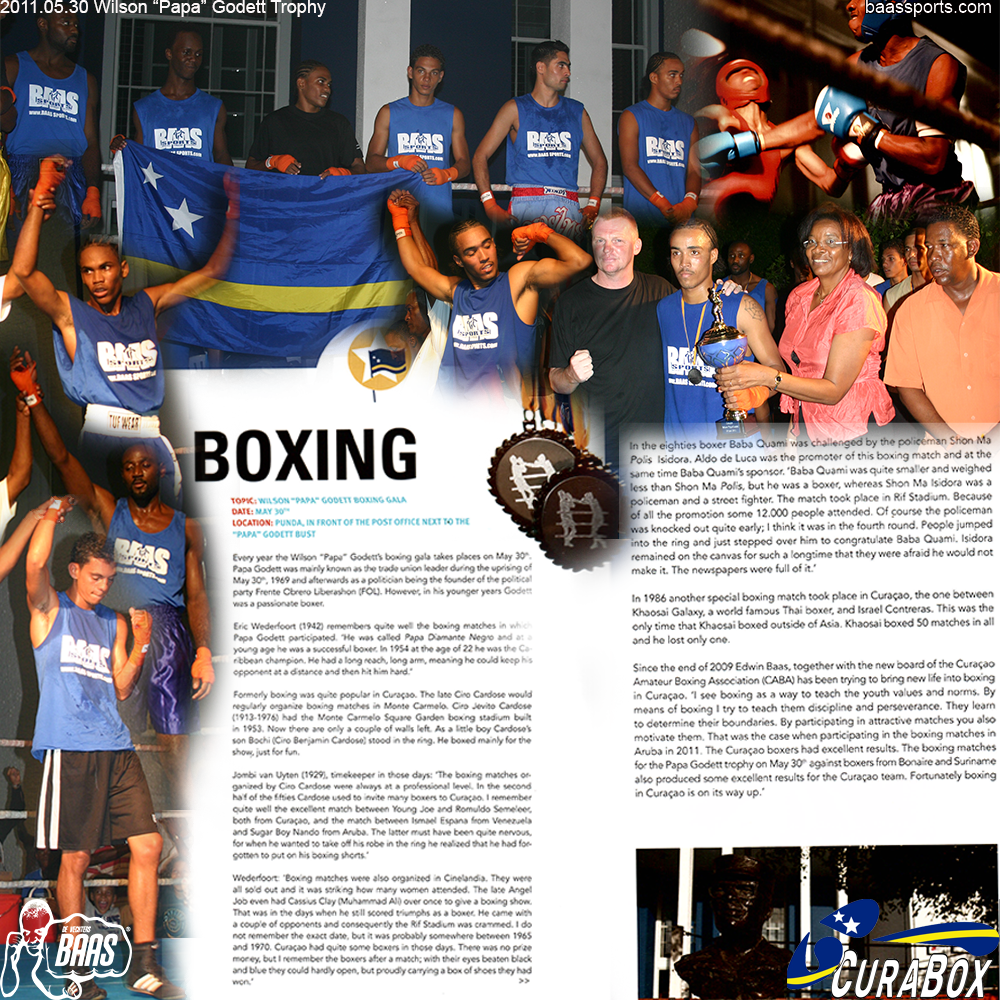 2011.08.27 Baas Sports with 6 victories in Boxing and 1 in MMA @ Curacao Rumble. Ziani Fluonia won the ladies bout, Jemuel Cleofa won Mercera (Bonaire) by RSC-3, Raul Franciska won Janzen (Bonaire) by RSC-1, Mohamed Hussein won Gonzalez (The Netherlands), Sarabia won Koolman (Aruba), Justin Gogulski won Pardo by RSC-2 and Argenio Pieters won Efi-Jimmy Croes (Aruba).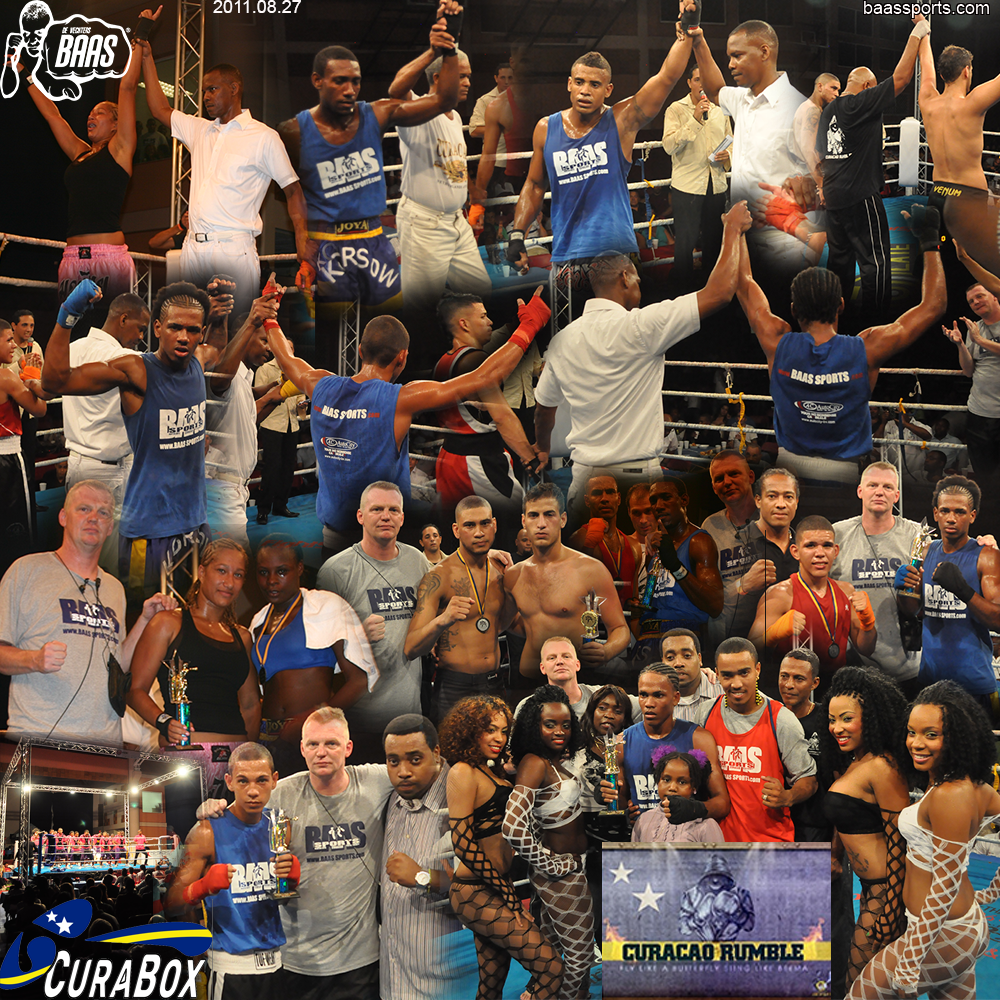 2011.04.01 Baas succeses. Argenio Pieters won 1st place 4-men tournament after 2 victories. Andre Alias also won and Grego Scharbaai made his debut with a No contest (the fight was stopped because of a cut caused by a clash of heads).
2011.06.18 CUMAFE MMA championships Mohamed Hussein (Middleweight) and Rob Gogulski (Heavyweight), both from Baas Sports, won the 1st prizes, while Andre Alias (bantamweight) won the 2nd place after a victory on Paul Vilanueva Carbagal (Bonaire).
2011.07.02 Baas Sports Joost Mulder and Nezar Regales @ Le Choc Des Titans IV in Martinique.
2011.10.15 "Honor and Respect" victories for Baas fighters Jean-Louis Ignatius, Justin Gogulski and Argenio Pieters.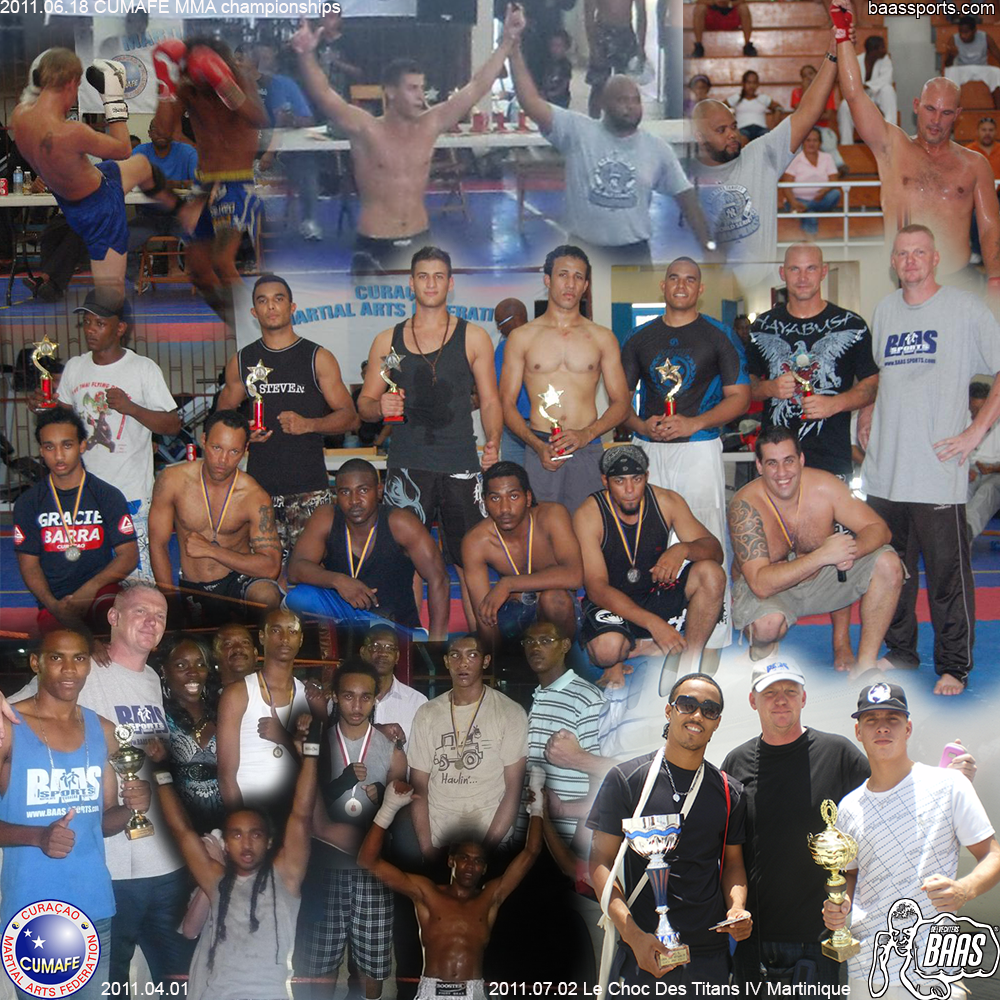 2011.11.12@ Fierce and Furious SXM. Argenio Pieters and Jean-Louis Ignatius from Baas Sports. Jemyma Betrian, also representing Curacao, won Geugjes (Mike's NL). Sergio Pique won Ware (USA), Rodney Glunder won Osiptsov (England), Evan Nedd (Aruba) won Fagiano (USA) in MMA. Also Sint Maarten, Martinique and Suriname.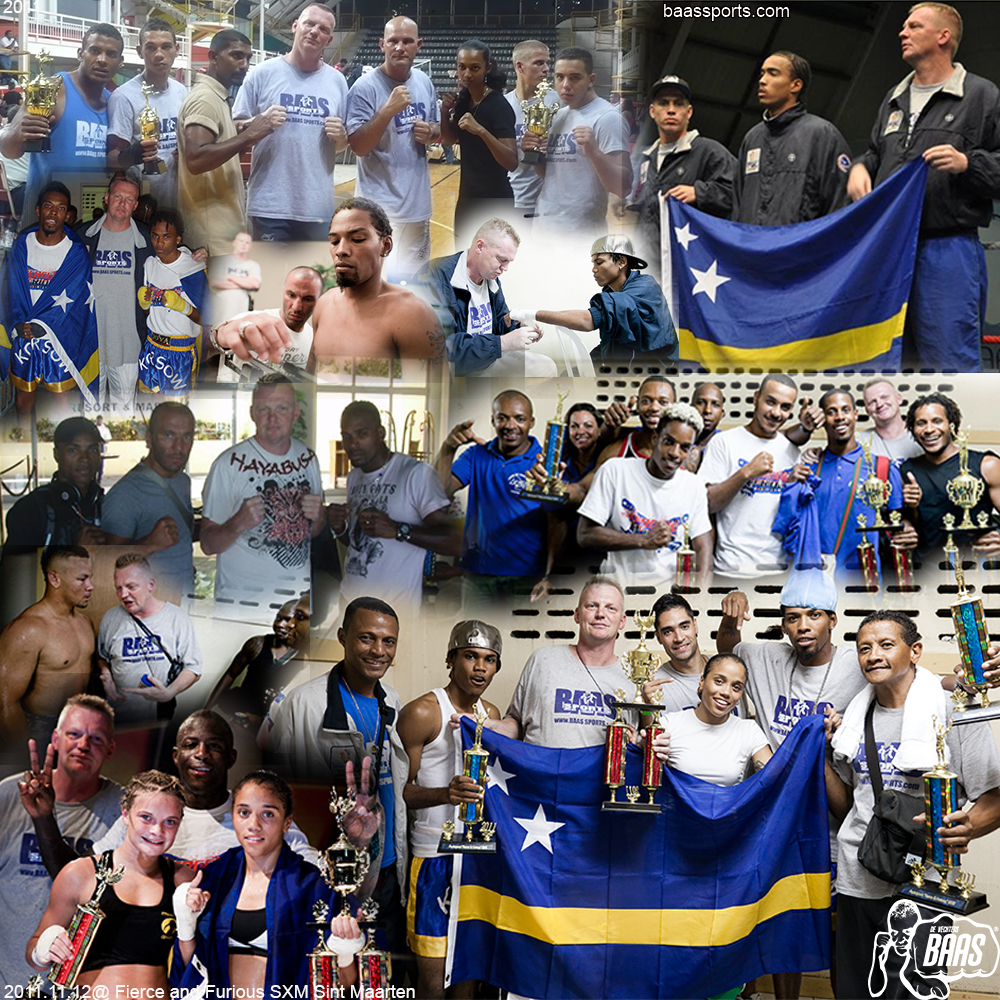 2011.09.25 Baas Sports @ Hockey Balboa VRO tournament CVV Willemstad. Edwin Baas opened with a warming-up for all hockey players. Boxing by Justin Gogulski and Argenio Pieters. MMA by Rob Gogulski and Mohamed Hussein. Thaiboxing by Palmira Baas and Thalisa Everon.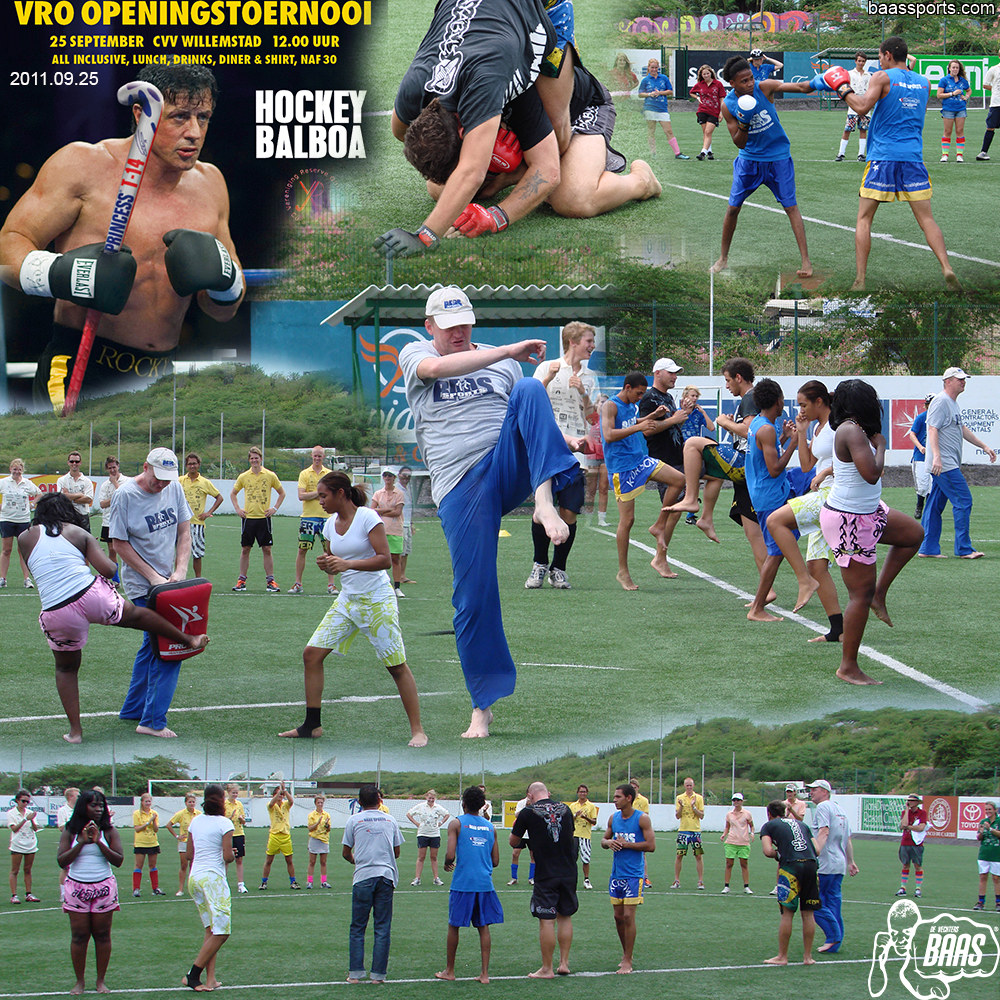 2011.12.17 Baas Sports success @ MMA Madness. Boxing Grego Scharbaai (63) won Clinton Esprit (70), exhibition Muay-Thai Jean Louis Ingnatius vs Joost Mulder, MMA Justin Gogulski (61) won in Ruvinsky Lopez (65,5) by TKO-2, Mohammed Hussein (81) won Cesar Geerman (83,3) AUA by SUB.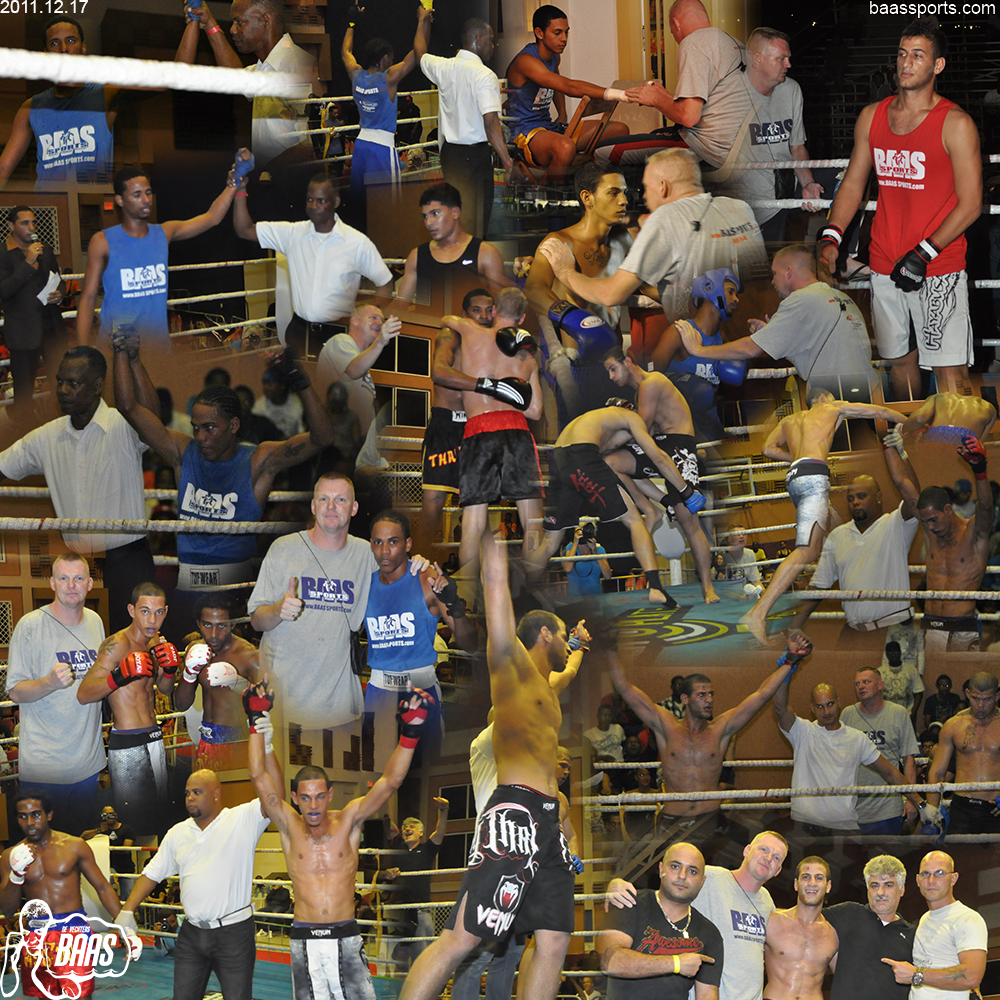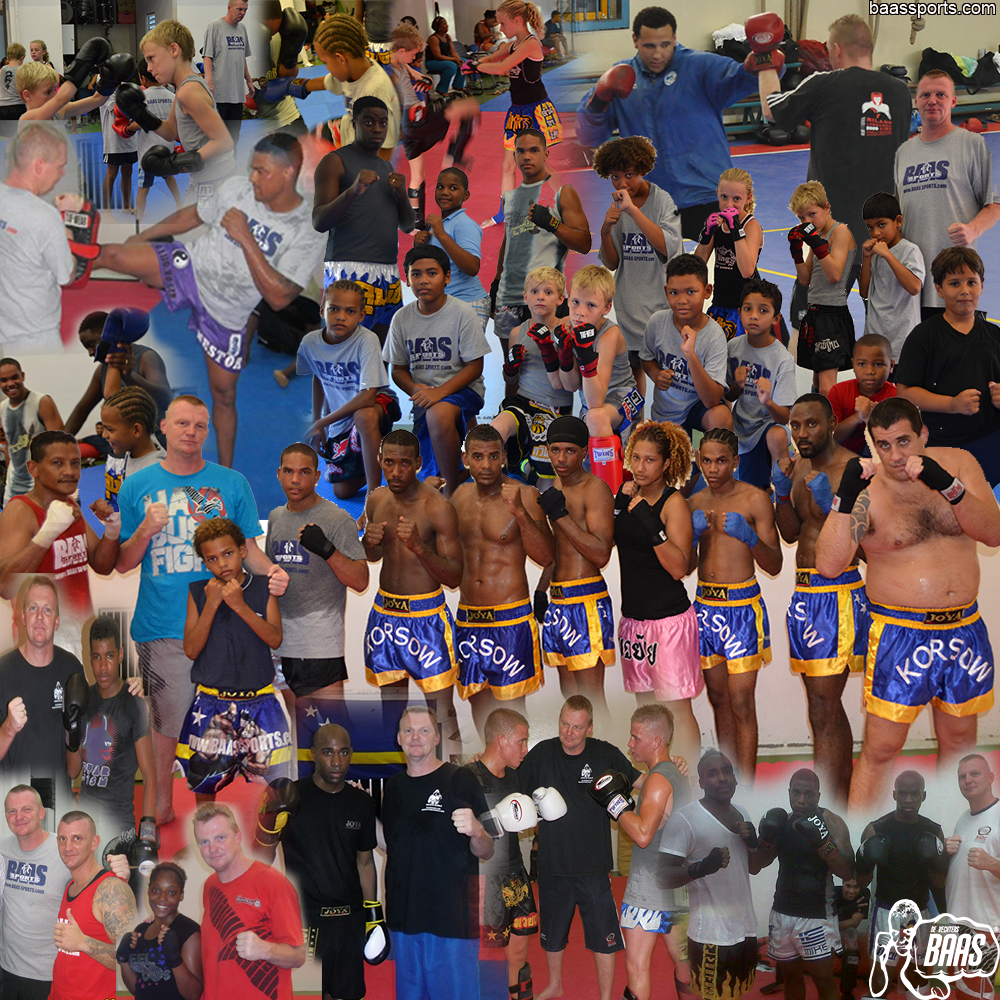 2012.03.07 Mohamed Hussein (Baas Sports) won Cesar Geerman (AUA) by SUB-1 @ MMA Extreme Fighting Championships in Aruba.
"Win by submission"  Franklin Cox 3rd -67 kg, Jermaine Gogulski 3rd 68-73 kg, Mohamed Hussein 1st -93 kg (in -84 kg there was no opponent) and Rob Goguslki shared the 1st place +93 kg.
2012.05.01 KB 1. Leroy Breeschoten 2. Justin do Rego. MMA: 1. Franklin Cox 2. Jowi Adriana 3. Jonathan Martins Pereira/ Welton Angelica.
2012.07.21 Franklin Cox won by TKO-3, Kelvin Drop won by TKO-2, Tico Grotestam won by TKO-1 and the fastest KO trophy.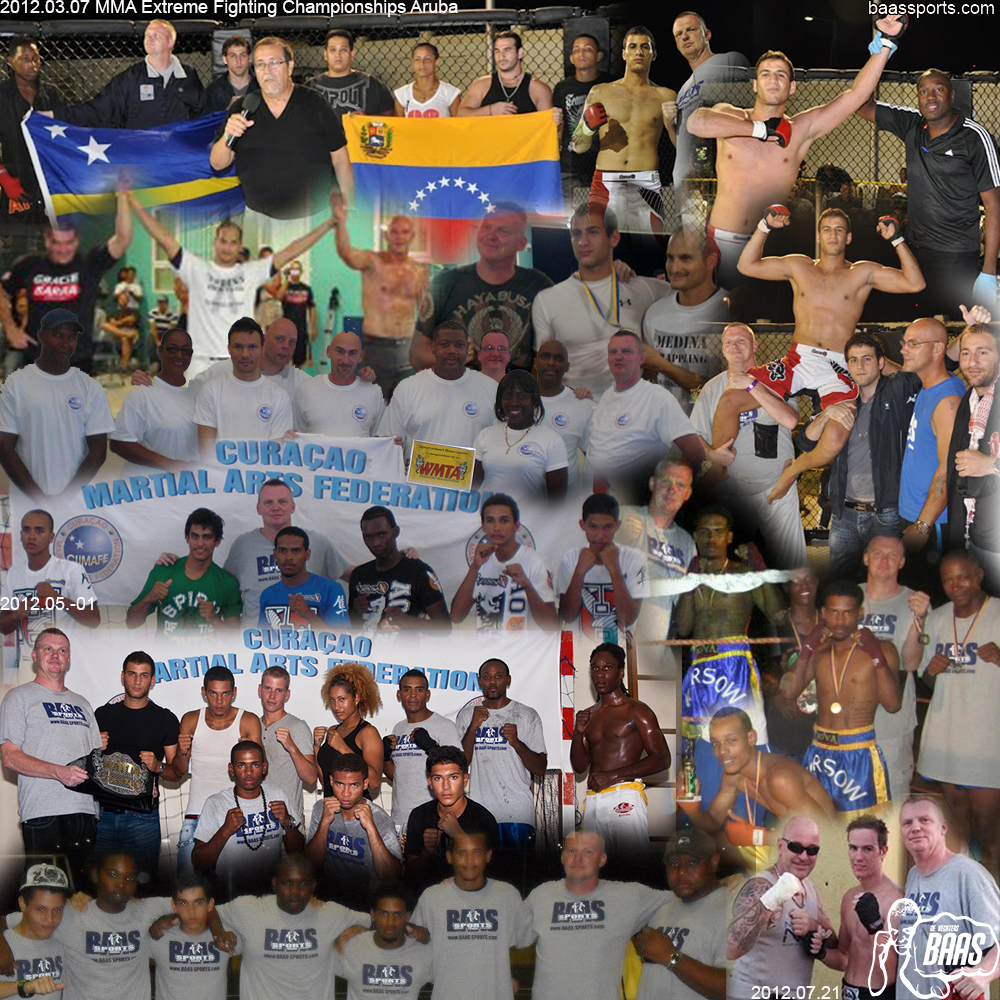 2012.05.05 Fighters of the Caribbean 4 victories for Baas Sports Curacao; Zianni Fluonia won SU, Joost Mulder won AUA by KO, in MMA Mohamed Hussein won SXM by KO-1, Milangelo Eugenio won the A-class title fight for the Caribbean WMTA belt.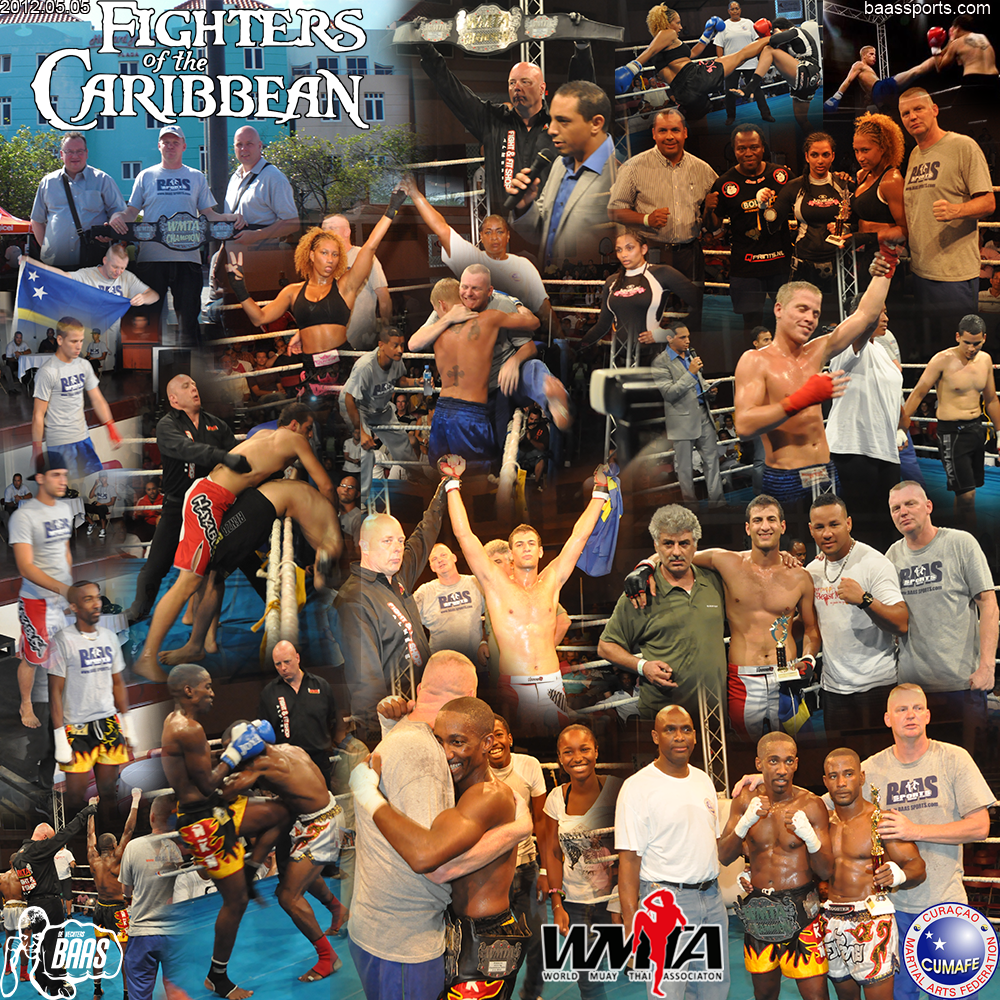 2012.05.30 5 Baas boxers and 5 victories; Jason Gogulski, Leroy Breeschoten, Justin Do Rego, Franklin Cox and Justin Gogulski who also won the 'Papa' Godett trophy. Danny van der Veen vs Joost Mulder Muay Thai exhibition.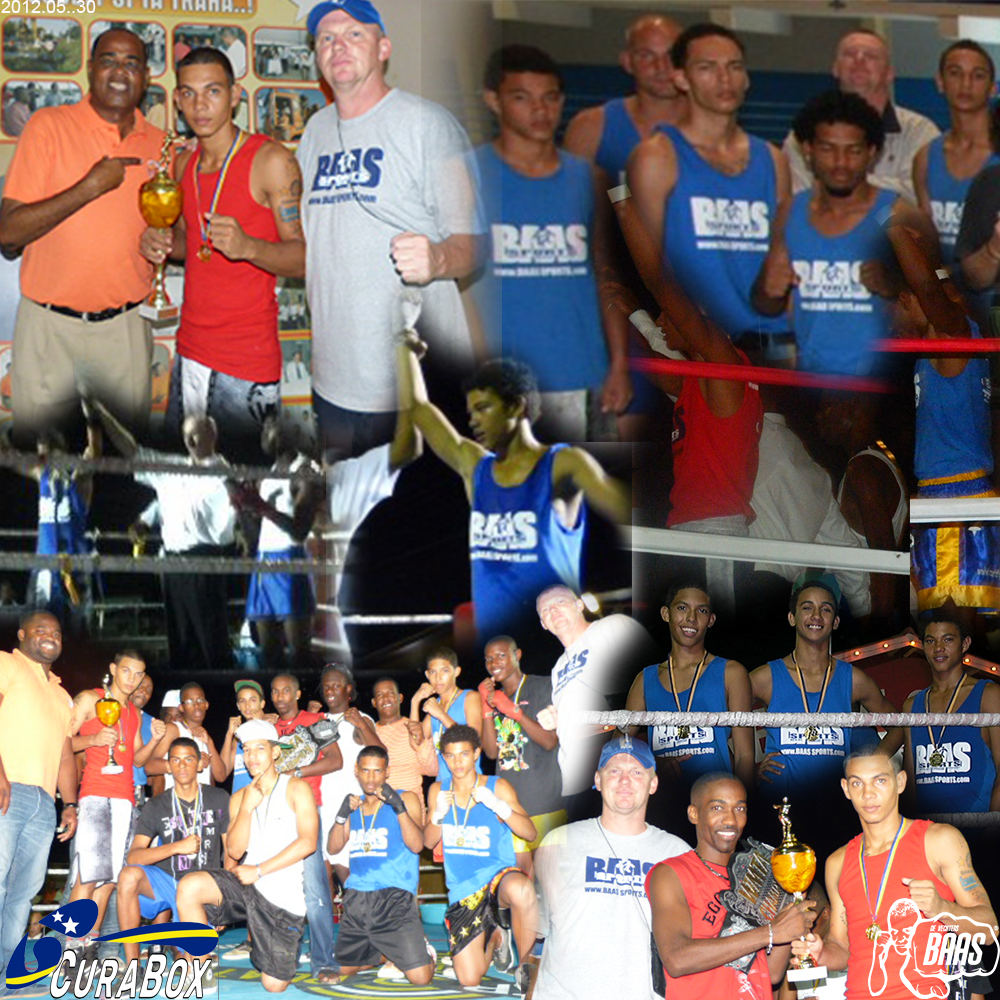 2012.09.22 Curacao Rumble Baas Sports successes. Milangelo Eugenio and Grego Scharbaai Full Contact exhibition, Chandruth Gosepa won KB, Joost Mulder KB "no contest" (cut in the 1st round caused by accidental headbutt), Justin do Rego won by WO box, in MMA there were victories for Franklin Cox, Rob Gogulski and Mohamed Hussein, who won Juan Villanueva (Venezuela) by submission and also the "King of Rumble" trophy.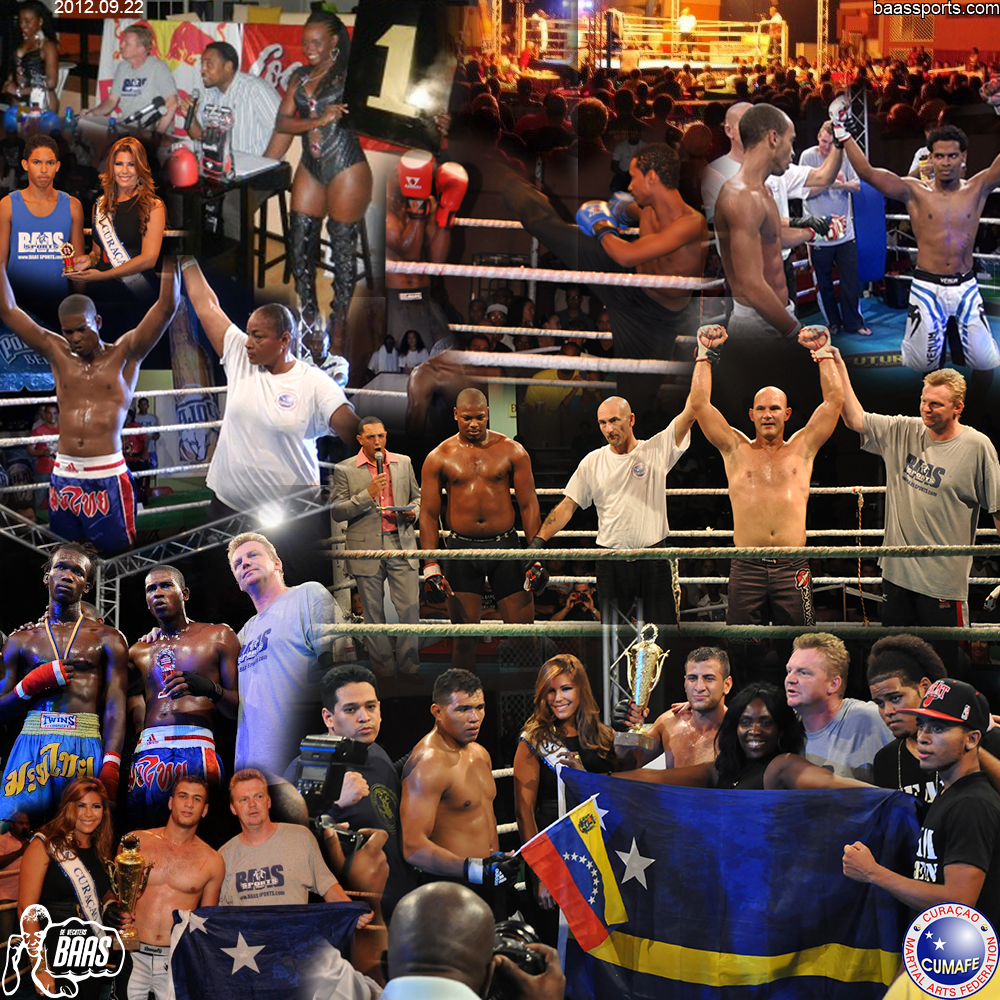 2012.10.27 Saba Leroy Breeschoten won Donald Hassell (Saba) by RSC-2. 2012.11.10 Fierce & Furious SXM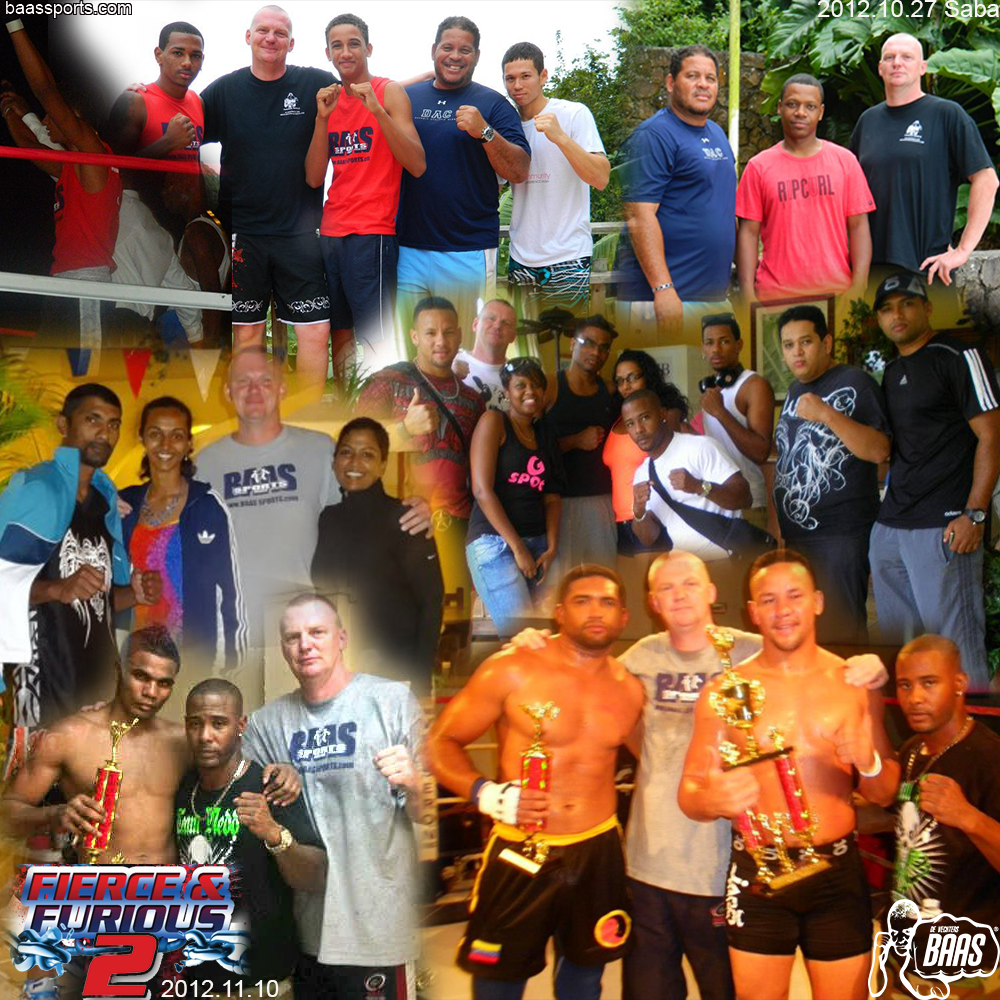 2012.12.15 CABA ISC all 6 boxers from Baas Sports that participated won. Justin do Rego won by RSC-2. Jowi Adriana won UD. Leroy Breeschoten won by RSC-1. Javier Janzen won SD. Jason Gogulski won UD. Franklin Cox won by RSC-3. Justin Gogulski vs Joost Mulder TB exhibition