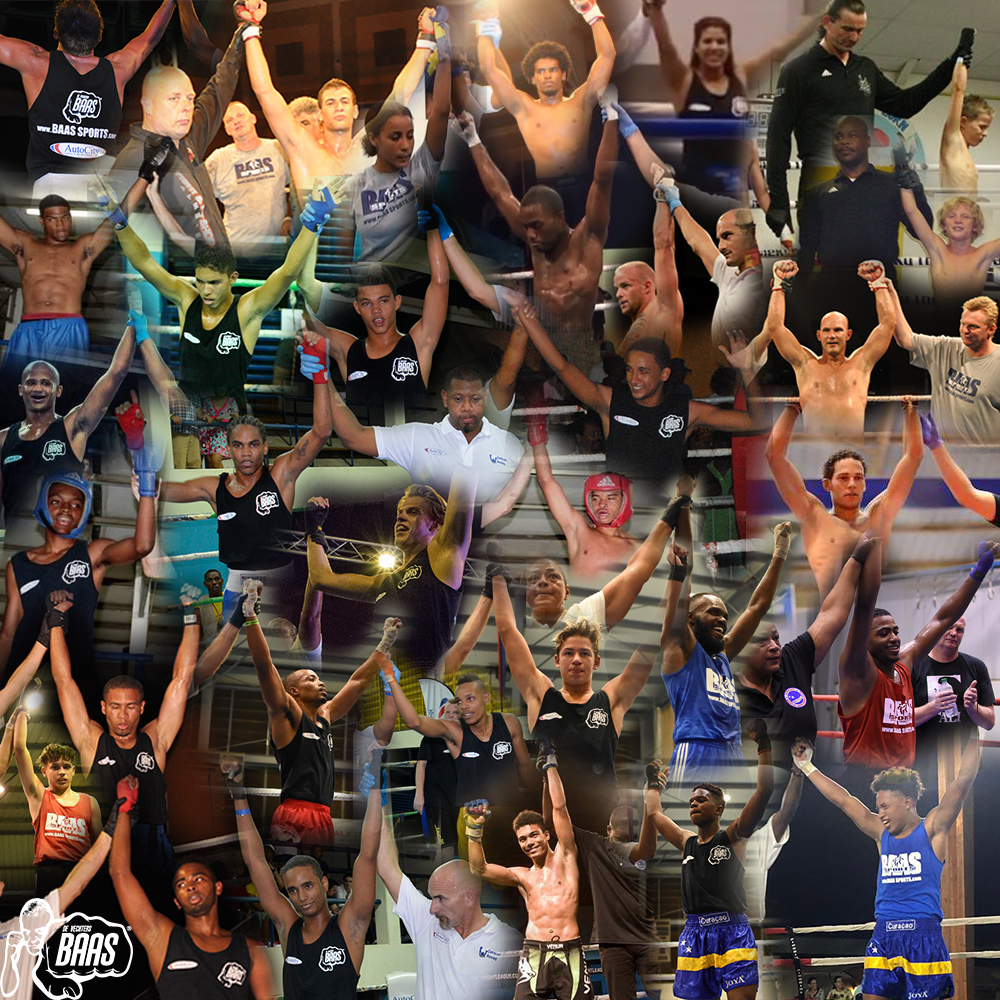 Not all the athletes of Baas Sports Curacao are included in the pictures above and below. Don't take it personal. Baas is proud of all of you, everyone who has the guts to enter the ring or cage. With participating you're already a winner. Losers don't exist in combat sports.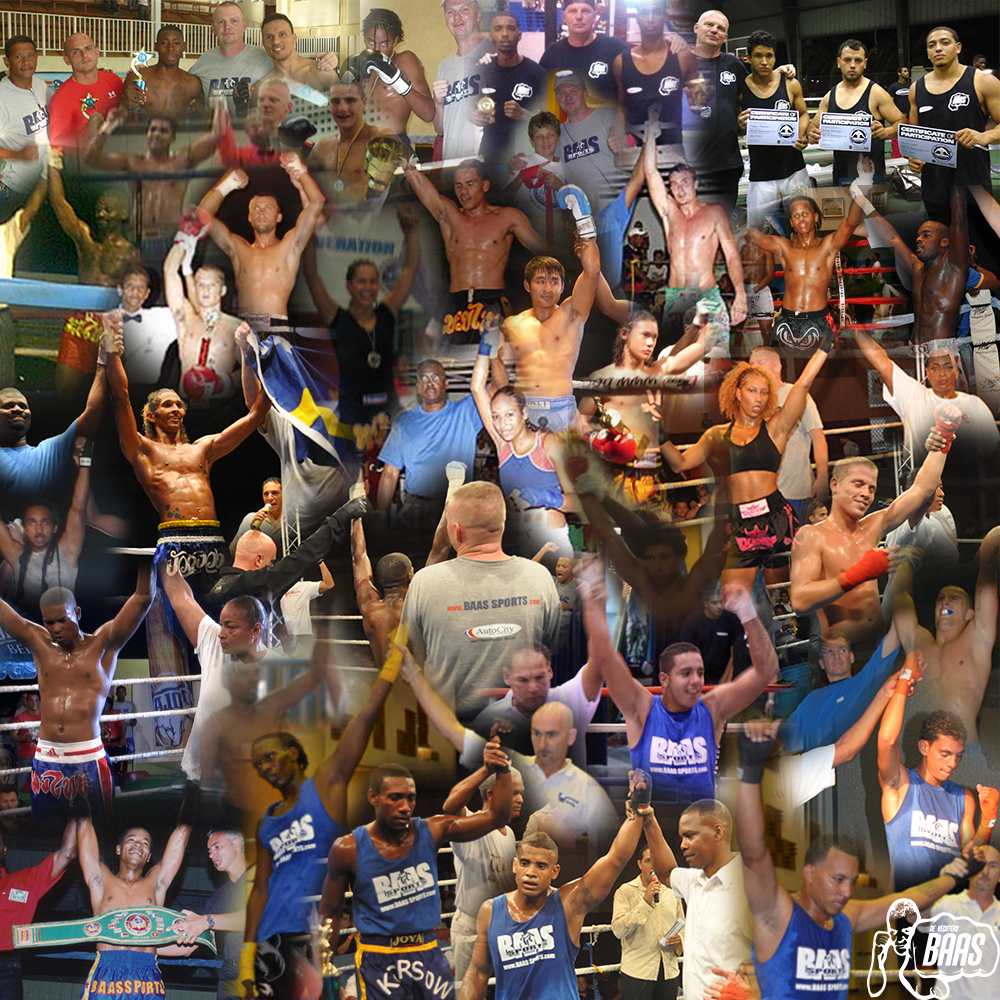 Before Edwin Baas came to 5999 (Curaçao) in August 2001, he was teaching in The Netherlands.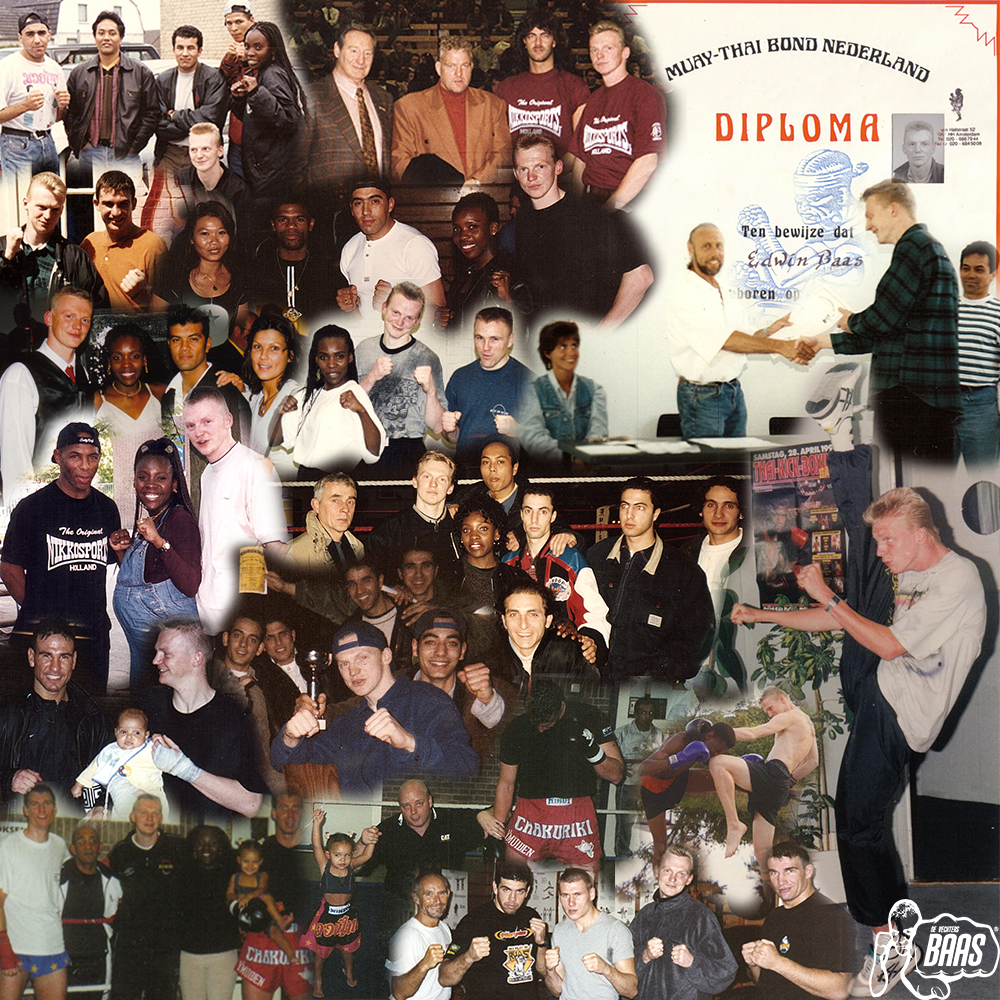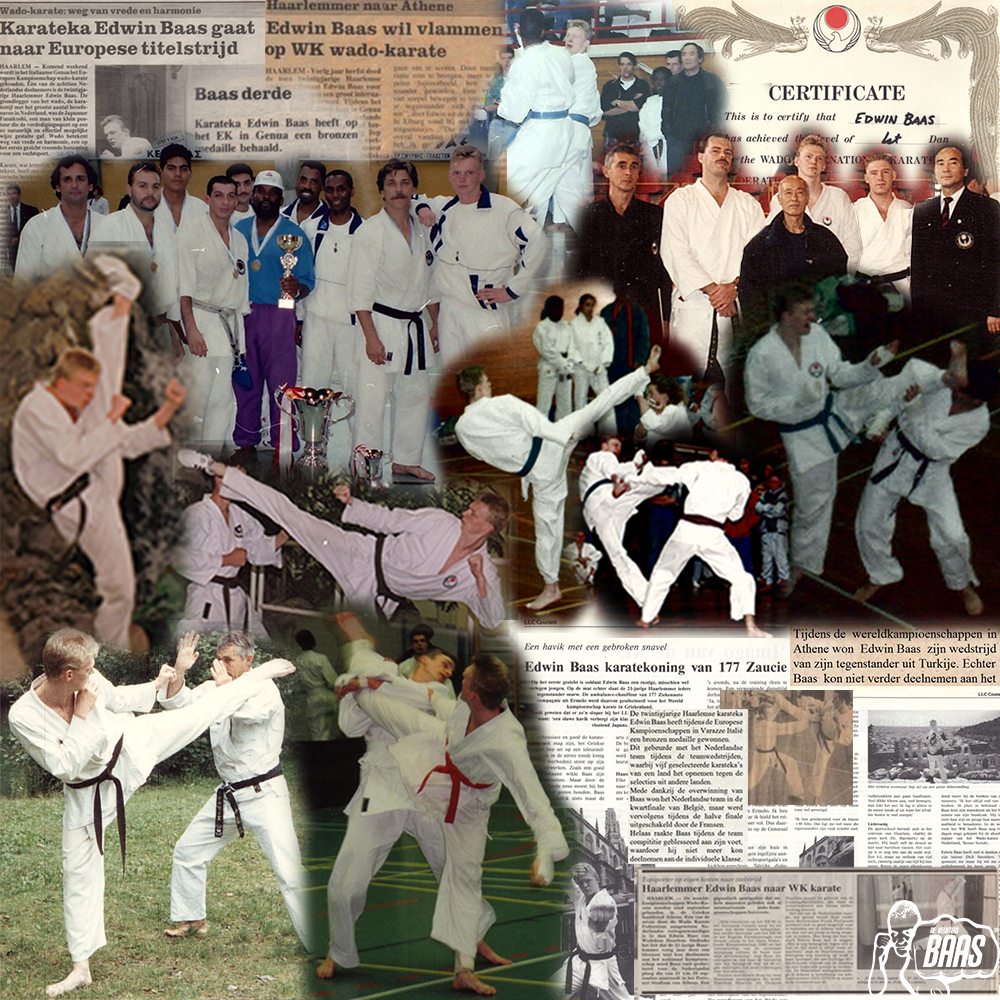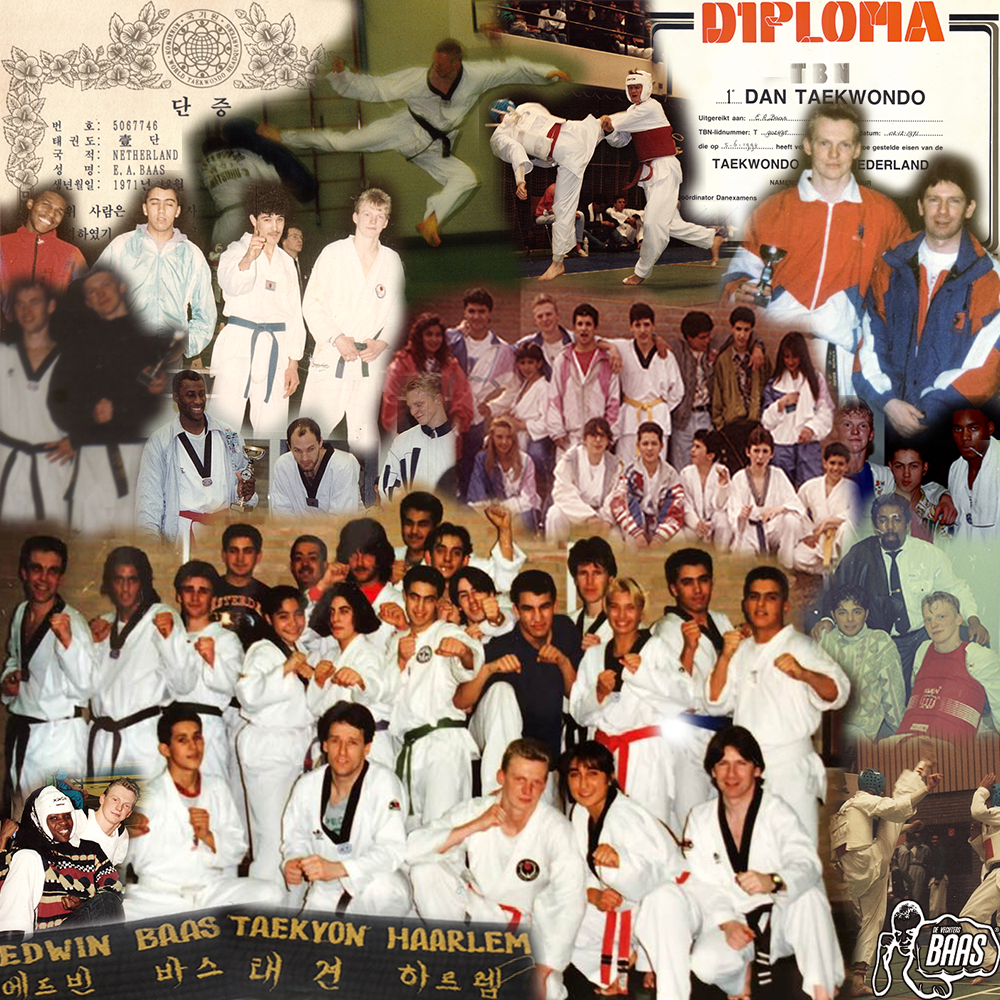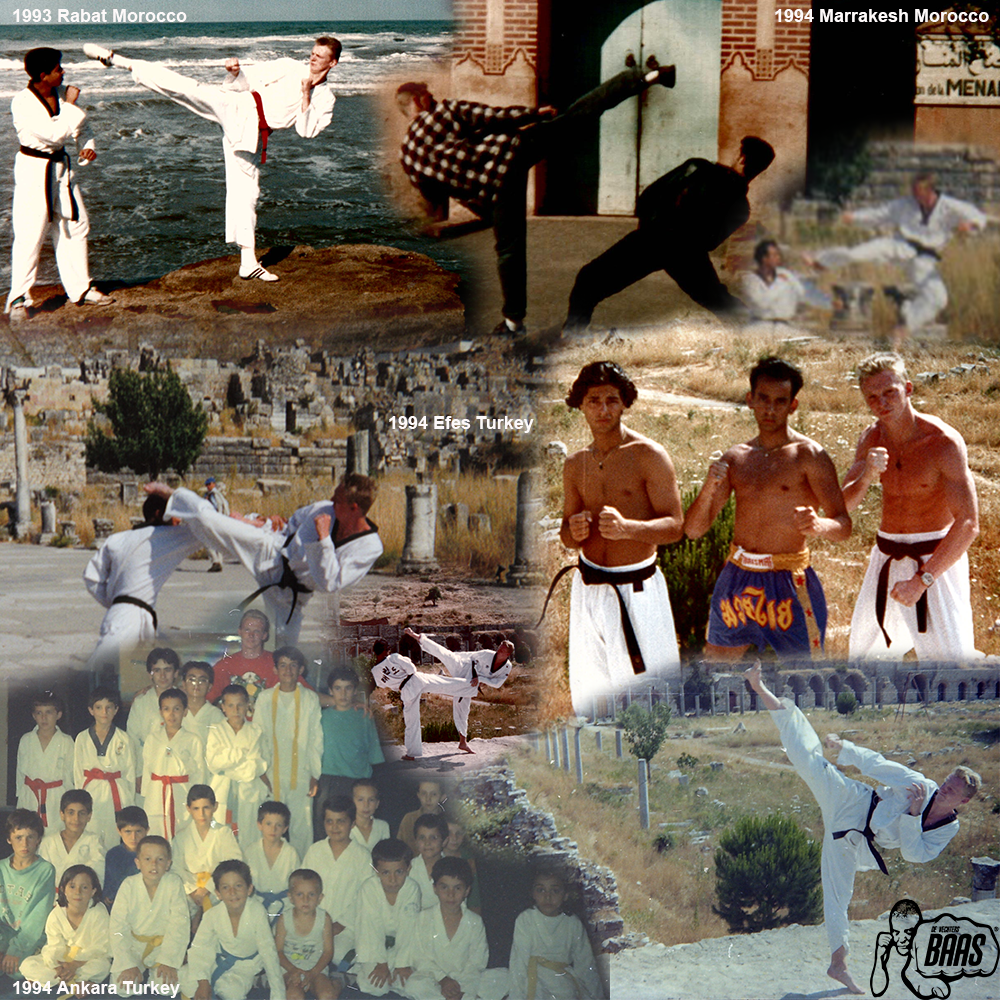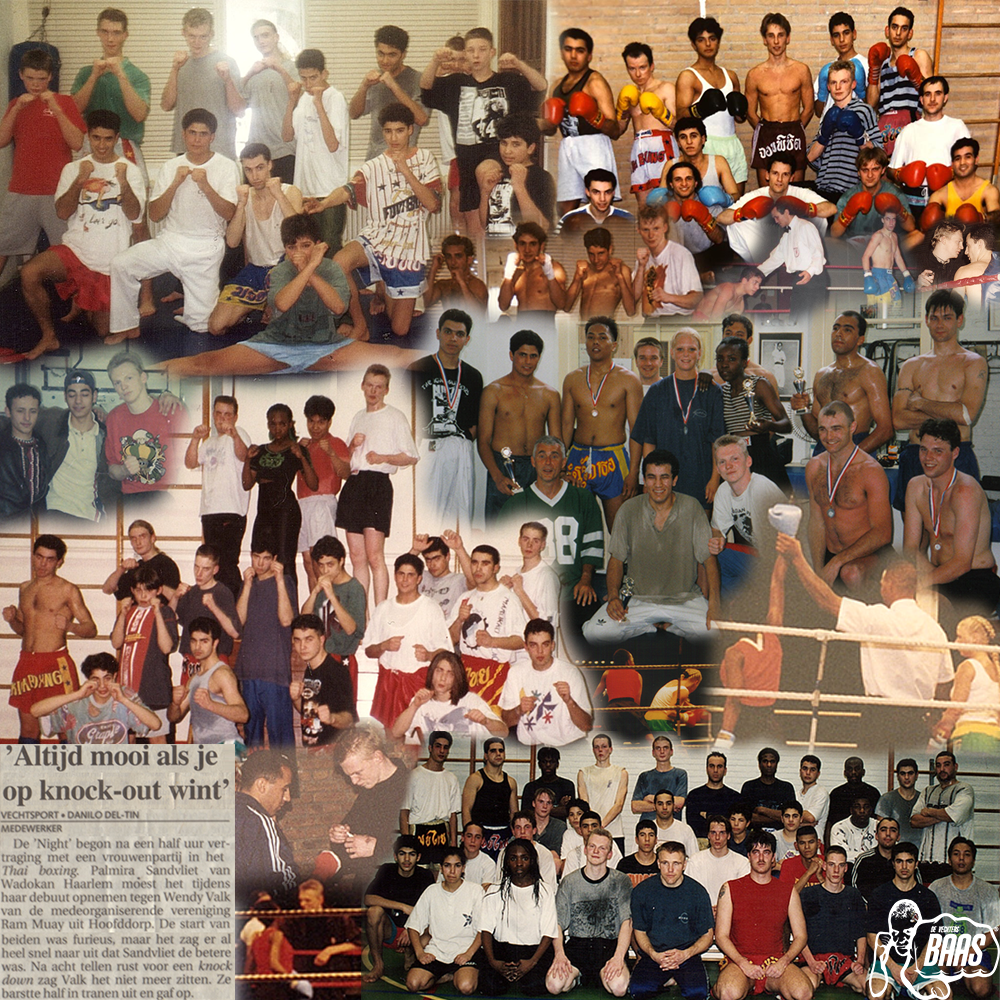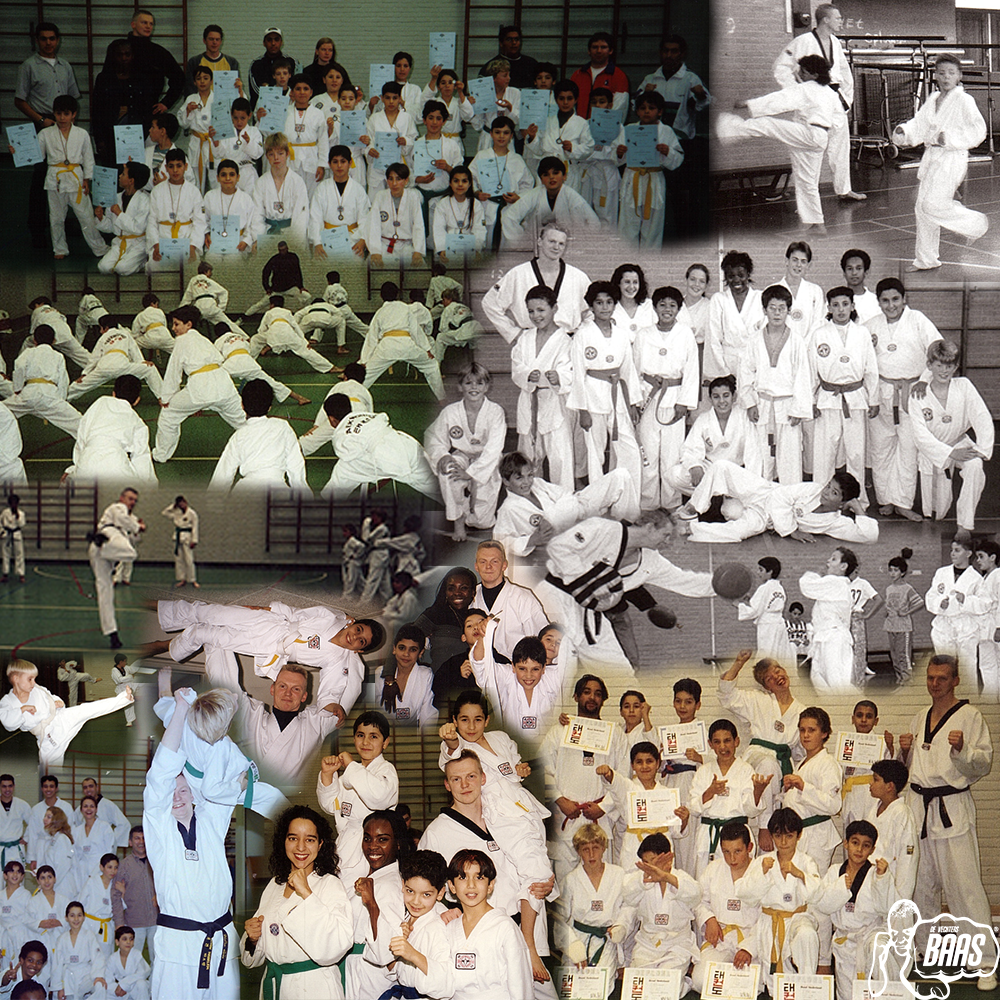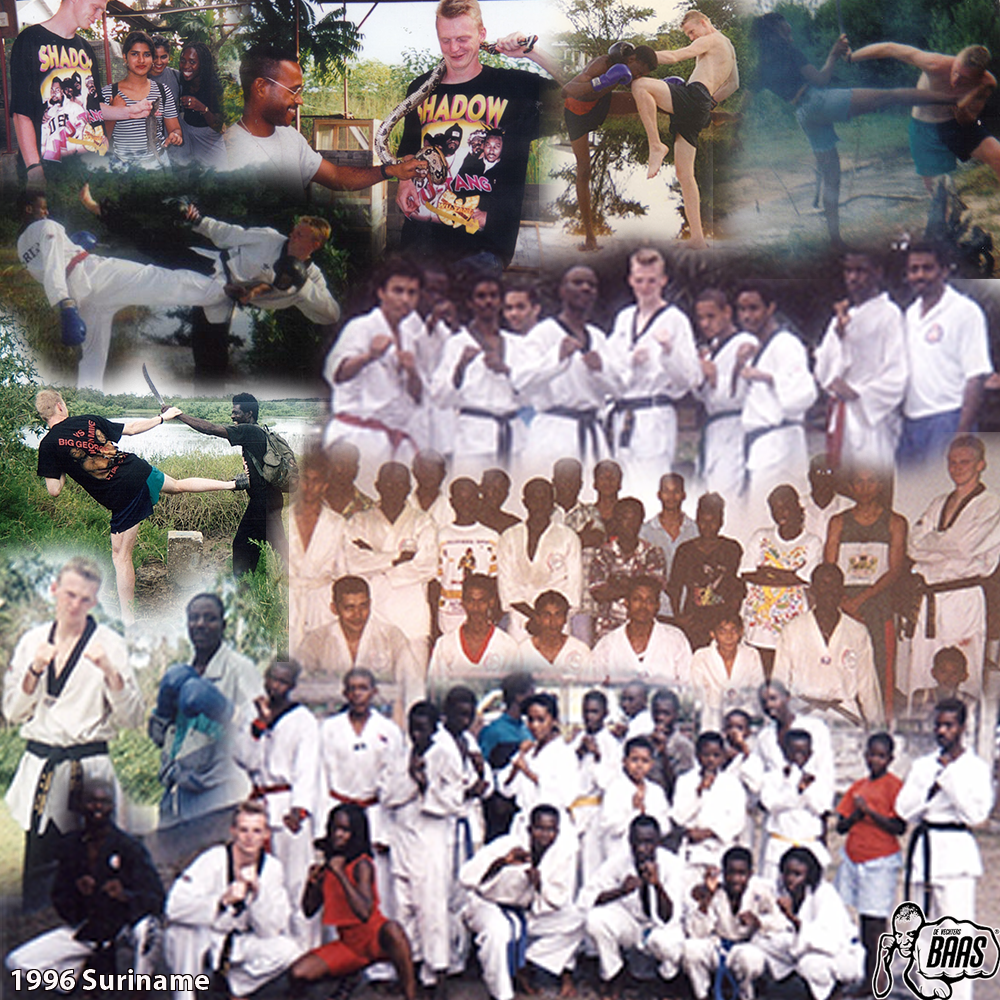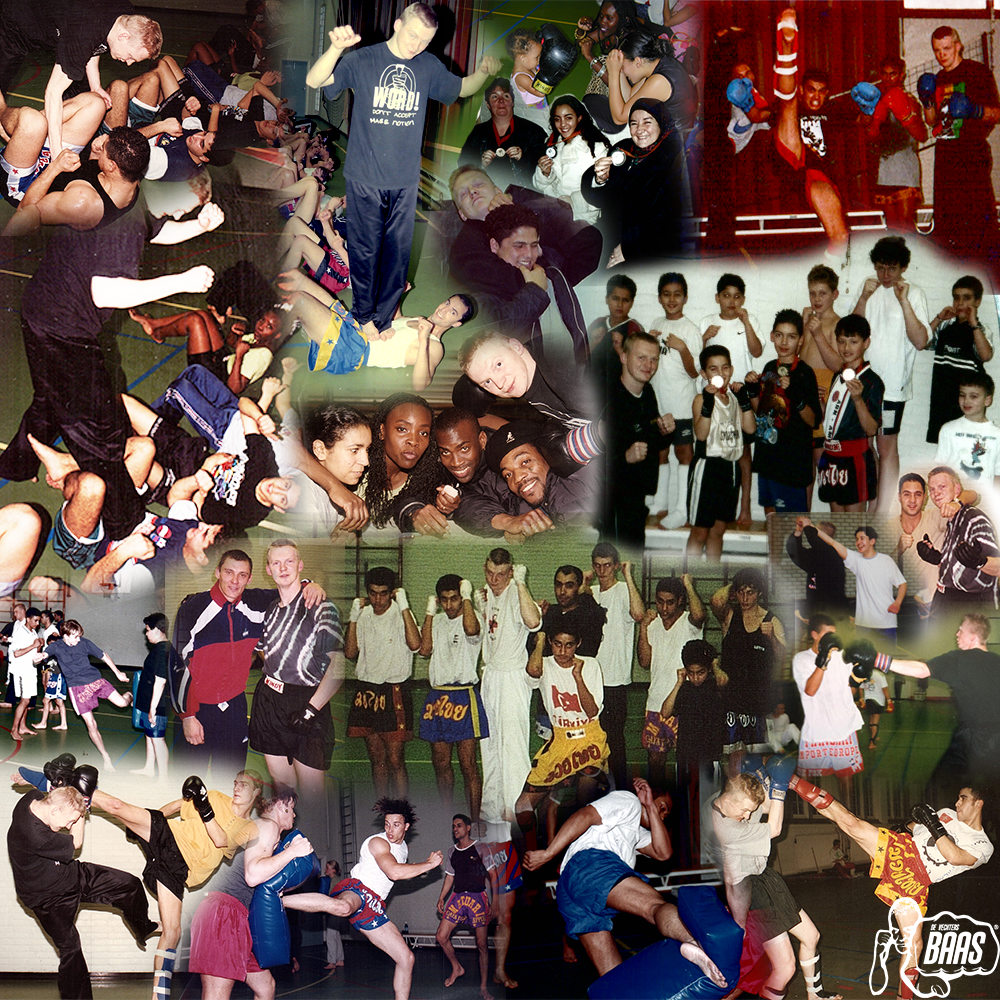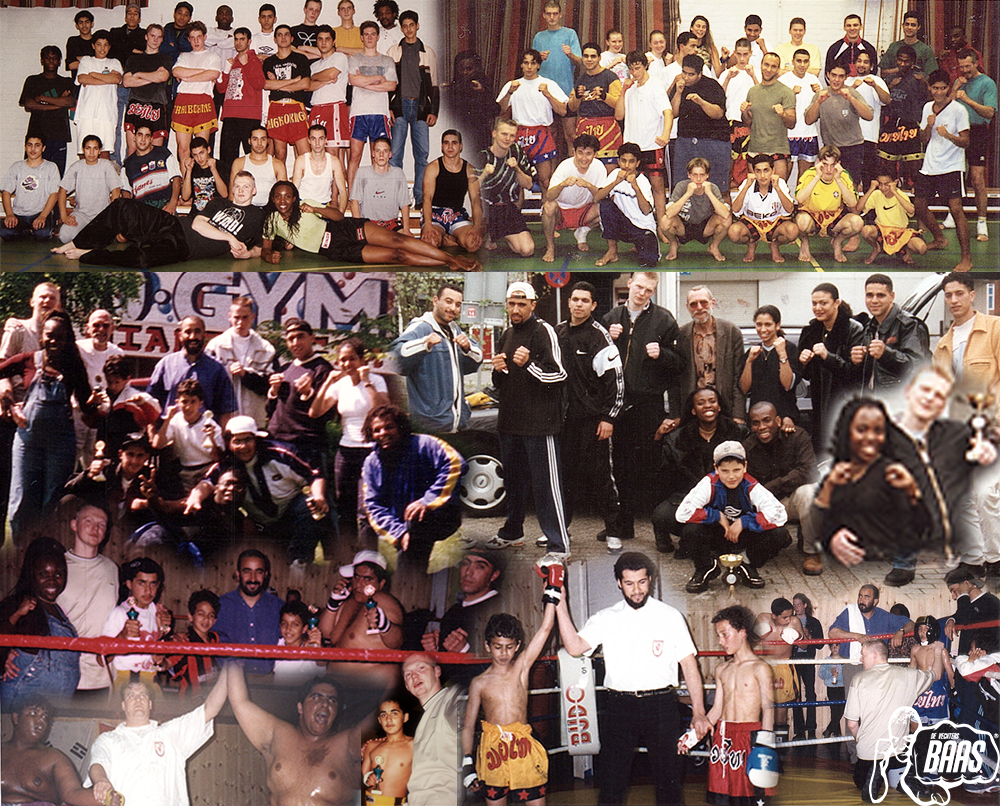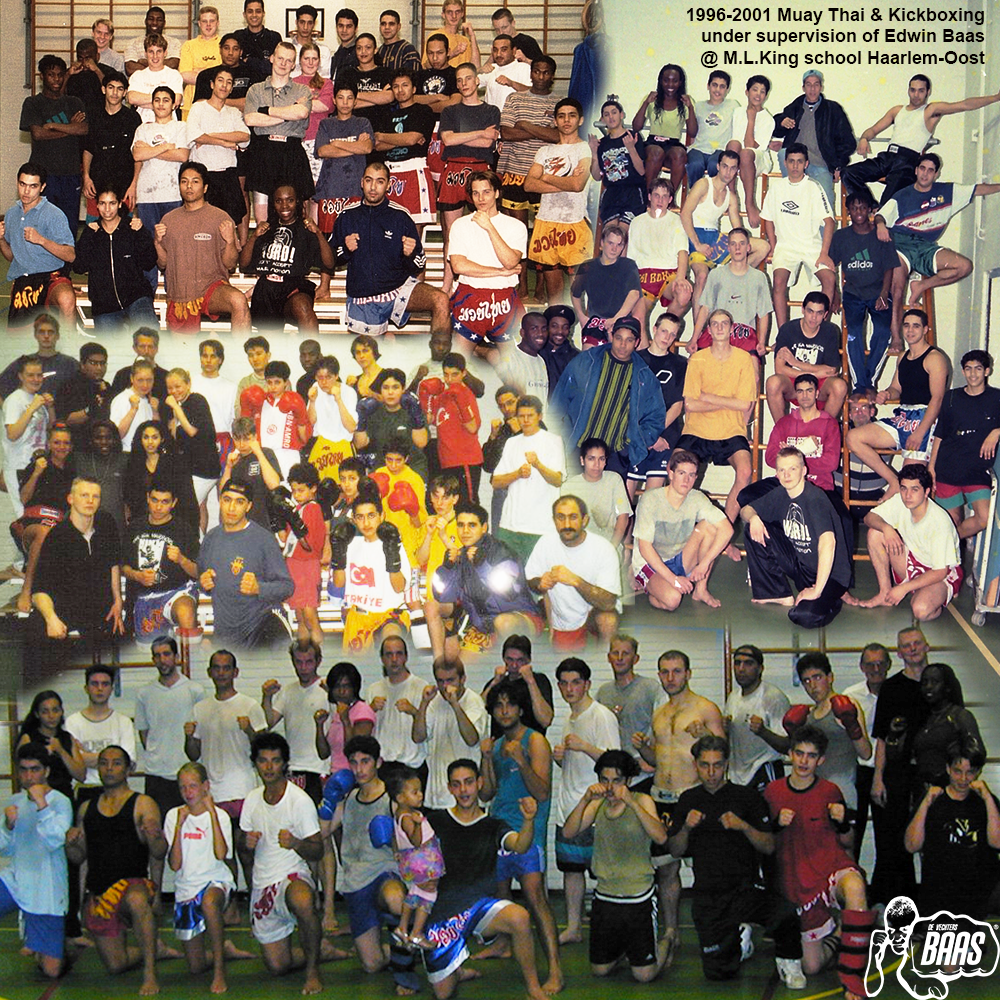 August 2001 Edwin Baas came to Curaçao. After a few days, 2001.08.31, Baas already acted as referee of all but one fights that night. The fight card contained Curacao vs Thailand (the Thai were employed at the Oil Refinery) and Baas fought the main event Curacao vs Holland in a 5 rounds exhibition bout vs multiple champion Ronald "The Man of Steel" Sluis. Sluis won a lot of championship belts, like the Caribbean title WKN (World Kickboxing Network) by defeating Neil Frederick (Trinidad & Tobago), the intercontinental title and he also won World Champion IKBF (International Kick Boxing Federation) Ted van Rijn (The Netherlands).
Baas started to train a small group and in a few months the late Ron van Leeuwe represented the team of Baas in competitions with success. Ron who got the nickname "The Dutch Lion" was a former classmate (Grafische School Haarlem) and a youth friend of Edwin. He also came to Curacao in the same year, 2001.
2001.09.29 Ron made a victorious ring debut and after this one he won several Thai-Kickboxing fights in Curacao and Aruba. The most impressing was 2001.12.01 when Ron won with a kick to the head in the 1st second of the 1st round. 2017.09 Ron passed away in The Netherlands. Rest In Power Dutch Lion.
Baas supported John Lobato (Chi Sportschool) with training/coaching of Ralph Maduro, Sharlimar Zimmerman and Marlon Albertoe. 2001.11.03 Zimmerman 5 rounds vs Anthony Ignacio (Aruba), Albertoe won Devon Hodge (Aruba) by 1st round TKO and the opponent of Maduro did not show up. 2002.07.20 MMA seminar by Apy Echteld (2H2H).
2003.05 the team increased, as Sherman Bonofacio (Bullet team), left Curacao and handed over his kickboxing group at Radulphus College, with fighters like Roderick Meijsing and Reno Mooyweer, to Baas. From this moment team Baas Sports started to rule. In Trinidad Serwin Concincion became Pan-American Champion WKN and Leyron Marcos, Ariel Concepcion, Narswin Betrian, Reno Mooyweer Thurston Joseph, Danny van der Veen, Roderick Meijsing, Rines Martina (Rojer), Raylison Aitatus and Milangelo Eugenio all won one or more fight. 2003.07.04 Baas Sports Curacao made a very strong impression and was very successful @ an International Thaiboxing event with participation of Dominican Republic, Aruba, St. Maarten, Trinidad & Tobago, Netherlands and Curacao. Baas Sports had 7 fighters competing that night and had 6 victories. In the A-class Lucien Carbin's fighters were successful with victories for Tyrone Spong, Ilonka Elmont and Jerry Morris. 2003.08.16 Baas Sports was again very successful and did not even lost one fight. In Suriname, 2003.12.19, Curacao was represented by Baas Sports. Edwin Baas went with Karel Jamanika, Caribbean Champion WKN.
With former world karate champion Dudley Josepa and others, Edwin Baas founded in 2003 the Curacao Martial Arts Federation (CUMAFE) and with CUMAFE Baas organized various activities, like a gathering training @ Marinekazerne Parera. The host Ruud Hardjokosoemo, karate sensei of the naval base, trained kickboxing at Baas in Haarlem.
In 2004 Baas Sports fighters Ariel Concepcion, Danny van der Veen, Trevor Bomas, Kevin Abraham, Achraf Kayouf, Roderik Meijsing, Ramiro Sabina, Jemuel Cleofa, Dennis Arentsen, Thurston Joseph, Harley Pimienta and Milangelo Eugenio were victorious in many Thai-kickboxing fights. 2004.10.30 all 4 fighters from Baas Sports won their fight at "Curacao Caribbean Classics". Harley won the experienced fighter and kickboxing instructor of The Pyramid. Thurston Joseph and Roderik Meijsing both won WKN title belts by defeating opponents from St. Maarten. Milangelo Eugenio won the Caribbean WKN belt by defeating Johan Croes, Aruba and Caribbean Muay-Thai champion. All fighters from Baas Sports received their belts from WKN-president Stephane Cabrera (France).
2004.12.04 CUMAFE "Nochi di Arte Marsial" with exhebitions in various martial arts, like; Karate, Taekwondo, Judo, Aikido and Capoeira. Kung Fu was by Harley Pimienta from Colombia, who in Curacao trains Thai Boxing @ Baas Sports. Muay Thai kickboxing was by the following members of Baas Sports; Stephen Liu, Louraine Girigori and Ariel Concepcion. MMA (Mixed Martial Arts) was by Edwin Baas and Gregory Costina. What also was very impressive was the exhibition by Raymon Juliana, aka "Mayron" or "Lonchi". Mayron trains at Baas and showed in exhibition with Baas that despite physical disabilities you are able to practice martial arts. Mayron defended himself against both armed and unarmed attacks and showed that he can fight back.
Edwin Baas did a big MMA promotion in 2004 and 2005 in the dojo of the Naval Base Parera by guest trainers Apy Echteld and Joop van Kasteel (won RINGS World champion title by KO over Dan Severn from the USA).
2005.05.01 Stephen Liu victoriuous debut. 2005.05.14 box bros Daniel and Gerardo Harmsen. 2005.06.11 Baas Sports won all 4 Thaibox divisions @ CUMAFE championships with Louraine Girigori, Vincent Schuttel, Roderik Meijsing and Stephen Liu. In karate Julius-Ann Johanns (46 kg) became 3rd @ open class kumite. 2005.11.13 Free Fight (MMA) Championship organized by Edwin Baas and Chris Tjon. Johnny Brazao, Tim Hulsman and Jelmer Wijnja, became 2nd after victories. 2005.12.10 @ CUMAFE's "Night of the Martial Arts" Kristy Ooms won in Thai Boxing, Tim Hulsman in MMA a Canadian and Mayron Juliana showed again that with a physical disability you also can practice martial arts.
In The Netherlands Danny "Warwaru" van der Veen won 8 Thaiboxing fights; 2005.03.20 Weert, 2005.04.17@ K-1 fight Night Valkenswaard KO-2, 2005.06.26@ Valkenswaard TKO-1, 2005.10.02@ Gentlemen Fight Night Tilburg, 2005.10.09@ "Shogun 2005" Den Bosch TKO-3, 2005.10.29@ "Showtime" Den Bosch TKO-3, 2005.11.11@ Spijkenisse, 2006.02.09@ Deventer KO-1.
Edwin Baas ended the year 2005 with winning the QZ Award.
Baas Sports won 4 of the 5 divisions in MMA and Thai-Kickboxing of the 2006 CUMAFE championships. Francesco Solaro won the 1st place in MMA after unanimous victories over Jean Ten Broeke (Medina Grappling) and Patrick Ladeur (X-treme Judo Fighting Team). In Thai Boxing all 3 fighters of Baas Sports, won. Stephen Liu, Milangelo Eugenio and Reno Mooyweer won knocked out Wijnman in the 2nd round.
2006.08@ Buhsido The Hague Seminars by Thai master Ajarn Berglerk (Burklerk) PinsinChai.
2006.09.16 Fight4life Zonnehuis Amsterdam "Queen of the Ring". Kristy Ooms won by KO (kick to the head see pic). Also in the pic Kenneth Macnack trainer of KB Brummen and topfighters like Linda Ooms and Faldir Chabari. 2006.09.17@ "Ultimate Glory" Amersfoort with Joop Kasteel who was ring announcer @ organized by Martijn de Jong Shooto Holland. Karatejutsu @ Dick Smolders (also in the pic Albert Bouma and Junior). Tayari and Ino Alberga @ Jurojin Leiden, Ridouan el Assrouti @ Gym Haarlem, Peter Koopman @ AfafA Zandvoort, Dennis Rock and Robin Dissels @ Rock gym Zaandam, Peter Dollenkamp @ Kickboxing Sneek, Marc van Keulen @ Taekyon Haarlem, and more.
In 2006 and 2007 Franklyn Hartkamp came from The Netherlands to give Krav Maga training. Edwin Baas invited teachers with different martial arts background, including; judo, jiu jitsu, aikido, taekwondo, Thai-kickboxing, boxing, MMA, karate, wrestling, krav maga, etc. Top row, from left to right: Patrick Ladeur, Chalton Donker, Briand Victorina, Oswin Cijntje, Maurits Filiet, Cedric Meulens, Franklin Hartkamp, Oscar Semerel, Gregory Costina, Alexander Yanez, Anthony Chong, Edwin Baas, Le Roy Tujeehut. Below, from left to right: Bas Jussen, Huibertico Balentien, Darrell Prins, Glenda Poeder, Willem-Jan Paardekooper, Reno Best, Jacob-Jan Duyst. Picture right below from left to right; Ramiro Sabina, Edwin Baas, Palmira Baas, Franklyn Hartkamp and Dennis Rock.
Krav Maga @ Harold van der Rijst in Apeldoorn with Ad v.d. Hijden.
2007.02.19-26@ Kapap instructors course Avi Nardia and Albert Timen Willem-Jan Paardekooper
2006 gatherings @ Parasasa beach, Military Marine basis Parera (stand-up striking by Edwin Baas and ground by Jacob-Jan Duijst) and SDK.
2007 Baas Sports was very successful in Thai-kickboxing. @ Suriname with Milangelo Eugenio and Stephen Liu. Ivo van den Berg (Baas) won Daniel Schoop (TFD), Terence Martis (Baas) Arnold Drenthe, Paul Piper (Baas) won Ivan Molina (TFD), Joel Adriana (Baas) won Quency Kraal (NL), Elvis Molina (Baas) won Nito Mongen (NL), Toon Vollebregt (Baas) won Jonathan Mogen (NL), BC (Baas) won Suendly Martina (Tjakai), Jemuel Cleofa (Baas) won Roland Wawoe (NL), Rigcheilo Rosalia (Baas) fell short against the 6 kilo heavier Milano Bernadina (NL). Toon Vollebregt (Baas) fought August 2007 in Trinidad a 10 rounds intercontinental full contact pro-tile fight of the WPKA against Brad Fowler from Canada. Also in "Free fight" our athletes were very successful in 2007. Johnny Brazao won and Juan Esteban Montoya won al his free fights and won the 1st prize. Elvis Molina won Jason (Attaf) this same night in Thaiboxing. A-class Cedrick Copra was @ Baas Sports in his preparation for Jyotaro Usui in Nagoya Japan. Also Cedrick fought this year in Turkey against Sahin "Kaas" Yakuth. 2007 CUMAFE international Fight Night main event André Jean-Philippe (Martinique) won Saint-Thierry Auret (Saint Martin) by decision after five exciting Thaiboxing rounds. Ivo van den Berg (Baas) won by TKO-3 Dimeo Julien (Saint Martin). Michel Renirie (Baas) was disqualified (accidental knee to the groin) against Cythere Steve (Martinique). Paul Piper did great but lost against Simao Cabort (Saint Martin). In local fights there were victories for the following fighters of Baas Sports; Joel Adriana, Elvis Molina and Toon Vollebregt.
2007 gatherings @ the beach, Navy Marine-basis Parera (stand-up striking by Edwin Baas and ground by Jacob-Jan Duijst) and SDK.
2008.05.03 Everything promised on the poster of "Born 2 Fight" took place. All fighters on the poster, Capoeira, DJ Tico and 9 fights, 5 local and 4 international "Curaçao vs Suriname" with fighters from The Ultimate in Paramaribo.
Baas Sports was very successful. Mike Taatgen and Dudley Thokaai, both youth, fought an exhibition. Joel Adriana kneed his opponent in the belly, who went down and could not continue. Elvis Molina won his fight very convincingly. Toon Vollebregt won by TKO-2. Michel Renirie came very close (29-29, 29-30, 29-30). Ivo van den Berg won by TKO-1. Danny "Warwaru" van der Veen won on points.
2008 Aruba Baas Sportsers/ Vechterbazen Muay Thai Showdown; Elvis Molina, Michel Renirie, Tanva Ketkavee and @ Last Man Standing Fighting Championship; Francesco Solaro.
2008 Baas in Suriname @ The Gym (Vincent Dap), The Ultimate (Rodney Belfor), Kyokushinkai Karate Instituut (Wilfred Burgos, Randy Badal, Padji Darius and Sirano Zalman), Simson gym (Michael Watson and Angelo Simson), Lie's International Taekwondo Tournament (where Curaçao performed very well with 1st places for Gino Centello Meulens, Shernon Apostel and the most outstanding fighter of the event Audy Muller). Ronny Jackson won the 1st place up to 78 kg and Rodney Wijnaldum in the class to 72 kg
Baas Sports was victorious again @ the 2008 CUMAFE championships with in grappling a first place for Rob Gogulski and 2nd place for Paul Piper and in Kickboxing 1st places for Deon Best and BC and 2nd places for Justin Gogulski and Kwame Nzeako.
2008 CUMAFE Fight Night with Suriname, Saint Martin, Martinique, Trinidad & Tobago and Curacao. Baas Sportsers/ Vechterbazen didn't lose one fight. Donovan Lang won main event by TKO-4.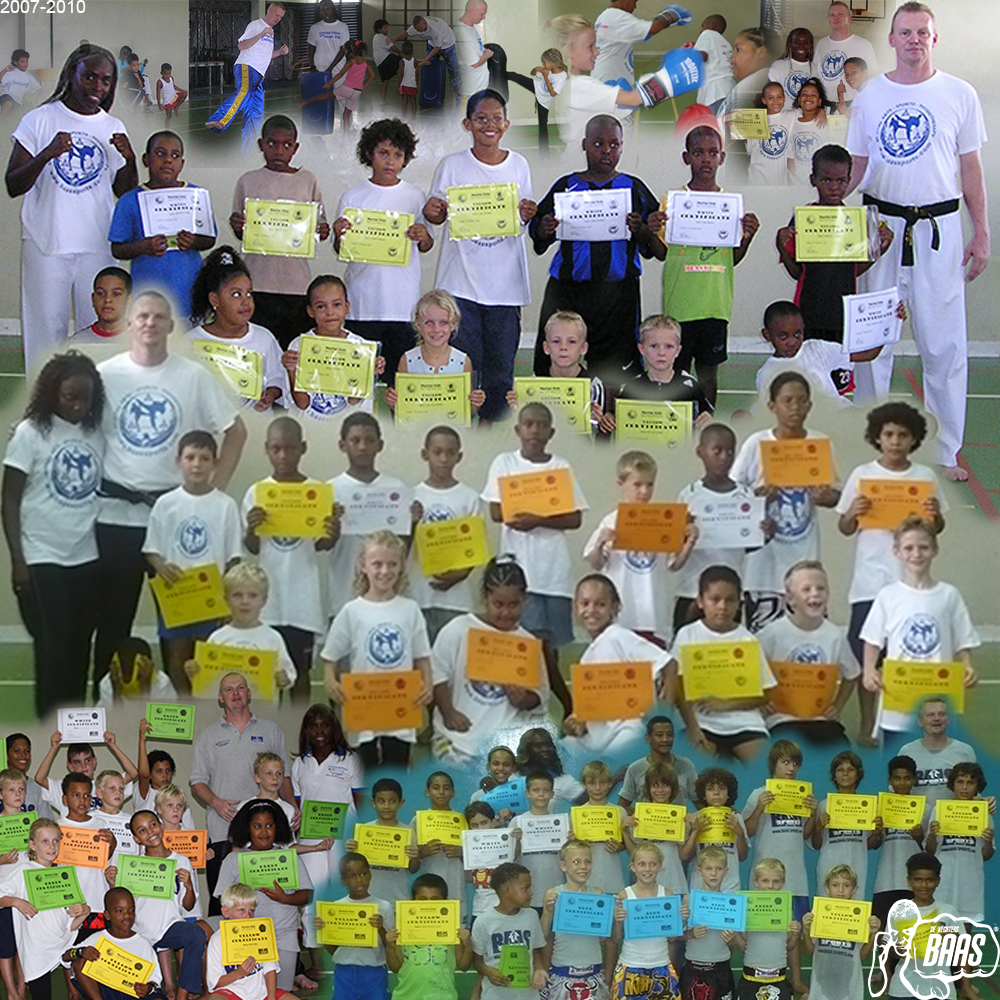 2009 "The Battle of Local Heroes" Baas Sports did not lose one fight. There were victories for the following Baas Warriors; Justin Gogulski, Mike Taatgen, Kwame Nzeako, Collin Knarren, Danny van der Veen, Coregelino Djaoen, An Lie Huang and BC. The Baas Sports Fighters were also successful at the 2009 CUMAFE championships, with a 1st place in Grappling for Fransesco Solaro, a 1st place in MMA for Paul Piper and 1st place in kickboxing for Joel Adriana.
2009.09.1-13@ World Championship Boxing AIBA Milan Italia with participation of 554 boxers from 144 countries. The international boxing world didn't know The Netherlands Antilles, but Benjey Zimmerman changed that. In the Super Heavyweight division (+91 kg) he made a great debut. In his first boxing match ever he won Ali Khaleel Salman (red) from Iraq with 11-4. Prior to this World Championships, Benjey boxed a test match against the current world champion and super heavyweight gold medal winner of the Olympic Games of Beijing 2008 Roberto Cammarelle from Italy. This went so well that Camarelle asked Benjey to be his sparring partner. In the photo compilation; Roberto Camarelle, Domenico Valentino (won just like Camarelle gold for Italy during this World Cup), Husnu Kocabas & Orhan Ozturk form Team NL and team members of Macedonia, Slovenia, Grenada, Jamaica, US Virgin Islands, Panama, Bahamas, Japan, Thailand, Samoa, USA, etc. Malta, Scotland, Congo, Switzerland, Gambia, Sweden, etc.
2009.09 Edwin Baas who traveled from Milan to Curacao via The Netherlands stayed a couple of days in The Netherlands. In the photo some great moments of these few days. Baas gave a guest training at MT Gym (in the goup also old students; Peter Reffenrath, Boubkar Belkasmi, Marcel Takken and Ed Oosterbaan). There was a press conference for "Fighters of the Caribbean". Baas had meeting with Mike Polanen from Slamm and at the M-1 office (Apy Echteld, Ino Alberga, Joost Raimond, Fedor, Dennis Rock, Patrick de Witte, Harry van Doorn), Edwin's taekwondo trainer Marc Van Keulen, Gym Haarlem with owner/champion Ridouan El Asrouti and old student Arno Hermans and Eagle gym from Dew Jagernath and trainer the legendary champion Gilbert Ballentine.
2009.11.28 Fighters of the Caribbean. Edwin Baas with CUMAFE joined forces with Angelo Rosalia, who organized with Next Generation Warriors in The Netherlands and made an international A-class fight possible. In this main event Cedrick "Tula" Copra (Fightclub Lloyd van Dams NL, representing Curacao) won after 5 rounds of 3 minutes Remco Hisken from The Netherlands.
From Baas Sports Tessa Jansen fought an exhibition and the teams from Martinique and St. Maarten made a good impression by winning their fights. Danny "Warwaru" van der Veen (Baas Sports Curacao) won his opponent from Sint Maarten in the co-main-event.
The Russian MMA legend Fedor Emelianenko, born in Ukraine, is considered as the G.O.A.T. (Greatest of all times). The heavyweight champion with the nickname "The Last Emperor" is not only the best in his sport, but also a role-model, a good example for a sportsman and martial artist. He is calm and controlled, naturally trained not inflated with steroids or other doping, do not trash talk and shows at all times respect for the opponent and is therefore respected. Edwin Baas knows the team of Fedor very well and Curacao had the honor to receive a visit of Fedor. 2009.12.05 Fedor arrived in company of Apy Echteld of M-1 Global. Manager Vadim Finkelchtein arrived a few days later. Echteld is the one that arranged that Fedor started to train in The Netherlands and prepared for his fights with top trainers Peter Teijsse (former world champion kickboxing and Savate) and Ernesto Hoost (4-time K-1 champion). Baas and Fedor look-a-like Berry Wouters organized a fundraising activity with Fedor and December 14 Fedor handed over a check (raised voluntary contributions during this activity) to Henk Kamsteeg, director of the foundation De SGR-Groep for people with disabilities. A MMA team from Aruba especially came to Curacao to meet Fedor. While Fedor was in Curacao, he was in his home country named Russia's Best athlete.
CUMAFE beachtrainings. 2009.04.25 2009.10.31    Shihan Wilfred Burgos (Suriname), Vincent Dap (The Gym Suriname). Frank Barca (Australia). Barca (BJJ)
Guests @ Baas Sports Curacao; Luigi Kwas.  Harley Pimienta (Colombia), Allejandro Guillen (Venuezuela), Robertico Martis, Roderick de Haseth, Jemyma Betrian, Barry Robinson Jr. (USA), Glenn & Rion Rijker, Franklin Kambel, Aiven Sprang, Noel Twight, Elvis Todd, Clarence Thompson, Rodney Ernst, Juve Martha, Kader Ben ali, Dennis Rock, Naoufal El Hamchaoui, Mounir (Belgium), Ruben La Cruz, Faissal Belghanou.
2010.04.10 Le Choc des Titans @ Martinique
2010.02 AMBC Continental Boxing Championships AIBA in Santiago, Dominican Republic.
Benjey Zimmerman won silver @ CAC-games (Central American and Caribbean games) in Mayagüez Puerto Rico. 2010.07.25 Clayton Laurent (Virgins Islands), 2010.07.27 Tariq Hagg (Trinidad & Tobago), final 2010.07.30 Gerardo Bisbal (Puerto Rico).
Benjey also won Aleksandar Novovic, Frank Muñoz and Bas van de Muijsenberg in kickboxing.
2010.11 Benjey moved to Milan to take part of the Milano Thunder team in the World Series of Boxing (WSB). 2010.12.11 he won in Moskow the Russian Arbi Madaev (silver @ European Championship). Benjey had the last match and Milano Thunder vs Kremlin Bears was on that moment 2-2. Because of Benjey's victory Milano won with 3-2.
2010.09 Edwin Baas, Justin Gogulski &  Argenio Pieters in NL @ Fightclub Lloyd van Dams Utrecht, Vos Gym Amsterdam, Bao Trieu Groningen, Rock Gym Zaandam @ "Warriors of the North" Drachten, Kops Gym Amsterdam, Ladies Fightmasters Almere,  De Haagse Directe, Dutch Championships NBB (Nederlandse Boks Bond) Nieuwegein with Edwin Baas, Cedrick "Tula" Copra, Lloyd van Dams, Darren Simon, Robert, Khalid Bourdif, Zurreyl Simon, Jamal van Dams, Miles Simson, Orinta van der Zee, Cedric Bacuna, Michael Babb, Carl Blijd, Earl Blijd, Roderick de Haseth, Dennis Rock, Donovan Lang, Bert Kops, Errol Koning, Jemyma Betrian, Denise Kielholtz (won the ladies tournament,3 victories in 1 night), Kevin Heyer, Josephat "Papi" de Palm, Godfried "Chofie" Balijn, Lirou Pinedo, Innocent Anyanwu, Ilona van Lenten, Daniel Ghita, Richel Hersisia, Kristy Ooms, Romeo Kensmill, Josemir Poulino, Raymond Winklaar. NK 2010.09.18/19/25/26 , Argenio Pieters bantamweight 52-56 kg and Justin Gogulski lightweight 56-60 kg, both made it to the finals. YdK Lirou Pinedo (Kops) became Dutch Champion heavyweight (81-91 kg) after 4 victories.
2010.05.30 Box CABA 5 victories for Baas Sports; Dudley Thokaai, Argenio Pieters, BC, Givanni Schaap and Justin Gogulski.
2010 Kickbox CUMAFE victories for Argenio Pieters and Giwanni Schaap.
2010 "Honor and Respect"; Gionny Koeyers, Dudley Thokaai, Argenio Pieters, BC, Justin Gogulski, Gideon Jonker and Paul Piper.
2010.11.06 CUMAFE 2nd edition of 'FIGHTERS OF THE CARIBBEAN' with Bonaire, Suriname, Martinique, Sint Maarten, USA, Morocco, The Netherlands and Curacao, Baas Sports Curacao had 8 fighters participating in international fights and the result was 6 victories and only 2 losses. BC, Ruben Schot, Argenio Pieters, Justin Gogulski, Joost Mulder, Raul Franciska all won. Denise Kielholtz/ Pieternella won the main event.
2011.03.26@ Trinidad "Trinidad & Tobago vs Curacao". Baas Sports Curacao won convincingly. Joost Mulder won Keron Bourne by TKO-2, Jamal el Otmani won Anthony Deonarine by TKO-2, Raul Franciska won Martin Joseph by TKO-3. Only the experienced Devon Ramkallawan was a little too strong for Justin Gogulski.
2011.04.30 AruBox. Baas Sports Curacao 4 boxers, 3 victories in Aruba. Argenio Pieters won Shaedemir Jansen, Jamal el Otmani won Adriaan Albertz, Nezar Regales won Kevin Lee. Efi Jimmy Croes won Justin Gogulski.
2011.05.30 Box. 4 victories 4 Baas Sports Curacao vs Bonaire and Suriname. BC, Justin Gogulski, Argenio Pieters and Nezar Regales won their boxing bouts.
2011.08.27 Baas Sports with 6 victories in Boxing and 1 in MMA @ Curacao Rumble. Ziani Fluonia won the ladies bout, Jemuel Cleofa and Raul Franciska won both Bonaire, Mohamed Hussein won The Netherlands, Sarabia, Justin Gogulski and Argenio Pieters won all 3 vs Aruba.
2011.04.01 Argenio Pieters won 1st place 4-men tournament after 2 victories. Andre Alias was also victorious. CUMAFE MMA championships 2011 Mohamed Hussein (Middleweight) and Rob Gogulski (Heavyweight), both from Baas Sports, won the 1st prizes, while Andre Alias (bantamweight) won the 2nd place in after a victory on Paul Vilanueva Carbagal from Bonaire. 2011.10.15 "Honor and Respect 2011" victories for Jean-Louis Ignatius, Justin Gogulski and Argenio Pieters.
2011 Baas Sports Curacao abroad. Joost Mulder and Nezar Regales @ Le Choc Des Titans IV in Martinique.
2011.11.12@ Fierce and Furious SXM Sint Maarten. Argenio Pieters and Jean-Louis Ignatius from Baas Sports Curacao. Jemyma Betrian also representing Curacao won convincing. Sergio Pique won Aaron Ware (USA), Rodney Glunder won Osiptsov (England), Evan Nedd (Aruba) won in MMA Joe Fagiano (USA) and also fighters from Sint Maarten, Martinique and Suriname
2011.09.25 Baas Sports @ Hockey Balboa VRO tournament CVV Willemstad. Edwin Baas opened with a warming-up for all hockey players. Boxing by Justin Gogulski and Argenio Pieters. MMA by Rob Gogulski and Mohamed Hussein. Thaiboxing by Palmira Baas and Thalisa Everon.
2011.12.17@ MMA Madness. Boxing Grego Scharbaai 63 kg (Baas Sport) won Clinton Esprit 70 kg (Bob Esprit), Argenio Pieters (56) vs Shaerickson Eisden (61) Attaf and an exhibition Muay-Thai Jean Louis Ingnatius vs Joost Mulder, both from Baas Sports. Justin Gogulski (61) Baas Sport Curacao won during his MMA debut Ruvinsky Lopez (65,5) by TKO-2.
Mohammed Hussein (81) Baas Sports Curacao won Cesar Geerman (83,3) AUA by submission.
2012.03.07 MMA Extreme Fighting Championships Aruba Mohamed Hussein (Baas Sports) won Cesar Geerman (AUA) by SUB-1.
Baas Sports "Win by submission" winners; Franklin Cox 3rd -67 kg, Jermaine Gogulski 3rd 68-73 kg, Mohamed Hussein 1st -93 kg (in -84 kg there was no opponent) and Rob Goguslki shared the 1st place +93 kg.
2012.05.01 KB 1. Leroy Breeschoten 2. Justin do Rego. MMA: 1. Franklin Cox 2. Jowi Adriana 3. Jonathan Martins Pereira/ Welton Angelica.
2012.07.21 Franklin Cox won by TKO-3, Kelvin Drop won by TKO-2, Tico Grotestam, who won by TKO-1 and the fastest KO trophy.
2012.05.05 Fighters of the Caribbean 4 victories for Baas Sports Curacao; Zianni Fluonia won SU, Joost Mulder won AUA by KO, in MMA Mohamed Hussein won SXM by KO-1, Milangelo Eugenio won the A-class title fight for the Caribbean WMTA belt.
2012.05.30 5 victories in boxing for Baas Sports; Jason Gogulski, Leroy Breeschoten, Justin Do Rego, Franklin Cox and Justin Gogulski who also won the Wilson 'Papa' Godett trophy. Danny van der Veen and Joost Mulder, did a great Muay Thai exhibition.
2012.07.21 Franklin Cox won RSC-3, Kelvin Drop won RSC-2, Tico Grotestam, who won by RSC-1 and the trophy for fastest win.
2012.09.22 Curacao Rumble Baas Sports successes. Milangelo Eugenio and Grego Scharbaai Full Contact exhibition, Chandruth Gosepa won KB, Joost Mulder KB "no contest" (cut in the 1st round caused by accidental headbutt), Justin do Rego won by WO box, in MMA there were victories for Franklin Cox, Rob Gogulski and Mohamed Hussein, who won Juan Villanueva (Venezuela) by submission and also the "King of Rumble" trophy.
2012.10.27 Saba Leroy Breeschoten won Donald Hassell (Saba) by RSC-2. 2012.11.10 Fierce & Furious SXM
2012.12.15 CABA ISC all 6 boxers from Baas Sports that participated won. Justin do Rego won by RSC-2. Jowi Adriana won UD. Leroy Breeschoten won by RSC-1. Javier Janzen won SD. Jason Gogulski won UD. Franklin Cox won by RSC-3. Justin Gogulski vs Joost Mulder TB exhibition
2013.02.23 Dominance Main event 5×5 min. Light heavyweight 185-205 lbs (-93 kg) title MMA Mohamed "The Pain" Hussein (Baas Sports Curacao) vs undefeated Caribbean MMA champ Tija "The Nuclear MooSe" Stanley (St. Kitts). Tija Stanley 2012 Caribbean heavyweight champion MMA won Joel "The Beast" Ramphal (Trinidad & Tobago Bajan Kirk Goddard (Barbados), Martin Lay within 36 seconds (in London England) and also in London @ Ultimate Cage Contenders in 40 seconds, Elvis (Hervick) "Caradura" Martinez (@ Octagon Venezuela). 4 victories for Baas Sports Curacao. Jason Gogulski and Grego Scharbaai won in kickboxing K-1 rules and Franklin Cox and Mohamed Hussein in MMA.
2013.05.04@ AFC (Aruba Fighting Championships), Lutciano Zimmerman (Baas Sports Curacao) won his MMA debut. A week before this fight he fought a main event Thaiboxing in Suriname 2013.04.27.
2013.05.30 there were victories for the following boxers from Baas Sports Curacao; Justin Do Rego, Leroy Breeschoten, Jowi Adriana, Jason Gogulski and Argenio Pieters. Argenio won also the Wilson Papa Godett Trophy.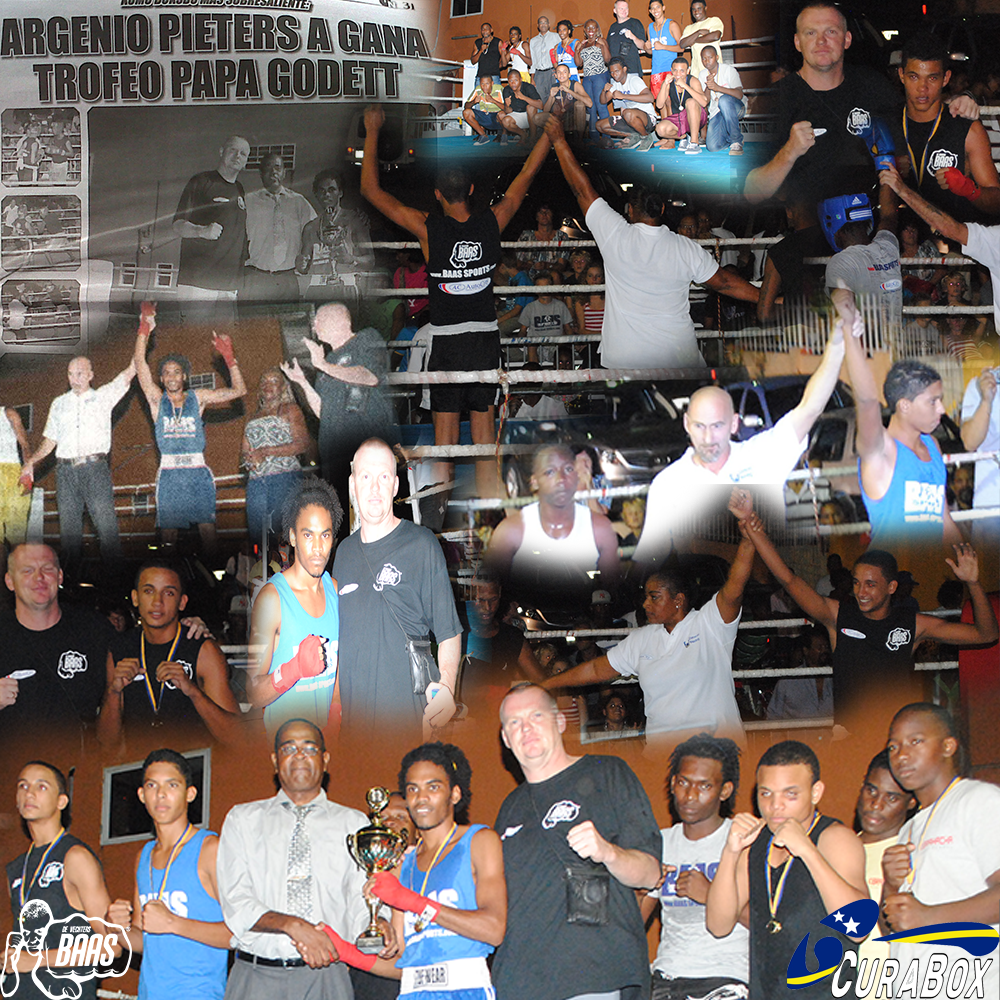 2013.06.01 Edwin Baas received a "recognition and appreciation for devotion and commitment" from the hands of living legend Royce Gracie and Jemyma Betrian who gave seminars at the WTC organized by INM.
@ night "Curacao Here comes the Boom" with Celebrity boxing (DJ R01 vs DJ Carlito, Amos Balentin vs Ephrem J, Gianni Francisca vs Monifa Jansen, Maarten Schakel vs Tony Castro) and 8 Thai-kickboxing and 2 MMA fights with participation of Venezuela, The Netherlands, Bonaire, 3 teams from Aruba (Team Nedd, Dojo Boye and StayThai Fit) and 7 teams from Curacao (Baas Sports, Thai Flying Dragon, Franciska Fighting Club, Kibra Hacha, Extreme Limits Gym, Team Steenrijk, Raul Martial Arts). Baas Sports had 4 fighters that participated.
Nick van Heugten (11) won his first fight, Leroy Breeschoten (15) won his first kickboxing fight, and Denzel Maria (17) won his first MMA Fight. Milangelo Eugenio lost but this was not a shame, because he faced the young but experienced Jernildo Kersout (The Netherlands) in the A-class. Grego Scharbaai was ready but because the airline DAE cancelled all flights from Suriname on May 31 and June 1st, his opponent could not come.
2013.06.22 Dominance "Curacao vs The World", June 22 2013 For Baas Sports there were 4 victories Jason Gogulski and Rion Rijker (Baas Sports /KB Groningen) won on K-1 rules and Mitch Hunner (USA/Baas Sports) and Mohamed Hussein (Baas Sports/ Team Hussein) won in MMA. Hussein knocked out Robert McCarthy (Jamaica) in the 1ts round of the main event and received the winnerstrophy from Mr. Apy Echteld, who was sent to Curacao for this event by the WMMAA (World Mixed Martial Arts Association). In the photo also represntatives from Jamaica, Aruba, Trinidad & Tobago, Venezuela, Suriname, Bonaire and Curacao.
Baas @ The Netherlands. 2013.06.29 YDK Kevin Heyer (Days) won Andy John in Almere by TKO-2. 2013.02.02 Kevin returned to the ring after more than a year. In the youth class he could not find opponents, so he had to leave the youth class. With 16 years young he returned to the adult's class. He won YDK Rudsel Zinhagel. 2013.04.07 Kevin won Terence Rijsenbrij, who had a record 21 fights and former Dutch champion. September 7 @ Dangerzone Kevin won the 1st place of a tournament with 3 victories in 1 night.
2013.07.07 Kickbox @ Golden Glory Helmond NL/Team Holzken. Nick Van Heugten (Baas Sports Curacao) 12 yr 32 kg won Leroy Lourensen (Golden Glory Helmond) 12 yr 32 kg. Roy van Heugten (Baas Sports Curacao) 10 year 29 kg won Mike van Loosbeek (Errol Parris) 10 year 29 kg.
2013.07.08 Reunion training @ MT Gym Haarlem with ex-students and friends of Baas. Present were Apy Echteld (Halfweg), Hamid el Kandousi, Faouzi Elkandousi, Samantha Baas, Naoufal El-Hamchaoui, Jim Rijkschroeff (Den Haag), Chellina Chirino, Shaffairo Bart (Almere), Koos Broekhof, Marcel Takken, Peter Reffeltrath, Arno Hermans, Ad van der Hijden (Alkmaar), Jafar Hoseyni, Khalid Elaater, Anouare Farhat, Mohamed El Aater, John Bawits, Stijn Braams, Ruud Hardjokoesoemo, Junior, Khalid Redouani, Virgil Bawits, Stephen Liu, Giovanni Liu (Rotterdam), Joost Mulder, Shanice Josefina, Jamal el Otmani (Amsterdam), Giwanni Schaap (Breda), Michel Renirie, Alperen Cilgin, Jop Schwalbach, Jesse Schwalbach (Zaandam).
Also in the pic Dennis Rock, Robin Dissel, Luigi Kwas, Alex Cheng, Boubkar Belkasmi, Ruud Hillenaar, Mike Welch, Roland Sandvliet, Clayton Henriquez, Angelo Meola, Peter Teysse, Cedric Manhoef, Danny van der Wijck, Abdel Hamid El Meddioui, Reno Mooyweer, Ibrahim El Bouni, Riduan El Assrouti, Noureddine Belhaj, Kevin Heyer, Clyde Brunswijk, Ropie Adriaans, Dayon Mungroe, Sjef Weber, Errol Parris, Fam. van Heugten.
2013.07.28 Clayton Henriquez (Angelo Meola Enschede) won Pierdomenico Nico (Italy) by SUB (Triangle Choke) in Torri del Benaco Italy. Clayton also won; Dimitri Angelini by KO in MMA, Ramon Niamat in kickbox 10.12, Germany 11.24.
2013.08.30@ "The Battle of the islands" Sint Maarten. Leroy Breeschoten, Jason Gogulski and Argenio Pieters from Baas Sports Curacao. 2013.01.25 AruBox "Dia di Betico Croes with Franklin Cox, Jason, Lutciano Zimmerman and Leroy from Baas Sports Curacao.
2013.10 Edwin Baas in Ring Sports Magazine # 135
2013.10.05 Mohamed "The Pain" Hussein (Baas Sports) won his 9th victory by SUB-1 @ ICW (International Cage Warriors with Trinidad & Tobago, Aruba, Jamaica, St.Kitts, Dominican Republic and Curacao). 
2013.11.30 Baas Sports victories @ Dominance 3 'Go Hard Or Go Home' for Jason Gogulski in kickboxing and Denzel Maria in MMA.
2013.11.09 CABA. Baas Sports participated with 11 boxers and won nine 1st prices; Jason Gogulski, Justin Do Rego, Grego Scharbaai, Argenio Pieters, Denzel Maria, Tico Grote Stam, Leroy Breeschoten, Janice Breeschoten and Nataly Ogenio.
2013 guests @ Baas Sports Curacao. Edwin Baas with Ivo Nijenhuis, Ibrahim Sellak, Leon van Wely, Dennis Rock, Patrick vd Krats, Willem Gerlach, Mitch Huner, Chofie Balijn, Judah Willems, Kader Benali, Harmen Bakker, Joost Mulder, Sem Klein, Nestor Zimmerman, Naoufal el Hamchaoui, Sandro Martis, Apy Echteld, Royce Gracie, Jemyma Betrain, Milles Prens.
2014.01.25 Nataly Ogenio (Baas Sports Curacao) won in boxing @ Betico Croes Day Aruba by RSC 3rd round.
2014.07.19 Maurits Hennen (92.7 kg) Baas Sports Curacao won Halroye "Ali" Hudson (123.2 kg) Aruba.
2014.09.27 Tyrique Brown and Kevin Codon 2014.12. Grego Scharbaai
2014.02.22 Birobichan Russia Mohamed "The Pain" Hussein from Baas Sports Curacao won his MMA fight in Russia. Hussein fought the main event and was clearly the better fighter. This was necessary to convince the jury and prevent home advantage, because the other Yiu di Korsou Michell Adelina, who lives in The Netherlands and is European Champion MMA also fought a good fight, but the victory went to his opponent who had home advantage. MMA is very big in Russia and not only legal, but also recognized as official sport and is supported by the Russian Government.
2014.05.10 Fighters of the Caribbean 6 boxing, 6 Muay Thai Kickboxig and 5 MMA with fighters from Bonaire, Suriname, Sint Maarten, Aruba, Trinidad & Tobago, Jamaica and Curacao (teams from Curacao; FC gym, Jab Jab Korsou, Thai Flying Dragon, Kamakura, Curacao SelfMade Fighting Team, Curacao Fighting Team, Attaf Fighting Factory and Baas Sports). The boxers Leon van Geest (Baas Sports) and Maurits Hennen (Baas Sports) won both their bouts. Hennen won by 1st round KO. Baas Sports also had 1 Thaiboxer and 2 MMA Fighters on the fight card. Grego Scharbaai (Baas Sports) won his opponent from Trinidad & Tobago in a Muay Thai kickboxing fight. In MMA Denzel Maria (Baas Sports) and Mohamed Hussein (Baas Sports) both won their fight. Hussein won the main event by submission in the 1st round.
2014.06.08 show @ Veneto hotel during Mr. Muscle & Miss Beauty Beach. Participating fighters from Baas Sports under supervision of Edwin Baas were; Emely Wu, Leon van Geest, Justin do Rego, Maurits Hennen, Denzel Maria, Jowi Adriana, Tyrique Brown, Kevin Scharbaai, Grego Scharbaai, Aemil Palm, Redferne Regales, Della Leito, Jhonny Camargo, Marlon Pacheco and referee Jonathan Symor. CSFT Tera Kora of Leonard Suares was also present with Rowengelo Boutisma and Mayson Ambrotius. 2014.06.15 show @ Rancho Criadero El Hijo de David.
2014.11.19 Dominance 4. Argenio Pieters (Baas Sports) made his MMA debut. His opponent was well-known and for more than 5 years his trainingspartner at Baas Sports with a record of 4 MMA pro and more than 30 fights in boxing and Thai-kickboxing. Argenio defended the honor of Baas Sports and showed who was the Baas (Boss), by winning in the 1st round.
Last but not least Mohamed "The Pain" Hussein (11-2-0) won Evan Nedd (Aruba) in a rematch for the Light heavyweight (84-93 kg) belt MMA. Evan Nedd with a MMA record of 26 Professional MMA fights with 21 victories, 17 by knock-out. Besides this great MMA record Nedd holds an incredible record in Pro-Boxing with 6 victories, Olympic boxing and undefeated in Thai-kickboxing. Evan also fights in the USA and trains in the USA at the Blackzilians with great champions like Rashad Evans, Tyrone Spong, Anthony Johnson and Alistair Overeem.
Some of the guests in 2014; Glen & Ronan Huisman, Benjey Zimmerman, Wesley Koning, Earl Blijd, Chellina Chirino, Rudsel 'Cobra' Copra, Jemyma Betrian, Jay Overmeer, Emmanuel Maduro, Clarence Thompson, Daniel v.d. Wilt, Luigi Kwas.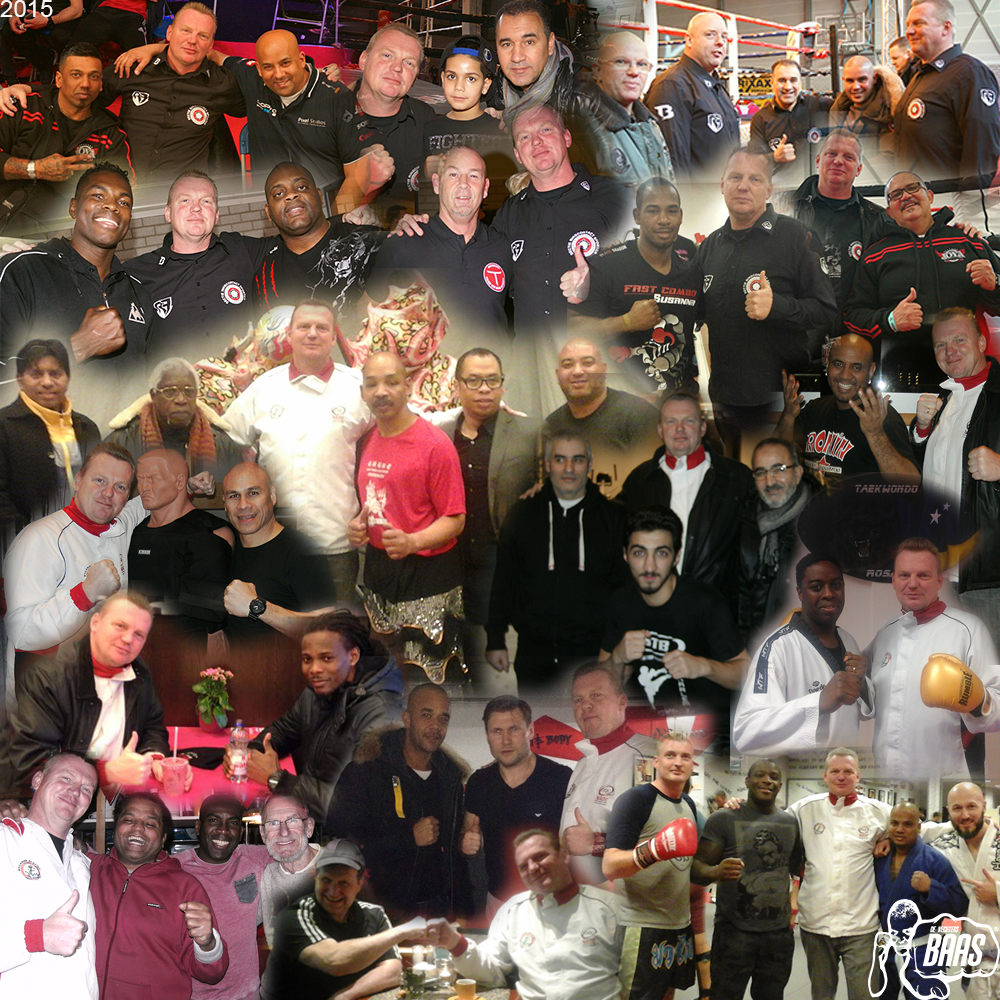 2015.02 Baas "world travel" in The Netherlands, a small country, but a very big country if you talk about combat sports.
2015.02.06 reunion training at MT Gym in Haarlem.
2015.02.07 "Raw Diamonds" in Almere, organized by Remy Bonjasky. Milton Felter, Tom v.d. Berg, Randy Heyer, WMTA under supervision of Glen Huisman with Mufadel, Dirco Wit, Rachid Belhadji, Joaquim.
2015.02.08 "Brothers vs The rest" in Nieuwerkerk aan den IJssel, organized by Bap Tetteroo. Kenneth Susanna
Taekyon Haarlem, In de toelast, Gym Haarlem, MT gym, Eagle gym Haarlem, etc. Friends and old training mates marcel Takken, Boubkar Belkasmi, Murat Ilgen, Mustafa Mamnouh, etc. Manhoef Hoofddorp with Stijn Braams, Rodney Glunder, Lorenzo Anches and Arda Guncicek. Dennis Rock (Rock Gym Zaandam). Denis Sharoykin and Sander Nortan Top sport Alkmaar, Danny Aikibudo Amsterdam, Boksschool Houwaart The Hague. Naarden-Bussum with Sven and Adrie de Herdt from Van Stavast, Taekwondo school Angelo Rosalia Utecht. Groningen Baou Trieu with Earl Blijd, Carl Blijd, James Bergtop, Jonathan Paulina, Sandro Martis, Hillie, Mike and Justin Welch, etc.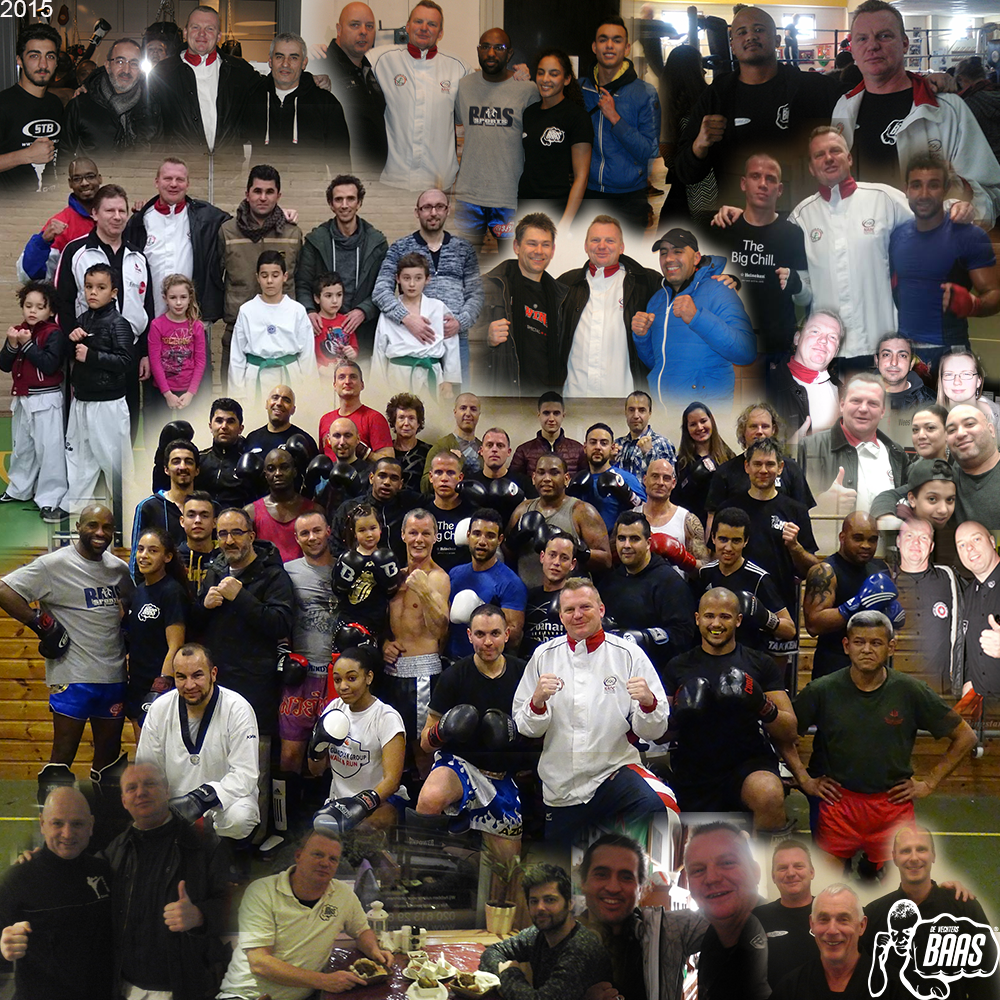 2015.05.09 Fighters of the Caribbean Baas Sports was very successful again and didn't lose a fight. Kevin Scharbaai won Shardimar Ignatia (Attaf Fighting Factory) by TKO-1 in Thaibox. Grego Scharbaai was prepared for a Thaiboxing fight vs Jurman Liesdek (Suriname), but a day before the fight was noticed that Liesdek did not came to Curacao. Switching to a different game, boxing vs Rubelly Brederode La Cruz was for Grego no problem. Maurits Hennen won Thuersten Winklaar (Bonaire) in boxing.
2015.05.30 Box Kevin Scharbaai (Baas Sports) won David Hawker (Attaf Fighting Factory) and Redferne Regales (Baas Sports) won Richard Koffie (Jab Jab Korsou) and also the big trophy for "most outstanding boxer". The trophy of the KO of the night was won by The Late Ruviendell Ong-a-kwie (CSM Fighting Team).
2015.10.03@ "King's land" Kevin Scharbaai MMA won Danny Matos Puello.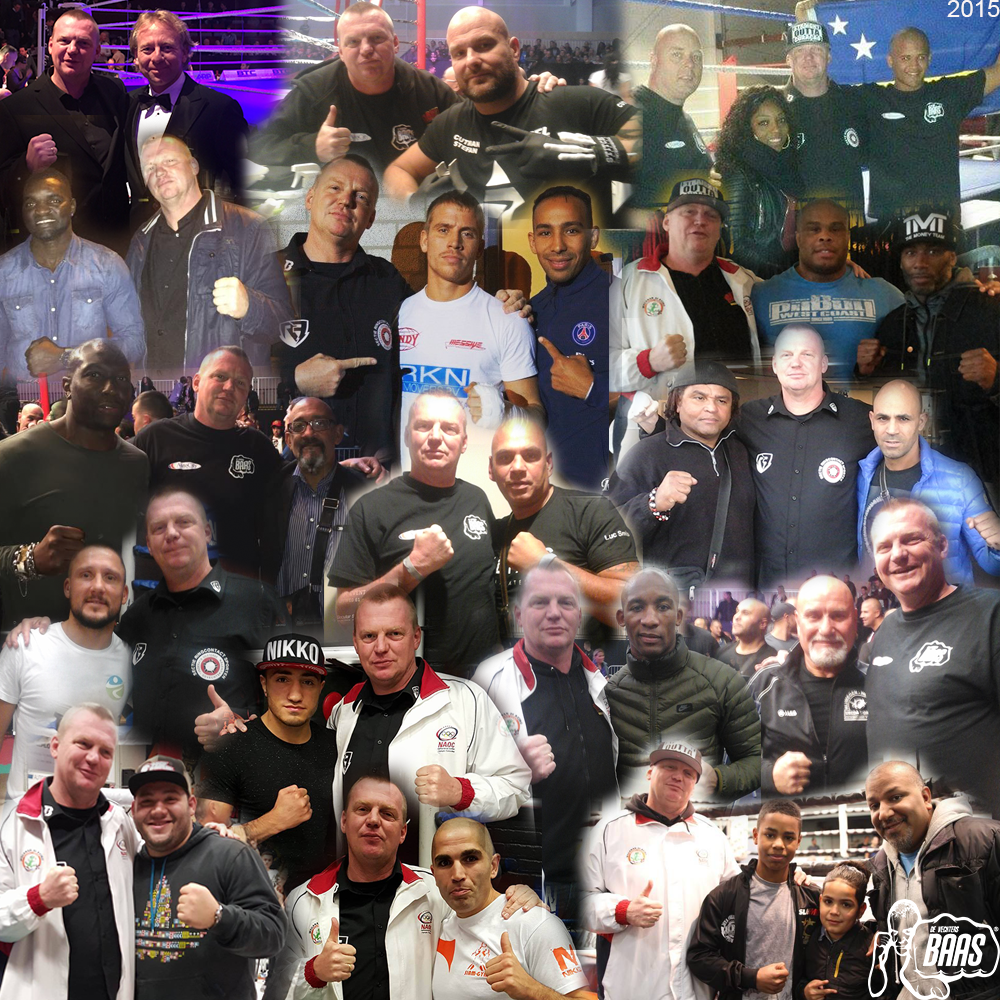 2015.10.10 Mejiro gym Wormer (organized by Collin Mansur) Denzel Maria won by TKO-1. Also in the pic WMTA RJ team under super vision of Glen Huisman, Shanice Josefine (who won in Hoogeveen 2015.10.17 after 5 rounds), Dennis Rock and Boualem Belaini.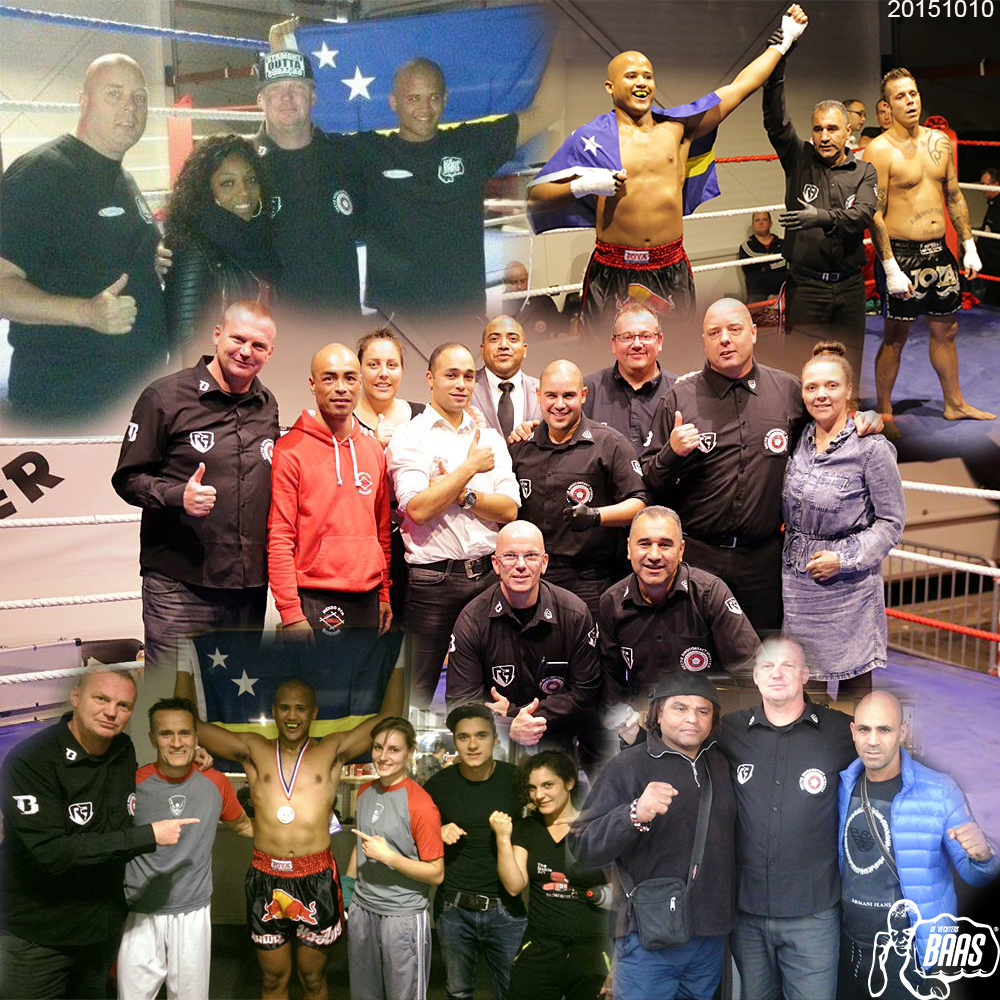 2015.10.11 Ben Bril Memorial @ Amsterdam Carre. YdK Josemir Poulino won the Dutch title. Rafik Rafael Harutjunjan remained WBF welterweight Champion. Koert-Jan Smit, Hüsnü Kocabaş, Andaman Daku.
2015.10.18 Melvin Manhoef with his team, like the sisters Cher and Nance Verbond, organized another great edition of WFL (World Fighting Leugue) in Hoofddorp, cutman Stefan Lems, Andre Tete, Ino Alberga, Joop Ubeda, Leroy Carolina, Joost Mulder, Boualem Belaini, Junny Bonofasio, Atje Smit, Red Cairo.
2015.10.25 Siam gym Valkenswaard, the gym of Mekki Benazouz, with Tayfun Ozcan, Aziz Ameziane, Ismael Lazaar, Andy Souwer.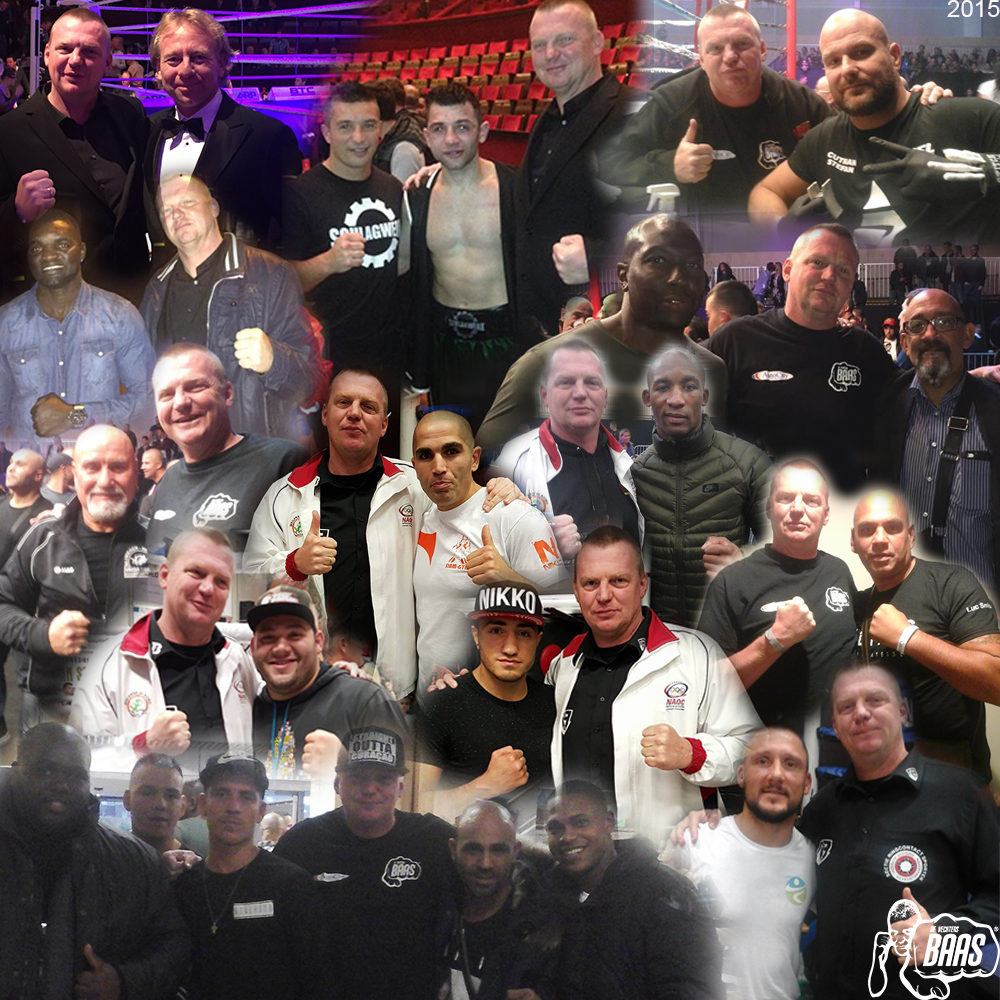 2015.10.17 Raw Diamonds. Joost Mulder (Ibrahim Sellak), a former student of Baas Curacao, won the main event. Joost earned the main event because he won the first price of an eight men tournament at an earlier edition of Raw Diamonds.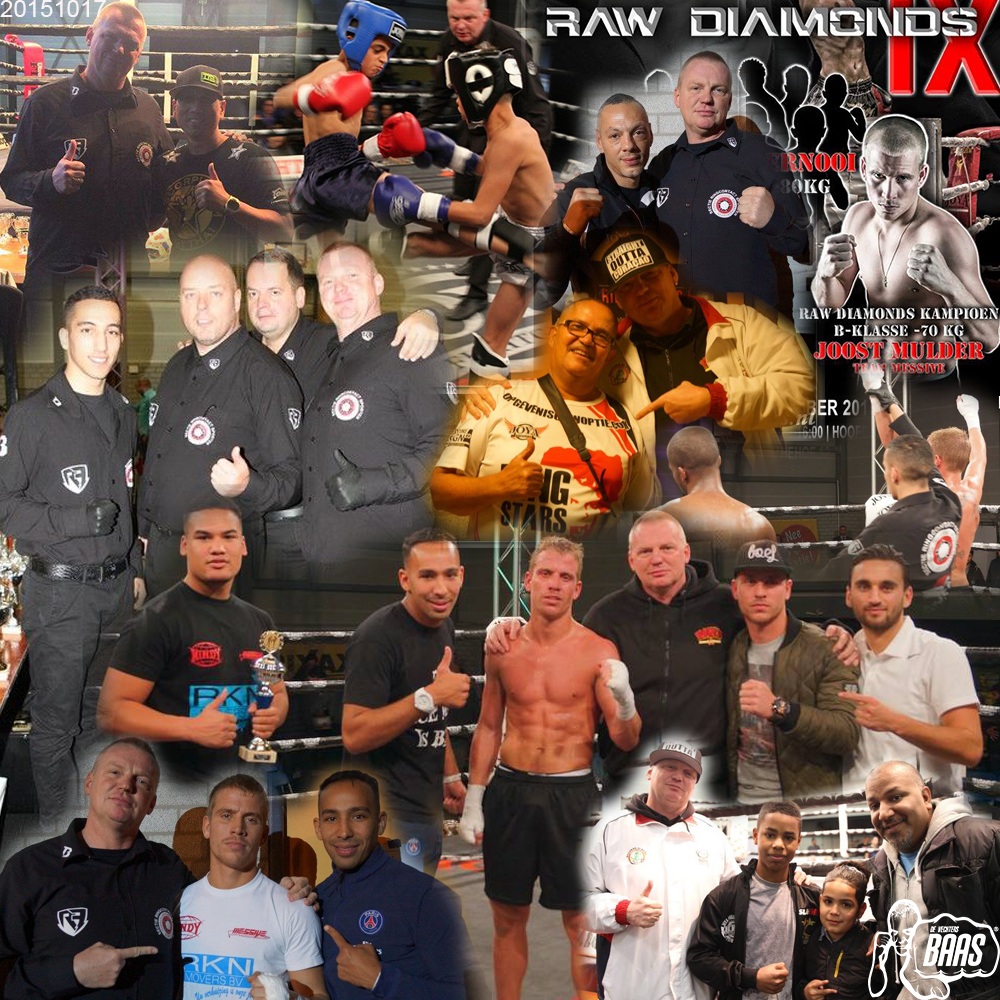 Baas gave a guest training @ MAS (Martial Arts Society) of Clarence Thompson. A great team in a great atmosphere.
Other Amsterdam gyms in the pic. The Big Lab/Team Slamm; Astrando Arduin, Milton Felter, D'Angelo Marshall, Felisiano Sambre. ABC Raymond Joval, Josemir Poulino, Astrando Arduin, Giovanni Rijkaard, Nick. Vos gym Ivan Hippolyte, Francois Lubbers, Kenneth Susanna, Michell Adelina and Chellina Chirino, Jamel Craig. Mike's gym Gilbert Yvel.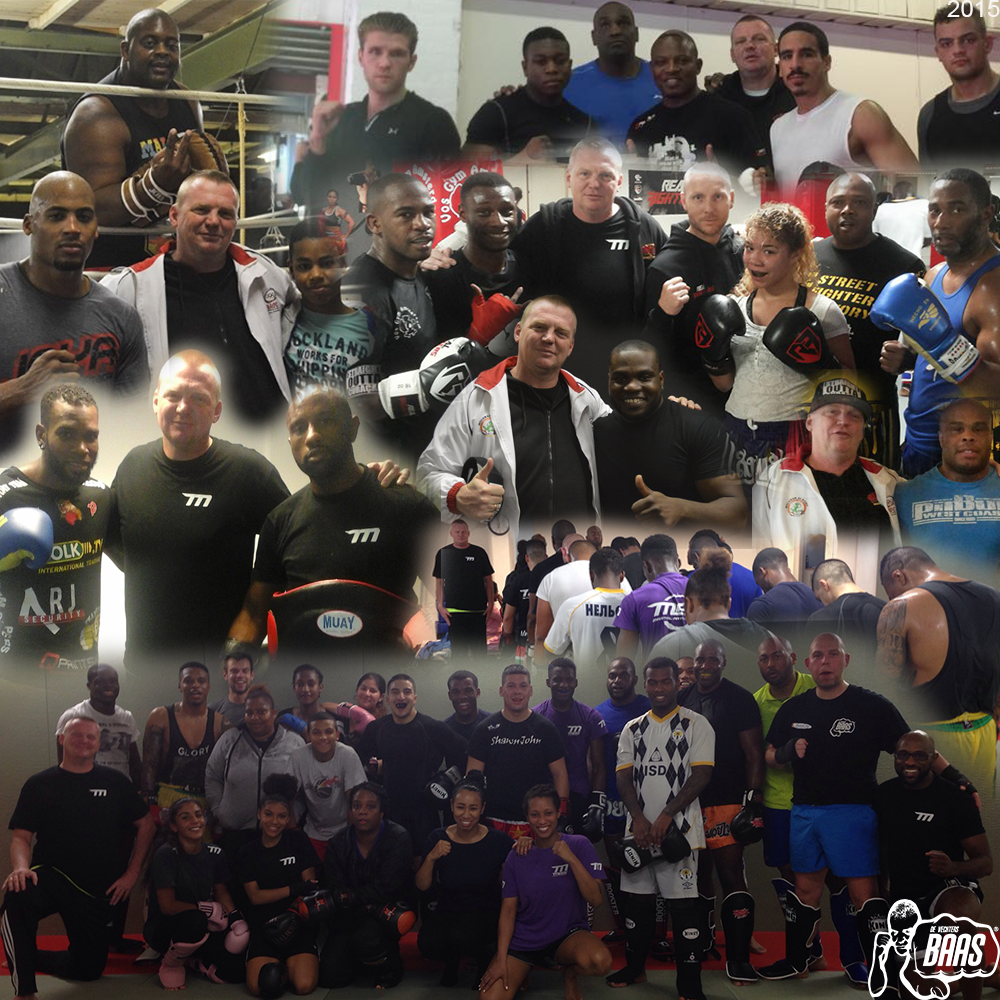 Sports Academy Sellak (owner/trainer is MMA champ Ibrahim Sellak). Eagle gym Haarlem (where Angelique trains) Dew Jagernath. Gym Haarlem Riduan El Assrouti, Ibrahim el Bouni, Jamel Craig. John Bawits. Jeroen van Diemen. Audy Cijntje, Dennis Rock.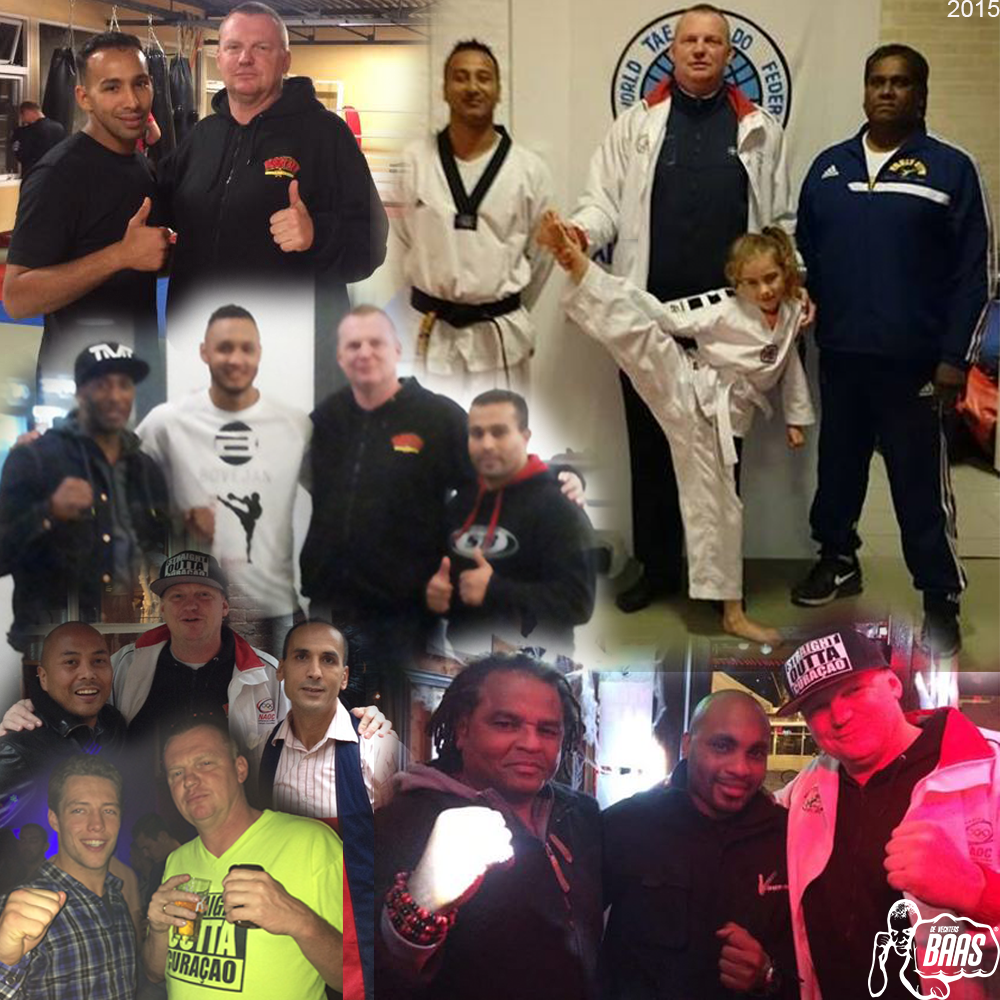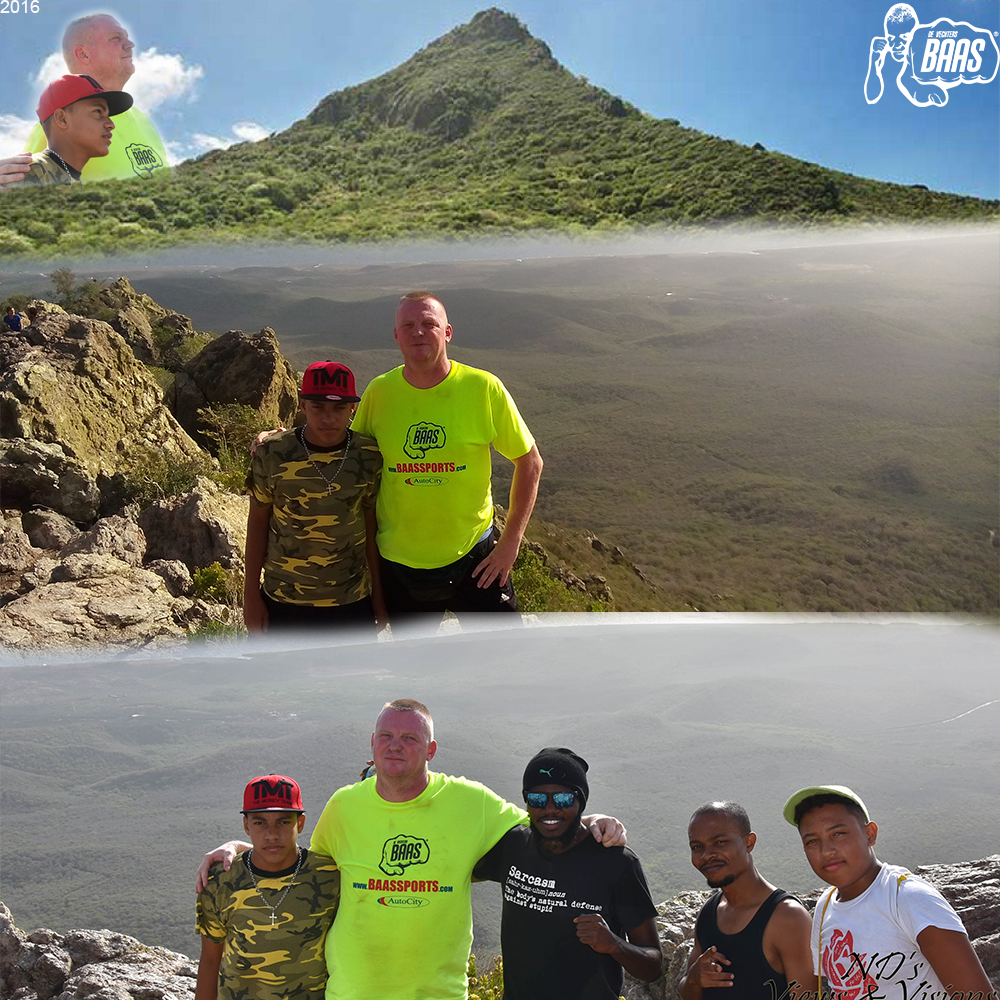 2016.05 & 2016.10 S.T.E.A.L.L. (Smile, Train, Elevate and Love, Life), Jermaine & Guillermo Seymonson @ Baas Sports, Parasasa beach, Saint Tropez and Punda.
2016.06.18 11 years long there had not been a pro-boxing in Curacao, but this changed on June 18 2016. This day CuraBox (Curacao Boxing Association) organized "A Tribute to Muhammad Ali" in Sala Errol Rooi (SDK). Next to a lot of amateur boxing bouts there was a professional boxing bout. From Baas Sports Daniel Boya and Jerichson Vlijtig made their successful ring debut. Vlijtig won by RSC-2. Tyrique Brown from Baas Sports won after an unamious decision also the trophy for "most outstanding boxer".
2016.07 Hannes Schneider (New Sport Challenge/Gym Haarlem) and family. Boxing @ Baas Sports @ Parasasa beach.
2016.11.12 CuraBox "The noble art of Boxing" SDK. Victories for Baas Sports boxers; Tyrique Brown, Humbertico Grotestam, Grego Scharbaai and Kevin Scharbaai. Eva van Baalen fought an exhibition in Thaiboxing vs Redferne Regales. The big trophy for the best boxer went just like in June this year at "Tribute to Muhammad Ali" to the only 16 years young Tyrique Brown.
2016.10.27 Baas Sports @ Punda Thursday Vibes FDDK. The audience was great with the clients of De SGR-Groep Fundashon Verriet and our Olympian Mr. Positive Churandy Martina.
2016 Guests @ Baas Soorts Curacao; Aiven Sprang (Atlas gym), Kader Benali (Ben Ali gym), Rachid Belhadji, Jermaine Seymonson, Hubert Lourens, Guillermo Seymonson (S.T.E.A.L.L.), Joost Mulder (Sellak/Champ), Jamal el Otmani (El Otmani gym), Teppo Laine (Lappeenrannan Finland), Rachid Victoria (Ruthless), Melvyn Tombokan (Thaikibo), Patrick vd Kraats, Utley Meriana (Vos), Brandon Fos (Days), Clayton Henriquez (Angelo gym), Steve Reezigt (Saban), Elizah & Zacky Halfhide (1st class boxers Suriname), Eyevan Danenberg (Petres) Hüsnü Koçabas, Marcel Dieters & Gert Flik (KB Groningen), Luigi Kwas, Howard Komproe, Gisele Werth, Hercules Stroop (Scorpio), Thuersten Winklaar (Bonaire), Millis Prens (Ecuador), Godfried Chofie Balyn, Kane & Hanne Schneider, Randy Heyer& Layno Heyer, Sherman Bonofacio, Enrioc La Cruz, Churandy Martina, and more (apologies for those not mentioned).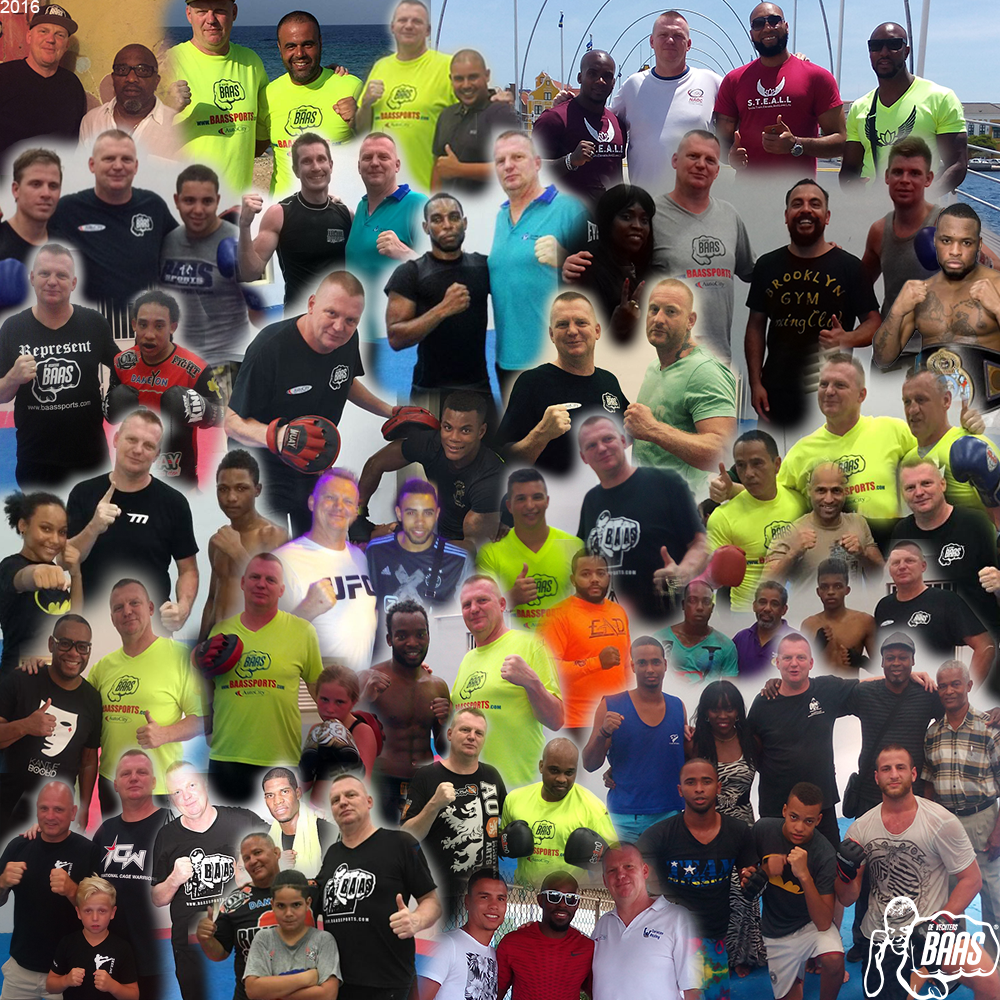 2017.02 multiple world champion Muay Thai and kickboxing Jemyma "The Golden Girl" Betrian @ Baas Sports Curacao.
2017.05.27@ SDK Baas Sports Curacao 100% win @ HONOR Fight League. Eli van Nierop won his MMA fight by SUB-2. In Thai-boxing Ginuwine Mercelina won AUA RSC-1. Grego Scharbaai won The Netherlands UD. Grego's opponent was undefeated till this moment.
2017.09.30@ CuraBox 'A Tribute to Ibi Zimmerman" @ Sala Errol Rooi – SDK Brievengat with participation of boxers from 9 different teams Baas Sports was the most successful with 5 boxers and 5 victories. Ginuwine Kwidama, Jonah Kleiboer, Novien Bartholomeus, Jerry Alberto and Tyrique Brown were all victorious.
2017.10.21 "Fighters of the Caribbean" Cedric Bacuna (40) won Jonasky Sojo La Maquina (Venezuela) in his farewell fight on his own island, su dushi Korsou.
Cedric fought worldwide more than 80 Muay Thai and kickboxing fights and won many great fighters, like Wanlop Sitpholek (Thailand), L'houcine "Aussie" Ouzgni and the WMTA belt in the A-class Middleweight (-72,5 kg.). 
2017. Khalid Redouani, Dennis Rock, Sharon Mannaart, Rachel Adamus, Roel Mannaart, Jamal, Mousid Akamrane, Youssef Akhnikh, Luigi Kwas, Aksel Cijntje,  Jemyma Betrian, Steffen Chocolaad, Howard Komproe, Randy Heyer, Kader Benali.
2018.01 Kickboxing and Boxing Champion Wendell Roche gave various training sessions at Baas Sports and Parasasa beach. Wendell, born in Curacao (1970), fought more than 300 fights world-wide, and is still active. May 25 2018 (a few months after he was in Curacao) he won Igor Kolacin by TKO at the PGE National Stadium in Warsaw Poland (see at the left-above in the compilation below).
2018.03.24 Jaydon Dania (13), Eli van Nierop (16) and Ginuwine Kwidama (17), all 3 won their kickbox fights. 2018.04.27 Ginuwine Kwidama & Baas @ King's day. Sunday morning = beach training.
2018.05.12 Jaydon Dania and Ginuwine Kwidama from Baas Sports doing great @ CuraBox "Roll wit the punches" with the participation of AUA, BON, SXM and various Curacao teams.
2018.05.22 workshop 'Safety' for ambulance and CITRO (citizen rescue organization) staff.
Baas @ Divi divi school 2018.02.09 and Marnix College Rio Canario 2018.05.28.
2018.06 Current Bellator and 6-time world champion Miss Dynamite Denise Kielholtz Gerges showed that she's not only a great champion in the ring and the cage, but also outside of it. She has her heart in the right place and the proceeds of the seminar she donated to Team FightAble, a group of people with disabilities, but the abilities to practice boxing and martial arts in an appropriate way.
2018.09.08 Both boxers from Baas Sports Curacao won their bouts. Ginuwine Kwidama won Martijn (Aruba) and Grego Scharbaai won Duzong (Sint Maarten).
2018.10.06 Honor Fight League 2. Grego Scharbaai (Baas Sports Curacao) won Pakistan/The Netherlands after 5 rounds by unanimous decision. The opponent of Ginuwine Kwidama did not show up.
2018.11.24 To step into the ring and compete you need guts and therefor you're already a winner. Marius van Noort did this at the age of 46 for charities in both Curacao and the Netherlands and got the trophy handed over by  Jamal ben Saddik, Glory's #1 in Heavyweight. Because there are so many children who have to fight every day, Marius fought for them – and raised Ang. 25.000, – for the foundation against child abuse and handed over the check to governor Ms. Lucille George-Wout, patroness of Stichting Kinderbescherming Curacao. 
2018.11/12 Edwin Baas @ Fightclub Haarlem, Bouzidi gym Haarlem, KB Zandvoort, Afafa Zandvoort, Bolem gym Haarlem, Gym Haarlem, Reunion B-day training, Taekyon Haarlem, etc. With Jamal B, Mohamed "Mootje Monteur" el Mesbahi, Mourad Bouzidi, Hannes Schneider, Lorenze Anches, Boualem Belani, Riduan el Assrouti, Peter Koopman, Ruud Hillenaar, Jessy Schneider, Mustafa Mamnouh, Onne Stokman, Marc van Keulen,Clarence Thompson, Wesley Koning, Koen in 't Hout, Afra Baas, Jay de Jongh, Tarik, Saskia Fung Loy, Mo el Aaater, Khalid elAater, Nancy Verbond, Cher Verbond, Tenisha Rodriquez, Jairo Chaudharie, Faouzi Elkandousi, Khalid El Kandousi, Jamal El Otmani, Joost Mulder, Sharon López, Arno Hermans, Stanley Budding, Ernst Vuik, Koos Broekhof, Mike Kross, Patrick Van de Kraats, Daniel v.d. Wilt, Ruud Kraaijeveld, Juan Esteban Montoya, Dagmara Veeris, Muammar Ilgen, Luigi Kwas, Ruud Hardjokoesoemo, Albert Bouma, Dick Smolders,  Denzel Maria, Murat Ilgen, Khalid Redouani, Malcolm James, Randy Ringstars Heyer, Maarten van der Neut,  Virgil Bawits, Jeroen Scholtelinde, Peter van Gelder, Django Tapilatu, Rafik Zohri, Charissa, Glen Huisman, Boubkar Belkasmi, Angelo Rosalia, Ronan Huisman. John Bawits, Ercan Yuksel, Jaouad Redouani and the ones that I forgot to mention.
2018.11/12 Edwin Baas with Cor Hemmers, Nick Hemmers, Lucien Carbin, Ali Gunyar, Apy Echteld, Ilona van lenten, Bert Kops, Mohamed "Hamicha Mootje" Mezouari, Andre Mannaart, Roel Mannaart, Mohammed Jaraya, Michael Babb, Luis Tavares, Chouaza Tulis,  Chris Tulis, Errol Engelhart, Aiven Sprang, Jairo Chaudharie, Melvin Manhoef
2018.11/12 Edwin Baas @ Mousid Gym, Chakuriki/Xena Sports, Vos Gym with Hesdy Gerges, Mousid Akamrane, Denise Kielholtz, Chellina Chirino, Rivo Slory, Erwin van der Meulen, Andre Mannaart, Roel Mannaart, D'Angelo Marshall, Ismael Benali, Ajua, Najib Amhali, Mohammed El Boulahiati, Ricardo Fyeet, Romeo Kensmill, Clyde Petres, Ivan Hipolyte, Eva van Baalen, Howard Komproe
2018.11/12 Edwin Baas with Milton Felter, Tisha Balentien, Aiwan Hoeseni, Randy Heyer, Brandon Fos, Clyde Brunswijk, Hamza Hazzar, Kevin Heyer, Sohail, Tom v.d. Berg, Latrell Ceder, Naomi Williams, Nino de Wit, Glen Huisman, Tarik Cherkaoui, Satish Jhamai, Mike van Itterzon, Ibrahim Sellak, Cain Vrutaal, Rashid van Exel, Kader Benali, Denis Sharoykin, Joop van Kasteel, Mohamed Ben Ali, Abdallah Benali, Nonchi Chirino, Bert Rozemeijer, El Hassan Ourhris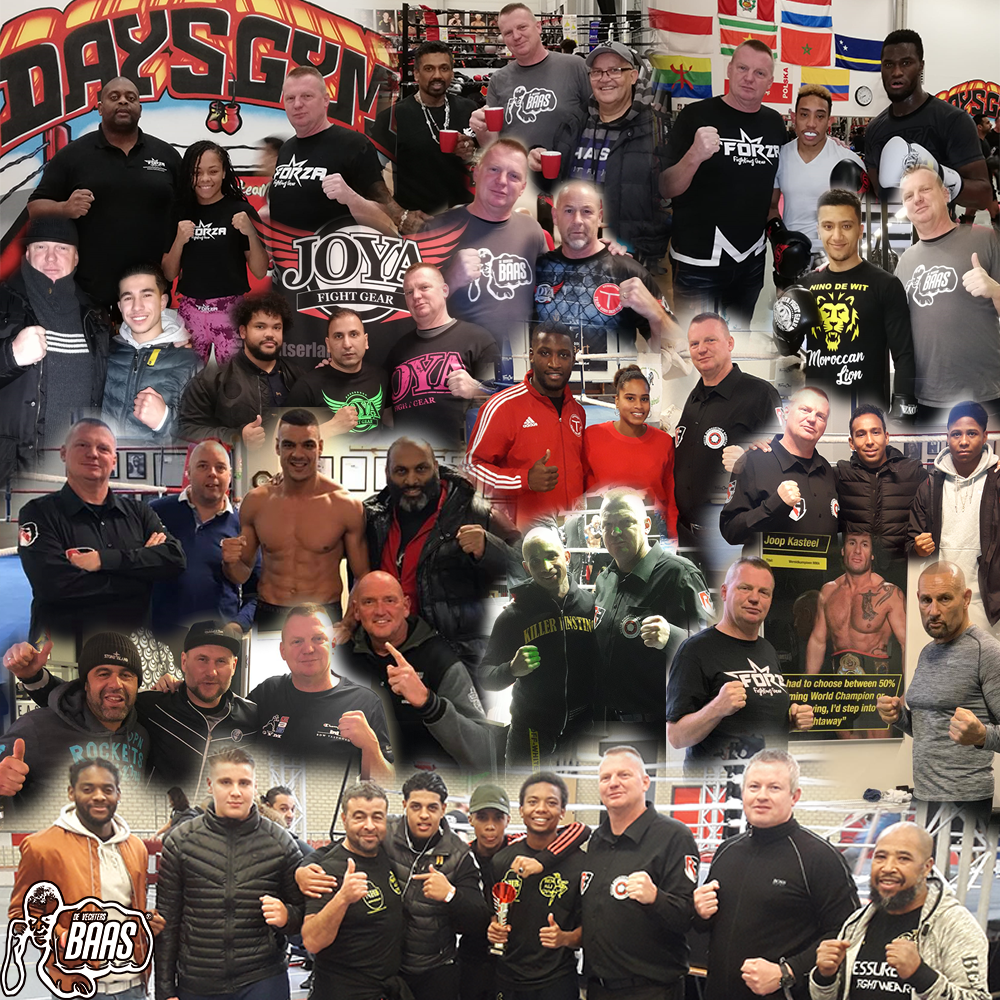 In 2018 we had a lot of special guests again visiting Baas Sports Curacao.
The most of them are in the photo compilation below, like; Wendell Roche, Aksel Cijntje, Yassine & Chairi Al Andaloussi, Shanice Josefina, Justin Do Rego, Clarence Thompson with his ladies (his partner Denifa and his lovely little daughter), Murat Ilgen, Big Daddy Carlos Blaaker and his sons from MMA Ruthless Fightcompany, Carl Blijd, Latrell Ceder and Naomi Williams of Team Tommy van den Berg, Yulong Blijd, Miss Dynamite Denise Kielholtz-Gerges, Howard Komproe and Roue Verveer, Yulong Blijd, Sherman Bonofacio, Harry Volny-anne from Martinique, Shermain Hellings of Hiit-Fit.nl, Randy Heyer, Muammer Ilgen and fam, Godfried Chofie Balijn.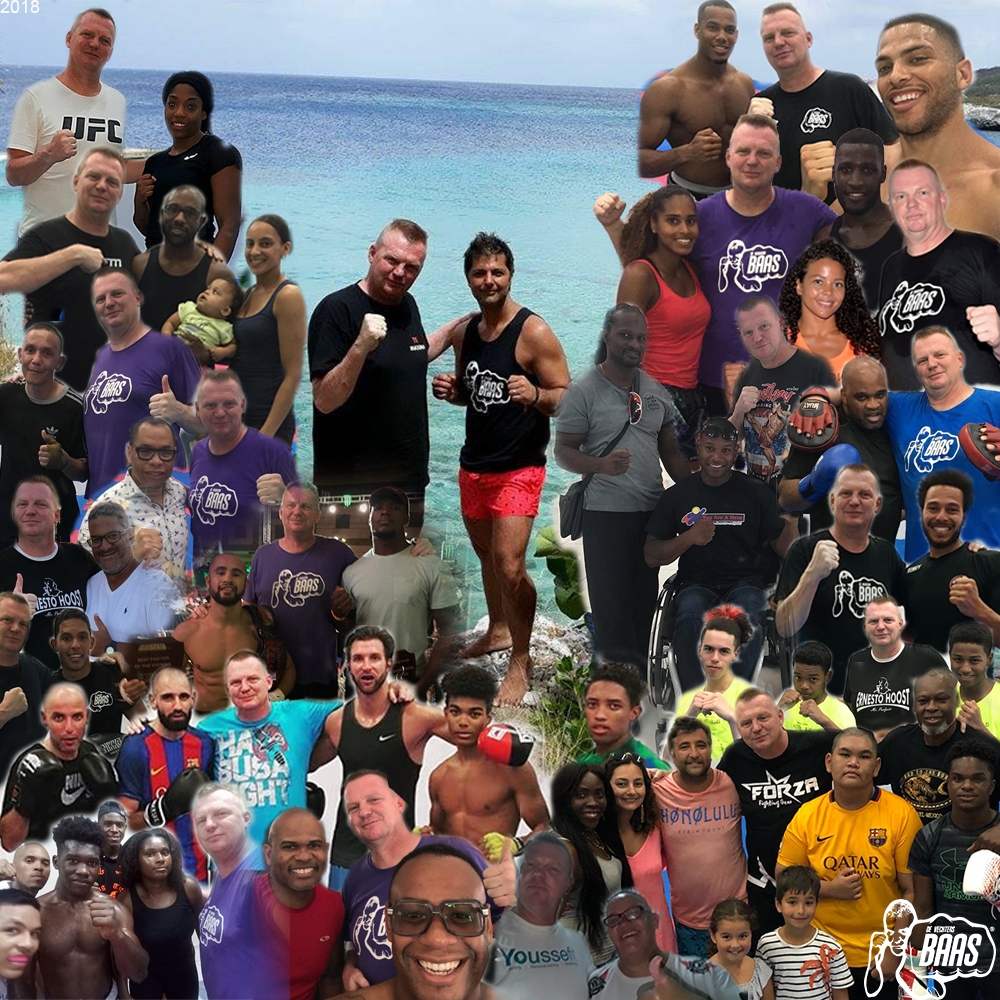 2018.11.15-24 CuraBox honored Jemyma Betrian for her outstanding performance (Bronze medal) at the AIBA women's world boxing championships in New Delhi India.
The year 2019 started with the visit of some great champions and great trainers/coaches.
UFC fighter Jairzinho "Bigi Boi" Rozenstruik from Suriname, who was preparing with his trainer Michael Babb for his UFC debut February 2nd. Rozenstruik won his UFC debut by TKO in 2nd round.
The No. 2 of GLORY in lightweight Tyjani Beztati and GLORY heavyweight Roël Mannaart.
Promoters Angelo Rosalia (Next Generation Warriors) and Mo Series (Fight Fans).
Super Pro Silvana Macbean and Dennis Krauweel, trainer/coach of Rico Verhoeven.
2019.01.26 Ginuwine Kwidama (Baas Sports Curacao) won in Aruba the elite AruBox champion Mark Campbell.
Special guest Rhevory, the boy with the red shirt with the text "Like a Boss" really trained like a Boss, als een Baas. Rhevory is blind, visually impaired and sees only 2% but he is able to train and he does very well too. FightAble.
2019.03.16 Jaydon Dania (Baas Sports Curacao won in Aruba by Abandon in the 2rd round.
2019.04.06 Baas Sports Curacao 100% victorious @ Victorious Fighters in Sambil. Jaydon Dania won by TKO 3rd round. Ginuwine Kwidama won on points. Grego Scharbaai won his opponent from Colombia by TKO in 2nd round. After a serious injury and surgery Mohamed "The Pain" Hussein made a come-back. Not in a MMA fight, but with K-1 rules. He won his kickboxing debut in the 2nd round by TKO against Rojhat Bilgetekin from Germany, who has about 30 pro-boxing bouts (27 registered on boxrec.com).
2019.04.27 Ginuwine Kwidama (Baas Sports Curacao) won Mark Campbell (Aruba)
2019.05.11 Lirou Pinedo won Tomislav Rudan (Croatia) in pro-boxing @ Rotterdam NL. Pinedo, born in Curacao and now training at Rodney Ernst of Fitboyz 010 made October 2018 Lirou his victorious Pro-debut after a successful amateur career.
2019.05.22-24 Edwin Baas was in St. Lucia for participation in the ITO (International Technical Official) course of the international boxing association AIBA. The course was led by Angel Villarreal (USA). In addition to Curacao and host country St. Lucia, Barbados, Bahamas, Jamaica, Guyana, Dominica, Trinidad & Tobago, Bermuda and Cayman Islands participated. This program aims to ensure that all officials are knowledgeable about the rules, that they can make the right decisions and maintain fair play and neutrality for the benefit of all competitors.
2019.06.01 CuraBox  with Aruba, Bonaire, Sint Maarten, Curacao. From Baas Sports Zeno Marchena was boxing an exhibition vs Lionel Eisden (Pro-Fit) and The Scharbaai brothers, Kevin and Grego, were boxing vs Sint Maarten.
2019.06.08 Daychemar Coeriel representing Curacao and training at Shera Oedairamsingh won by KO at Enfusion's Glorious Heroes in Groningen in the best fight of the event (according insiders). In the main event this night another kickboxer with Curacao roots Endy Semeleer (current Enfusion world champion) won Marouan Toutouh after 5 round of 3 minutes.
2019.07.07 D'Angelo Dangelo Marshall won Jahfarr Wilnis in Orlando Florida USA @ GLORY 67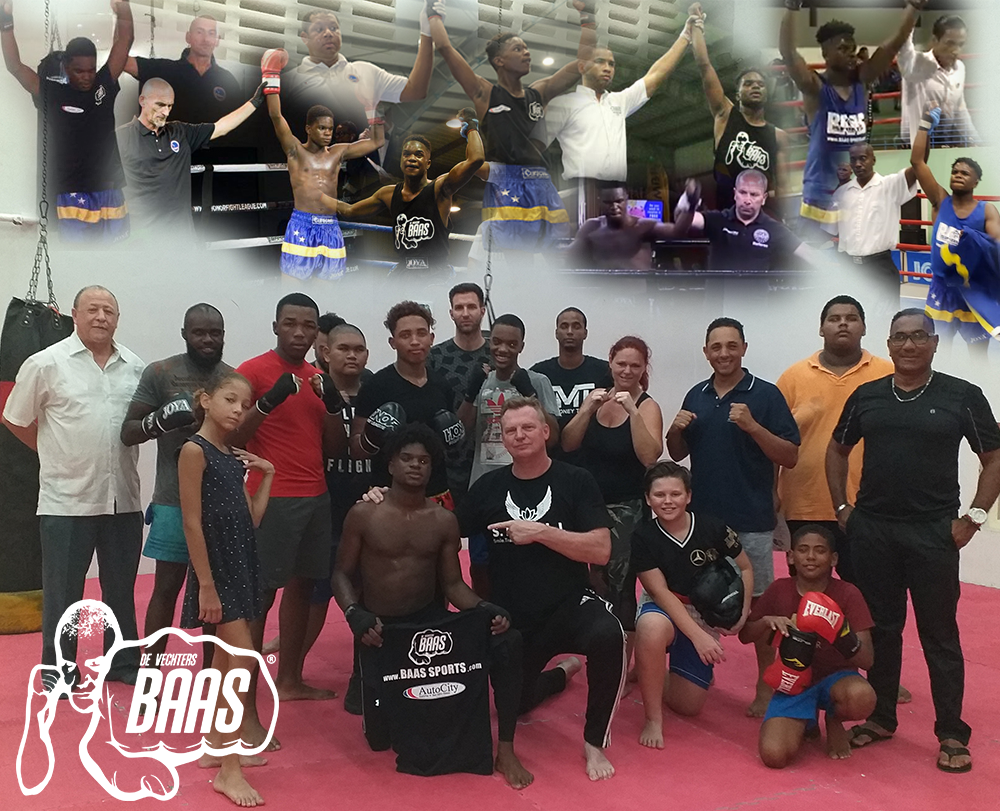 2019.11 Edwin Baas @ Fearless Wassenaar, Raw Diamonds  Almere, RINGS Aalsmeer with Dave Davis, Cem Senol, Faouzi Elkandousi, Riduan El Assrouti, Lorenzo Baas, Keith Chenko, Rashid van Exel, Davon Duncan, Piëtro Doorjé, Said El Badaoui, Rodney Dorjee, Hassan Aitbassou, Glen Huisman, Danial Sharifi, Anouar, Mimoum, Tom Wesselink, Melanie Fluiter, Ronan Huisman, Brandon Fos,Milton Felter, Dayon Mungra, Kader Benali, burgemeester van Aalsmeer Gido Oude Kotte, Ernst Vuik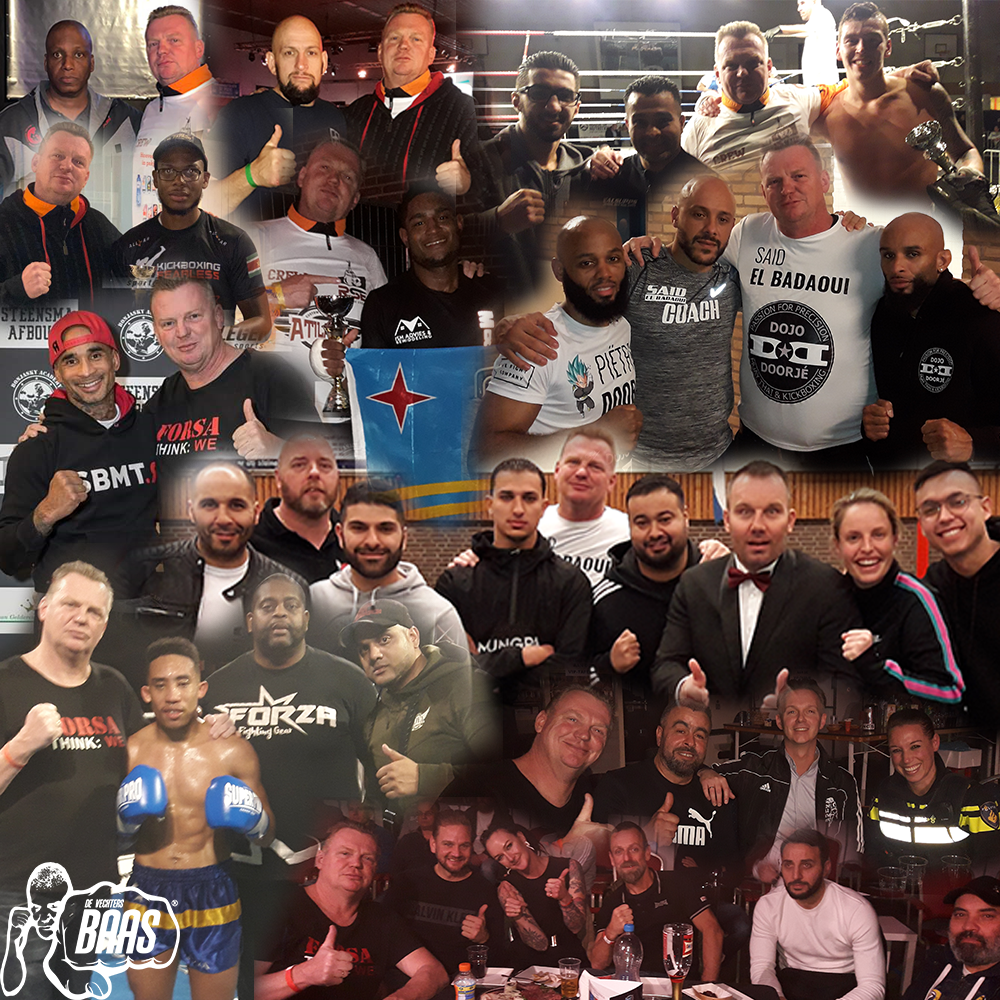 2019.11 Edwin Baas @ Ben Bril Carre, Boxing Alphen a/d Rijn, Fightclub Den Haag, and more with Mufadel Elghazaoui, Bert Kops, Andre Tete, Henny Mandemakers, Pedro van Raamsdonk, Rudy Koopmans, Koert-Jan Smit, Peter Hoopman, Dennis Kornman, Hassan Aitbassou, Michel van Halderen, Nick, Raymond Joval, Rodney Ernst, Boris van de Vorst, Ernesto Hoost, Martin Jansen, D'Angelo Marshall, Murat Ilgen, Boubkar Belkasmi, Luigi Kwas, Dennis Rock. Satisch Jhamai, Francois Lubbers, Glen Huisman, Ibrahim Sellak, Joost Mulder, Noudin Johri, Mimoum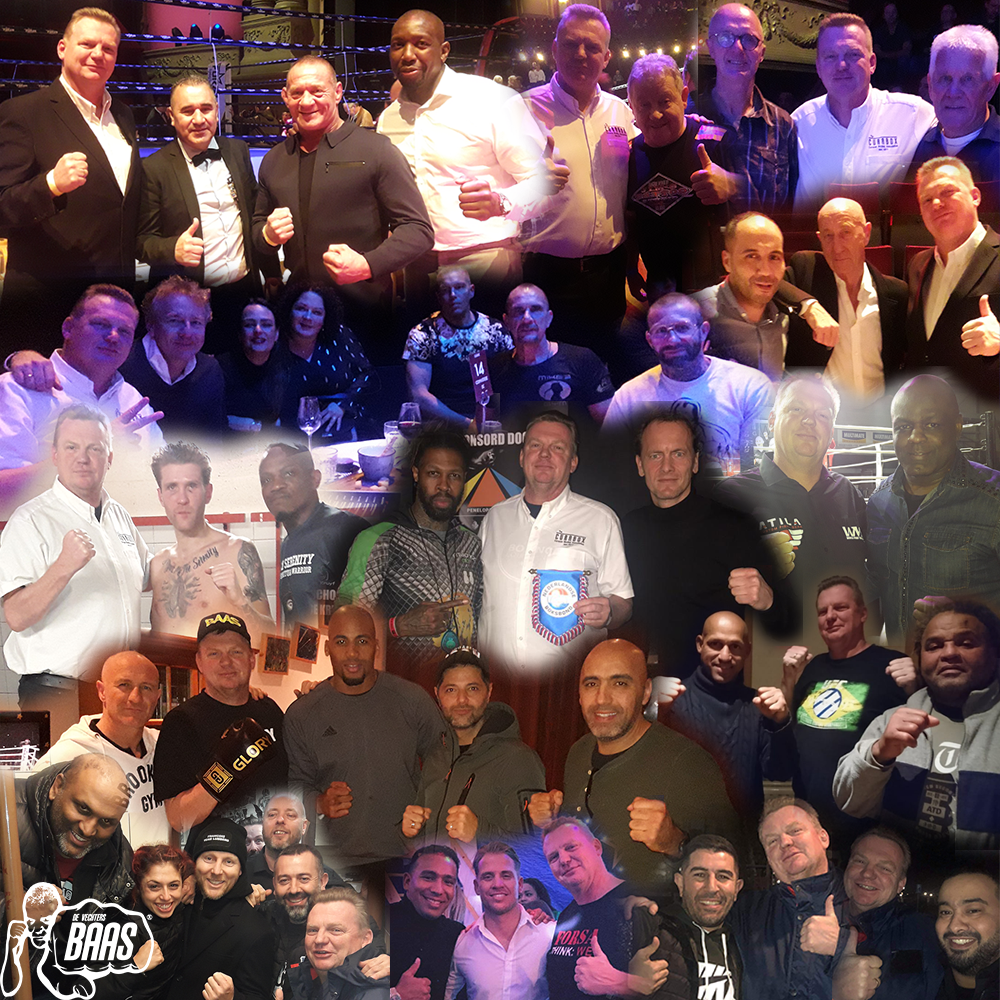 2019.11 Edwin Baas @ Hit Team Den Haag, The Smash Heerhugowaard and more with Serkan, Joaquim, Regina Spanjaard, Sarah Debaieb, Glen Huisman, Anouar, Nourdin Johri, Perry Ubeda, Jaco van Staalduinen, Najim, Angelo Rosalia,  Jeroen van Diemen, Jasper Stemp, Ajoeb Toerab, Denis Sharoykin, Altin Yumruk, Ernesto Hoost, Imro Main, Ricardo Nibte, Howard Komproe, Jay Overmeer, Miangelo Windster, Clyde van Dams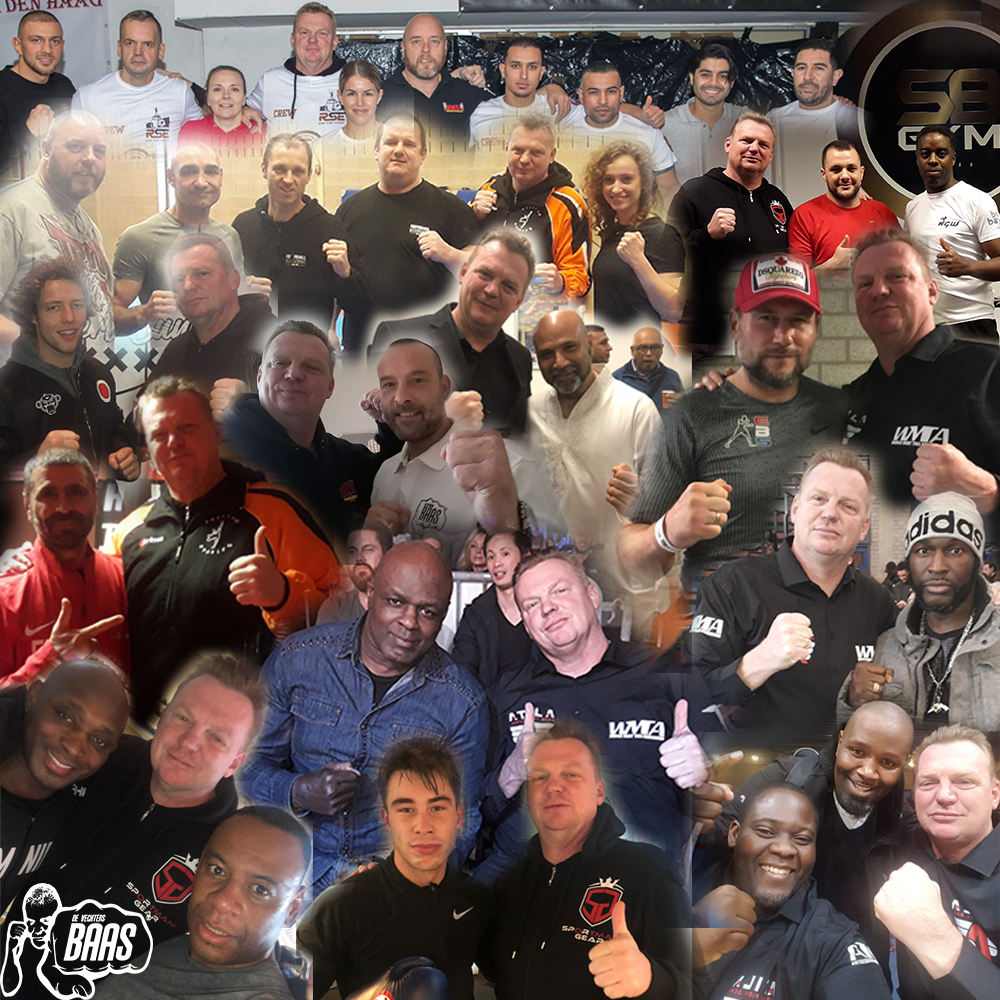 2019.11 Edwin Baas @ Road 2 Victory Hoorn, Youth Fight League Almere, Brutal gym Den Haag with Santino Verbeek, Mootje Khamal, Daychemar Coeriel, Joey Gogulski, Rob Gogulski, Cesar Gonsalez, Nonchi Chirino, Zeceria Musa, Tom Wesselink, Collin Mansur, Miangelo Windster, Hassan Aitbassou, Glen Huisman, Anil, Sarah, Mimoum, Nourdin Johri, Gisele Werth, Semih Yologlu, Harold Deekman, Kamal Chabrani, Orinta van der Zee, Loren, Francois Lubbers, Clyde Petres, Soeresh Bhatoe, Frank Munoz, Kevin Coffie, Glenn Brasdorp, Aiven Sprang, Jairo, Tenisha, Marvin, Marvin Alexander, Kenneth Susanna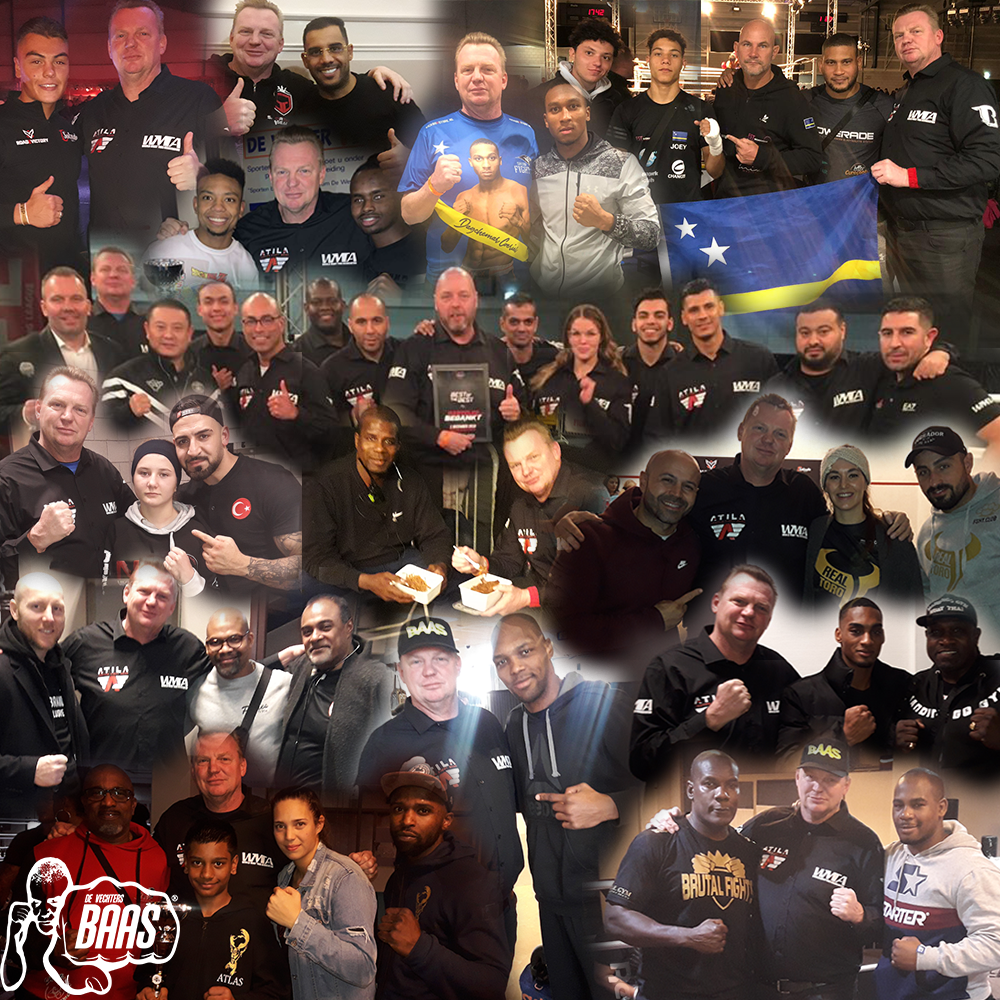 2019.11 Edwin Baas with Joost Mulder, Jamal el Otmani, Mootje Khamal, Glen Huisman, Miangelo Windster, Zakaria, Bilal Hamood, Abdallah Benali, Ernesto Hoost, Berte Rozemeijer, Mohamed Benali, Nonchi Chrino, Melissa Mulder, Nourdin Johri, Boubkar Belkasmi, Roma Pijlman, Angelo Rosalia, Muamer Ilgen, Murat Ilgen, Howard Komproe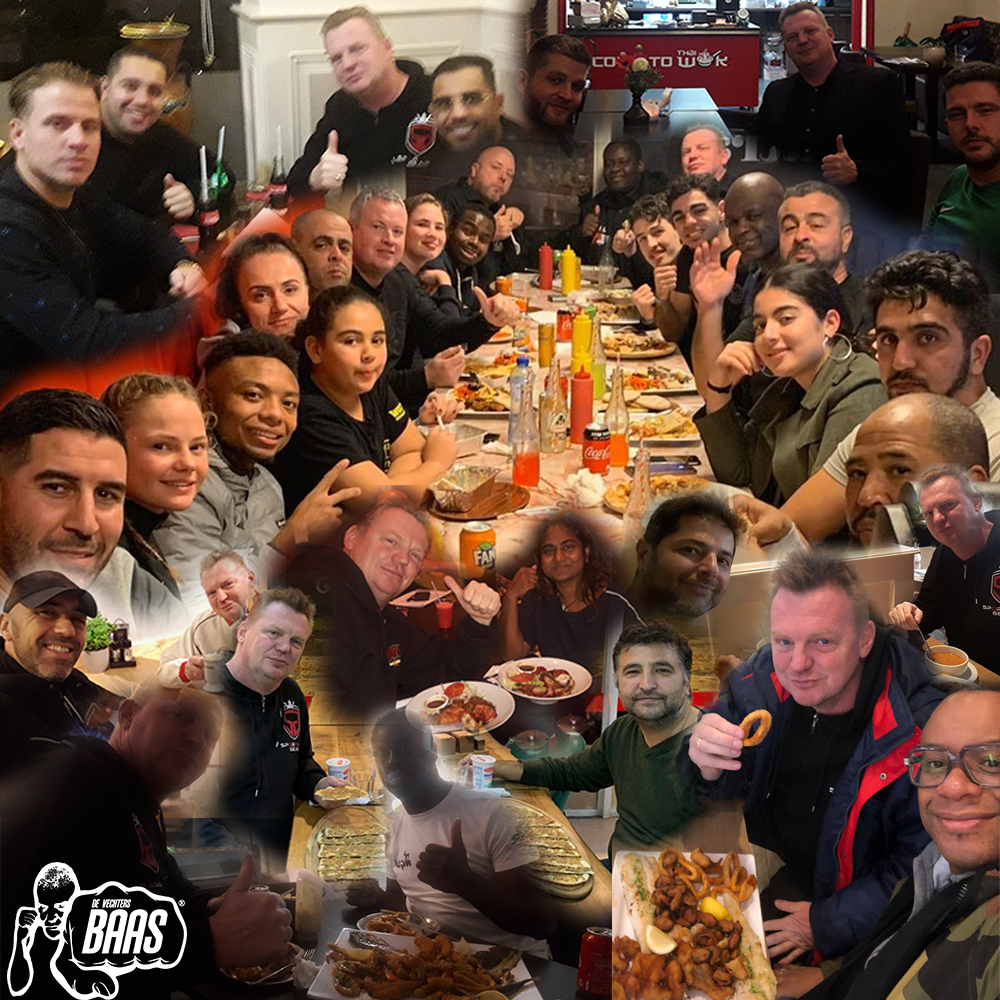 2020.01.18 Edwin Baas, president of CuraBox @ Forum of International Boxing Association/ American Boxing Confederation in Panama.
2020.06.13 Power Punch Challenge by CuraBox. Raekwon Baas won the 1st place at -18 years and Edwin Baas won the 1st place at 40+.
2020.07.11 & 2020.08.01 Sparring bouts Amateur Boxing by CuraBox with participation of 9 clubs. From Baas Sports Ronald Damberg, Jaydon Dania, Zeno Marchena and Raekwon Baas participated.
2020.10 Edwin Baas & Raekwon Baas @ Balyn Boxing Club Rotterdam, Fit Boyz Rotterdam, De Voltreffer Nieuwegein, New Sport Challenge Haarlem, Sportsinc. Langedijk, Easy Boxing System Alkmaar, TaekRosa FDC Utrecht with Boubkar Belkasmi, Godfried "Chofi" Balijn, Abdelmalik Lgamawi, Rodney Ernst, Sam Wagenveld, Boris vd Vorst, Ben Zwezerijnen, Hannes Schneider, Hassan Aitbassou, Kader Benali, Aleide Lawant, Glen Huisman, Denis Sharoykin, Josemir Poulino, Angelo Rosalia, Fazil Akimyewo.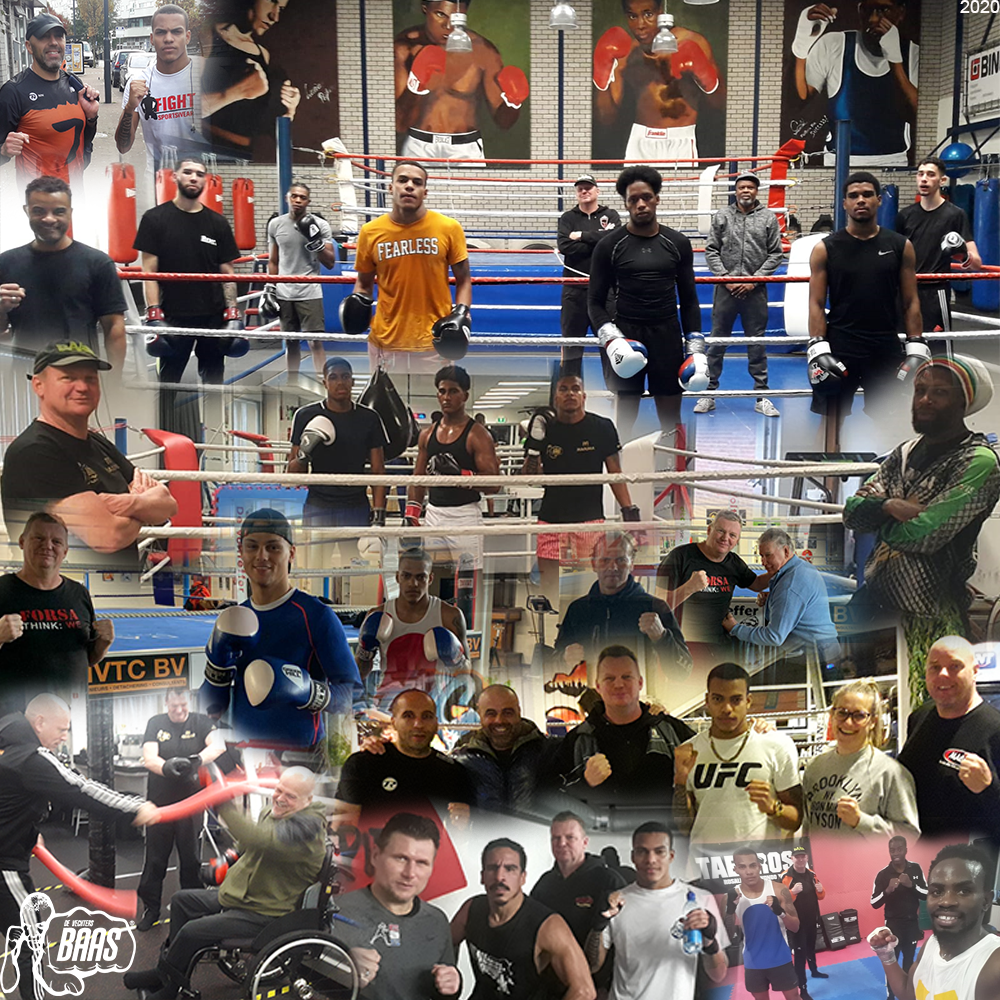 2020.10 Edwin Baas & Raekwon Baas @ Karkach gym Vlissingen, Fightcentre Groningen, Bolem Gym Haarlem, Baoui Trieu Groningen, FightClub Haarlem, Taekyon Haarlem, Rock Gym Zaandam, Sportsinc. Langedijk, Smile Sport Haarlem, Ben Ali Gym Noord Scharwoude, Fearless Wassenaar, Sports Academy Sellak  with Ginuwine Kwidama, Stephan Tapilatu, Gert Flik, Melanie van Zandvoort, Boauelem Belaini, Earl Blijd, Mohamed "Mootje Monteur" el Meshbahi, Fred Katers, Marc van Keulen, Peter van Gelder, Charissa, Dennis Rock, Joey Gogulski, Hassan Aitbassou, Kenneth Leeuwin, Bert Rozemeijer, Mohammed Benali, Kader Benali, Abdallah Benali, Glen Huisman, Donovan Wisse, Dave Davis, Joost Muder, Giwanni Schaap, Ibrahim Sellak, Jamal el Otmani, Ronnie Jackson.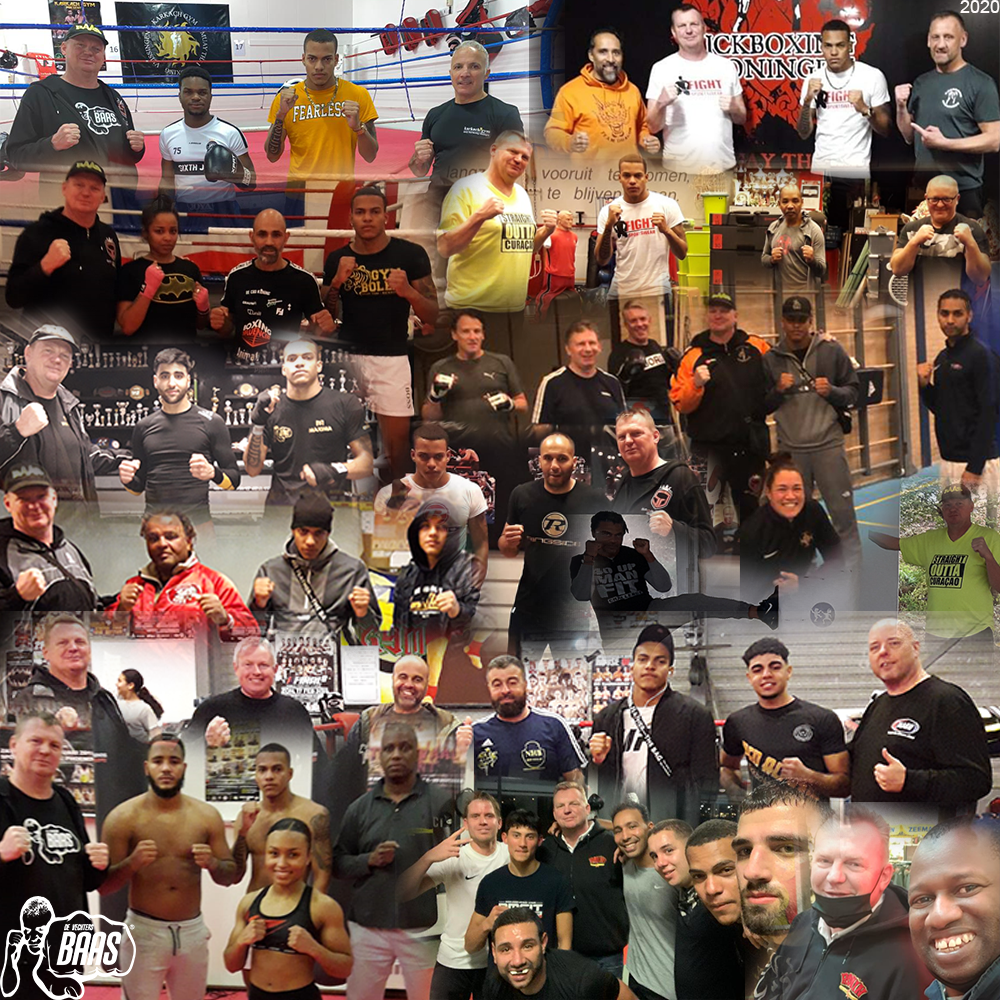 2020 Guests @ Baas Sports. Giselle Werth, Howard Komproe, Godfried "Chofie" Balyn, Murat Ilgen, Mustafa Benali, Bayram Guzel, Serkan Vurgun, Atilla, Serhat, Anthony, Giovanni Rijkaard, Pascal Rasoelbaks, Randy Heyer, Gregory Costina.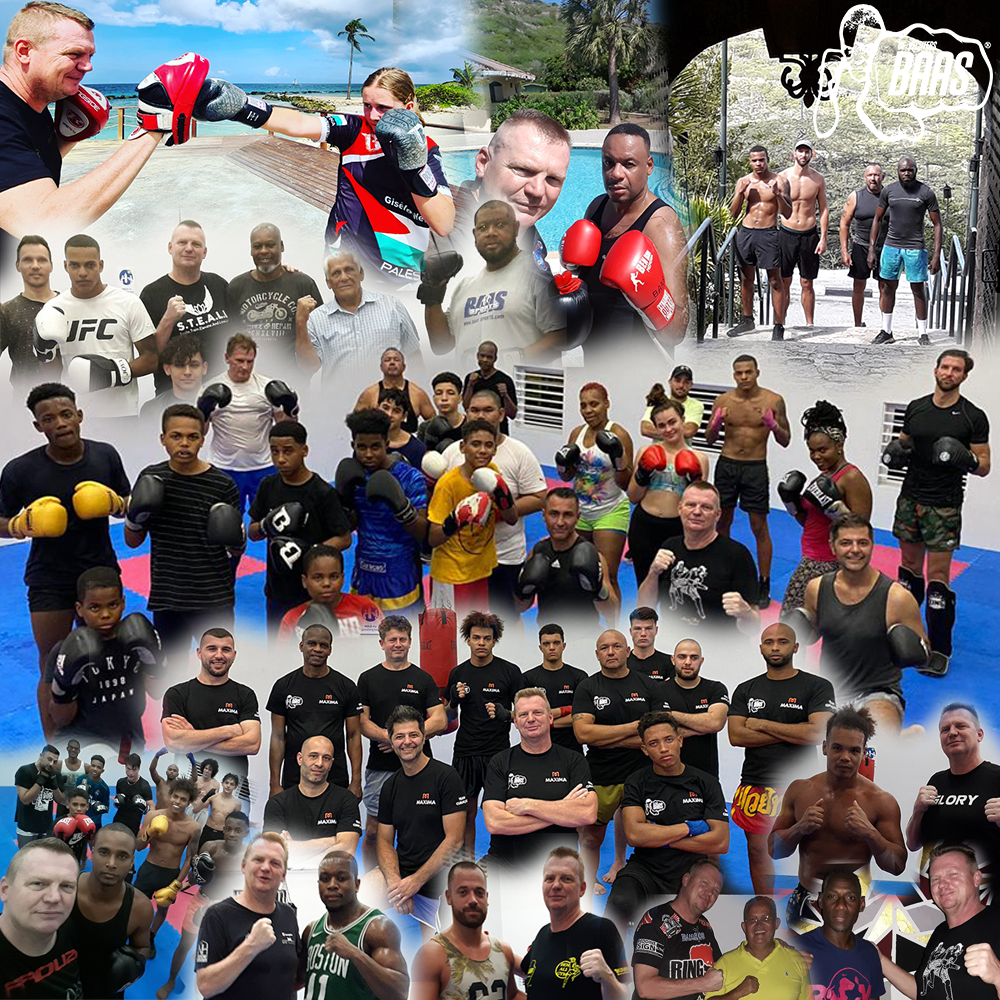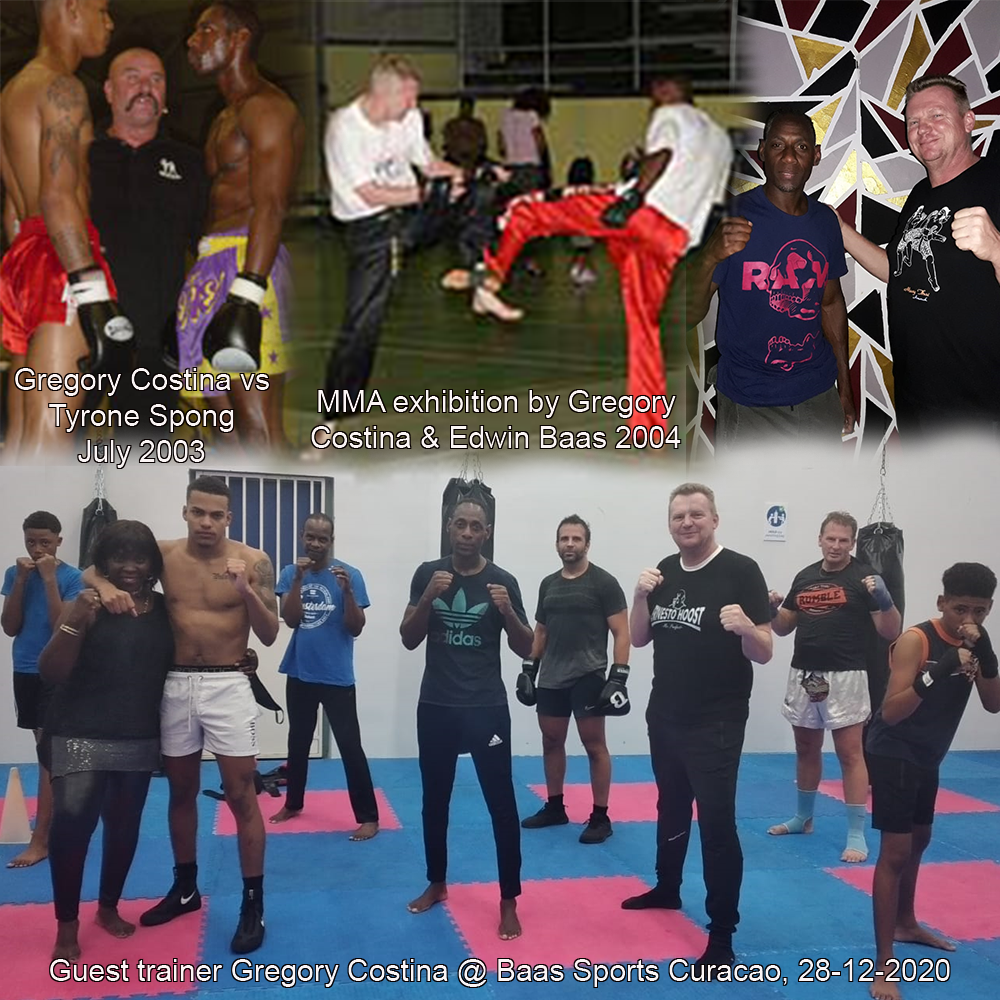 2021.01.17 CuraBox "The battle of the middleweights". Raekwon Baas (18) from Baas Sports Curacao made his debut in a bout of 3 rounds of 3 minutes in the  Middleweight division (69-75 kg) Elite. Raekwon supposed to make his debut in Aruba in September 2019, however, the bout and all other competitions, like the youth championships in The Netherlands, were cancelled because of COVID.  Raekwon makes his official debut against an experienced opponent. Ronin Prince (18) from Attaf Fighting Factory. Ronin made a victorious boxing debut May 2018 at "Roll with the punches". The same year Ronin won at the age of 16 impressive of a 5 years older opponent. June 2019 Ronin won an Aruban boxer even more impressive in the 2nd round. As kickboxer Ronin fought in Uruguay, Suriname, Colombia, Aruba, Curacao and he should participate at the 2020 World Championships in Thailand, but that event was cancelled because of COVID-19. In 2020 Ronin boxed the main event of the sparring bouts.
2021.02.08 Soumia Abalhaja @ Baas Sports Curacao. Soumia has several talents. She became Dutch champion, Benelux champion, world champion of the WPKL (World Professional Kickboxing League), world champion of the WFCA (World Full Contact Association) and World Champion Muay Thai League, a tournament with 8 champions). Besides being a fighter Soumia is also known as a presenter, actress and singer.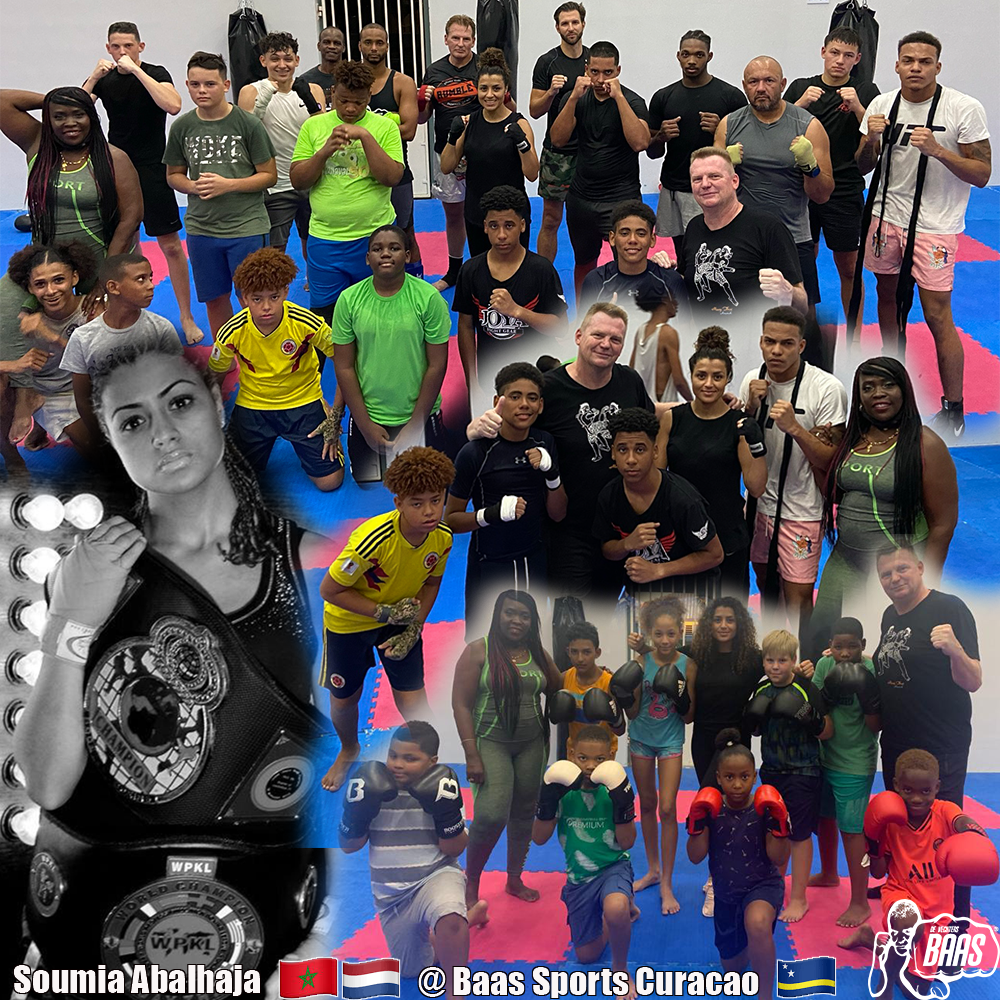 2021.02/03 Nourdin Johri of the World Muay Thai Association (WMTA) @ Baas Sports Curacao. Nourdin is a former Muay Thai champion with 70 A-class fights (pro top division) and as top referee head official of the WMTA. "Nourdin is also a great person and does a lot from the heart. To give just a few examples; in Rotterdam he works with young people with psychosocial problems, he did a wheelchair boxing match with an English wheelchair user, for a boy with Down syndrome he made the day of his life by fighting an exhibition match with him."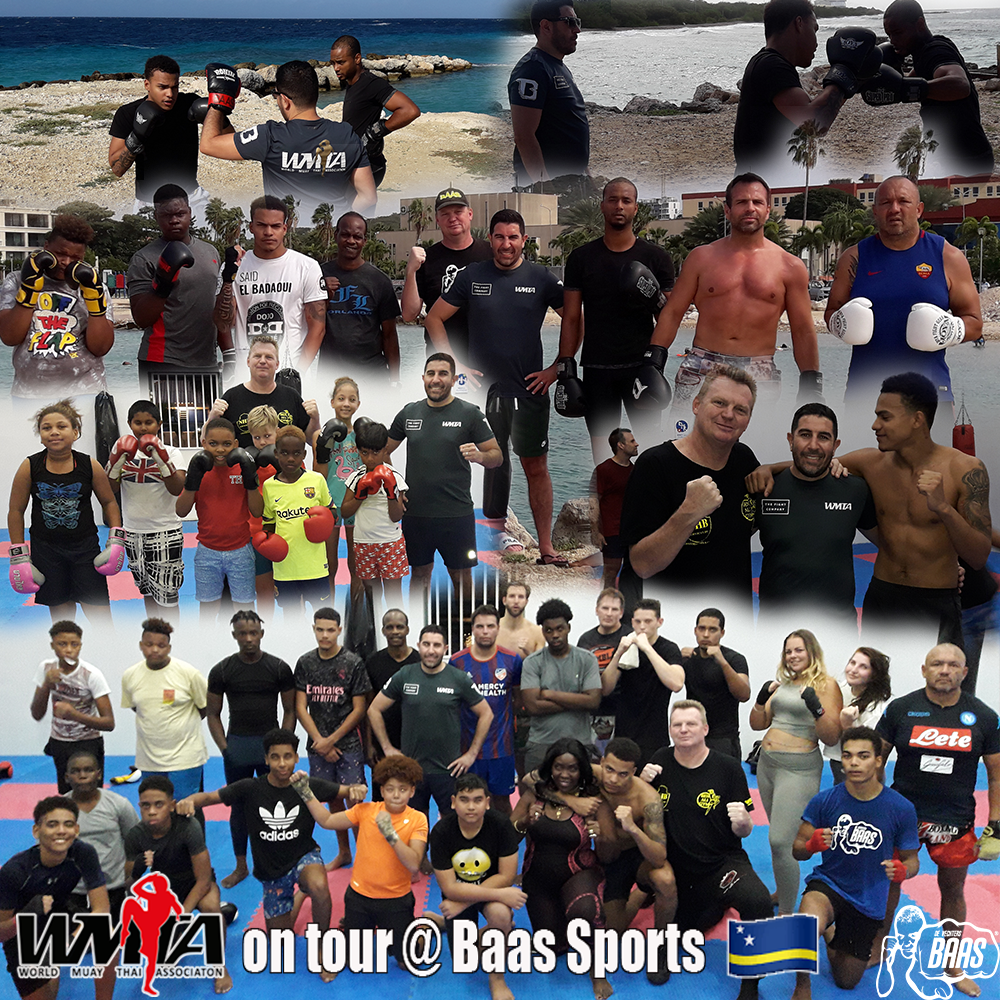 2021.04  Bonaire with Dave Wever, William Evertsz, Elvis Molina, Ron Soechit.
2021.06 Sint Maarten with Stephen Ellis, Marco London, Shawn Blair and his boxing team.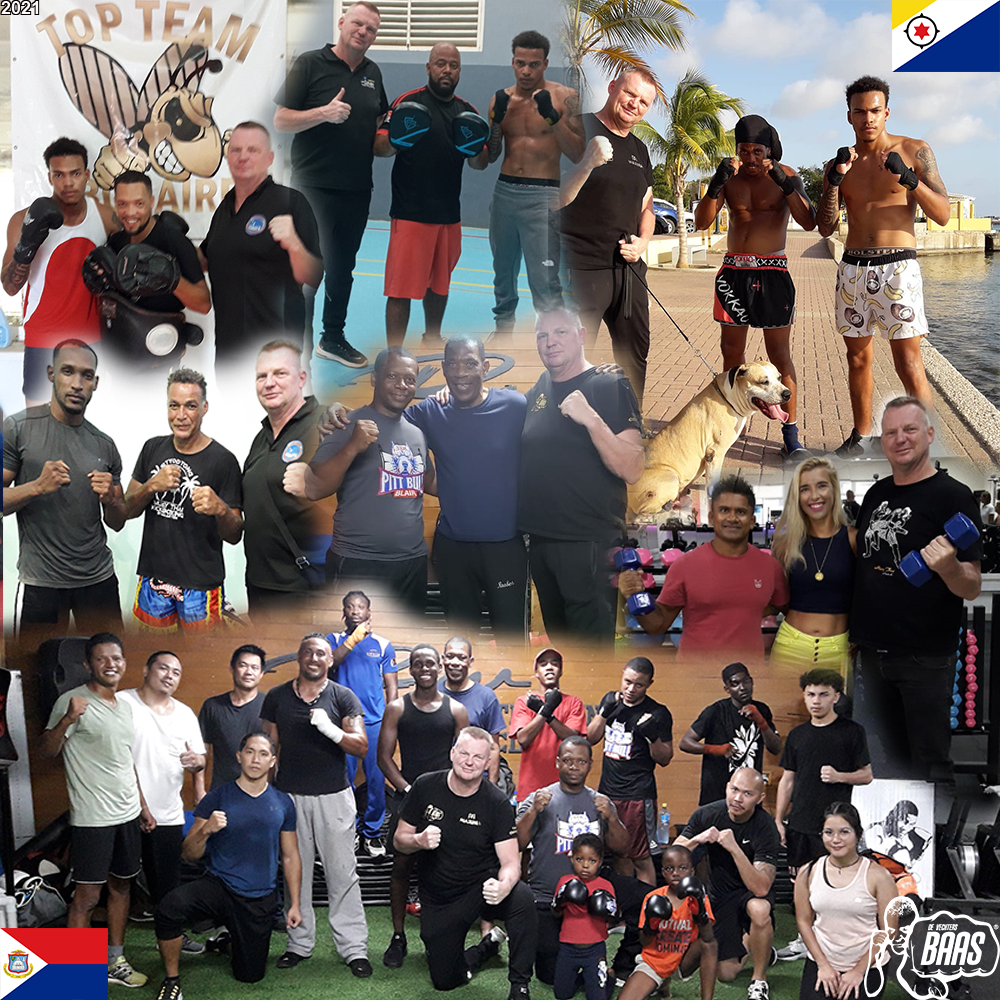 CuraBox competitions 2021.02.27 and General meeting 2021.05.28.
2021.06.27 CuraBox. In the main event Kevin Scharbaai (71.9 kg) from Baas Sports defeated Dwinley Mathilda (74.2 kg) of Supreme Boxing Centre unanimously in the Middleweight division (69-75 kg). With this fourth win in boxing, Kevin maintained his undefeated status (4-0). Kevin is also 1-0 in MMA and 1-0 in Thai-boxing.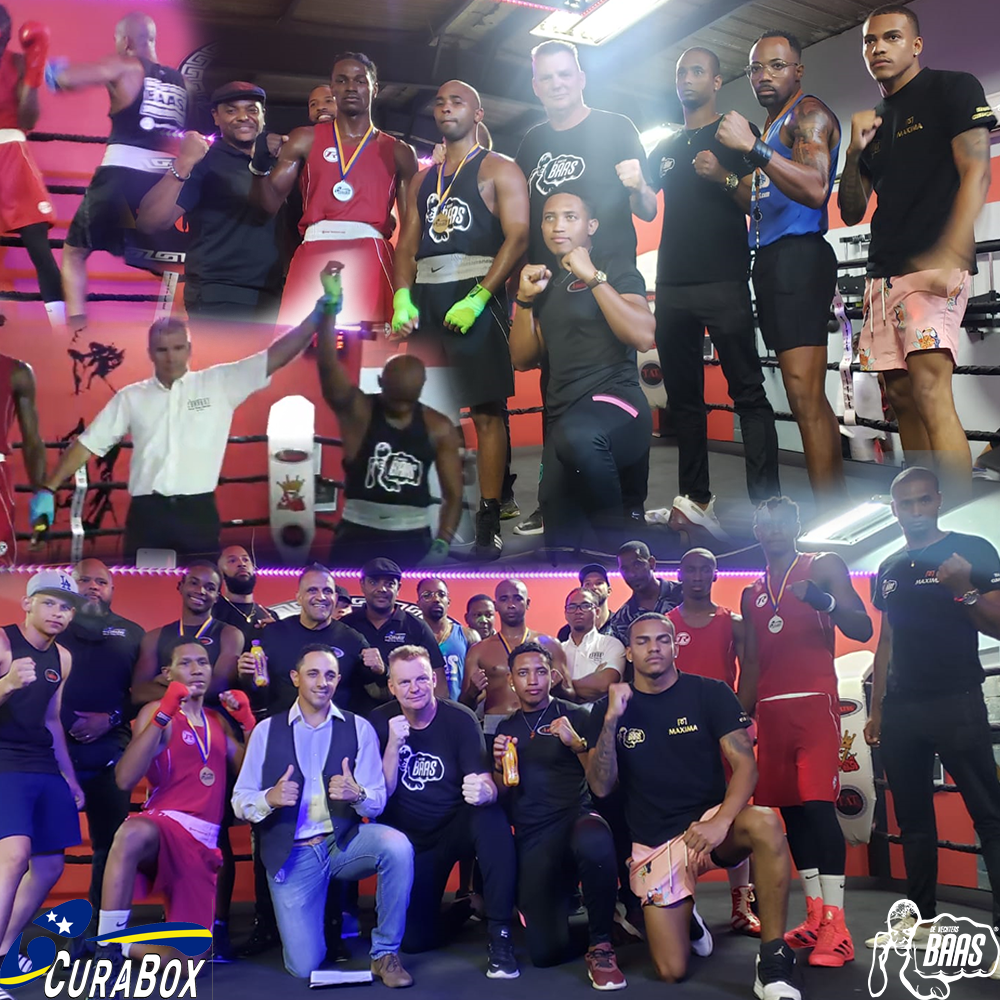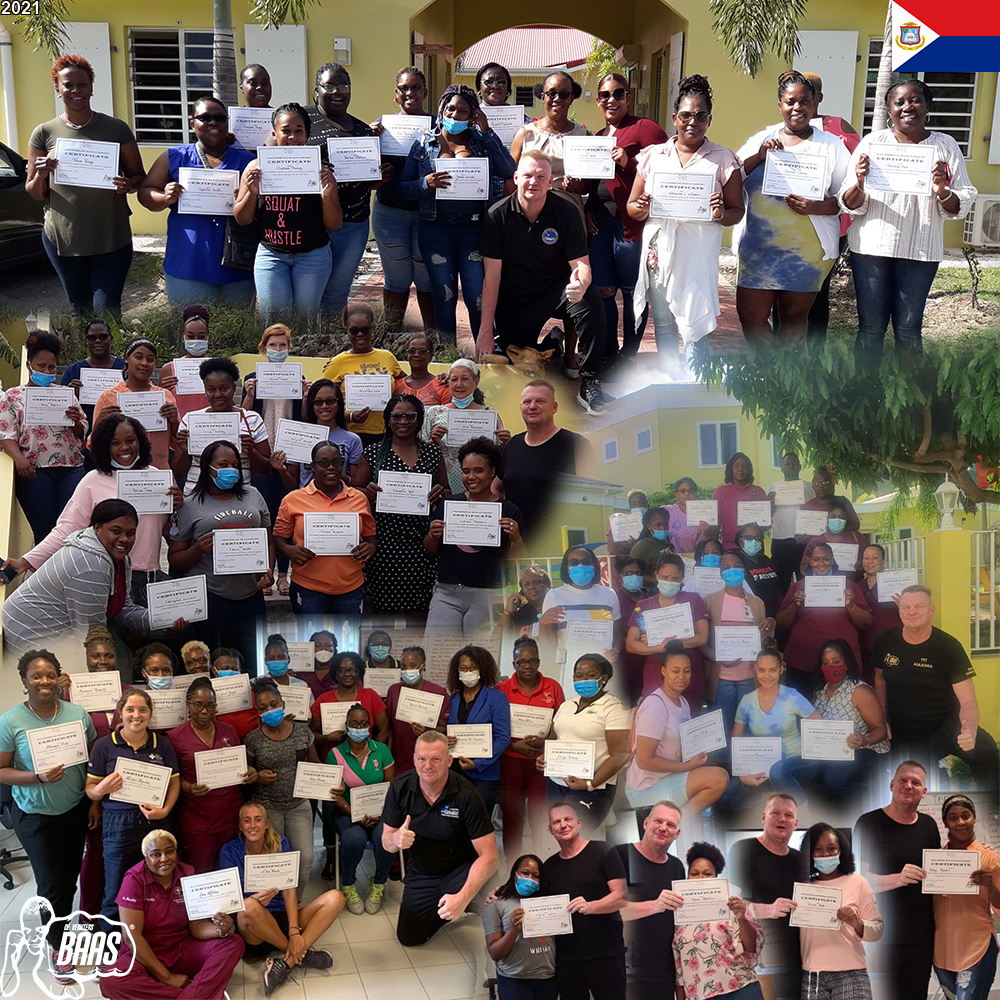 2021.07.19 KAP (Komishon Aktividatnan Soshal pa personal di Prison) organized "Unidat den korpsnan di Korsou". Edwin Baas took care of the fit competition with support of the volunteers; Anthony Cijntje, Gilbert Girigori, Grego Scharbaai, Helmin Wiels Jr, Huibertico Balentien, Jonathan Symor, Raekwon Baas, Andy Frans. The first 3 places were for KPC (Police), Douane (Customs/ immigration) and Curaçao Militia (local army)..
2021.08.28 Reunion of the team that participated at the 1993 World Championships in Athens. Reunion training/meeting organized by Alex Janssen. In the photo's Edwin Baas, Roma Pijlman, Sonja Janssen, Inge Boele, Marije Bprst now (2021) an then (1993).
2021.09 Edwin & Raekwon Baas @ AikiBudo, Maxima, Rock Gym Zaandam , Taekyon Haarlem, New Sport Challenge, Gym Haarlem with Murat Ilgen Boubkar Belkasmi, Aydin Kahraman, Muammer Ilgen, Omar Belasmi, Mohamed Belkasmi, Danny Wijngaarden, Ronson Dalloesingh, D'Angelo Marshall, Dennis Rock, Marc van Keulen, Charissa, Fred Katers, Jeffrey Alfonsus, Hannes Schneider, Oby van Andel, Kane Schneider, Abdel, Faouzi el Kandousi, Jeroen van Diemen, Jamal el Otmani, Joost Mulder, Angelo Rosalia, Ruud Hillenaar.
2021.09 Edwin and Raekwon Baas @ Future Champs, WFL, FDC/ TaekRosa Utrecht with Safouane Riani, Manar Abdallah, Ana, Miangelo Windster, Hassan Aitbassou, Glen Huisman, Mahmut Caylak, Ronan Huisman, Soufian Ballah, Tom Wesselink, Haydar Gündoğmuş, Murat Ilgen, Peter Aerts, Nourdin Johri, Montana Aerts, Bilgin Uray, Ugur Aktas, Murat Isci, Angelo Rosalia.
2021.09 Edwin & Raekwon Baas @ WFL Utrecht,FightClub Den Haad, Raw Diamonds Almere, Team Thriving Heerlen, Kassem Gym Alphen a/d Rijn, WMTA with Melvin Manhoef, Kevin Chin, Shera Oedairamsingh, Daychemar Coeriel, Rhydel Vogelenzang, Peter Aerts, Maritzarda Hersisia, Reza de Groot, Remy Bonjasky, Clyde Petres, Marciano Bhugwandass, Ali Esadik, Mikky Manjic, Daniel Sharifi, Melanie Fluiter, Colin Mannsur, Hassan Aitbassou, Glen Huisman, Francois Lubbers, Ana, Miangelo Windster, Soeresh Bhatoe, Dirco Wit, Safouane Riani, Mimoun Ahbouk, Nourdin Johri, Montana Aerts, Ronan Huisman, Manar Abdallah, Angelo Hak, Soufian Ballah, Mahmut Caylak, Anil Sewnaik.
2021.10.03 4th CuraBox competition evening of the year.
2021.10.30 Kick-A-Thon to raise funds and awareness for sickle cell. There were 3 categories; youth, women and men. Among the men, Edwin Baas and Sem Klein won 3rd and 2nd place respectively. 1st place went to Redferne Regales.
2021.11.07/08 Aggression Management training @ Stichting Project Bonaire.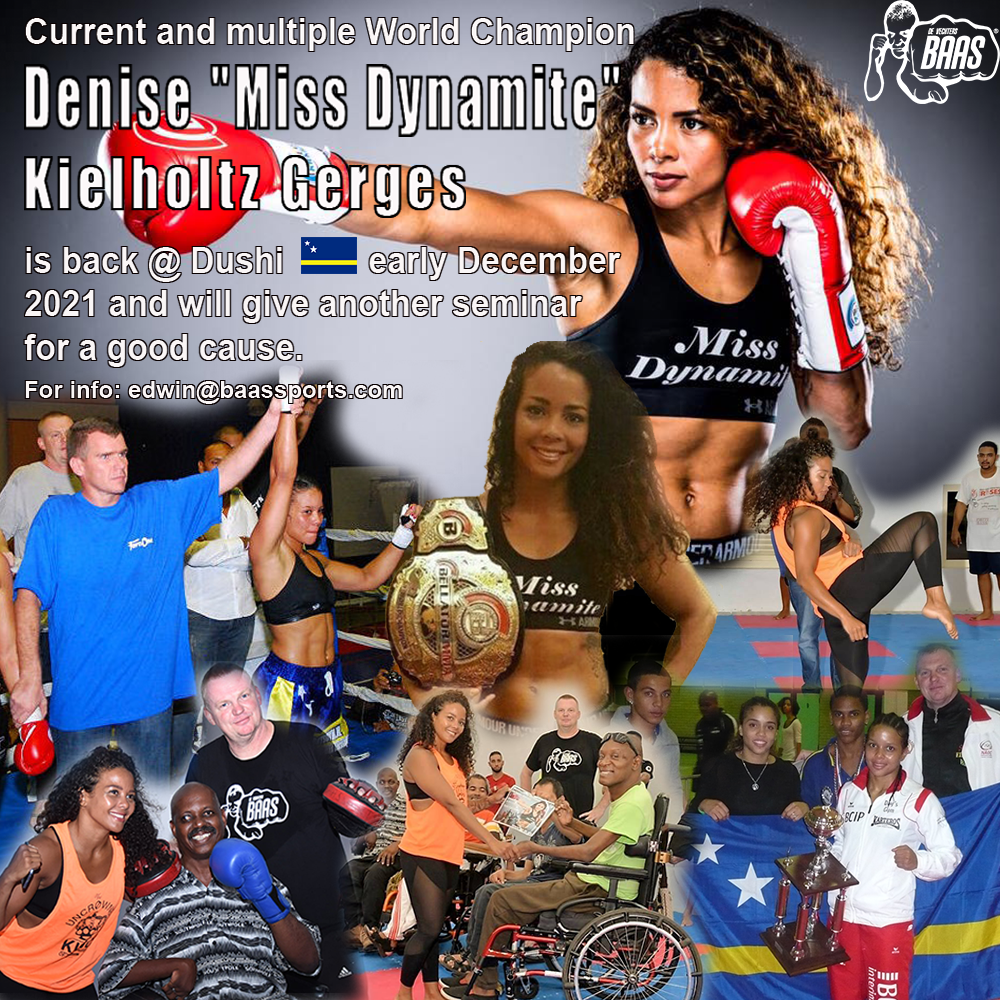 2021.12.07 Empowerment by Denise Kielholtz.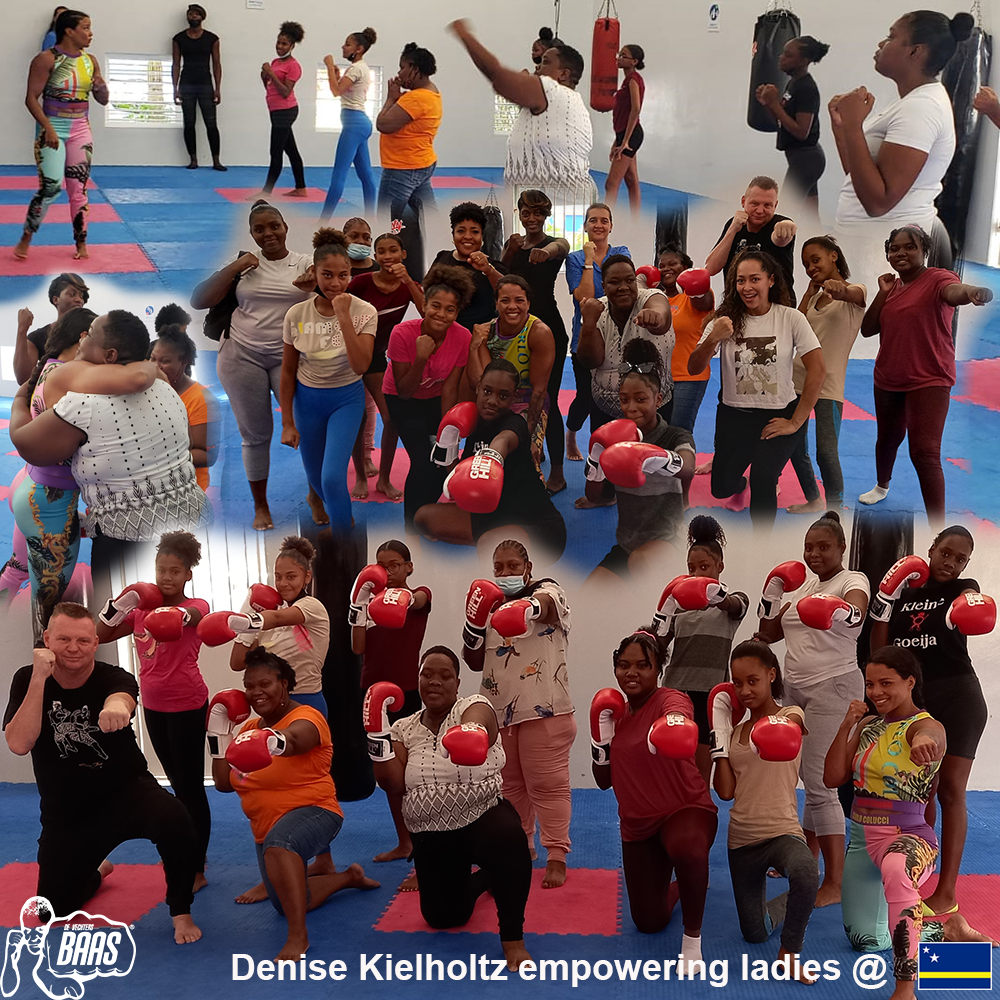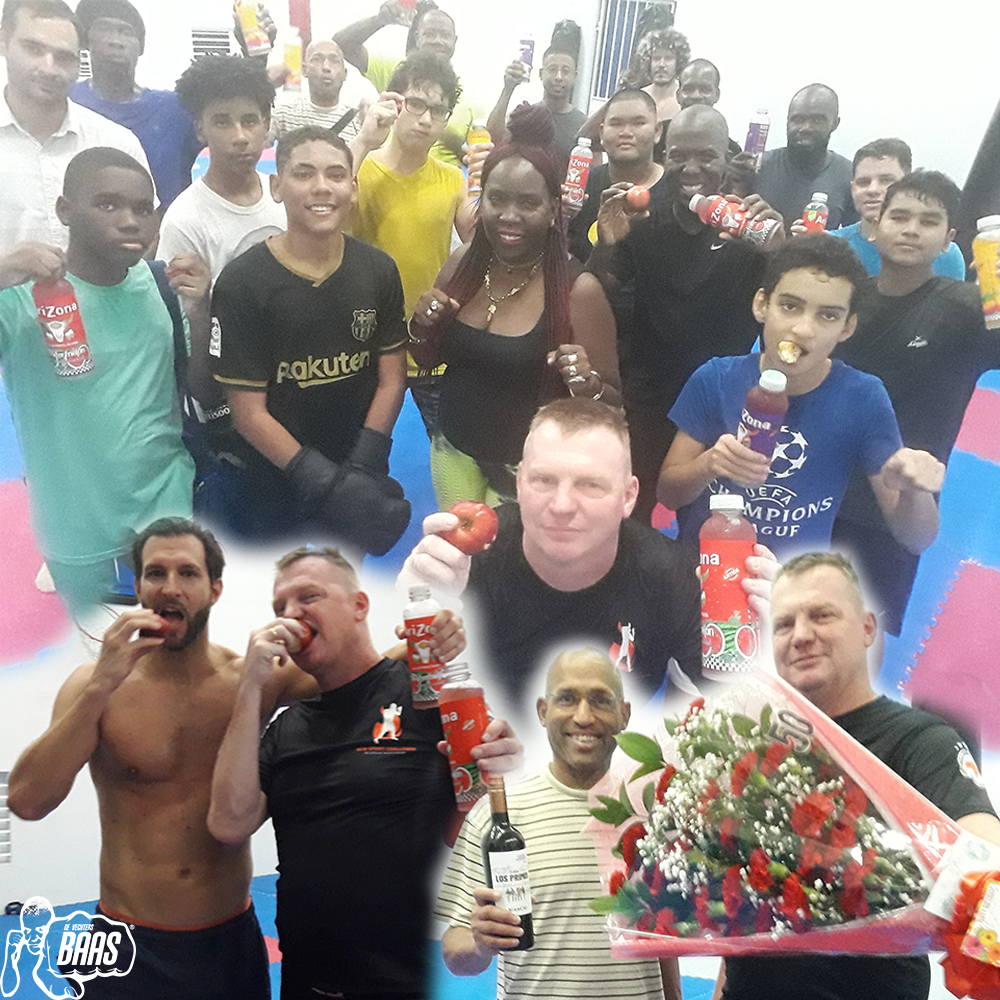 2021. Omar Berkane, Soumia Abalhaja, Noudin Johri, Mohamed "Mo Mattiz" Adroun, Denise Kielholtz, Aydin Kahraman, Suriel Hooker, Guillermo Matulessy, Cedric Bacuna, Younis Rasho, Michael Henskens, Luigi Kwas, Gisele Werth.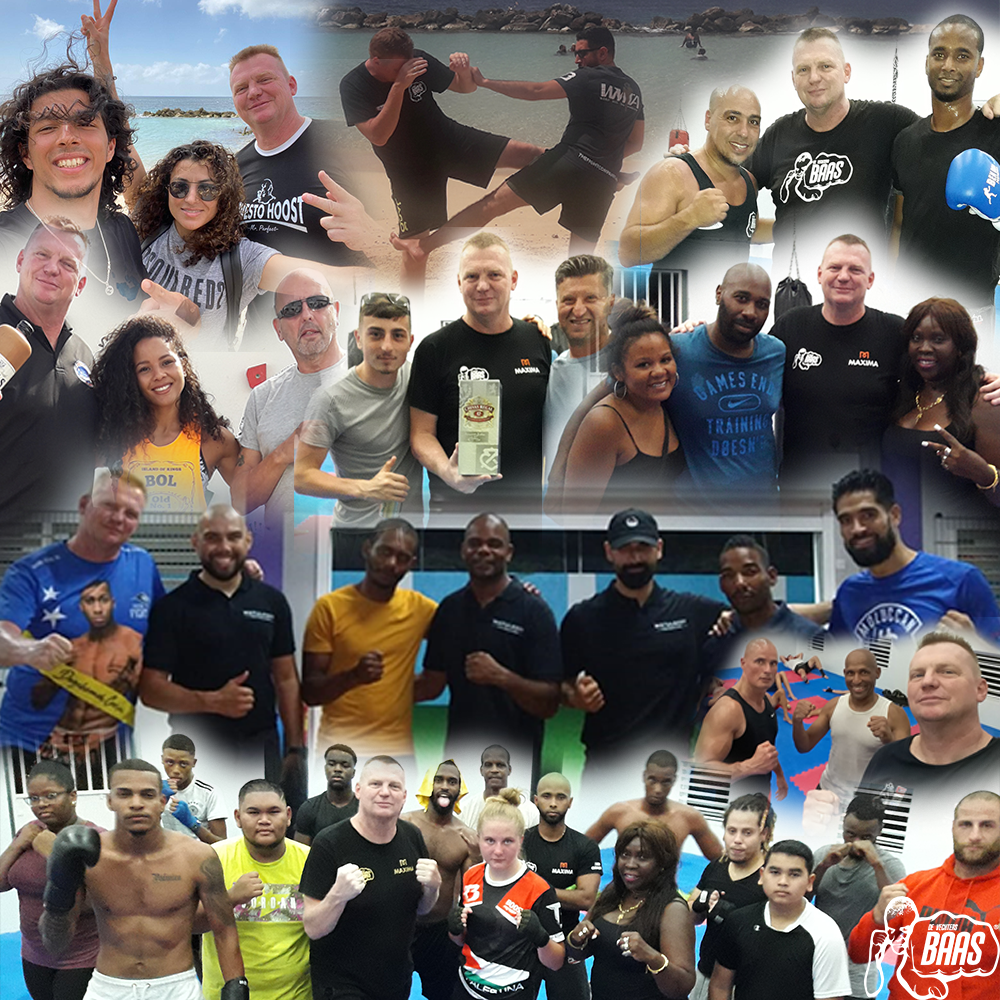 2022.02.27 Jaydon Dania (Baas/AA) won main event of CuraBox Battle of da B-Boyz
2022.03.18 CuraBox General Members' Meeting @ FDOK (Federashon Deporte i Olímpiko Kòrsou).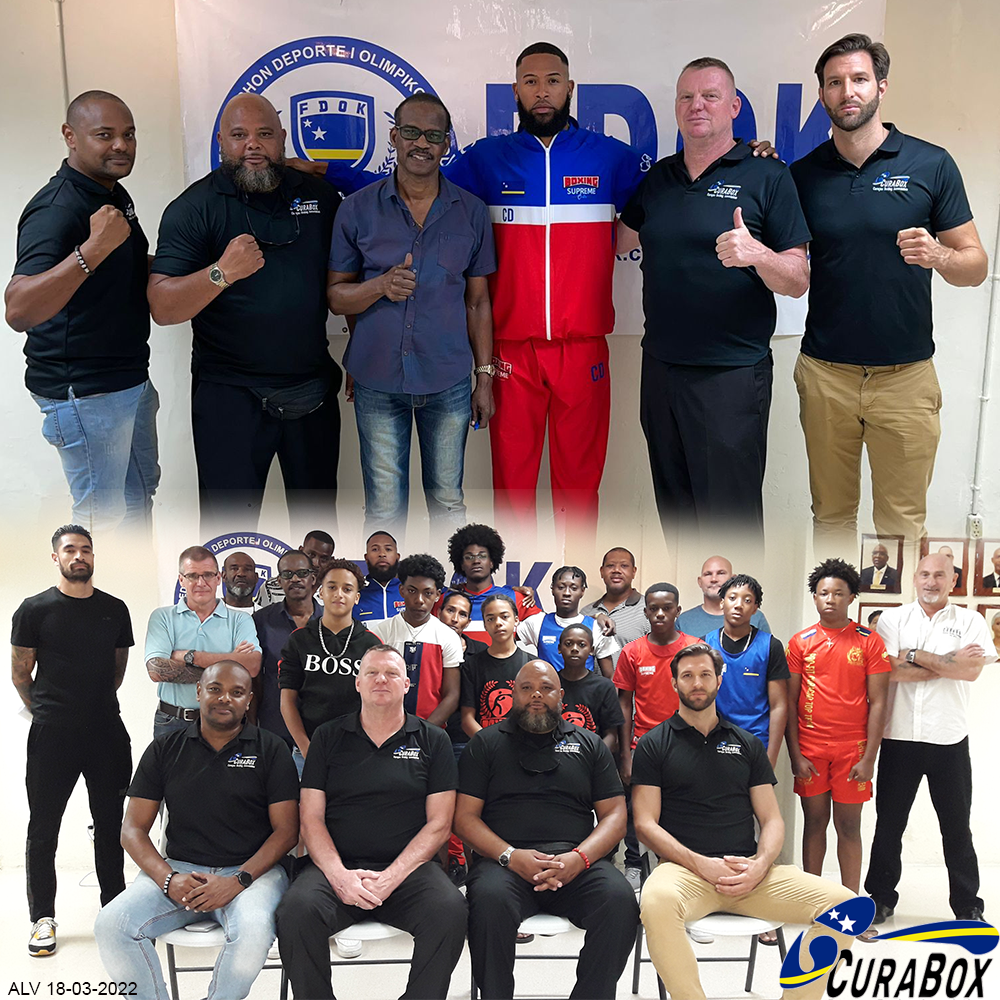 2022.03.26 CuraBox "Battle of the Rising Stars" featured 10 amateur boxing bouts with young boxers from; AA Boxing, Baas Sports, Boka Boxing Club, Immartial Athlete Centre, Kapap Center, Pro-Fit, Team Farao and Supreme Boxing Centre. In the main event Jaydon Dania (79.7 kg) from AA Boxing/Baas Sports won the Dutch champion Mathilda (79.6 kg).
Edwin Baas of Baas Sport in Curaçao received the quality seal of the Dutch Boxing Association NBB (Nederlandse BoksBond) from director René Braad.
Baas Sport has been a household name on the island for many years. Various martial arts can be practiced in this gym, including boxing. Edwin is also the chairman of CuraBox. With this he connects the different boxing centers on the island and tries to get the boxers to box as often as possible.
In addition to his passion for top sport, he also makes this accessible for anyone who wants to practice boxing. Nothing is too much for him and if necessary he even sacrifices his vacation to transfer the boxing virus to the youth.
Baas Sport is also a branch for Dutch boxers who stay in Curaçao for a longer period of time for work or vacation and who want to continue practicing their favorite sport.
Edwin made the Boxing Instructors course possible and was the host for the conversation with the chairman of the Surinamese Boksbond Mr Remie Burke.