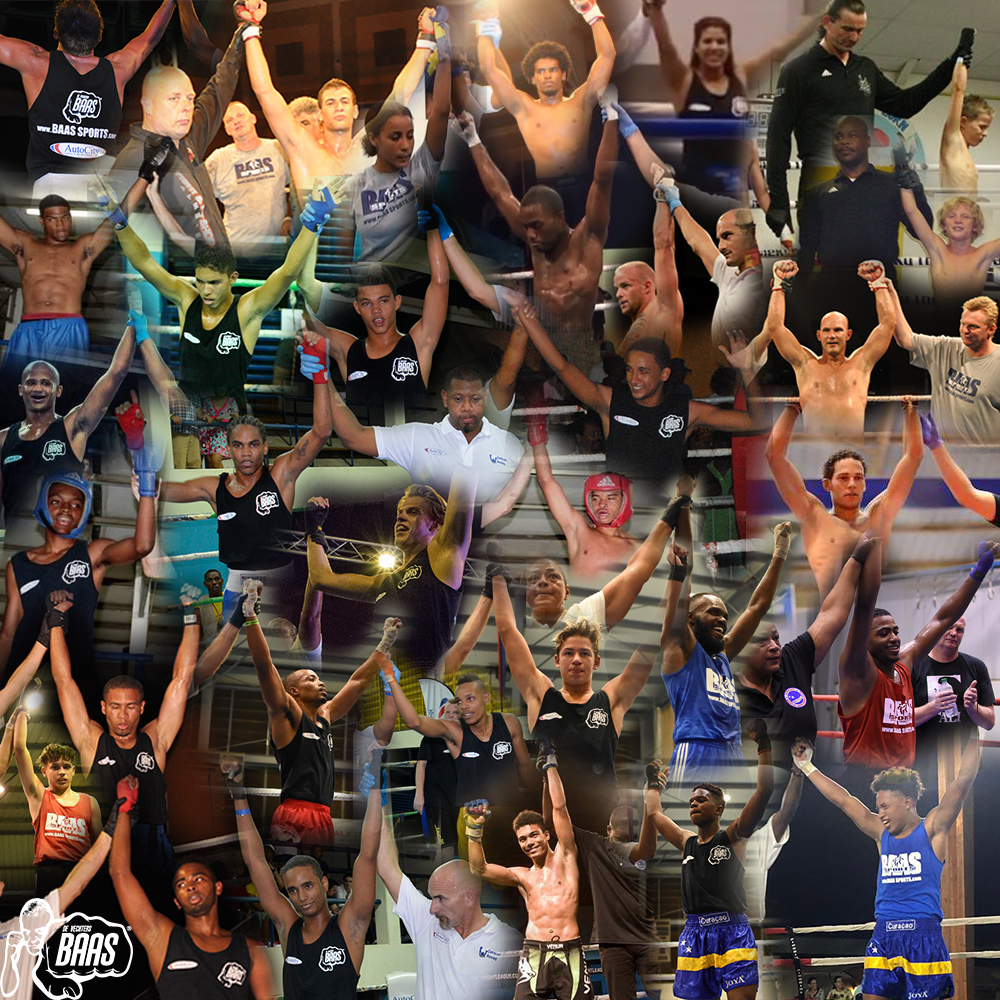 The athletes of Baas Sports Curacao were and still are, most of the times victorious.  
If you are not in the pictures, don't take it personal. Edwin Baas is proud of all of you, everyone who has the guts to enter the ring or cage. With participating you're already a winner. Losers don't exist in combat sports.
Baas is also proud of all those who have not competed (yet), and train hard and practice the sport seriously.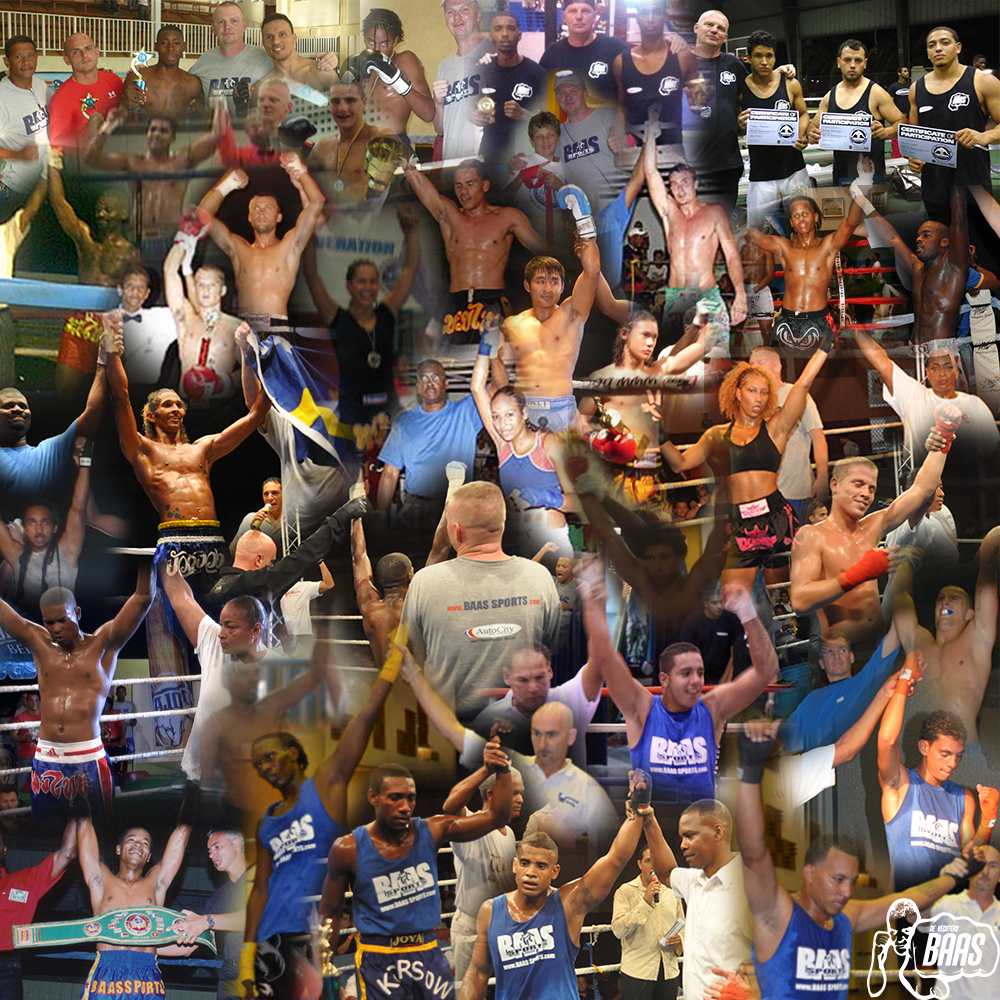 Go on the "history" button and several buttons from different years will appear.
Events organized by Edwin Baas with CUMAFE and/or CuraBox (formerly known as CABA) or under supervision and with help if needed.
2-2004 CUMAFE competitions in Karate and Muay Thai kickboxing @ SPC (St. Paulus college)
4-12-2004 "Night of the Martial Arts" with Karate, Taekwondo, Judo, Aikido, Capoeira, Kung Fu, Muay Thai, MMA @ SDK (Sala Errol Rooi – Sentro Deportivo Korsou Brievengat)
11-6-2005 "CUMAFE championships" in Karate and Muay Thai kickboxing @ KDS (Klup di Shel Suffisant)
13-11-2005 "Free Fight Championship" @ SDK
10-12-2005 "Night of the Martial Arts" with Karate, Taekwondo, Judo, Aikido, Capoeira, Krav Maga, Jiu Jitsu, Muay Thai, MMA @ SDK
2006 "CUMAFE championships" in Karate, Muay Thai kickboxing & MMA @ DB (Don Bosco Buena Vista)
2007 "CUMAFE championship" in Karate and Muay Thai kickboxing @ SDK
1-12-2007 "CUMAFE Fight Night " with André Jean-Philippe (MQ) won Saint-Thierry Auret (SX) @ SDK
3-5-2008 "Born 2 Fight" with Danny van der Veen (Baas CW) won Ivan Pavion (SR) @ SDK
2008 "CUMAFE championships" in Karate, Muay Thai kickboxing and grappling @ SDP (Skol di Polis)
29-11-2008 "CUMAFE Fight Night" with Donovan Lang (Baas CW/Kops NL) won Rudsel Nisia (TFD), SX, MQ, TT, SR, CW @ SDK
2009 "CUMAFE championships" in Karate, Muay Thai kickboxing, MMA, grappling, boxing, Kung Fu @ DB
28-11-2009 "Fighters of the Caribbean 1" with MT-A Cedrick "Tula" Copra (CW) won Remco Hisken (NL), SX, MQ, CW @ SDK
30-5-2010 CABA boxing Papa Godett trophy
2010 "CUMAFE championships" in Karate and Muay Thai kickboxing @ SDP
2010 "Honor and Respect" with Karate, Muay Thai kickboxing and boxing @ DB
6-11-2010 "Fighters of the Caribbean 2" with Denise Kielholtz (CW/ NL) won Ouasila Nasseri (MA/ NL), SR, MQ, US, SX, BQ, CW @ ISC (International School of Curacao)
5-30-2011 CABA boxing Papa Godett trophy for Nezar Regales (Baas CW) with SR, BQ, CW @ Punda
2011 "CUMAFE MMA championships" with BQ, CW @ SDP
27-8-2011 "Curacao Rumble 1" boxing (CABA) & MMA (CUMAFE) with Argenio Pieters (Baas CW) won Efi-Jimmy Croes (AW), AW, BQ, NL @ ISC
1-5-2012 R&Js course CUMAFE by Glen Huisman of the WMTA (World Muay Thai Association) with kicbox and MMA competitions @ SDP
5-5-2012 "Fighters of the Caribbean 3" with MT-A Caribbean title WMTA Milangelo Eugenio (Baas CW) won Stacy Hassell (AW), SR, SX, MQ, AW, NL @ ISC
30-5-2012 CABA boxing Papa Godett trophy for Justin Gogulski (Baas CW)
22-9-2012 "Curacao Rumble 2" with MMA-Pro Mohamed Hussein (Baas CW) won Juan Villanueva (VE), AW, SX @ ISC
15-12-2012 CABA boxing championships @ ISC
23-2-2013 "Dominance 1' MMA-Pro Mohamed Hussein (Baas CW) won Tija Stanley (KN), SR, BQ @ ISC
30-5-2013 CABA boxing Papa Godett trophy for Argenio Pieters (Baas CW)
1-6-2013 "Here comes the Boom" with MMA-Pro Carlos Salazar (VE) won David Manuel (CW), BQ, AW, NL @ WTC (World Trade Centre)
22-6-2013 "Dominance 2" with MMA-Pro Mohamed Hussein (Baas CW) won Robert McCarthy (JM), SR, US, TT, VE, BQ, AW, CW @ ISC
5-10-2013 "International Cage Warriors" MMA-Pro Oscar Sosa (DO) won Anthony Ignacio (AW), JM, TT, DO, KN, AW @ ISC
9-11-2013 CABA boxing championships @ UNA (Universiteit van de Nederlandse Antillen) now known as UoC (University of Curacao)
30-11-2013 "Dominance 3" with MMA-Pro Evan Nedd (AUA) won Mohamed Hussein (CW), AW, VE, CW@ JCC (Johan Cruyf Court)
10-5-2014 "Fighters of the Caribbean 4" with MMA-Pro Mohamed Hussein (Baas CW) won David Manuel (CW), SR, BQ, US, AW, JM, TT, SX, CW, CABA & CUMAFE @ ISC
30-5-2014 CABA boxing Papa Godett trophy for Jamel Craig (Kamakura/ Sitan Gym US)
29-11-2014 "Dominance 4" with MMA-Pro Mohamed Hussein (CW) won Evan Nedd (AW), AW, VE, CW@ JCC
9-5-2015 "Fighters of the Caribbean 5" with Caribbean WMTA title Joshua Karsters (SR) won Akeem Lewis (SX), NL, SR, BQ, AW, SX, CW, CuraBox & CUMAFE @ ISC
30-5-2015 CuraBox Papa Godett trophy for Redferne Regales (Baas CW)
3-10-2015 "King's land" with MMA-Pro Final Joash Walkins (TT) won Jairzinho Kowsoleea (CW), VE, NL, BQ, AW, CW @ ISC
18-6-2016 "Tribute to Muhammad Ali" CuraBox @ SDK
12-11-2016 "The noble art of Boxing" CuraBox @ SDK
27-5-2017 "Honor Fight League" with MT-A Redouan Cairo (Mousid NL) won Carlos Salazar (VE), VE, SU, US, NL, AW, CW @ SDK
30-9-2017 "Tribute to Ibi Zimmerman" CuraBox @ SDK
21-11-2017 "Fighters of the Caribbean 6 " with MT-A Cedric Bacuna (CW/ NL) won Jonasky Sojo La Maquina (VE), SR, MQ, AW, NL , VE, CW @ ISC
12-5-2018 "Roll with the punches" CuraBox with AW, BQ, SX @ SUF (Sala Niels Liberia in Sentro Pedro Odulio Willems Suffisant)
8-9-2018 "International CuraBox" with AW, SX @ JCC
6-10-2018 "Honor Fight League" with VE, SU, US, NL, PK, BR, SX, CW @ ISC
1-6-2019 "International CuraBox" with AW, BQ, SX @ SUF
13-6-2020 "Power Punch Challenge" CuraBox
11-7-2020' Sparring bouts CuraBox @ PF
1-8-2020 Sparring bouts CuraBox @ SBC
17-1-2021 Battle of the middleweights CuraBox @ AA
27-2-2021 CuraBox Battle @ SBC
27-6-2021 CuraBox Battle @ AA
3-10-2021 CuraBox Battle @ AA
27-2-2022 Battle of da B-boyz CuraBox @ AA
26-3-2022 Battle of the rising stars CuraBox @ SDK
27-4-2022 Power Punch Challenge CuraBox @ Punda
28-5-2022 CuraBox vs AruBox @ SDK
27-8-2022 International Boxing Day @ SDK
24-9-2022 boxing Curaçao vs Venezuela & Dominican Republic @ WTC
12-11-2022 Kickbox youth Team Farao vs Suriname @ TF
26-11-2022 International boxing invitationals with NL, AW, CW @ SDK
 1-4-2023 Boca Boxing event  with AW, CW @ SDK
29-4-2023 Supreme international boxing event with AW, VE, DO, BR, PA, PR, PE, CW @ Sambil
10-6-2023 CuraFight Night with AW, CW @ SDK