Before Edwin Baas came to 5999 (Curaçao) in August 2001, he was teaching in The Netherlands.
In the photos below. Baas receiving the teacher/instructor's degree of the Muay Thai Federations MTBN (Muay Thai Bond Nederland) and WMTA (World Muay Thai Association). The 1st competition Thaiboxer of Baas (teaching @ Wadokan Haarlem) was Khalid El Aater, who made a successful debut (Eindhoven 1996). The 1st Baas fighter who won by KO was Erçan Yüksel (Hellevoetsluis 1996). The 1st female fighter was Palmira Sandvliet with a 1st round victory at the Mix Fight Night (Haarlem 1996). The 1st fighter of Baas in an international fight was Boubkar Belkasmi, who won Belgium (Bladel 1996). Many successes followed and because of the great success in relation to the small dojo, the group moved to a bigger location, the sports facility of the M.L. King School, where Baas already gave Taekwondo classes. Also in this photo compilation a lot of top fighters and top trainers (insiders know them and their track records); The Late Jon Bluming, Chris Dolman, Peter Aerts, Gilbert Ballantine, Gerold Mamadeus, Peter Teysse, Thom Harinck, The Late Dennis de Preter, Lucien Carbin, Dick Smolders, The Late Nordin Ben Salah, Ronnie Jackson, Michel van Zeelt, Ino Alberga, John Akkerman, Glen Huisman, Peter Koopman, Pedro Rizzo, Denis "De Rus" Sharoykin and many more.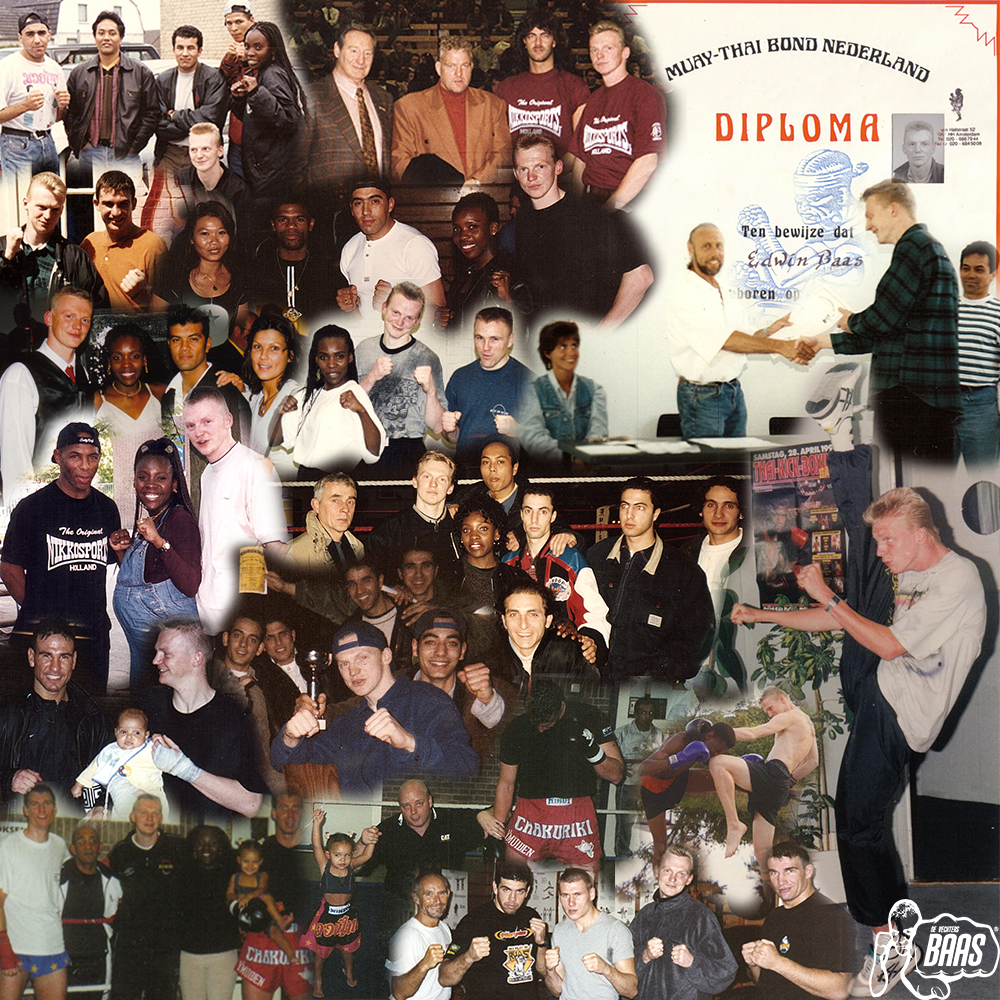 Edwin Baas @ Dick Smolders' Wadokan Haarlem. Baas won various karate tournaments and championships and was selected for the Dutch selection to represents The Netherlands @ various championships of the WIKF (Wado International Karate Federation), like the European Championships in England and Italy and the World Championships in Athens, Greece.
In the photos below karate masters Dick Smolders, Arnold Keizer, The Late Tatsuo Suzuki, Edwin Baas, Harold van der Rijst (at KBN championships Baas represented his club Shintai Apeldoorn where he occasionally trained) and The Late Naoki Ishikawa. Baas obtained the black belt after an exam taken by The Late Tatsuo Suzuki, The Late Naoki Ishikawa and The Late Hiroji Fukazawa, during a training camp in America. Baas with Team Venezuela that won the 1993 World Cup with coach The Late William Millerson (Curacao) and some members of the Dutch team; Abderachman Tounouh, Carlo Moerman and The Late John St.Luce.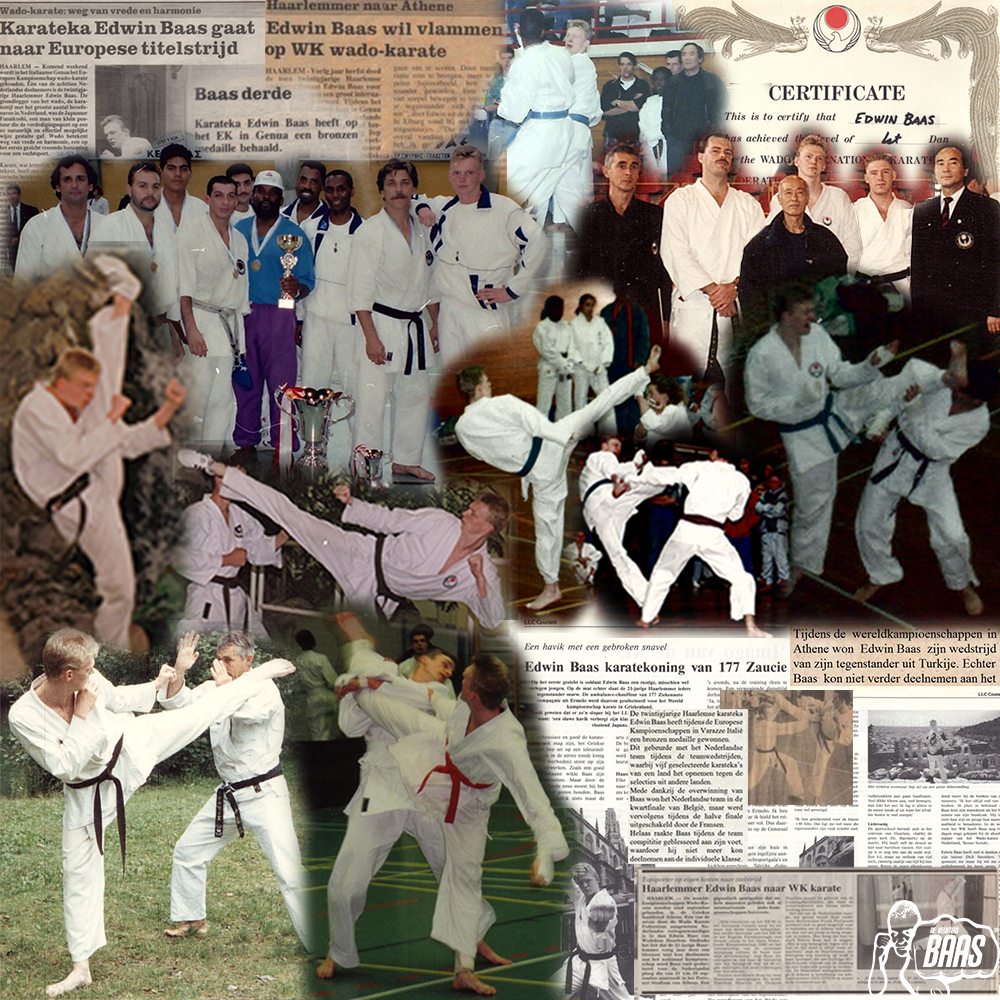 Edwin Baas @ Marc van Keulen's Taekyon Haarlem, one of the best Taekwondo teams of The Netherlands with high level competitors that won many national and international prices. Top athletes from all over the country came to Haarlem to train under Marc's guidance.
In no-time Edwin Baas became A-class and competed in a lot of international tournaments and championships in Denmark, Germany, Belgium, The Netherlands, etc. and in a few years he became black belt of the TBN (Taekwondo Bond Nederland) and WTF (World Taekwondo Federation).
Marc soon entrusted Baas to teach. At first only to the youth and later Baas got the whole Taekwondo Club Haarlem department in the sports facility of the Martin Luther King School.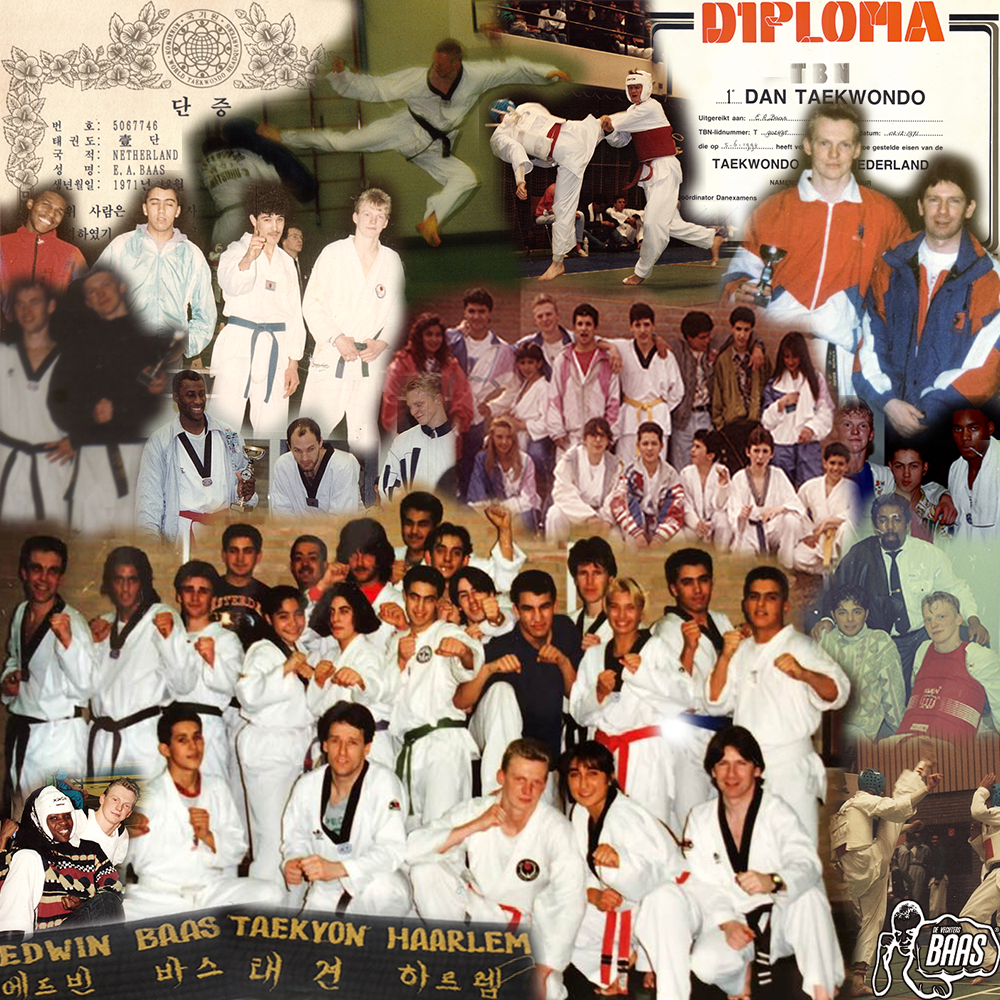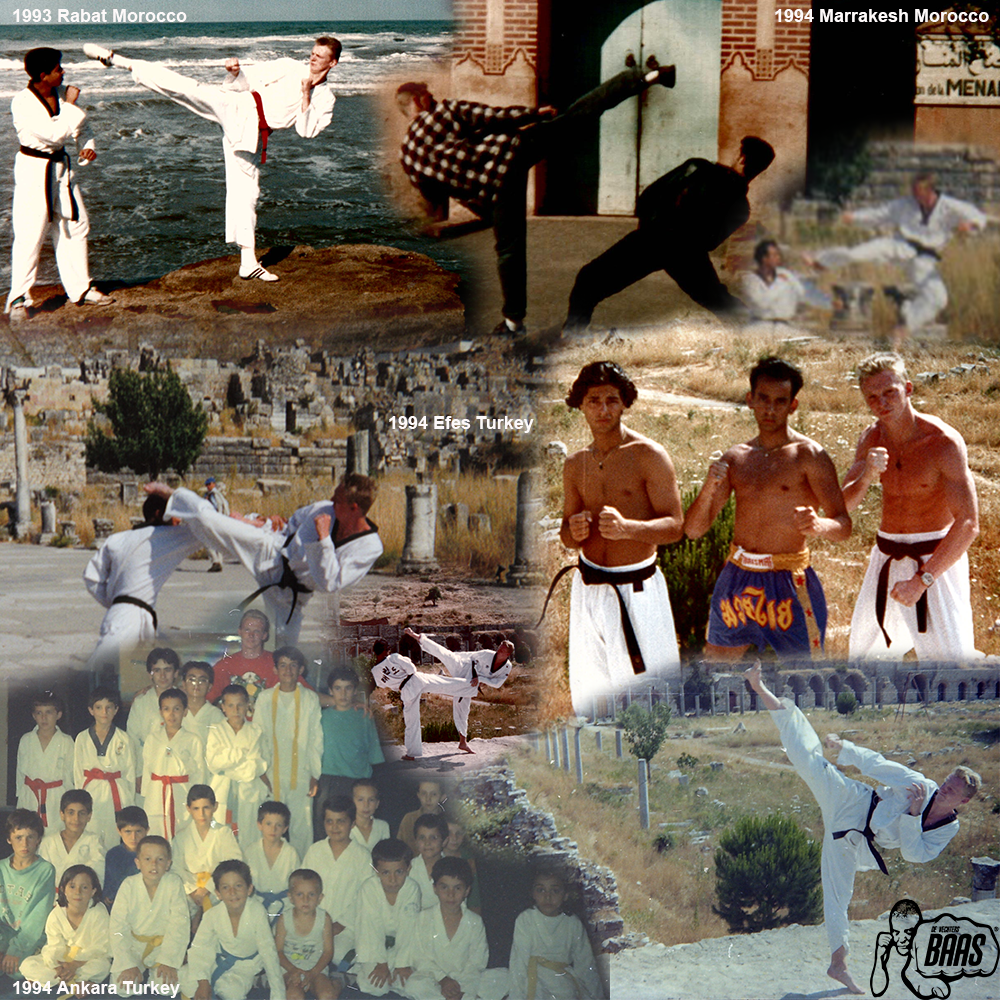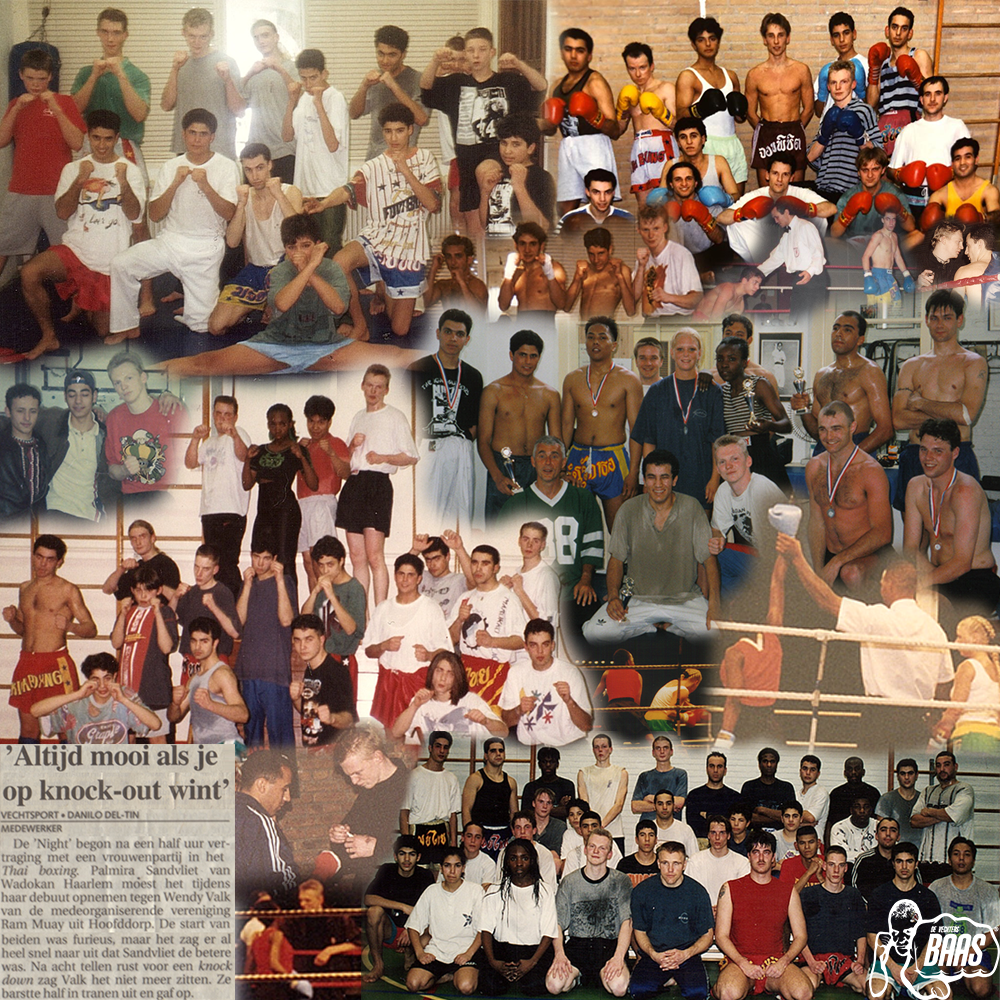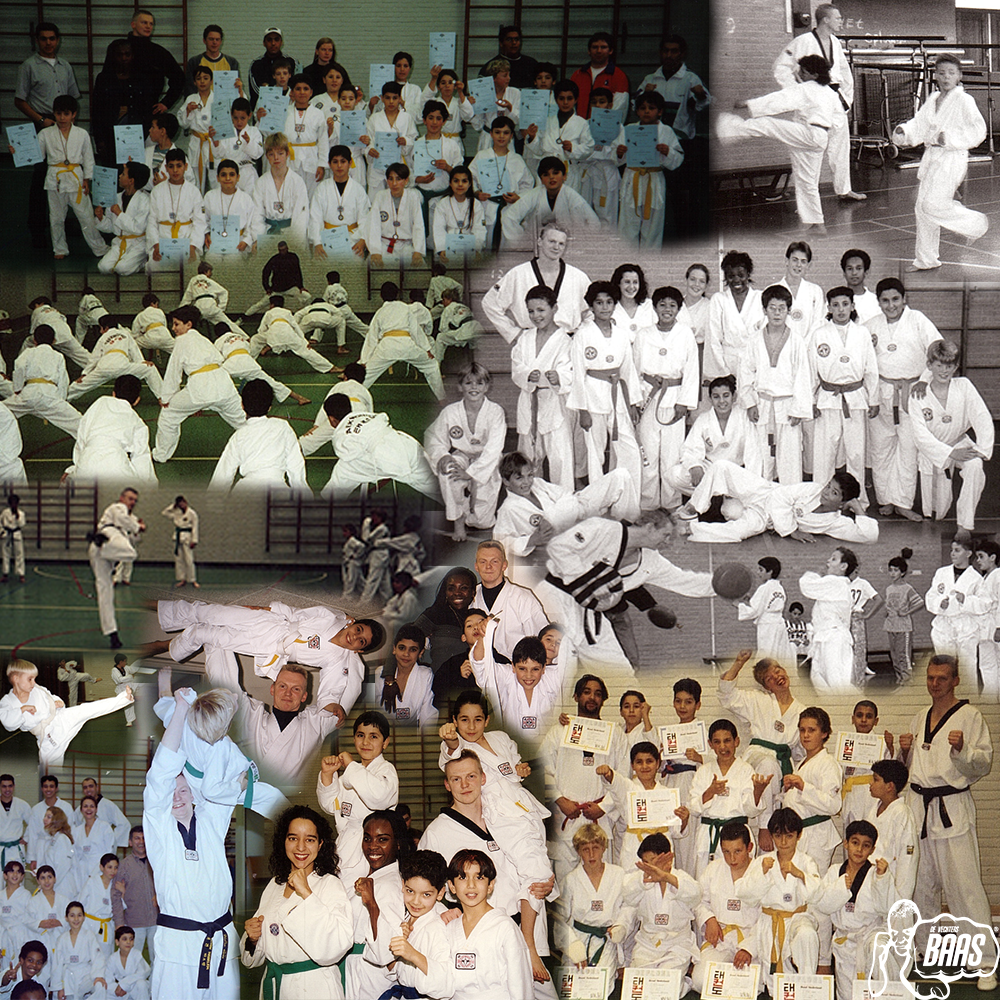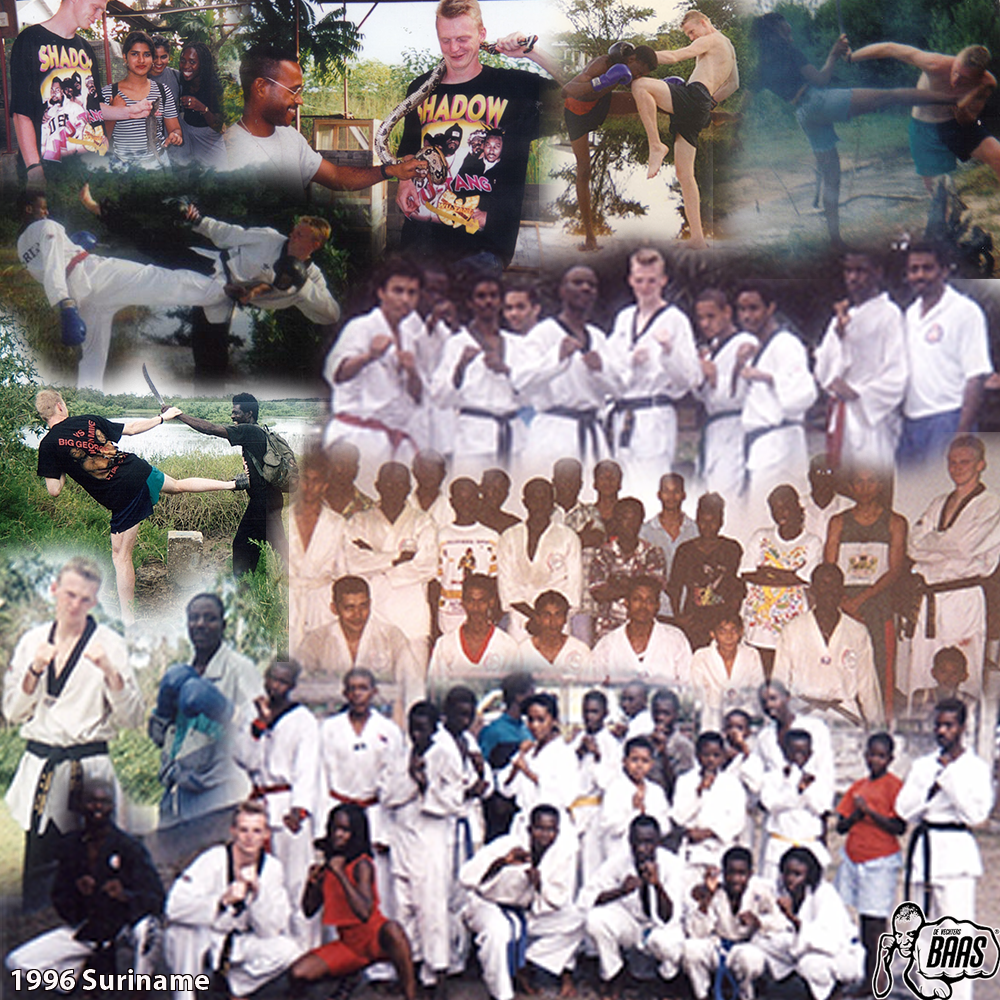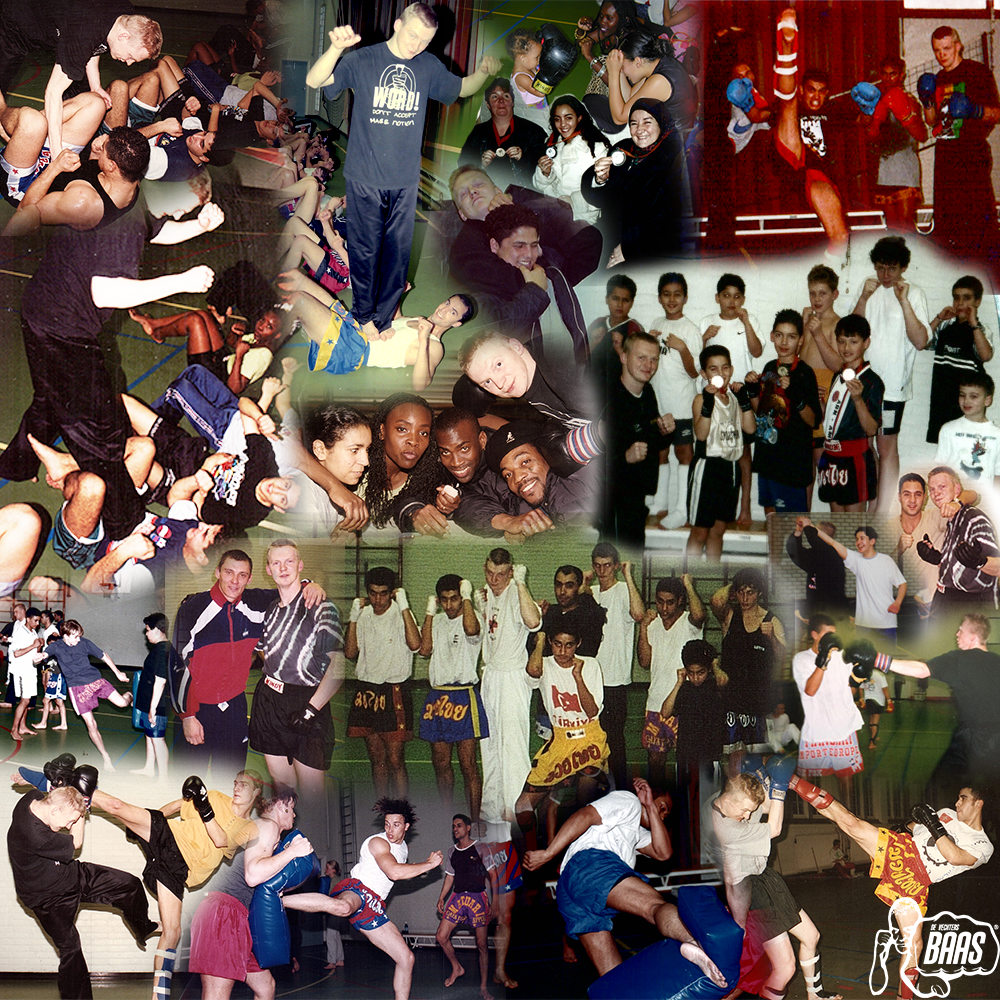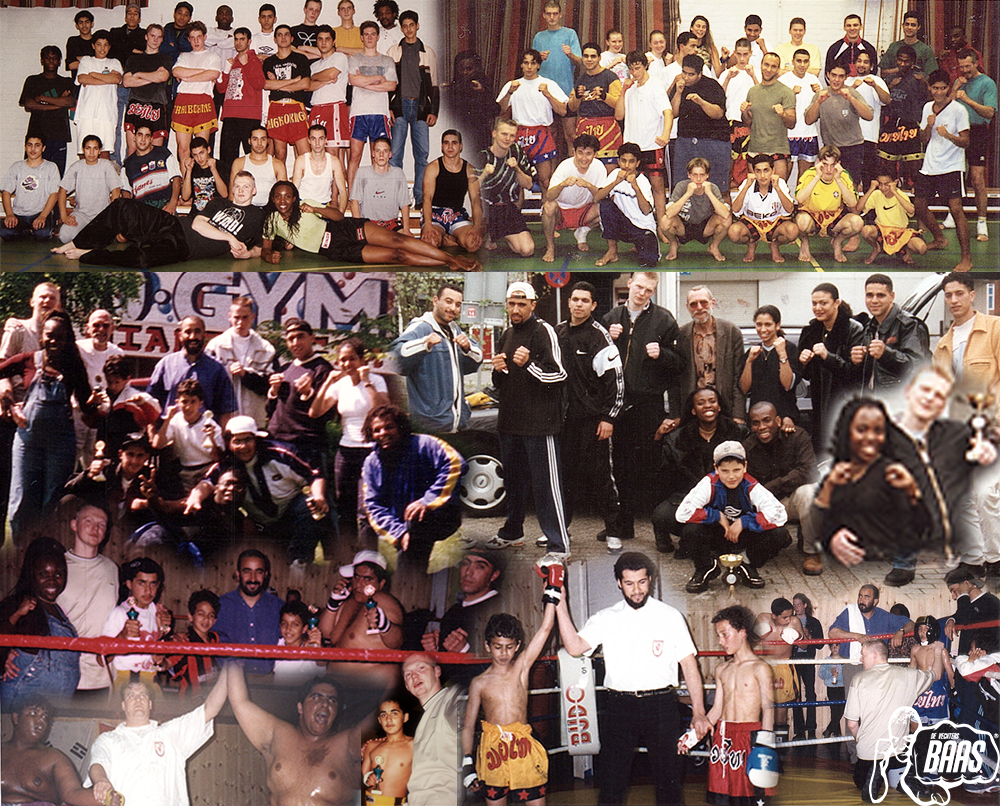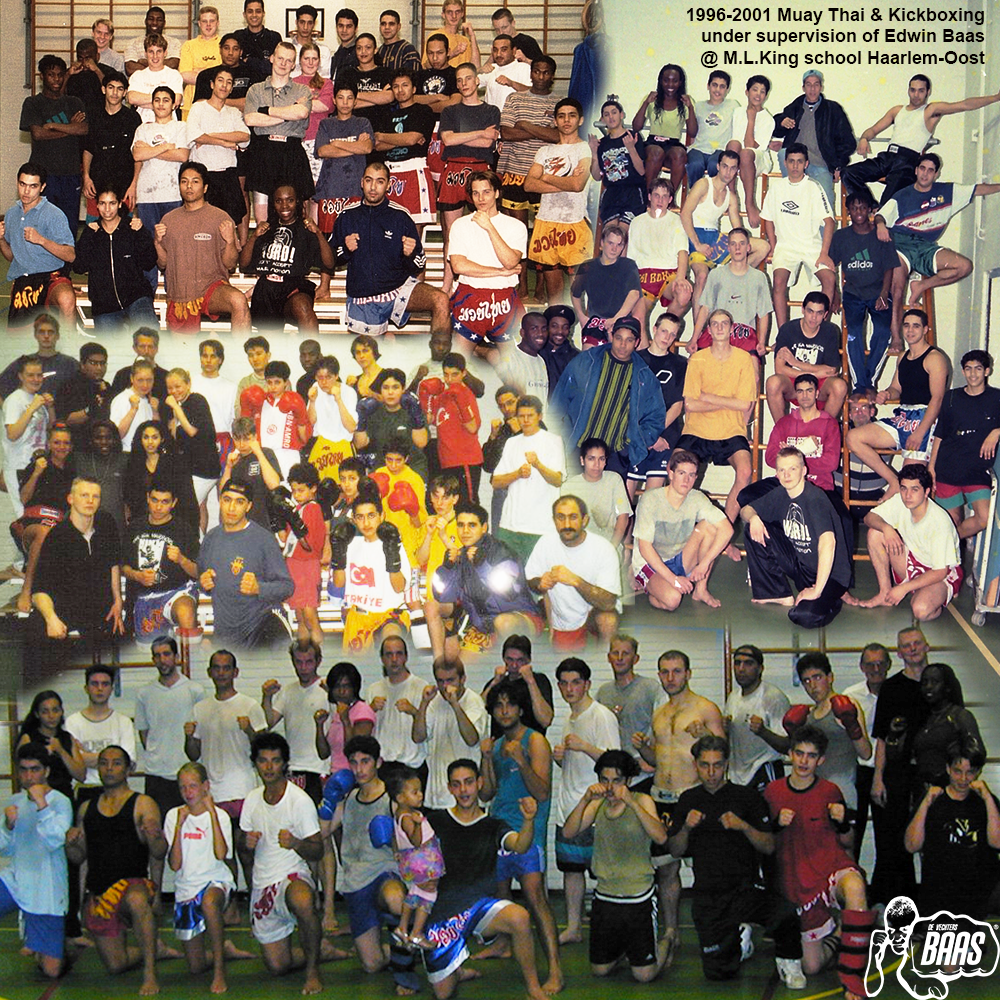 Alberto Klabér, Abdel ben Hammou, Abdel Hamid El Meddioui, Abdel Roudi, Abdelali Boussetta, Abdelkadir Kaychouchi, Ad van der Hijden, Ahmed Bouzia, Ahmed Zamrani, Albert Bouma, Alex Mulder, Ali Yuksel, Andre Trommel, Andry Westerhout, Anouare Farhat, Arda Guncicek, Arif, Arjuna Onck, Arno Hermans, Aytekin Sarray, Aziz Ouasmini, Aadarsh Bisoen, Abdeslam Ben Hadi, Alex Lindeboom, Alper Yerlibucek, Angelo Verzeilberg, Anouar Belgnaoui, Anouare Farhat, Appie, Arley Alves, Aydin Kahraman, Aziz Alouamarie, Atif El Razouhi, Abdelhamid el Kanddousi, Beryl Arons, Bilgin Uray, Billy Petri, Boubkar Belkasmi, Bagdad el Mesbahe, Barbara Tang, Bas Lammersen, Bas van Galen, Berkant Buker, Bianca Claus, Birol Guncicek, Brian van Leeuwen, Buhran Kutlu, Burak Aradas, Burak Ergin, Carlos Markiet, Chakib Kada, Chakir El Khalifioui, Charissa, Charles Hulan, Cafer Kacmaz, Can Aydogdu, Cennet Buker, Chantal Deen, Charissa Soumeru, Chedli Souilmi, Cherina, Chris Burggraaf, Deborah Kauling, Demir Sözar, Denis Sharoykin, Deniz Akpinar, Django Tapilatu, Duncan Kaestner, Danny van Akkooi, Denise Brink, Donny Hoorns, Driss El Khantouri, Debby Eleveld, Deborah Kalis, Desiree Kalis, Ed Oosterbaan, Edwin van Rossum, Ercan Yuksel, Erik Kroon, Ernst Vuik, Evert Fyeet, Edward Broers, Elisabeth Pels, Emen Elkalifioui, Eric de Zwart, Erik de Groot, Erik Pel, Errol Maynard, Emily, Faouzi El Khalifioui, Farouk Miloudi, Fatima el Medioui, Frank Kilian, Fred Katers, Ferhat Koç, Fouad Bekkach, Franklin Limon, Frits Gerritsen, Furat Aydemir, Floris Floor Siegelaar, Ganimet Berisha, Gene Power, Georgio Schultz, Geraldine Schasfoort, Guilaine Meertens, Hakim Lamou, Halil, Hans van Engelen, Haruo Takahashi, Hassan Aluomarie, Henk Finsy, Hillie Welch-Bhugwandass, Hakan Guncicek, Halil Aydemir, Harry Huisman, Hasan Dumunckaya, Hisham Diraa, Huseyin Celik, Ibrahim Belkasmi, Ibrahim Sezer, Ismael Ceki, Ibrahim Mulashi, Ilana McCance-Price, Ingmar Wijnoogst, Ivan Schuurman, Ivo Nelissen, Jaap Stoop, Jaffar Hoseyni Hosseyni, Jaouad Redouani, Jasper Vonk, Jawad Redouani, Jeffrey Blom, Jeffrey Markiet, Jermaine Dahl, Jeroen Scholtelinde, Jeroen v.d. Veldt, Joaquim, Jochum, Johan Oppelaar, John Bawits, Jos van der Klei, Junior, Jamal Mahdad, Jan Stolwijk, Jasper IJzer, Jawad Ablouah, Jawad Darrari, Jawad Redouani, Jeroen Kaan, Jim Bawits, Jonathan v.d. Sluis, Jos van der Klei, Jeffrey Seegers, Jan Bierman, Joey Lukkien, Karim Benali, Karim Souilmi, Katt Zen, Kelly Muskiet, Kevin Kauling, Kevin Smits, Khaled El Khandousi, Khalid Bouhkizoe, Khalid El Aater, Khalid El Kandousi, Khalid Redouani, Kim Idis, Koen Lim, Koos Broekhof, Kazim Bektas (Sonny), Kim Schultz, Kevin Seegers, Kelly de Wendt, Lafid Belehcen, Laurens Ijzer, Lemia, Leroy Kaestner, Laura Smits, Lavinia de Vries, Leroy Carolina, Lot Weidemans, Louis v.d. Linden, Labib Souilmi, Maarten van der Neut, Malika Bouhriani, Malika el Meddioui, Marcel Takken, Merel, Metin van Wijk, Michael Brink, Michael Kottman, Michael Stolk, Mike Fox, Mike Welch, Millis Prens, Mo el Aaater, Mohamed Bouzia, Mohamed El Aater, Mohamed El Adnani, Mohamed El Hadouchi, Mohamed Houlich, Mohamed Kardouh, Mohamed Zamrani, Mohammed Farhat, Mohammed Kada, Mohammed Koudis, Moussa Lamou, Muammar Ilgen, Muhammet Ali Özkan, Murat Ilgen, Murat Isci, Muslim Mouslim Mourtouzalev  Umarov, Mustafa El Barmou, Mustafa Mamnouh, Maarten v.d. Hoeven, Maikel Boonders, Manuel Denis, Marco de Wit, Marco Hendriks, Mark Krol , Marvin Wilcus, Matthijs Kuen, Matthijs Schuiten, Mesut Tekir, Michael Bergsma, Mike Dohron, Milco Schotvanger, Mirjam Weber, Mohamed Abdeli, Mohamed Aznay, Mohamed Sharef, Mustafa Ben Haddi, Mustafa El Mesbahi, Madelaine Rooyers, Mario Eleveld, Mehmet Ergin, Michel Cetin, Najim El Bouazatti, Nordin El Hadouchi, Najib Hamidi, Najib Tuzani, Najim Belehcen, Najim El Mesbahi, Nick Kroone, Nick Merkelbag, Nicky Stokman, Nordin Aurag, Onne Buil, Oliver Bruno, Osman Guncicek, Odin Smakman, Oguz Ormantepe, Ouassim, Orinta van Lent, Paul Bruno, Perez Wajwakana, Peter Reffeltrath, Peter van Gelder, Peter Weber, Peter Berkhout, Patricia Egos, Patrick Jansen, Patrick v. Veldt, Patrick Voordouw, Perry Adams, Piet Mannes de Wit, Paul Reinerie, Pauline, Rachid, Rachid Erragadi, Rafik Zohri, Ravi, Reda Fakirmohamed, Reinout Korbee, Remco Hillenaar, Richard Fens, Rick Hagen, Robin Ruben, Ruud Hardjokoesoemo, Rudy Hillenaar, Rachid Aznay, Rachid Mahdad, Rachid Zarouazi, Rafik Hamidi, Ralph Scherpenzeel, Randy Peltier, Raymond Maduro, Reinier van Wel, Remy Goercharan, Rene Wessel, Ria van Leeuwen, Ricardo v.d. Visch, Ricardo van Dorpen, Richard van Leerdam, Roland Sandvliet, Rolando Ferracini, Ron v.d. Aar, Roos Kabel, Roy Ligthart, Roy Teeuwen, Ruben Deyman, Ruben Ian Khan, Ruby van Norde, Said Redouani, Samir El Hasnaoui, Samir Ramdi, Selma Çimen, Seref Akkas, Serhat Çakirer, Serkan Çakirer, Sharif Fakirmohamed, Stanley Budding, Stefan Koster, Steyn Stijn Braams, Suat Uray, Sukru Kutlu, Sabrina van Leeuwen, Sahaj Harwood, Sahir ElMesbahe, Said Elhasnoui, Samira Ablouah, Sarah Pool, Saskia Planting, Serita, Sjaak v.d. Weiden, Sonalica Henriette, Sonny Beringen, Stephan Dijkstra, Suman Bisoen, Sumer Ozcan, Suzanne Verbeek, Sylvana Vlegels, Samir Berkan, Tahir Büdak, Tarik Belgnaoui, Toulin Bagdadi, Tuncay Demiral, Thijs Boegheim, Thijs Faber, Tiander Turpijn, Toeti Oey, Tom Thomas, Tuncay Camlidag, Tyani El Harchaoui, Ugur Aktas, Ugur Turkdogan, Umit Cinkiz, Valerie Sampimon, Vargo Bawits, Viktor Keisljv Kisslev, Virgil Bawits, Veysel Goktepe, Wesley v.d. Laan-De Vries, Werner van Bezu, Wout van Kessel, Yalcin Çakirer, Yassin Naddari, Yessin Belahcen. Yoenes Aoulad-Lfadil, Yodit Jacob, Zeki Camlidag, Dew Jagernath, Danny Soto, Mohamed Krim, Guido Uterloo, Hussyin Bouhkizou, Delano, Fouad Krim, Mohamed Aithassou, Belaini, Cedric Meulens, Leendert Verweij, Dennis Rock, Robin Dissel, Mahmut.