On this page pictures of the time before Baas came to 5999 (Curaçao) in August 2001.
Baas receiving the teacher/instructor's degree of the Muay Thai Federations MTBN (Muay Thai Bond Nederland) and WMTA (World Muay Thai Association). The 1st competition Thaiboxer of Baas (teaching @ Wadokan Haarlem) was Khalid El Aater, who made a successful debut (Eindhoven 1996). The 1st Baas fighter who won by KO was Erçan Yüksel (Hellevoetsluis 1996). The 1st female fighter was Palmira Sandvliet with a 1st round victory at the Mix Fight Night (Haarlem 1996). The 1st fighter of Baas in an international fight was Boubkar Belkasmi, who won Belgium (Bladel 1996). Many successes followed and because of the great success in relation to the small dojo, the group moved to a bigger location, the sports facility of the M.L. King School, where Baas already gave Taekwondo classes. In this photo compilation a lot of top fighters and top trainers (insiders know them and their track records); The Late Jon Bluming, Chris Dolman, Peter Aerts, Gilbert Ballentine, Gerold Mamadeus, Peter Teysse, Thom Harinck, The Late Dennis de Preter, Lucien Carbin, Dick Smolders, The Late Nordin Ben Salah, Ronnie Jackson, Michel van Zeelt, Ino Alberga, John Akkerman, Glen Huisman, Peter Koopman, Pedro Rizzo, Denis "De Rus" Sharoykin. Also Boubkar, John, Ibrahim, Stanley, Palmira, Ad, Ali, Khalid, Mohamed el A, Abdul, Rolando, Mohammed el H, Mohamed Z, Ahmed, Ercan, Afra.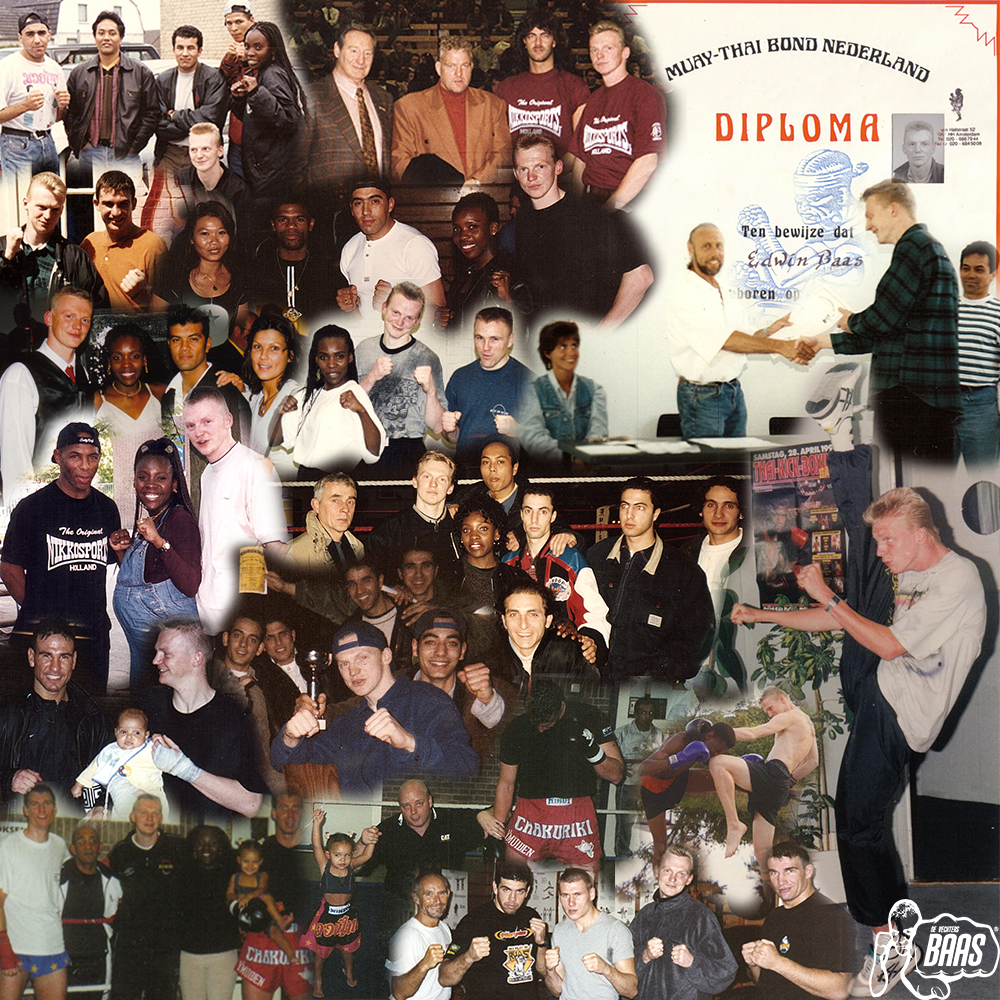 Paul and Oliver Bruno brought Edwin Baas to Dick Smolders' Wadokan Haarlem to train Karatejutsu.
Baas won various karate tournaments and championships and was selected for the Dutch selection to represents The Netherlands @ various championships of the WIKF (Wado International Karate Federation), like the European Championships in England and Italy and the World Championships in Athens, Greece.
In this photo compilation the karate masters; Dick Smolders, Arnold Keizer, The Late Tatsuo Suzuki, Edwin Baas, Harold van der Rijst (at KBN championships Baas represented his club Shintai Apeldoorn where he occasionally trained) and The Late Naoki Ishikawa. Baas obtained the black belt after an exam taken by The Late Tatsuo Suzuki, The Late Naoki Ishikawa and The Late Hiroji Fukazawa, during a training camp in America.
Also in the picture Baas with Team Venezuela that won the 1993 World Cup with coach The Late William Millerson (Curacao) and some members of the Dutch team; Abderachman Tounouh, Carlo Moerman and The Late John St.Luce.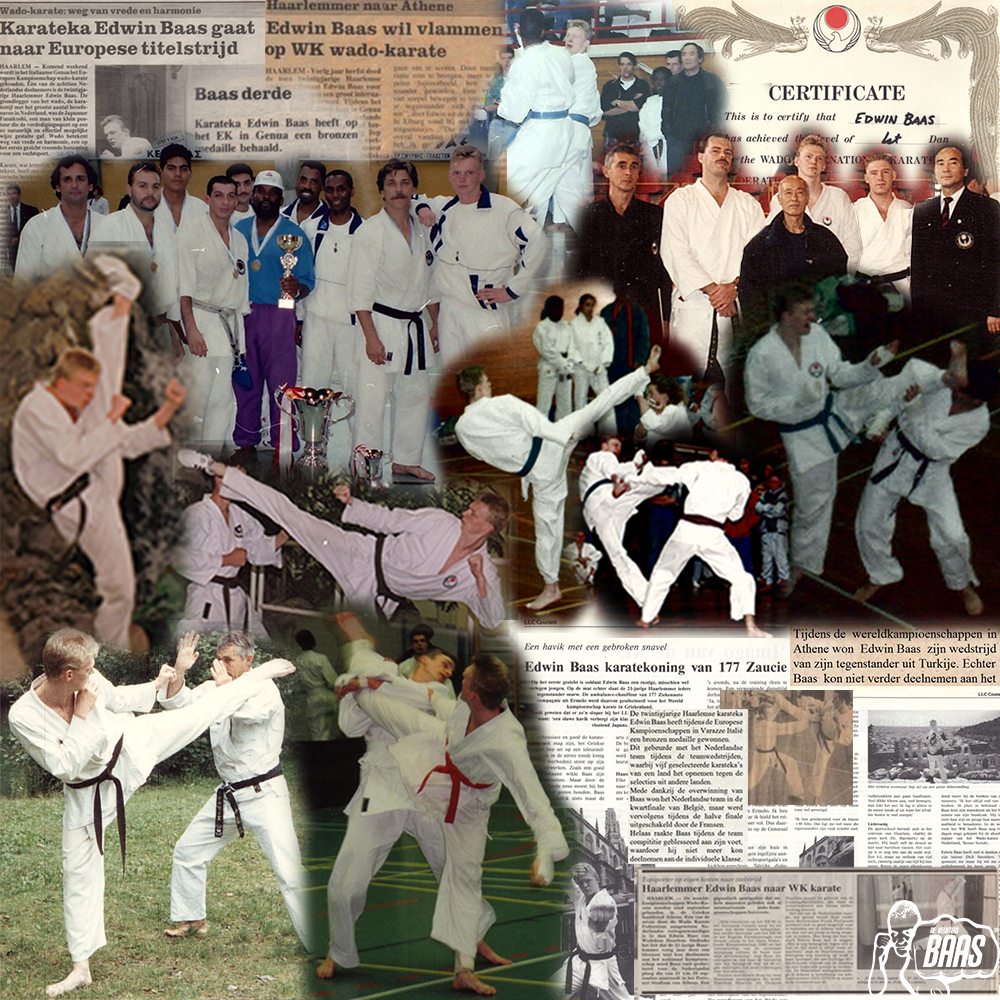 Mustafa El Barmou brought Baas to Marc van Keulen's Taekyon Haarlem, one of the best Taekwondo teams of The Netherlands with high level competitors that won many national and international prices. Top athletes from all over the country came to Haarlem to train under Marc's guidance.
In no-time Edwin Baas became A-class and competed in a lot of international tournaments and championships in Denmark, Germany, Belgium, The Netherlands, etc. and in a few years he became black belt of the TBN (Taekwondo Bond Nederland) and WTF (World Taekwondo Federation).
Marc soon entrusted Baas to teach. At first only to the youth and later Baas got the whole Taekwondo Club Haarlem department in the sports facility of the Martin Luther King School.
In the photo compilation next to Edwin Baas and Marc van Keulen; Alberto Klabér, Boubkar Belkasmi, Mohamed Kardouh, Jeroen Scholtenlinde, Cedric Meulens, Leendert Verweij, Lemia, Aytekin Saray, Murat Isci, Hassan Aluomarie, Arif, Mohammed El Hadouchi, Mohamed El Aater, Selma Çimen, Beryl Arons, Toulin Bagdadi, Karim Benali, Muhammet Ali Özkan, Ibrahim Sezer, Sukru Kutlu, Andrew Westerhout, Peter van Gelder. Mustafa Mamnouh, Valerie Sampimon, The Late Henk Finsy, Ad van der Heiden, Ali Yüksel, Mohamed Bouzia, Jasper Vonk, Ibrahim Belkasmi, Jos van der Klei, Samir Ramdi, Murat Ilgen, Millis Prens, Palmira Sandvliet, Ahmed Bouzia, Fred Katers, Stefan Koster, Kelly Muskiet, John Exalto, Fatih Tiken, Demir Sözar, Mike Fox, Frank Kilian, Django Tapilatu, Alex Mulder, Onne Buil, Jermaine Dahl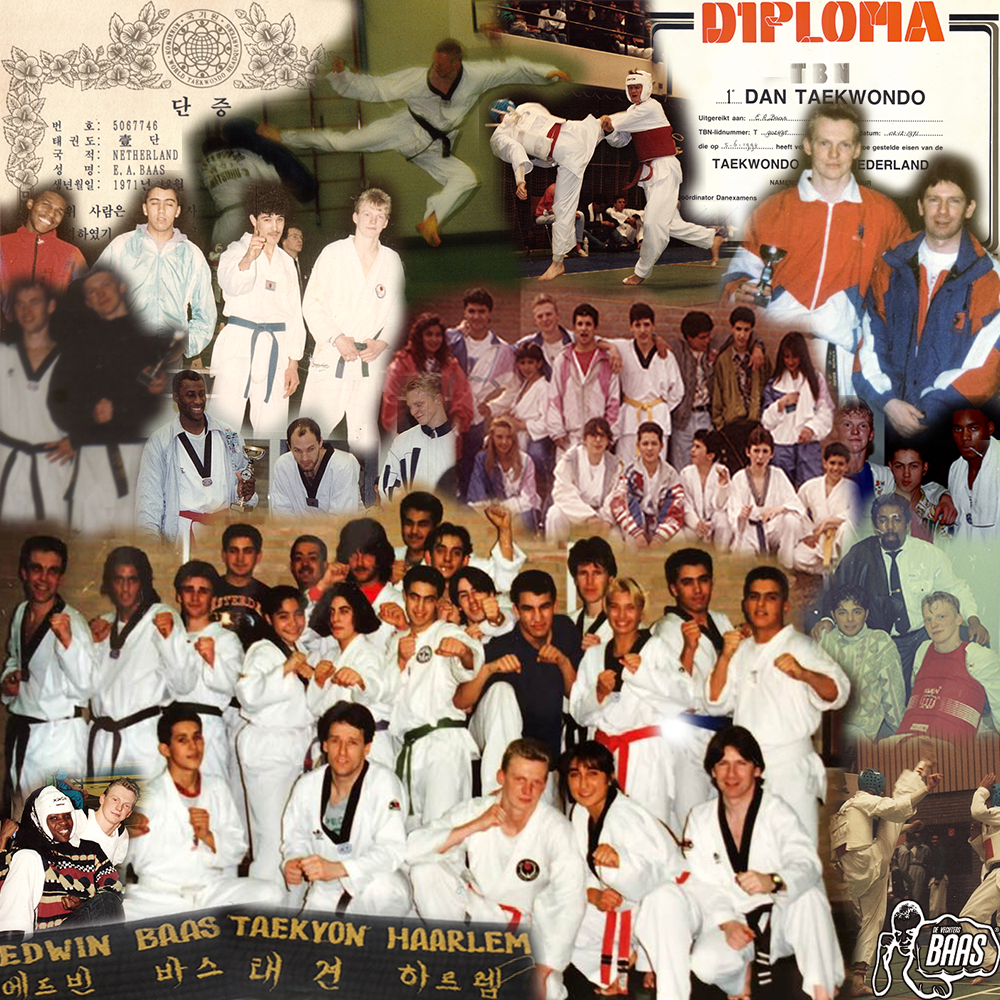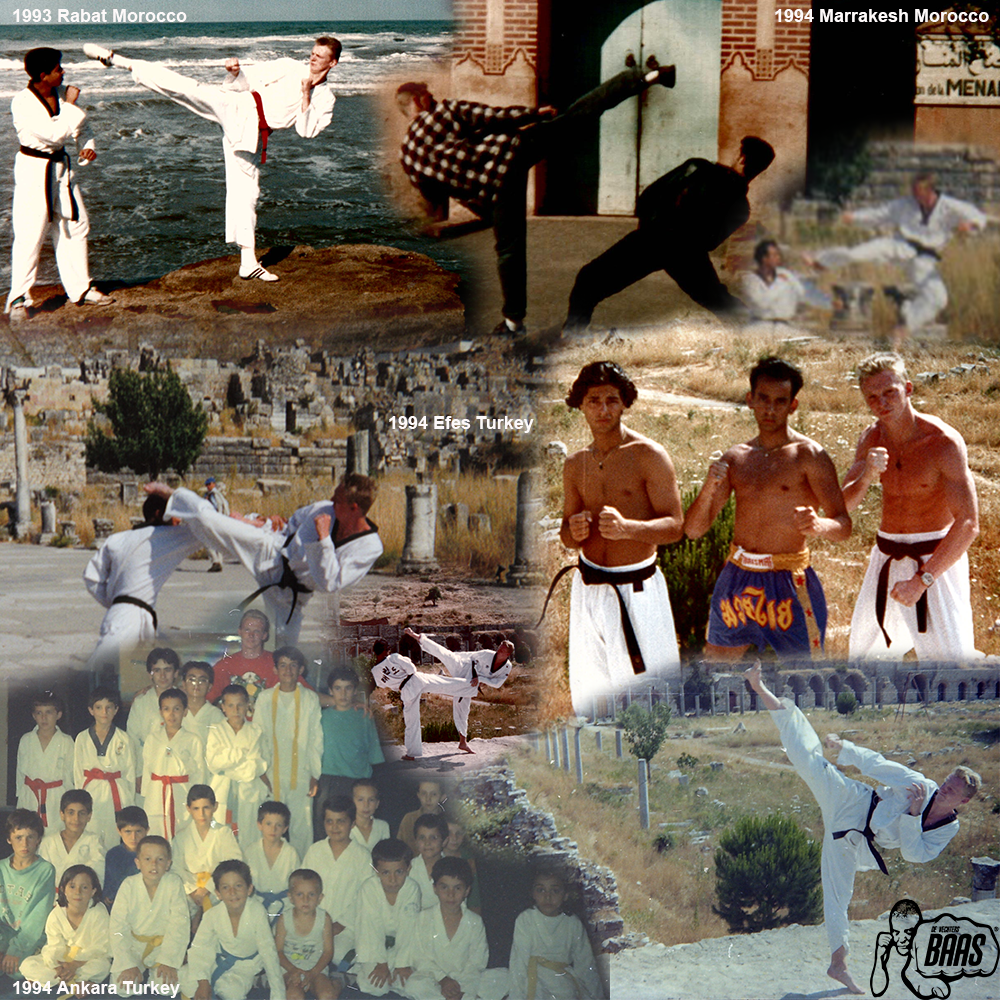 1994.09. staand; Jochum, Edwin v. Rossum, Edwin Baas (sensei), Steyn Braams, Abdelali Bousetta, Aytekin Sarray, Billy Petri, Metin. onder; Said Redouani, Mohamed El Hadouchi, Khalid El Aater, Hakim Lamou, Abdelkadir Kaychouchi, Moussa Lamou. Boubkar Belkasmi, Andre Trommel, Murat Ilgen, Stefan Koster, Ali Yuksel, Ravi, Fred Katers, Peter Weber, Rachid, Rolando, Abdel, Khalid Bouhkizoe, Chakib Kada, Perez Wajwakana, Ed Oosterbaan, Robin Ruben,
1996.06 Ladies 1. Palmira Sandvliet 2. Kim Idis LW 1. Mohamed El Hadouchi 2. Aziz Ouasmini MW 1. Boubkar Belkasmi 2. Koen Lim 3. John Bawits 4. Rick Hagen HW 1. Ibrahim Belkasmi 2. Peter Reffeltrath 3. Hans van Engelen 4. Marcel Takken. 1997.06 LW 1. Haruo Takahashi 2. Maarten v.d. Neut MW 1. Steyn Braams 2. Mohamed El Adnani HW 1. Ibrahim Belkasmi 2. Mohamed Zamrani 3. Johan Oppelaar EXH Boubkar vs. Seref Akkas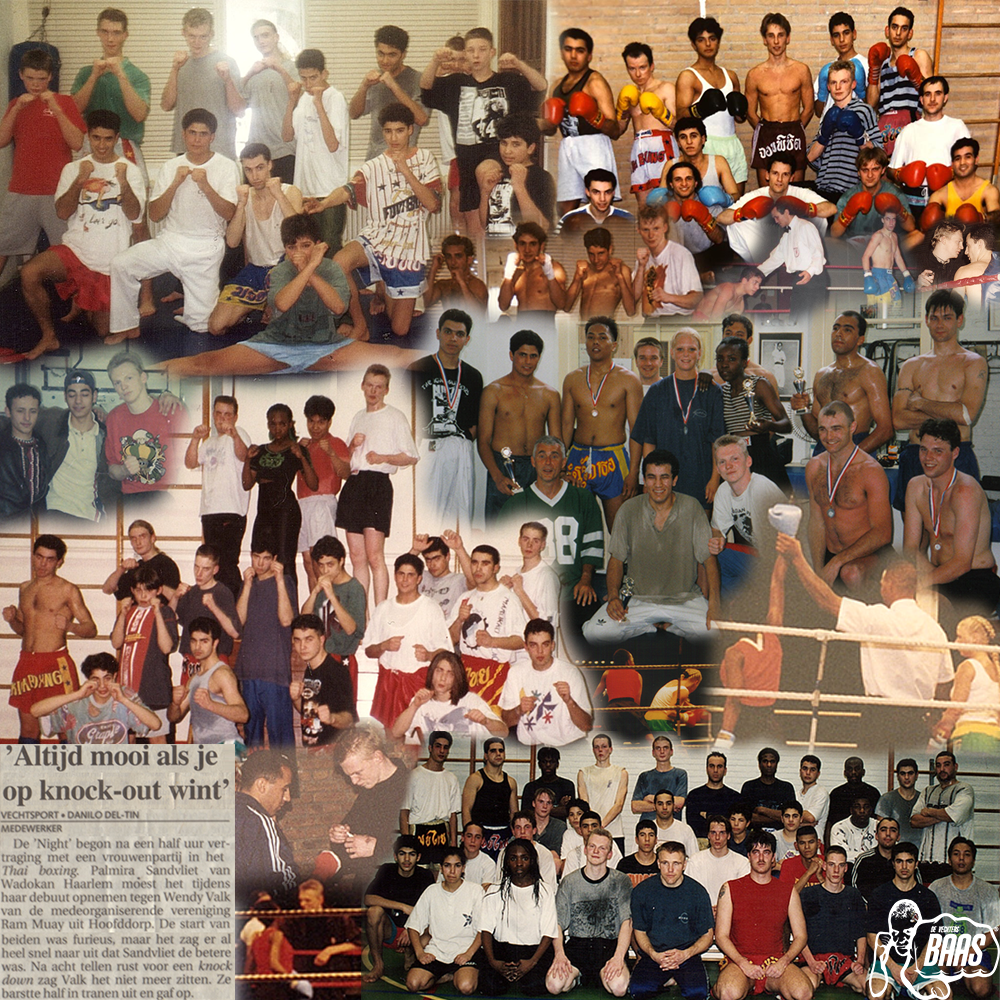 Samir El Hasnaoui, Karim Souilmi, Faouzi El Khalifioui, Chakir El Khalifioui, Serhat Çakirer, Yalcin Çakirer, Serkan Çakirer, Halil, Kevin Kauling, Deborah Kauling, Najim El Bouazatti, Michael Brink, Deniz Akpinar, Kevin Smits, Carlos Markiet, Jeffrey Markiet, Nordin El Hadouchi, Jawad Redouani, Mohammed Koudis, Merel, Rachid Erragadi, Duncan Kaestner, Rafik Zohri, Reda Fakirmohamed, Reda Fakirmohamed, Katt Zen, Tarik, Tuncay Demiral, Erik Kroon, Sahir El Mesbahe, Najim El Mesbahi, Rachid Aznay, Buhran Kutlu, Jawad Darrari, Cennet Buker, Berkant Buker, Michael Wanning, Mohamed Aznay, Ibrahim Mulashi, Can Aydogdu, Joerie Schaap, Najim Belehcen, Yessin Belahcen, Mohamed Abdeli, Zeki Camlidag. Abdel Roudi, Aziz Ouasmini, Koos Broekhof, Boubkar Belkasmi, Anouare Farhat, Marc van Keulen, Palmira Baas-Sandvliet, Malika Bouhriani (1st place B-class @ Leiden 1998.05.17), Mike Welch, Faroek Miloudi, Jeroen v.d. Veldt, Haruo Takahashi, Gerrie van Akkooi.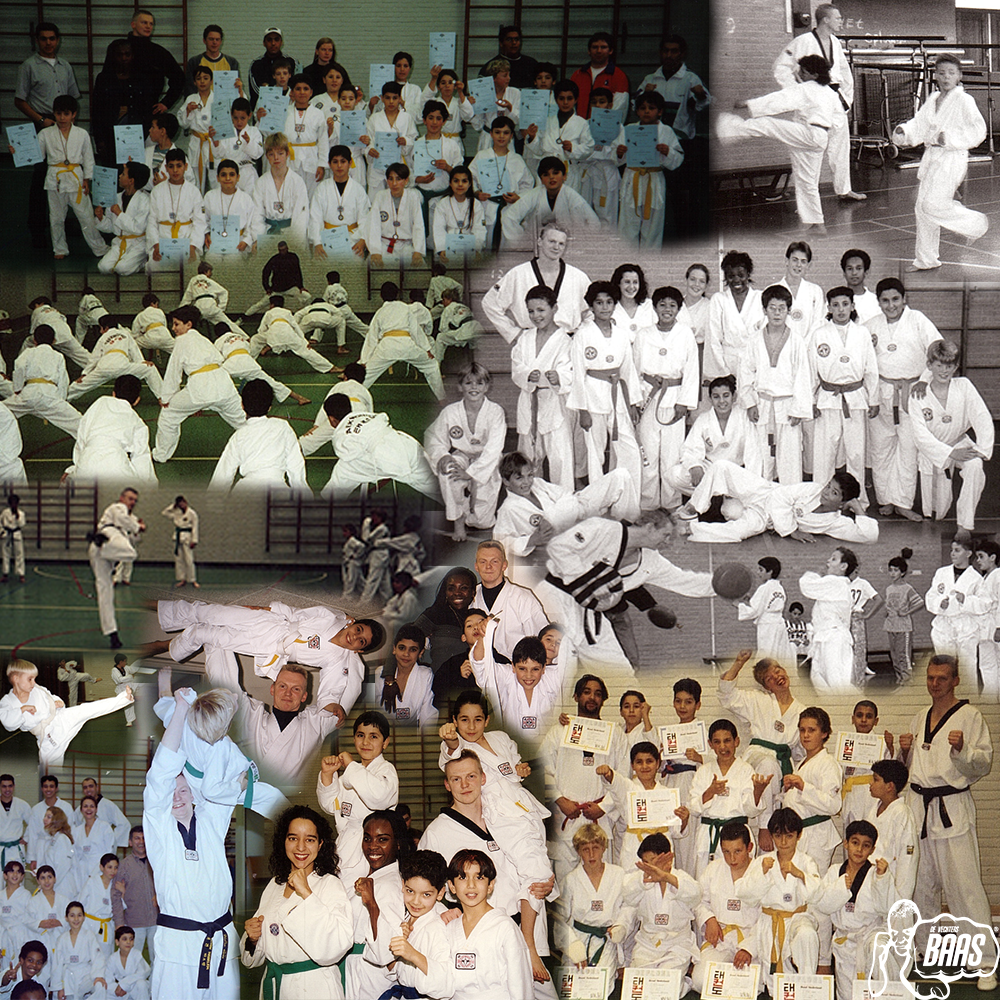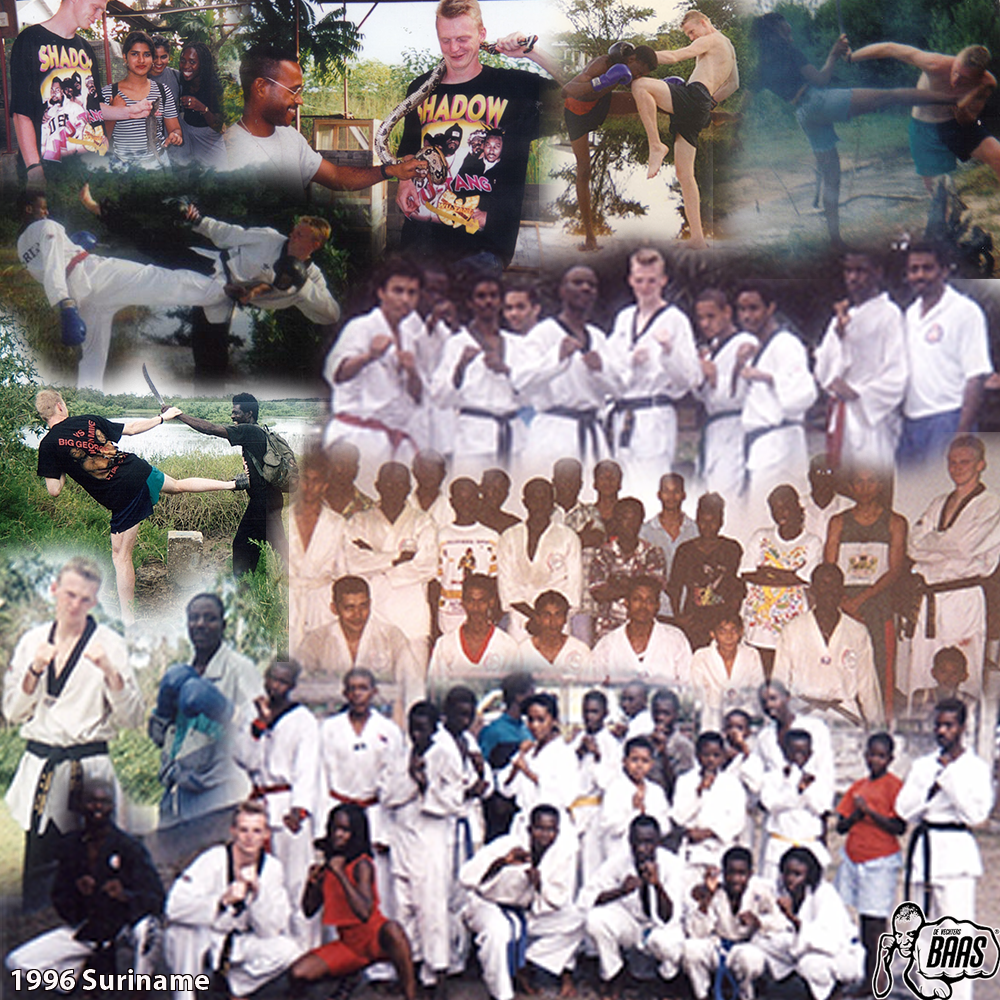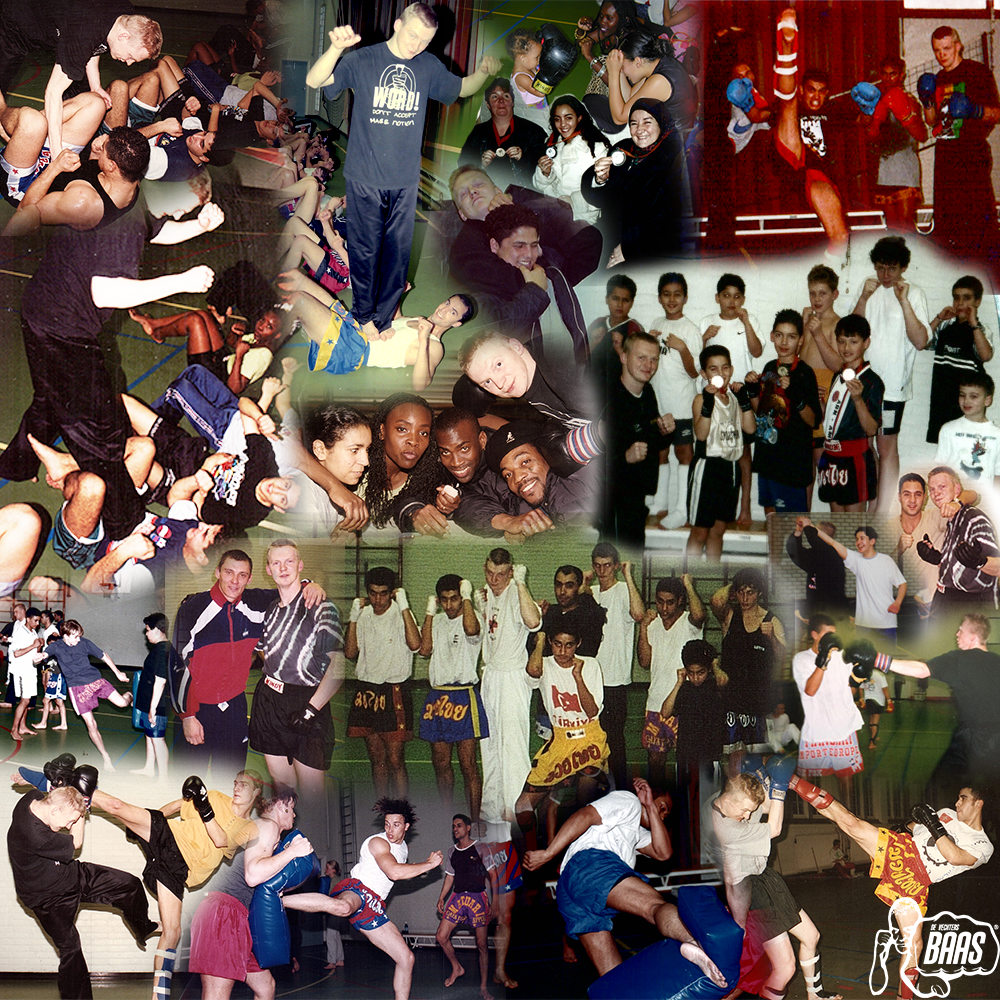 1998. Victories in Dordrecht for Michael Kottman, Khalid El Khandousi, Tahir Büdak, Anouare Farhat. Victories for Edwin Baas @ Dutch Championships in Groningen. Victories in Leeuwarden Mohamed Kada and Muslim Umkarov. Victories in Zevenaar for Ahmed Zamrani and Khalid Redouani. 1999. Victories in Brunssum for Denis Sharoykin and Anouare Farhat. In Bladel for Sharoykin. In Amsterdam Zonnehuis for Khaled Redouani and Denis Sharoykin. Other victories in 1999 for the following Baas kickboxers; Rudy Hillenaar, Jafar Hosseyni, Charles Hulan, JohnBawits, Laurens Ijzer, Umit Cinkiz, Steyn Braams, Jaap Stoop, Khalid Redouani.
In 2000 victories for Reinout Korbee, Murat Ilgen, Remco Hillenaar, Bilgin Uray, Steyn Braams, Umit Cinkiz, Mohamed Houlich, John Bawits, Michael Stolk, Laurens Ijzer, Koos Broekhof, Ugur Turkdogan, Jeffrey Blom, Arjuna Onck, Joaquim, Ganimet Berisha, Karim Souilmi, Wesley v.d. Laan-De Vries, Rudy Hillenaar, Richard Fens.
In 2001 victories for Arjuna Onck, Ugur Aktas, Suat Uray, Ismael Ceki, Gene Power, Michael Stolk, Arda Guncicek, Ugur Aktas, Bilgin Uray, Yoenes Aoulad-Lfadil. Also in pic Palmira Sandvliet, Boubkar Belkasmi, Mike Welch, Hillie Bhugwandass, Teun Baas, Malika el Meddioui, Roland Sandvliet, Lafid Belehcen, Ibrahim Belkasmi, Najim El Bouazatti, Chakib Kada.