Boxing is one of the oldest forms of physical exercise and since ancient times to present a part of the Olympics. The training is a full body work-out.
AT BAAS SPORTS We have weekly open classes. We also offer workshops, private groups, personal training, etc.
CuraBox was established January 1977 as CABA (Curaçao Amateur Boxing Association) to promote the practice of boxing in Curacao. November 2014 the statutes and name were changed in "Curacao Boxing Association" (CuraBox). 
CuraBox is official member of AIBA (Association Internationale de Boxe Amateur), AMBC (American Boxing Confederation) and FDOK (Federashon Deporte i Olímpiko Kòrsou).
At the moment, in 2020, CuraBox has 15 officials (referees, judges, timekeepers, etc.) and there are 18 clubs active in boxing.
The current board of this non-profit organization consists of; Edwin Baas (President), Andy Frans (Vice-president), Sem Klein (Treasurer), Erwin Kleiboer (Secretary), J.R. Krishnadath, (Commissioner), Huibertico Balentien (Commissioner). In the photo compilation below also James Beckles from Trinidad & Tobago, a 3 star referee (highest level) of the international boxing association AIBA, and the graduates of the referee course given by him; Edmond Lodowica, Redferne Regales, Signalda Olario, Willem Falter, Jonathan Symor, Shanderla Leito, Erwin Kleiboer, Gideon Jonker, Gilbert Girigori, Charlton Donker and Edwin Baas.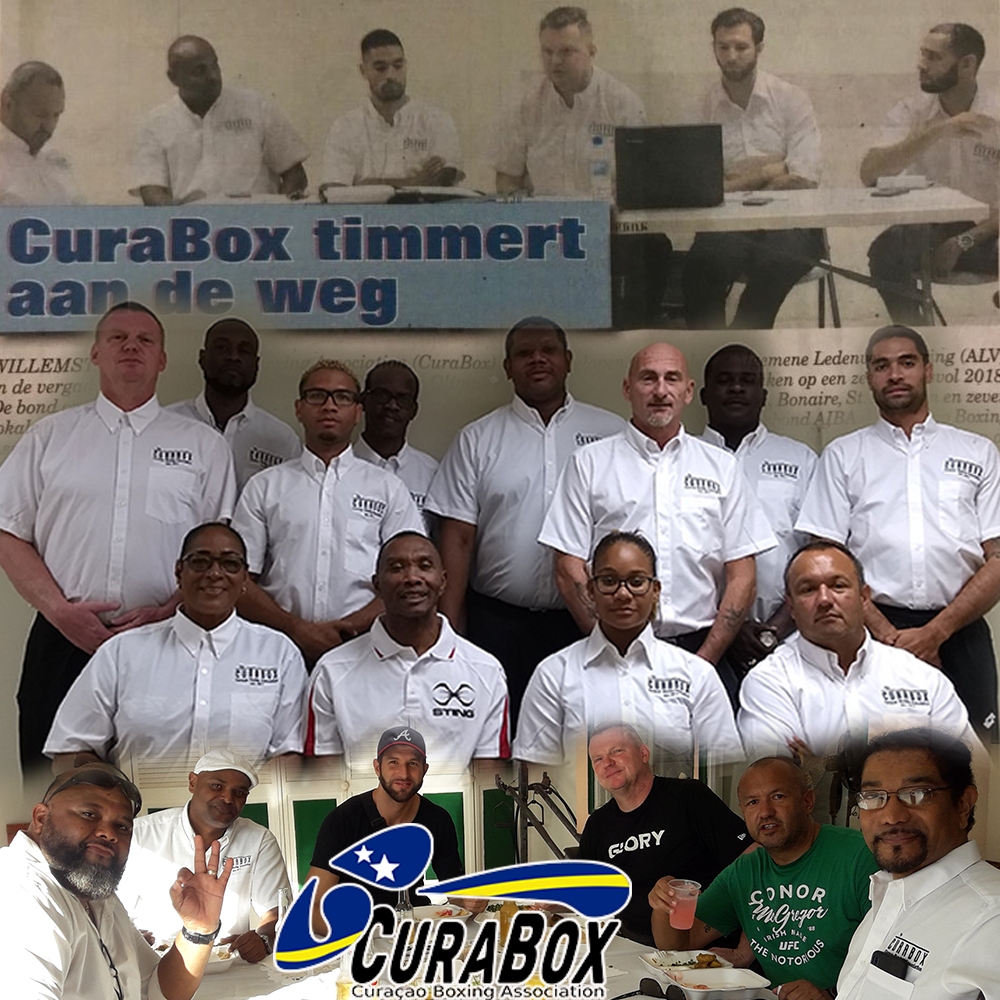 Unlike professional boxing (pro-boxing) there is only one world organization for Amateur Boxing, better known as Olympic boxing, and that is AIBA (Association Internationale de Boxe Amateur).  under the chairmanship of Edwin Baas, the country of Curacao received membership of the AIBA with CuraBox.
In the photo compilation below Baas in Panama for the AIBA forum of the American confederation (January 2020) with, among others, AIBA interim president (till December 12 2020) Mohamed Moustahsane (Morocco), AIBA president (from December 12 2020 till now) Mr Umar Kremlev (Russia), Remie Burke (Suriname), Steve Ninvalle (Guyana). And also  Baas in St. Lucia (May 2019) @ the ITO (International Technical Official) course led by Angel Villarreal (USA) with participation of Curacao, St. Lucia, Barbados, Bahamas, Jamaica, Guyana, Dominica, Trinidad & Tobago, Bermuda and Cayman Islands.